Product Description
1 Year Local + International Official Manufacturer's Warranty
From 4K to Quantum Dots, Asus' budget-busting Zenbook NX500 has it all.
2.3 GHz Intel Core i7-4712HQ Quad-Core
16GB of DDR3 RAM
512GB of Solid State PCIe Storage
NVIDIA GeForce GTX 850M (2GB GDDR5)
15.6" QFHD 16:9 Capacitive Touchscreen
3840 x 2160 4K Resolution
802.11ac Wi-Fi & Bluetooth 4.0
USB 3.0 / HDMI / Mini DisplayPort
Built-in 1.2MP Webcam, Mic, & Speakers
Windows 8.1 Pro (64-bit)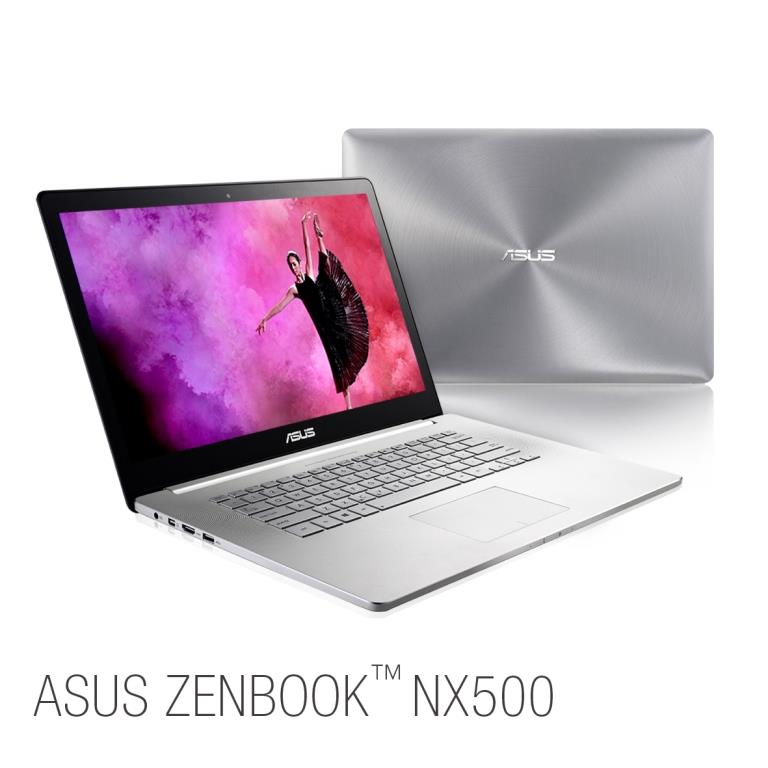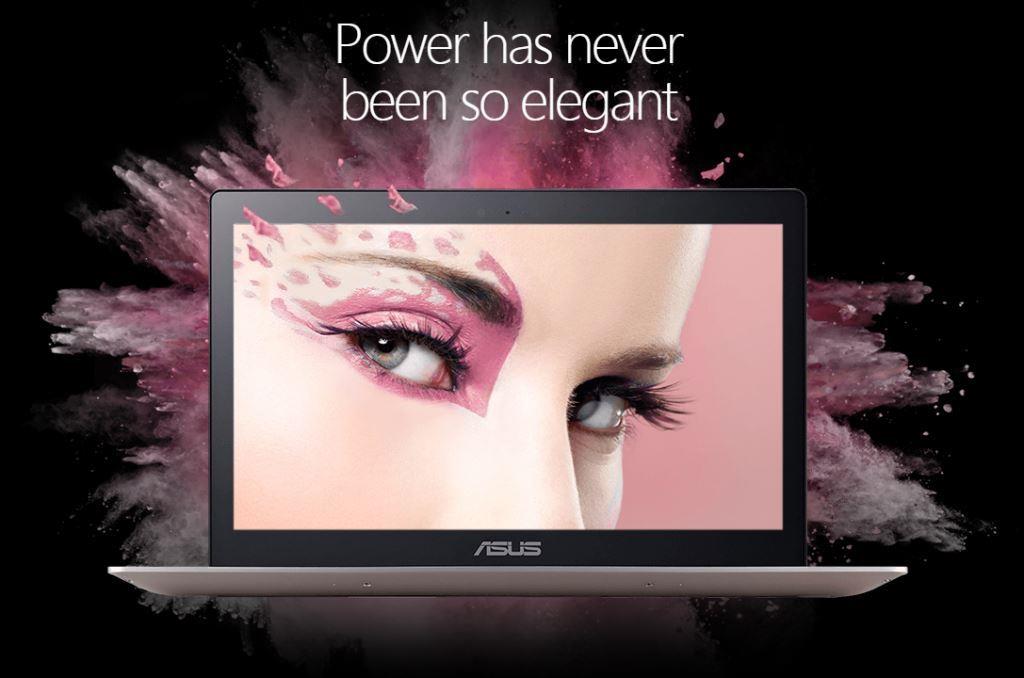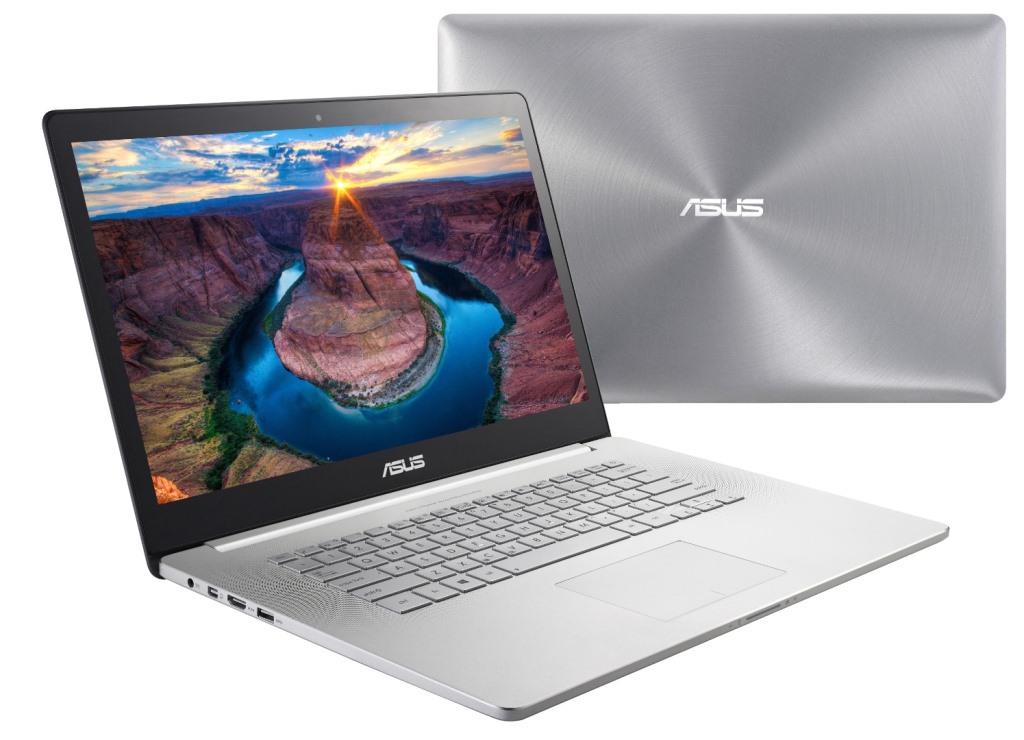 Design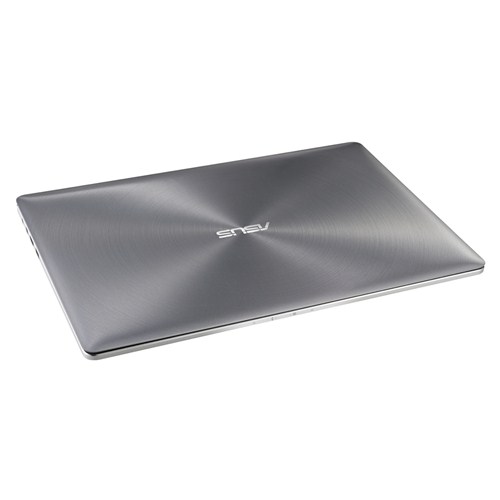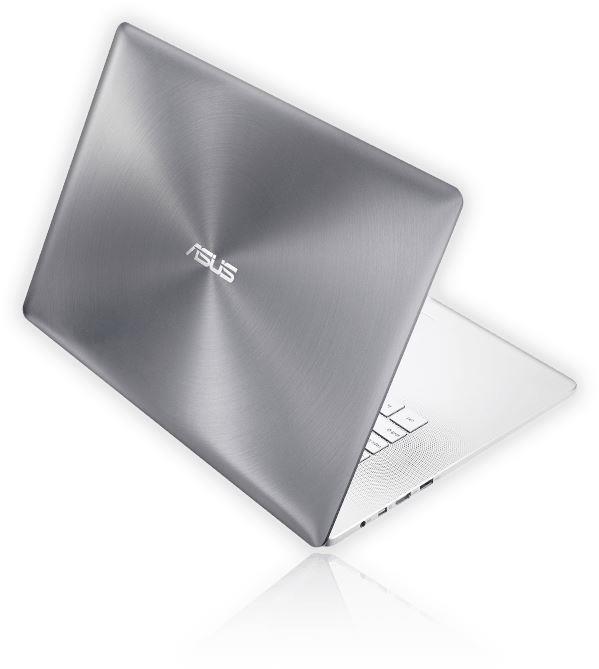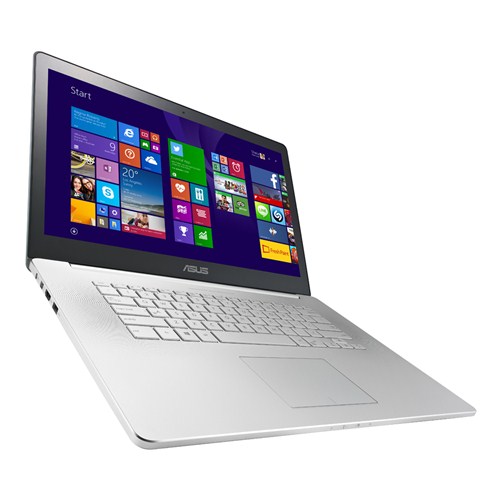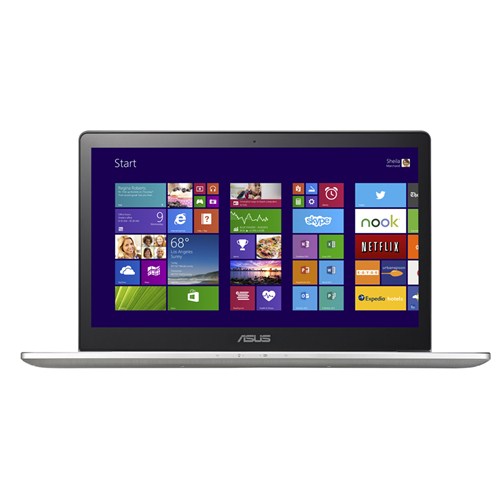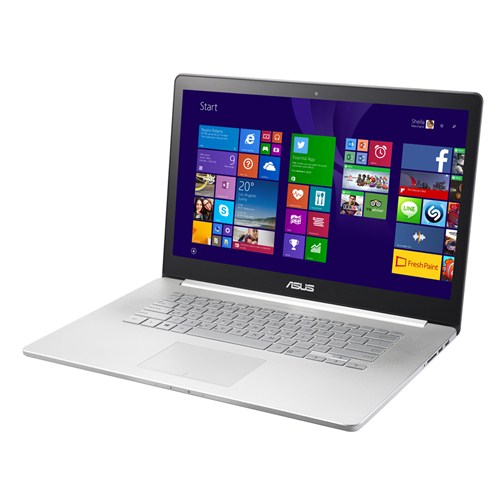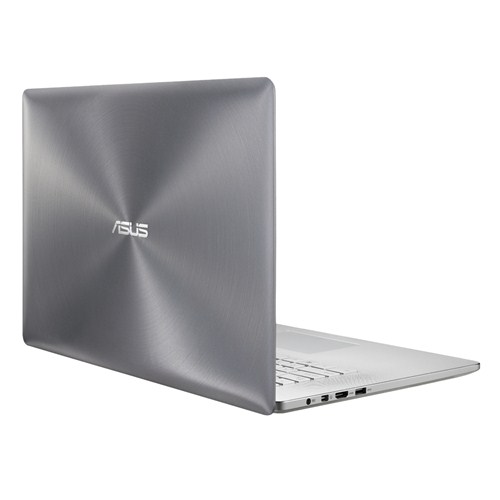 Features
Zenbook, evolved
The award-winning Zenbook NX500 brings even more sophistication and power to the classic Zenbook tradition, adding the most advanced technology while retaining the beauty and craftsmanship that make Zenbook unlike any other Ultrabook™. With its unique combination of stunning design, luxurious materials and state-of-the art technology, NX500 will excite all your senses.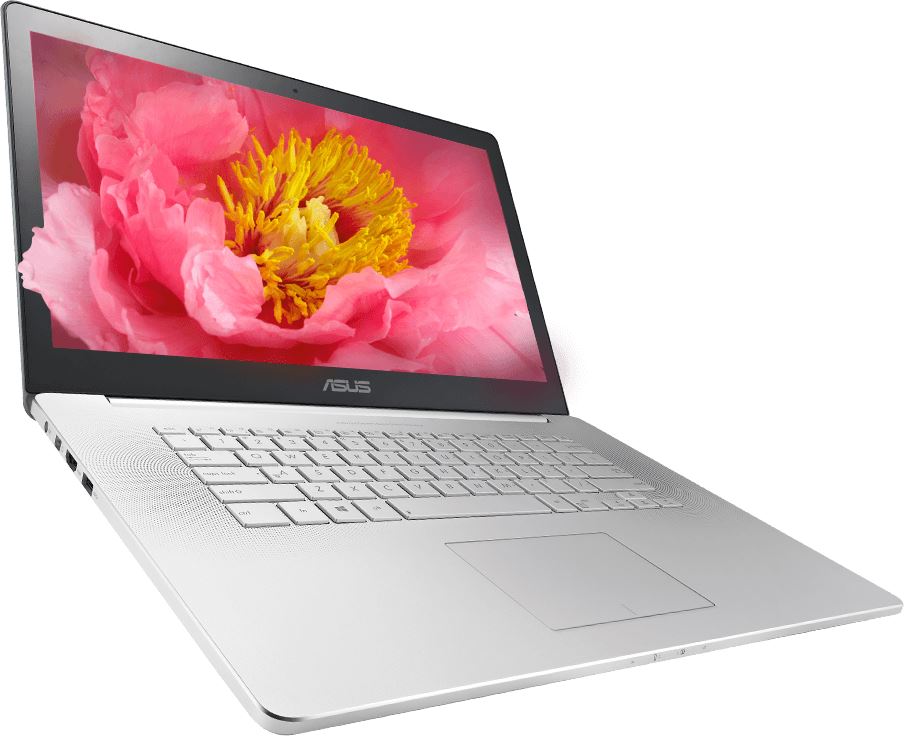 Slim and Compact with a timeless, elegant design
With its slim, compact, finely-crafted all-aluminum design and distinguished silver color, NX500 adds a touch of elegance to your computing. The signature spun-metal finish on the lid, with its concentric circles echoing the spirit of Zen, is further enhanced with diamond-cut chamfered edges, a fine brushed-metal finish on all metal surfaces and a stylish ripple-effect pattern laser-engraved around the speaker grilles.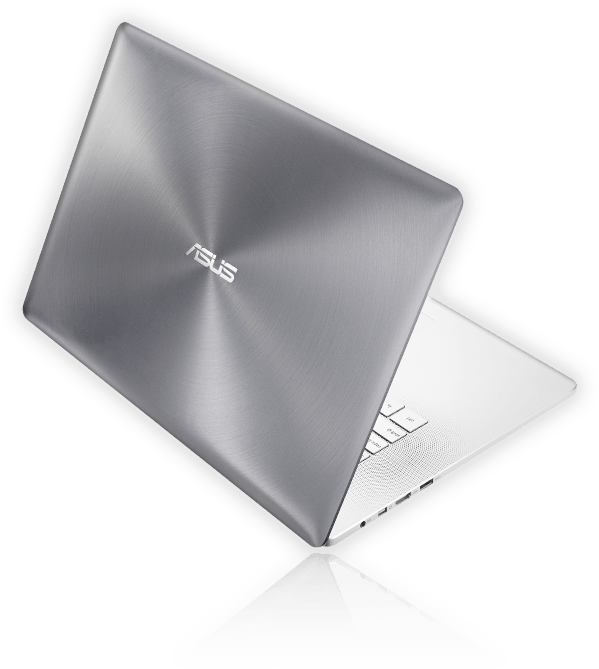 4K/UHD display for truly lifelike detail
The 15.6-inch 4K/UHD VisualMaster touchscreen display fitted to Zenbook NX500 has an astounding resolution of 3840 x 2160 pixels — four-times sharper than Full HD — allowing you to see the very finest details in photos and videos, and even the smallest text is pin-sharp. With an incredible 282 pixels packed into every inch of the screen, NX500 really has to be seen to be believed.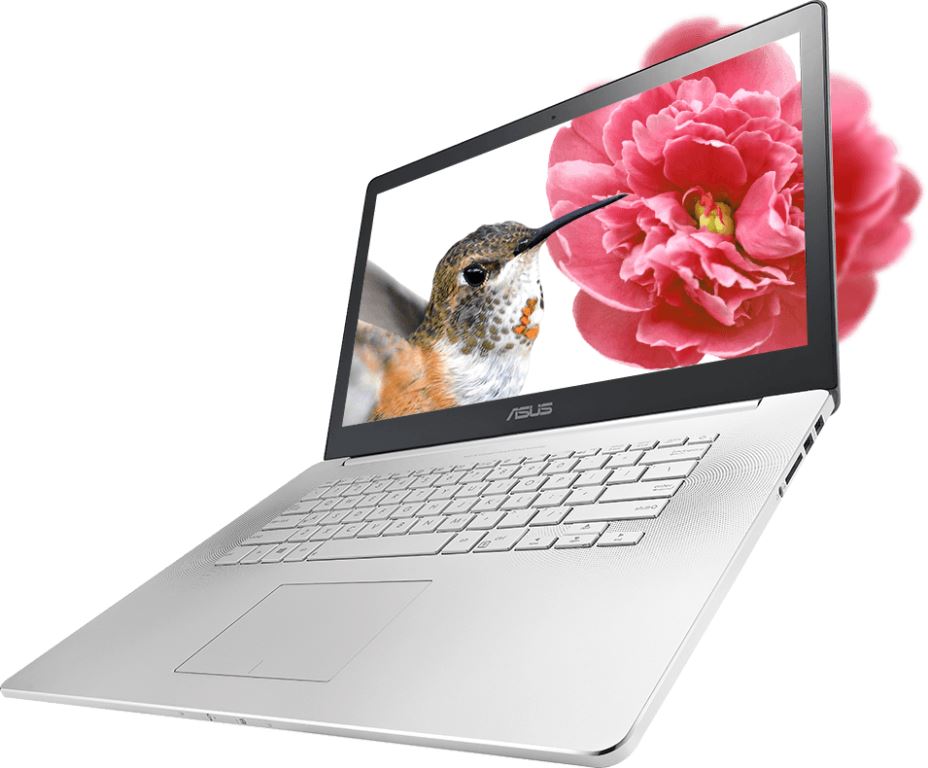 A perfect view, from any angle
With its in-plane switching (IPS) LCD panel, Zenbook NX500 has wide viewing angles of 178 degrees, plus a 1000:1 contrast ratio and 220cd/m2 brightness. This means you can enjoy undistorted, clear and bright images no matter what angle you view the screen from. It makes NX500 perfect for sharing photos, videos or documents with friends, family or work colleagues!

Video calls in crystal clarity
Zenbook NX500 is the perfect traveling companion, in more ways than one. The built-in 1080p HD camera with 30fps video recording means you can keep in touch with family and friends via crystal-clear video calls, and the high-sensitivity image sensor gives great image quality, even in less than perfect light.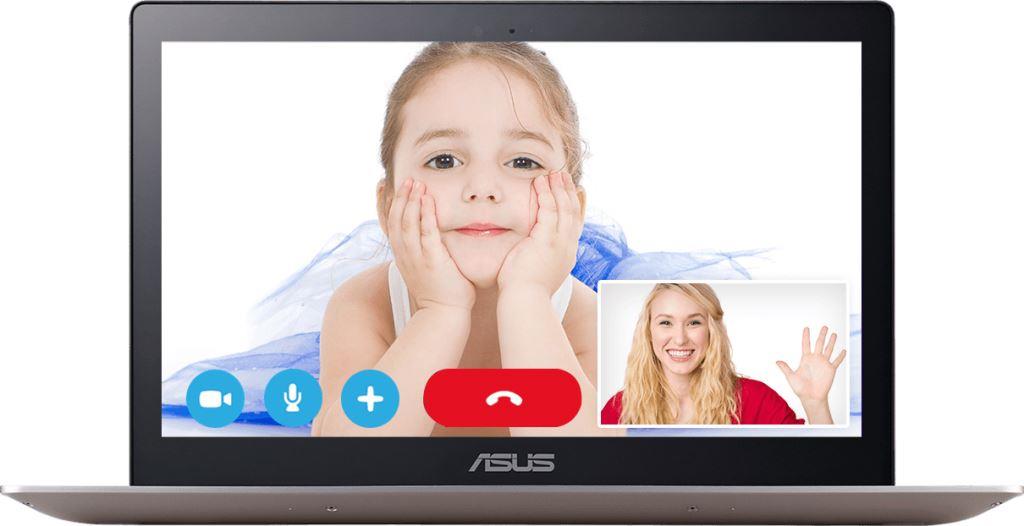 Experience true power
Zenbook NX500 is not just beautiful, it is incredibly powerful too. Every component has been carefully selected for no-compromise performance, from its 4th-generation Intel® Core™ i7 quad-core processor, gaming-grade graphics, all the way to its next-generation 802.11ac Wi-Fi. Zenbook NX500 is expertly engineered to take everything in its stride, whether it's productivity, entertainment or the latest games.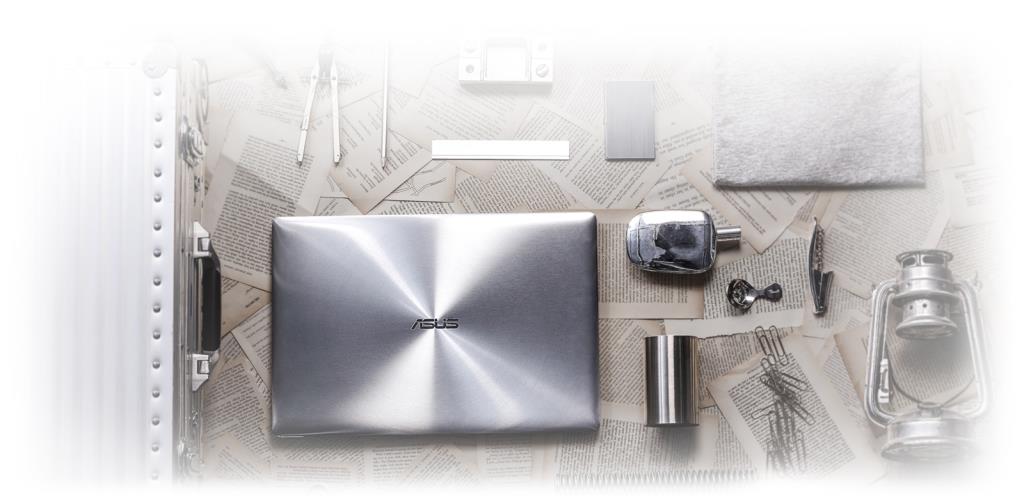 Gaming-grade graphics power
To complement the amazing image quality of the VisualMaster display, and give truly-immersive gameplay and silky-smooth 4K/UHD video playback, Zenbook NX500 is equipped with up to powerful gaming-grade NVIDIA® GeForce®GTX™ 850M graphics, with 2GB of video memory.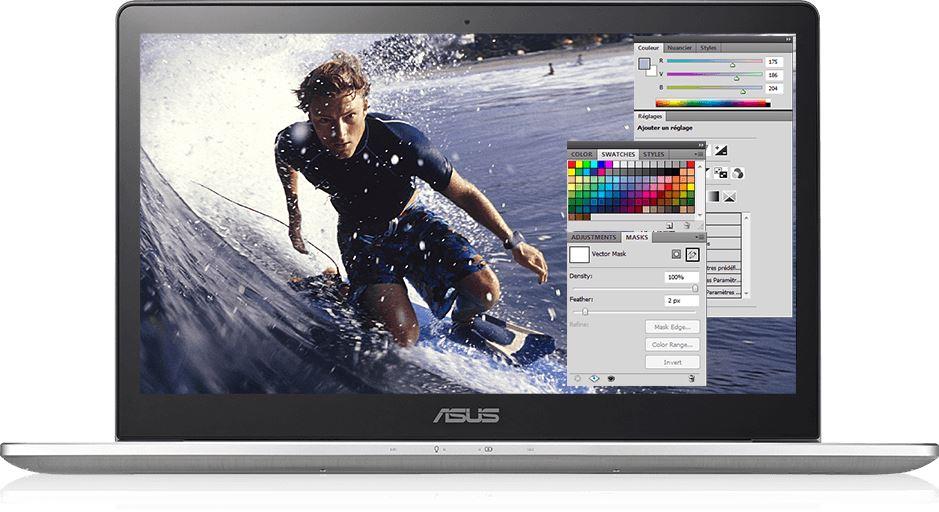 Super Fast SSD Storage
Only the very fastest storage is good enough for Zenbook NX500, so it uses high-performance solid-state disks (SSD) to make sure you will never be kept waiting. Featuring up to a PCI Express™ x4 512GB SSD with blindingly-fast data transfers of up to 8Gbit/s, NX500 is supremely responsive, with ultra-fast start-up and application loads.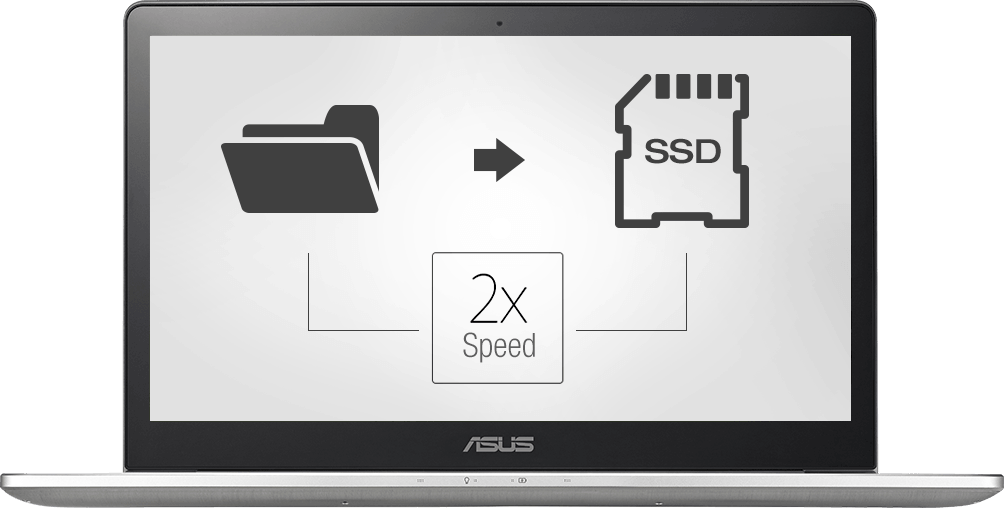 Next-generation 802.11ac Wi-Fi
For the ultimate on-the-go connectivity, Zenbook NX500 includes next-generation dual-band 802.11ac Wi-Fi, which is up to three times as fast as 802.11n and has up to twice the coverage, allowing you to work or play anywhere, anytime. And what's more, it works perfectly with all your existing wireless devices!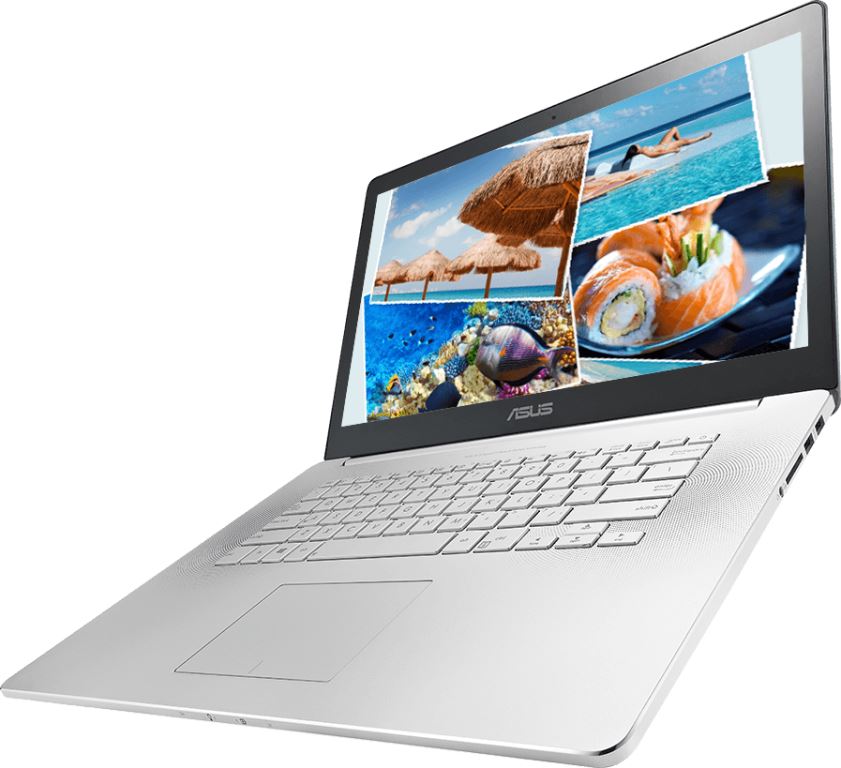 Powerful but Cool
Heat build-up in a laptop can compromise both performance and comfort, and so for Zenbook NX500 our engineers developed an advanced thermal management system to ensure that heat is efficiently dissipated throughout the system. Zenbook NX500 runs as cool as it looks.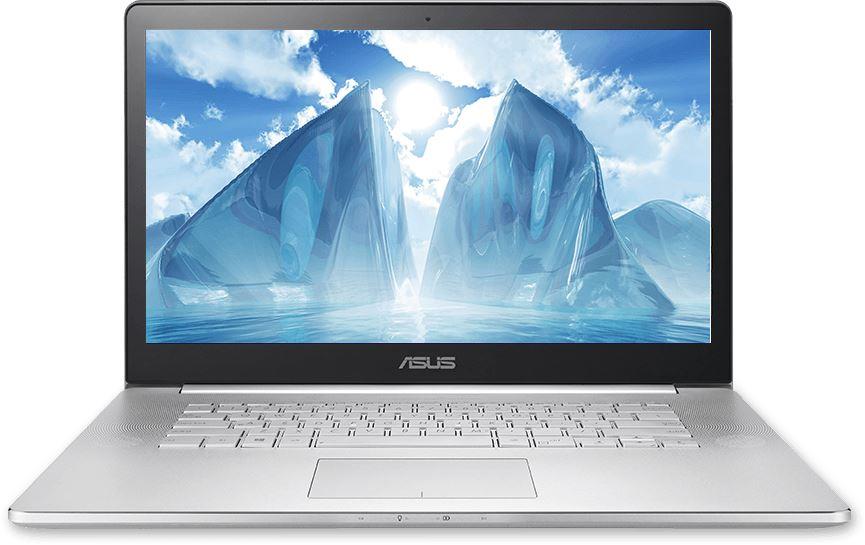 Non-stop computing
Thanks to its high-capacity 96Wh lithium-polymer battery and clever ASUS engineering that maximizes battery life, Zenbook NX500 is the perfect traveling companion. It turns on in an instant so it's always ready for work, and it can remain in standby for up to two weeks! Your data is safe too, as NX500 automatically backs it up when the battery charge level drops below 5%.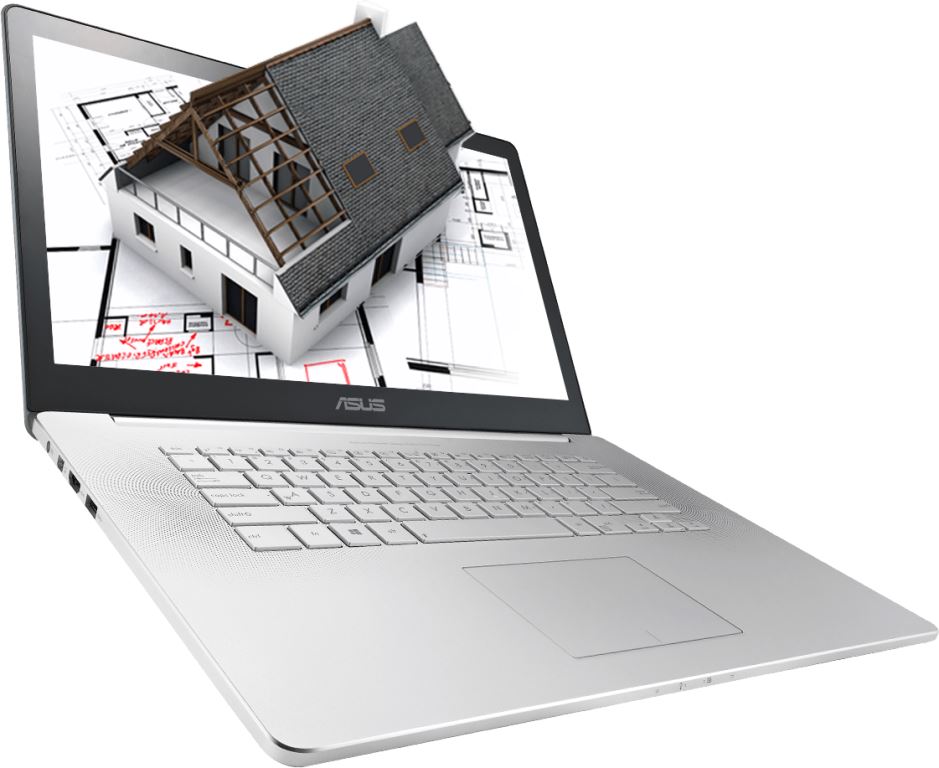 Built for Touch
Touch is at the very heart of Zenbook NX500. Its ultra-responsive 10-point multi-touch touchscreen uses high-fidelity touch actuators that are 30% smaller and twice as sensitive as the industry standard. This gives you instant, accurate touch performance for writing, drawing and more.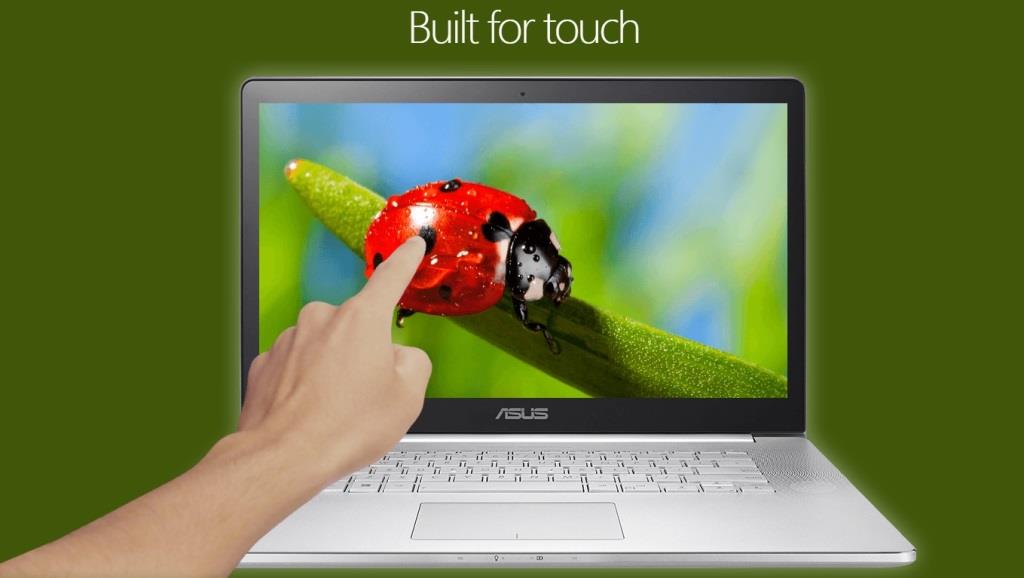 Spacious touchpad with Smart Gestures
Featuring the same 16:9 aspect ratio as the display, the large multi-touch touchpad on Zenbook NX500 is designed to be as intuitive and accurate as possible. Smart Gestures simulate many of Windows 8.1's touchscreen functions on the touchpad, for example the right-edge swipe that shows the Charms bar. Smart Gestures also work in a wide range of applications.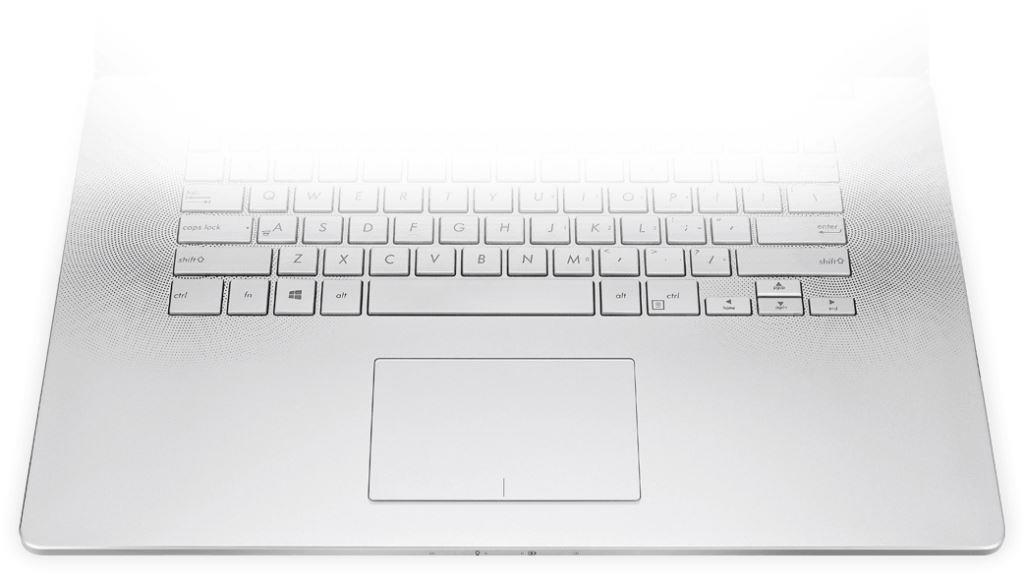 Backlit keyboard for the ultimate typing experience
A keyboard is still the best way to get things done for most people, so we made sure Zenbook NX500 has the best available. Each key is expertly tuned to require just the right amount of force to press and have just the right amount of travel, so it's both quiet and comfortable for two-finger and touch typists alike. And since NX500 is designed to be used anywhere, we made the keyboard that way, too. Its backlight adjusts automatically to suit the level of ambient lighting, so you'll always be able to see the keys, even in complete darkness.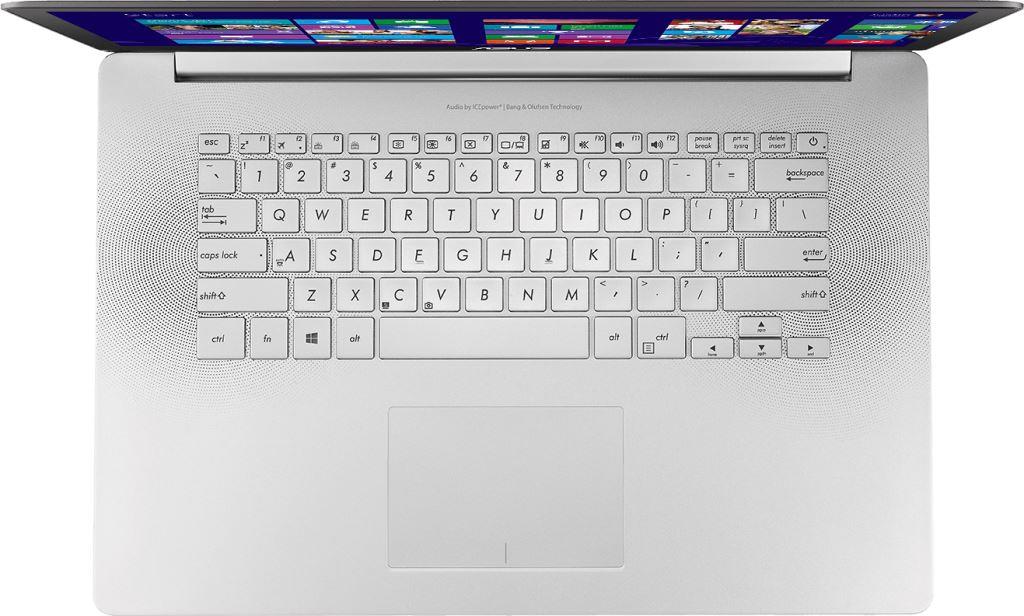 Windows 8.1 — the Desktop reinvented
Windows 8.1 is all about you. New multitasking features make it easy to do two things at once, too. Just snap two apps side-by-side and you can browse the web while watching a video, or chat with a colleague while editing a document. And with its Bing-powered search feature that shows your file, app and web search results in one unified view, Windows 8.1 means you spend less time searching and more time doing.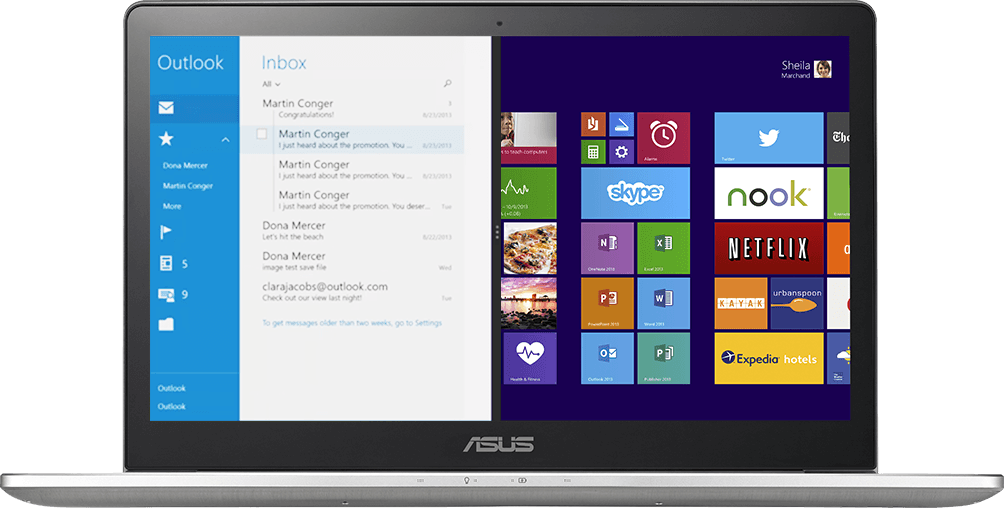 Audio perfection
We don't believe that audio should be just an afterthought in an Ultrabook™ as good as Zenbook NX500, so every aspect of the audio hardware and software has been meticulously engineered to deliver incredible sound quality. You won't believe your ears.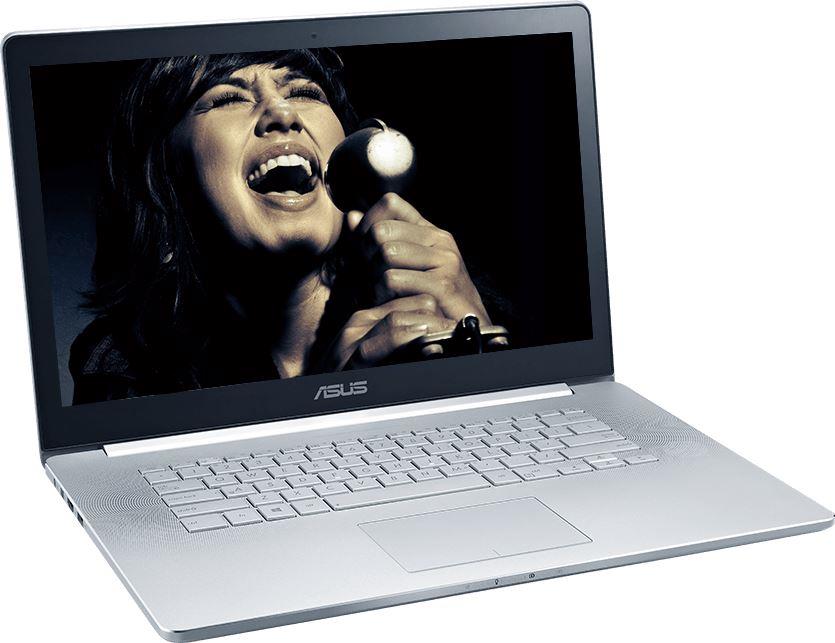 SonicMaster Premium
The ASUS Golden Ear audio engineering team developed SonicMaster Premium, incorporating ICEpower®, Bang & Olufsen technology. SonicMaster Premium produces sound that's best-in-class and unlike anything you've ever heard from a laptop, with deep rich bass and crystal-clear vocals, even at high volume levels.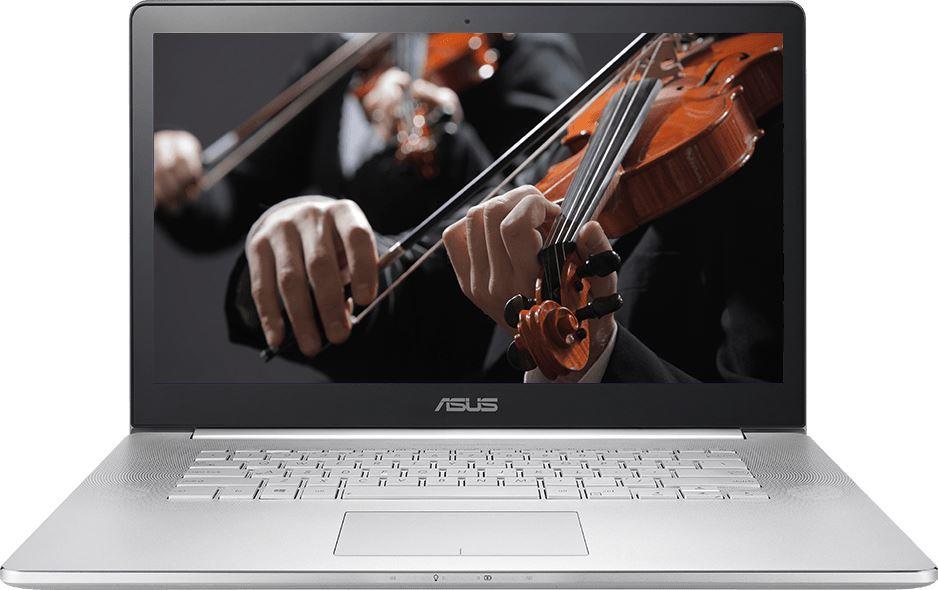 Powerful full-range speakers
To achieve its premium sound quality, Zenbook NX500 uses custom-built, high-quality speakers with oval voice coils and oversize shielded magnets for improved bass response. Combined with large resonant chambers and the aluminum chassis design, these produce remarkably powerful full-frequency sound.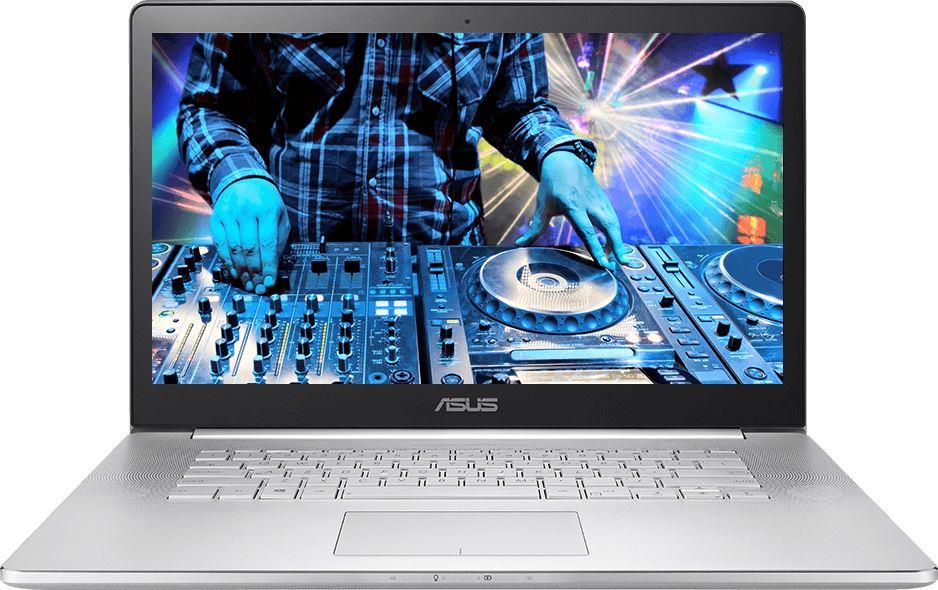 Easy audio optimization with AudioWizard
Different sound sources need different audio settings, a task that is made incredibly easy with NX500's exclusive AudioWizard. With five presets for different scenarios — music, movies, speech, gaming and recording — AudioWizard ensures that you always get the best possible sound, whatever you're listening to. AudioWizard includes MaxxAudio 3 by Waves, recipient of a Technical GRAMMY Award®, for professional-grade sound processing that improves clarity and reduces unwanted noise.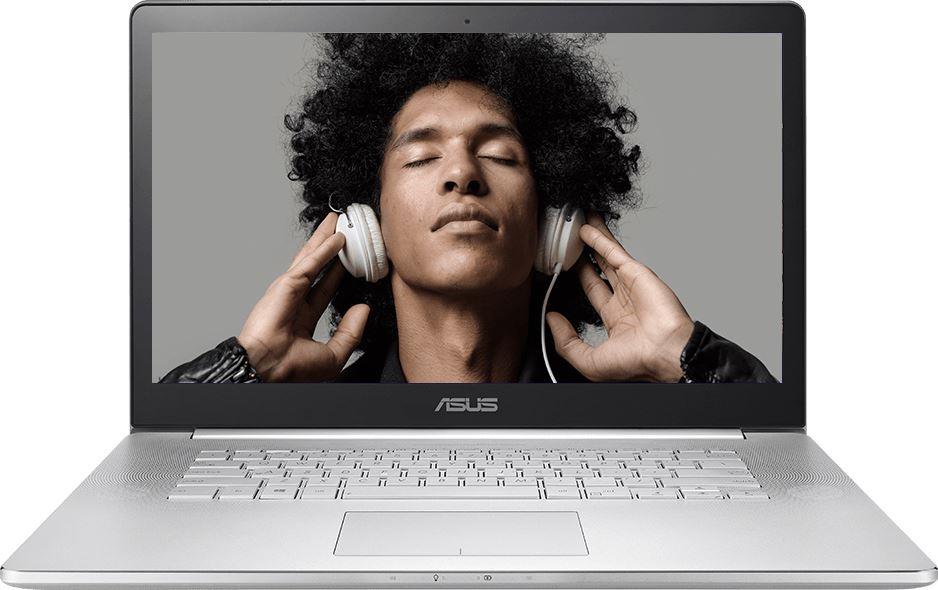 Specifications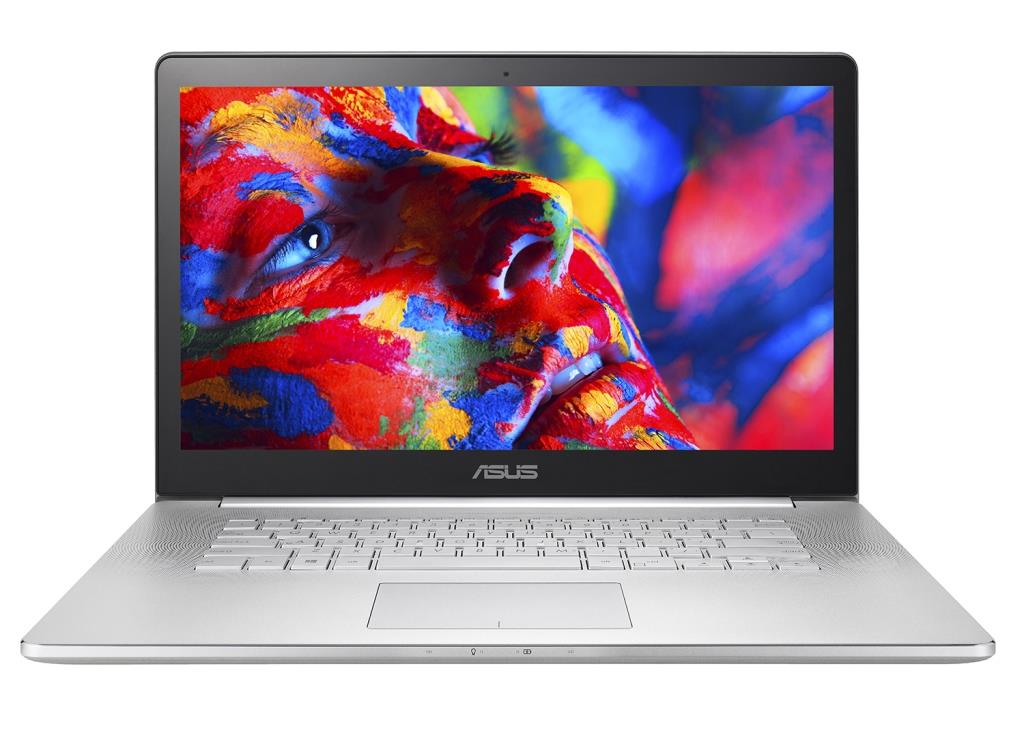 Asus Zenbook NX500 JK

Screen
15.6 inch, 3840 x 2160 px resolution, IGZO IPS, touchscreen
Processor
Intel Haswell Core i7-4712HQ CPU
Chipset
Intel HM87
Video
integrated Intel 4600 HD + Nvidia GeForce GTX 850M 2GB GDDR5
Memory
16 GB DDR3
Storage
512 GB SSD
Connectivity
Wireless AC, Bluetooth, Lan (with adapter)
Ports
3xUSB, SD card reader, HDMI, mini-DisplayPort, RJ45 (with adapter)
Baterry
96 Wh
Operating system
Windows 8.1
Size
378 x 255 x 19 mm (22 mm think, including the feet (19 mm without))
Weight
about 2.2 kg (4.85 pounds)
Extras
backlit keyboard, Bang&Olufsen Speakers