Drive CPU And DDR4 Performance Beyond All Expectations
Patent Pending OC Socket:
Designed to break performance barriers, ASUS OC Socket utilizes extra pins to connect a proprietary circuit to contacts found on Haswell-E's land grid array (LGA). Combined with our customized UEFI, this exclusive feature enables higher DDR4 memory frequencies, lower latencies and enhanced stability while overclocking, extending all the way to extreme overclocking conditions, such as Liquid Nitrogen (LN2). OC Socket is 100% compatible with new Haswell-E LGA 2011-v3 CPUs, ensuring the ideal combination of overclocking performance and compatibility.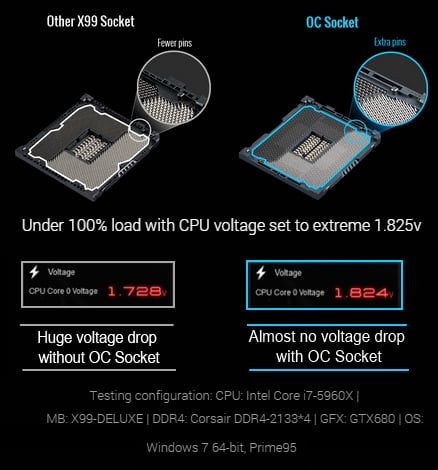 Unique Cache Bus Voltage Adjustment

Cache bus links areas such as CPU cores, DDR4 Memory Controllers, System Agent and the shared L3 Cache. It is a critical interconnect for the whole CPU subsystem. Higher cache bus frequency directly gives faster total sub-system performance. ASUS OC Socket exclusively provides an adjustable cache bus voltage to reach higher cache bus frequencies.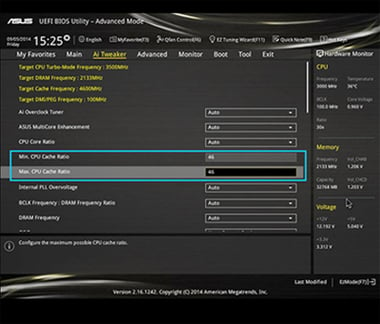 Reference tuning ratio range is up to 30. ASUS OC Socket tuning ratio range is 45+!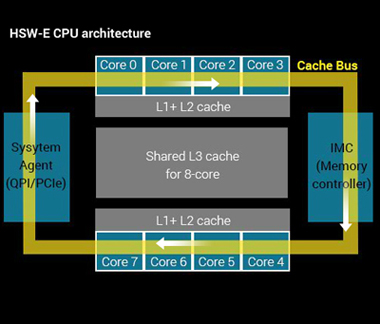 Cache bus links all the essential CPU areas together. Higher cache bus frequency boosts PC performance.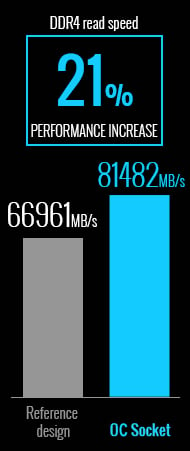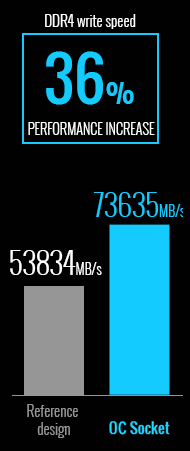 3DMark Physics
CPU: Intel Core i7-5960X 4.8G| MB: X99-DELUXE | DDR4: Corsair DDR4-2133*4 | GFX: GTX780 | OS: Windows7 64-bit
AIDA64 memory benchmark
CPU: Intel Core i7-5960X | MB: X99-DELUXE | DDR4: Corsair DDR4-2133*4 | GFX: GTX780 | OS: Windows7 64-bit
Make Your Memory Go Faster

This is the first platform to support DDR4 memory and it's able to drive memory frequencies to 3200MHz (and beyond when overclocked). ASUS-exclusive T-Topology circuit design plus OC Socket provides superb memory-overclocking capability to unleash the full power of DDR4 by minimizing coupling noise and signal reflection. With innovative equidistant memory channels, it delivers the most balanced control and powerful overclocking compatibility. ASUS works with almost every DDR4 memory vendor to ensure the best compatibility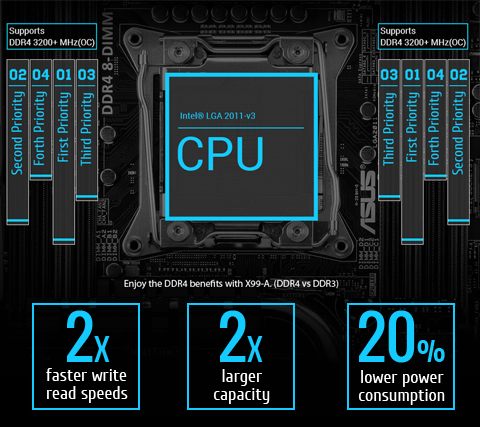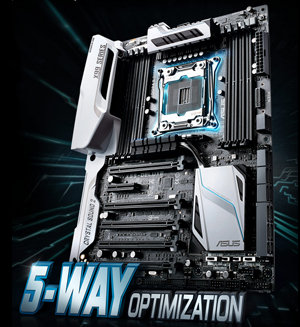 One-Click Overclock And Cooling, Done!

Get performance, efficiency, digital power, fan control and even networking and audio tuning tailored for you
One click takes care of all that complex tuning. Your PC gets smarter with ASUS 5-Way Optimization. It dynamically optimizes essential aspects of your system based on real-time use – so you get superb CPU performance, everyday energy savings, ultra-stable digital power, cool and quiet fans and now even networking and audio settings that are tailored for the apps that you are using. In short, 5-Way Optimization ensures that your PC is perfect for gaming, entertainment, productivity or just about anything else.
Games run swiftly and smoothly with high performance, prioritized bandwidth and vivid sound.
Fans stay whisper-quiet for everyday computing and ensure extreme cooling efficiency when gaming.
Never-stutter in professional apps and heavy loading.
Energy waste is reduced so you'll save money.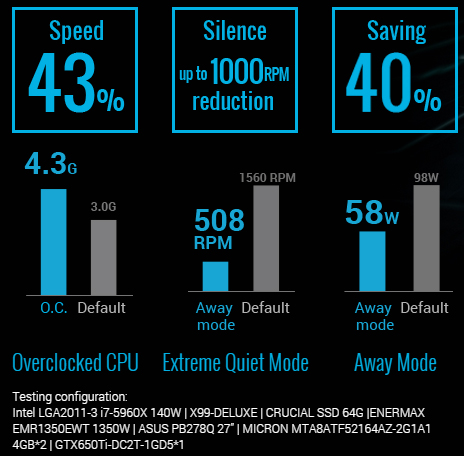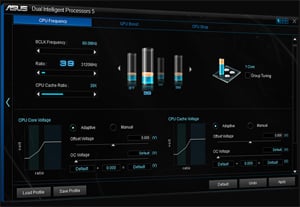 CPU Performance Boost
TPU
Unleash your PC's full performance with a simple two-phase onboard switch or the ASUS AI Suite 3 utility. The Turbo Processor Unit (TPU) offers precise voltage control and advanced monitoring for the CPU and the graphics card, enabling great freedom to adjust CPU frequencies and ratios for optimized performance and to exploit the potential out of your graphics card*.
*Refer to graphics card QVL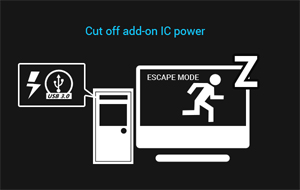 All-Round Energy Efficiency
EPU
With the Energy Processing Unit (EPU) you will enjoy from system-wide real-time power savings, controlled via a simple onboard switch or the AI Suite 3 utility. EPU detects and adjusts power consumption according to the PC's needs – automatically. It can also reduce CPU wattage to an indicated level or enjoy even more savings with Away Mode, which creates an extreme energy-saving scenario by shutting down unused extra I/O controllers and reduces the graphics cards' power level while you're away, so the PC consumes only the energy it needs – and not a drop more!
Advanced Fan Controls For Ultimate Cooling And Quietness
EPU
Fan Xpert 3 puts 4-pin/3-pin CPU and case fan controls in one place. It scans each fan's characteristics and delivers custom settings for each fan based on the dedicated area temperatures detected by hardware thermal sensors. Make sure every fan achieves the best balance of cooling performance and low noise. Fan Xpert 3 supports hardware-level PWM/DC combo mode for both the CPU and case fans. It even can reduce the CPU fan speed to below the default minimum, for extra-quiet and power saving operation during light loads.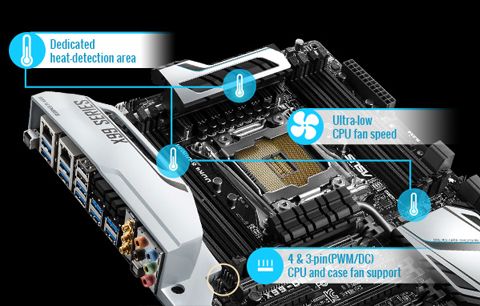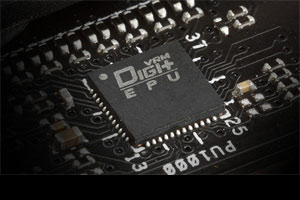 Precise Digital Power Control
DIGI+ Power Control
Power control is one of the most essential motherboard designs. Intelligent CPU power draw detection with ASUS DIGI+ Power Control is an innovative, industry-leading technology that fully complies with Intel® VRD12.5 specifications, increasing overclocking potential, enhancing system stability, and improving power efficiency with superior flexibility and accurate control.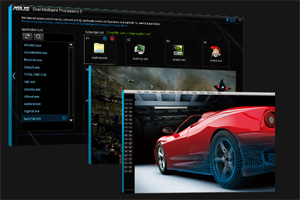 App Specific Optimization For Professionals And Gamers
Turbo App
Gamers and professionals can get benefit from app specific optimizations by the exclusive ASUS Turbo App. Its intuitive tuning panel boosts a range of hardware; overclock your CPU, tune your fans, prioritize network data and optimize audio settings automatically.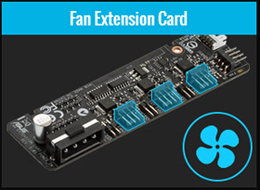 Powerful Cooling With Flexible Installation & Detailed Control
Plug in up to three extra fans for a maximum of nine fans (including 2 CPU fans and 7 case fans), each with independent control from either UEFI BIOS or AI Suite 3. Each fan can be up to 12W. It is ideal for water cooled or extreme airflow under high performance systems.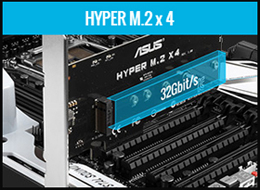 Ultrafast Speed With PCIE Slot Flexibility
Add the PCI-Express 4x add-in card into any slot that suits your PC build, and pump M.2 performance up to a blistering 32Gbit/s, delivering unmatched performance. Upgrade without limitations as any M.2 card between 2230 to full length 22110 is supported.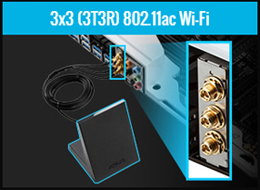 Fastest Onboard Wi-Fi Up To 1300Mb/S



3x3 dual band 2.4/5GHz antennas included. 802.11ac* Wi-Fi up to 1300Mb/s** transfer speed