Product Description
Presenting the Ultrabook with Discrete Graphics and Premium Design, the ASUS ZenBook UX32LN. The ASUS ZenBook UX32LN features an Intel Core i5 processor, 4 GB of Ram, a 2GB Nvidia Geforce GT 840 GPU coupled with a 13.3" Full HD IPS Display. Experience the true art of ultrabook functionality with the all new ASUS ZenBook UX32LN.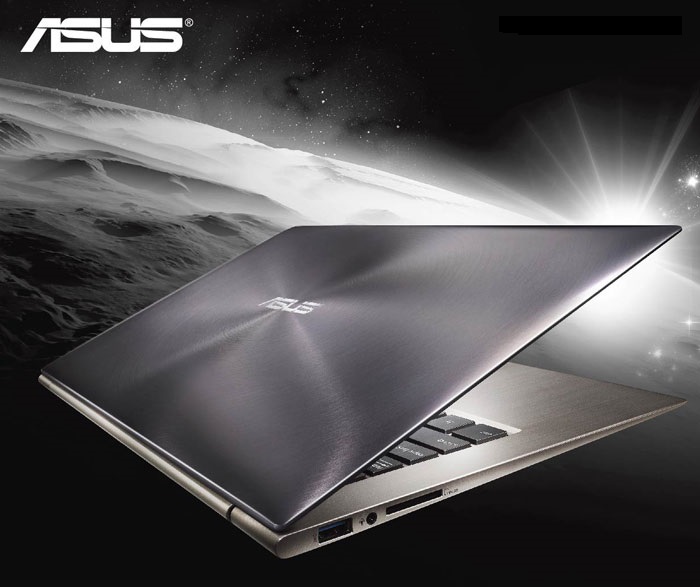 Design
Incredible Beauty : The Perfectly Balanced UltraBook
Creating the perfect Ultrabook™ means striking a perfect balance between form and function. Zenbook is carved from a single block of aluminum for a seamless design that's not only beautiful, but durable, too. It's also impossibly thin and extremely light for maximum portability. Lift the lid and inside is a vibrant 13.3-inch Full HD display that brings images to life and makes everything from browsing the web to working with documents an absolute pleasure. Zenbook is the Ultrabook™ you'll want with you, wherever you go.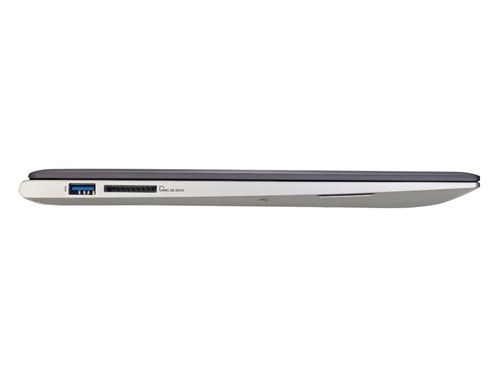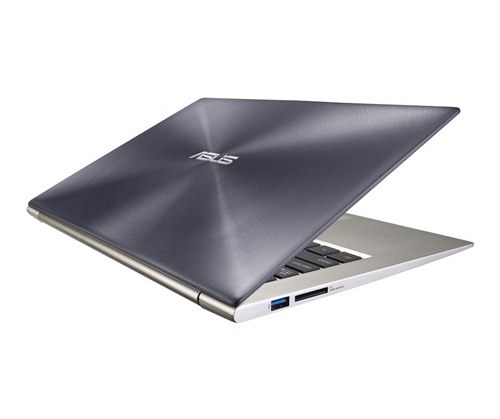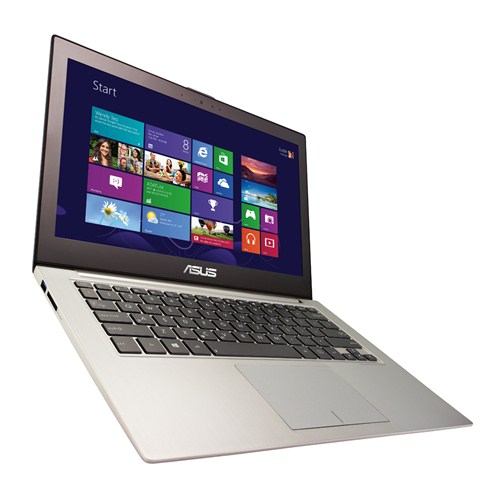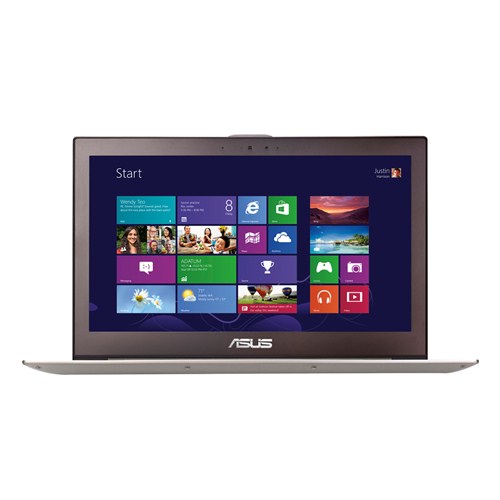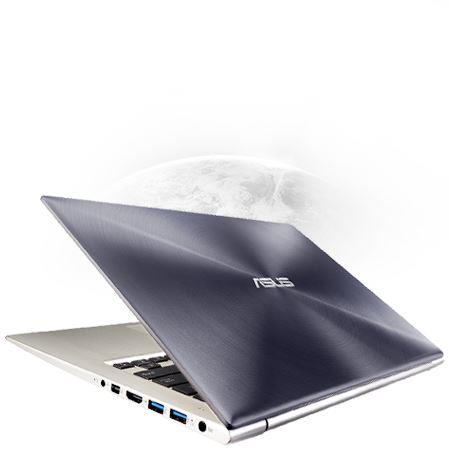 Features
Stay Sharp with a Full HD Display
We see the world in high-definition, so why use anything less on your Ultrabook™ Zenbook packs the same 1920 x 1080 pixels into its 13.3-inch display as a big-screen HDTV, so everything looks wonderfully sharp and incredibly detailed. That means you can watch YouTube videos and movies in all their Full HD glory, read web pages with text so crisp it could be printed on a page and see more of the photo you're retouching or the document you're editing.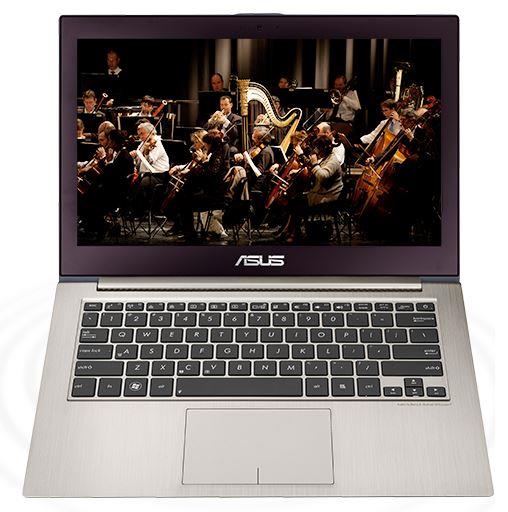 Video Calls in Crystal Clarity
Zenbook UX32LN is the ideal travelling companion, in more ways than one. The built-in 720p HD camera with 30fps video recording means you can keep in touch with family and friends via crystal-clear video calls, and the high-sensitivity image sensor gives great image quality, even in less than perfect light.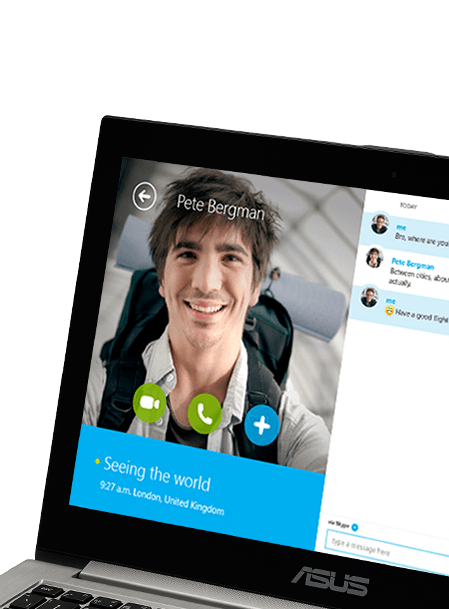 Incredible Touch : Tough and Touchable Aluminum Light yet at the heart of great looks and reinforced product strength
There are several advantages to the finely crafted aluminum used in ASUS ZENBOOK™ construction. In addition to its gorgeous appearance, aluminum offers a lighter Ultrabook™ that's easier to carry, while retaining strength and durability. To accomplish a sleek and smooth metallic look, ASUS developed new mounting methods that reduce screw usage by 12%, taking inspiration from hand-crafted luxury wrist watches.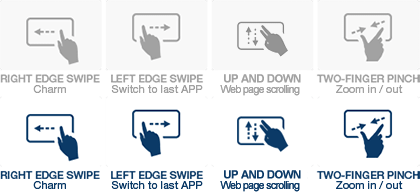 Backlit for a Better Typing Experience
A keyboard is still the best way to get things done for most people, so we made sure Zenbook UX32LN has the best available. Each key is expertly tuned to require just the right amount of force to press and have just the right amount of travel, so it's both quiet and comfortable for two-finger and touch typists alike. And since an Ultrabook™ is designed to be used anywhere, we made the keyboard that way, too. Its backlight adjusts automatically to suit the level of ambient lighting, so you'll always be able to see the keys, even in complete darkness.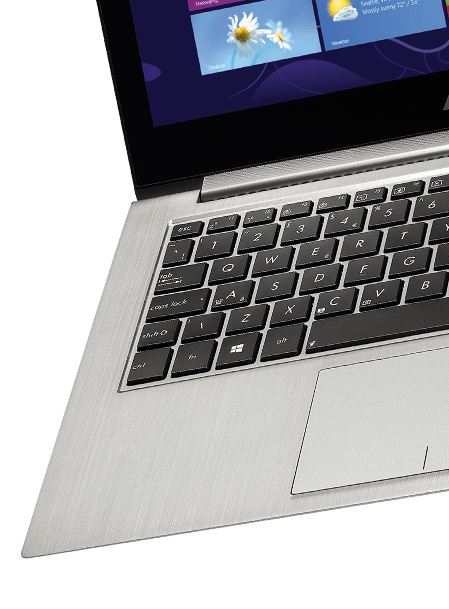 Windows 8.1 : The Desktop Reinvented
With a fresh new look and a Start screen that puts your most important apps right beneath your fingertips, Windows 8.1 is all about you. See at-a-glance updates from family and friends with Live Tiles for your favorite social media services, and switch between apps simply by swiping across the screen or touchpad. New multitasking features make it easy to do two things at once, too. Just snap two apps side-by-side and you can browse web while watching a video, or chat with a colleague while editing a document. Windows 8.1 means you spend less time searching and more time doing.
Windows 8.1 has new ways for you to personalize your PC, and includes a wave of awesome new apps and services. Work the way you're used to, and do more at once with more apps. Bing smart search gives you results from your PC, your apps, and the web. Results are in a clean, graphic view, so you can go where you want right from the search results. Open the Windows Store right from your Start screen to browse and download apps for cooking, photos, sports, news, and more.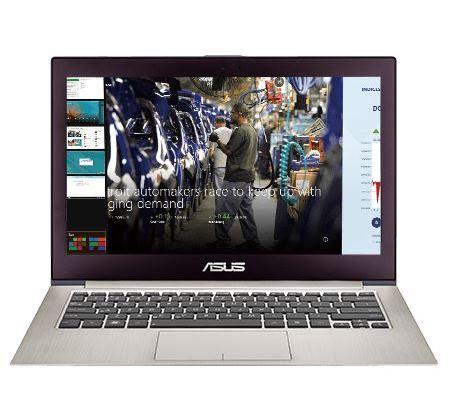 Incredible Performance
All the Power You Need, and Then Some
Zenbook UX32LN is a high-performance Ultrabook™ in every sense. Zenbook UX32LN is powered by 4th generation Intel® Core™ processors for seamless multi-tasking performance and outstanding energy efficiency. Intel® Turbo Boost Technology gives a burst of extra speed up to 3GHz when you really need it, while NVIDIA® GeForce GT 840M graphics gives great image quality with the latest games. Its 4th generation Intel® Core™ processor makes light work of the most demanding tasks , and keeps you entertained with your favorite games and HD video, even when you're on the move. Solid-state storage means applications launch in double-quick time and, together with Super Hybrid Engine II technology, boosts battery life and standby time to stretch out the time between recharges. Three USB 3.0 ports support the latest high-speed storage and can recharge mobile devices in double-quick time, while sophisticated thermal management means Zenbook never loses its cool.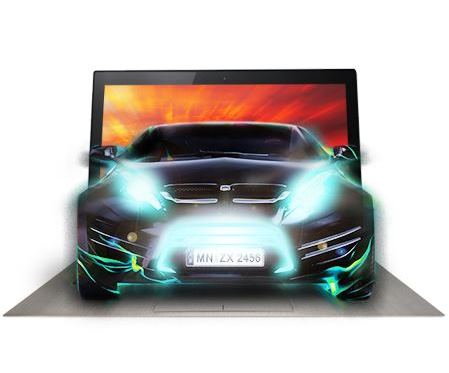 Instant On : Always Ready When You Are
No one should have to wait when they want to get something done, which is why Zenbook UX32LN wakes from standby in just two seconds. Exclusive Super Hybrid Engine II technology gives up to two weeks' standby time too, and automatically saves all open applications and data to the solid-state drive when the battery drops below 5% charge. So you don't have to worry about always leaving Zenbook UX32LN plugged into a power socket just because you're not using it.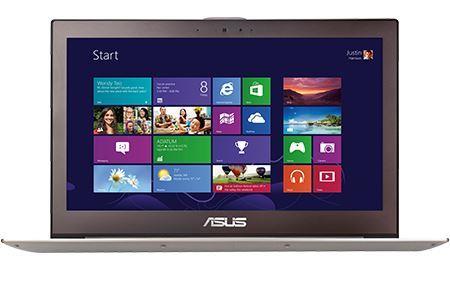 Work All Day on a Single Charge
Energy-efficient components like the Intel® Core™ processor and solid-state drive help Zenbook UX32LN last for up to 8 hours on battery power, so you can get a full day's work done before you need to recharge. Exclusive Super Hybrid Engine II technology can also boost battery life by up to 25% for less demanding tasks like web browsing and watching video, so you can last even longer between trips to the power socket.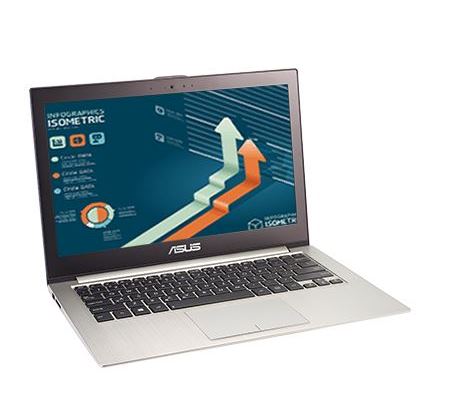 Designed Never to Lose its Cool
An Ultrabook™ as sophisticated as Zenbook UX32LN needs a cooling system to match, so we designed our own. Inside the case is a custom heat sink made from beryllium copper alloy, which conducts heat away from hot components much more effectively than ordinary copper. Rather than spoil the sleek lines of Zenbook UX32LN with unsightly grilles, warm air then is channeled through a vent below the screen hinge, well away from any part of your body that touches the case. The result is an Ultrabook™ that's much cooler than the competition — in more ways than one.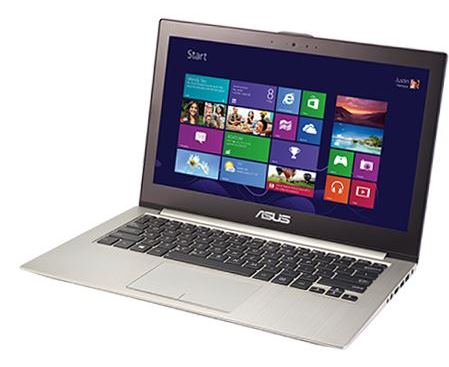 Incredible Sound : SonicMaster, because we're serious about Sound
Creating an Ultrabook™ that looks as incredible as Zenbook UX32LN is one thing, but making one that sounds as incredible is something else. The key to our success is our unique SonicMaster technology and a team of audio engineers who expertly balance high-quality audio hardware and professional-grade audio software to ensure the best possible sound quality. We think all the hard work is worth it, and when you hear the wide dynamic range with rich bass and sharp treble that Zenbook UX32LN delivers, we know you will, too.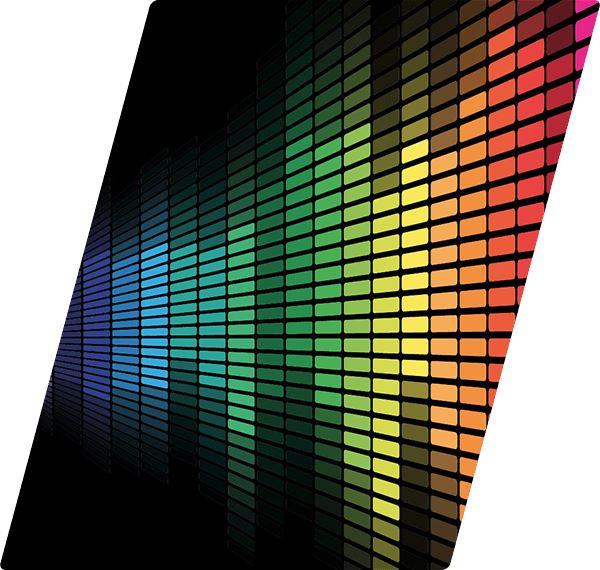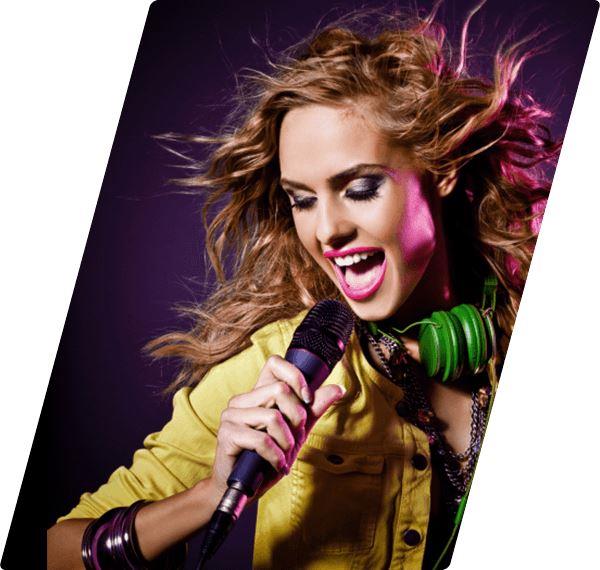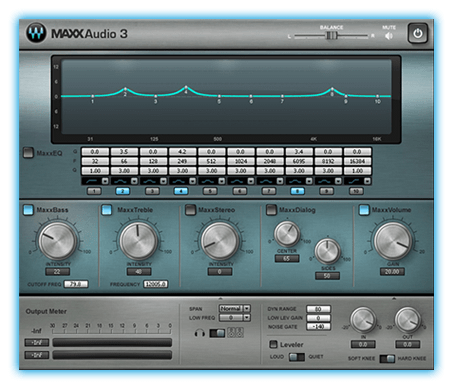 Incredible Cloud : Store, Share and Sync
ASUS cloud services provide the most complete platform for online living that's accessible anywhere from a host of devices. With ASUS WebStorage, convenience is the main priority, offering you easy storage, sharing, and syncing of everything from business presentations to photo albums and favorite multimedia content. Each ASUS Zenbook comes with 32GB of WebStorage space free for the three years, and offers you the MyBitCast app so you can easily sync your content to multiple devices and accounts simultaneously.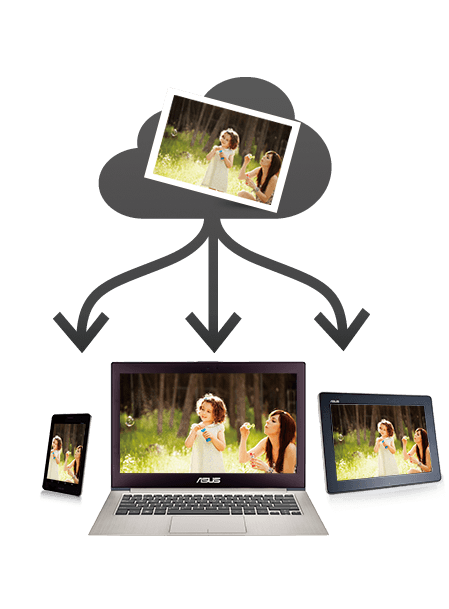 Specifications
| | |
| --- | --- |
| Processor | Intel® Core™ i5 4200U Processor |
| Cores - Cache | Cores = 2, Cache = 3MB |
| Chipset | N/A |
| Memory | DDR3L 1600 MHz SDRAM, OnBoard Memory 4 GB |
| No. of memory slots | 1x DIMM socket |
| Storage | 500GB SSH |
| Optical Drive | No |
| Operating System | Windows 8.1 |
| Graphic Card | NVIDIA® GeForce® GT 840M 2GB |
| Display | 13.3" 16:9 IPS Display |
| Screen Resolution | FHD (1920x1080) |
| Touch Screen | No |
| HDMI | 1 x HDMI |
| VGA Output | 1 x mini Display Port |
| DVI Output | No |
| Finger Print | No |
| Bluetooth | Bluetooth v 4.0 |
| Camera | HD Web Camera |
| LAN | N/A |
| WiFi | 802.11ac |
| Keyboard Layout | 286mm frameless illuminated chiclet keyboard |
| Backlit Keyboard | Yes |
| USB Port | USB 3.0 |
| Total USB Port | 3 |
| eSATA | N/A |
| Card Reader | SD card reader |
| Headphone Output | 1 x Headphone-out jack (Audio-in Combo) |
| Microphone Output | No |
| Battery | 3Cells 50 Whrs Polymer Battery |
| Color | Silver Grey |
| Weight | 1.45 kg |
| Dimensions | 325 x 223 x 5.5 ~18 mm (WxDxH) |
| Warranty | 1 Year Local + International - Parts and Labor Warranty |
| | |
| | |
Comes with 1 Year Local + International - Parts & Labor Warranty.