Product Description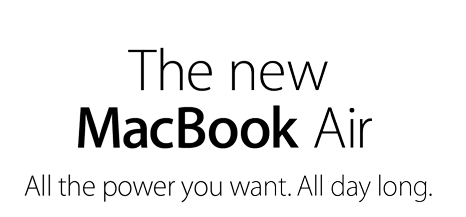 Presenting the all new Macbook Air 2014 Edition. The MacBook Air features fourth-generation Intel Core processors with stunning graphics, ultrafast flash storage, great built-in apps, and all-day battery life. It's thin, light, and durable enough to take everywhere you go — and powerful enough to do everything once you get there.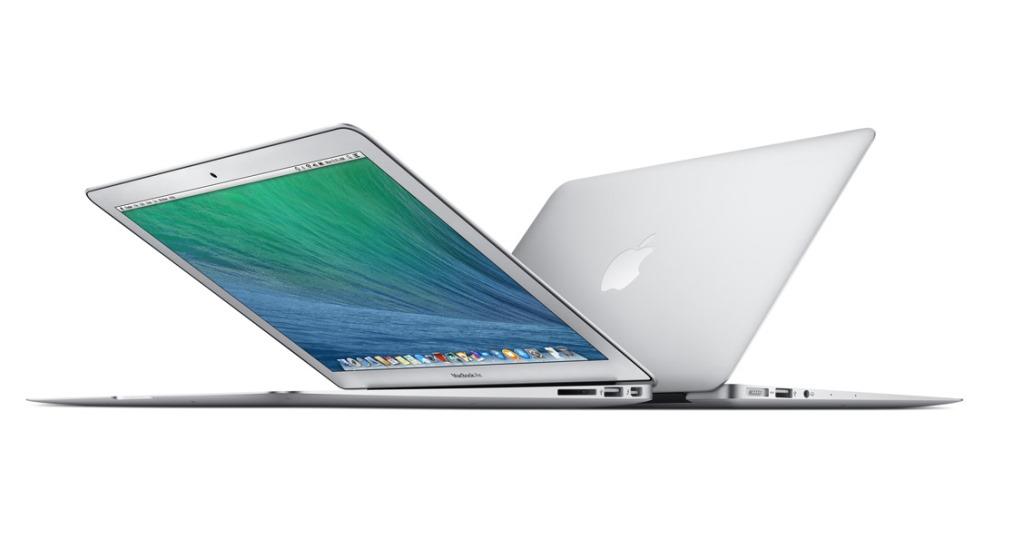 Design
Sure, MacBook Air is unbelievably thin and light. But we also designed it to be powerful, capable, durable, and enjoyable to use. With enough battery life to get you through the day. That's the difference between a notebook that's simply thin and light and one that's so much more. MacBook Air features a unibody design for both the main enclosure and the display. Unibody construction means a higher-precision, less complex design with fewer parts. That translates to a notebook that's exceptionally thin and light, yet durable enough to handle the rigors of everyday use.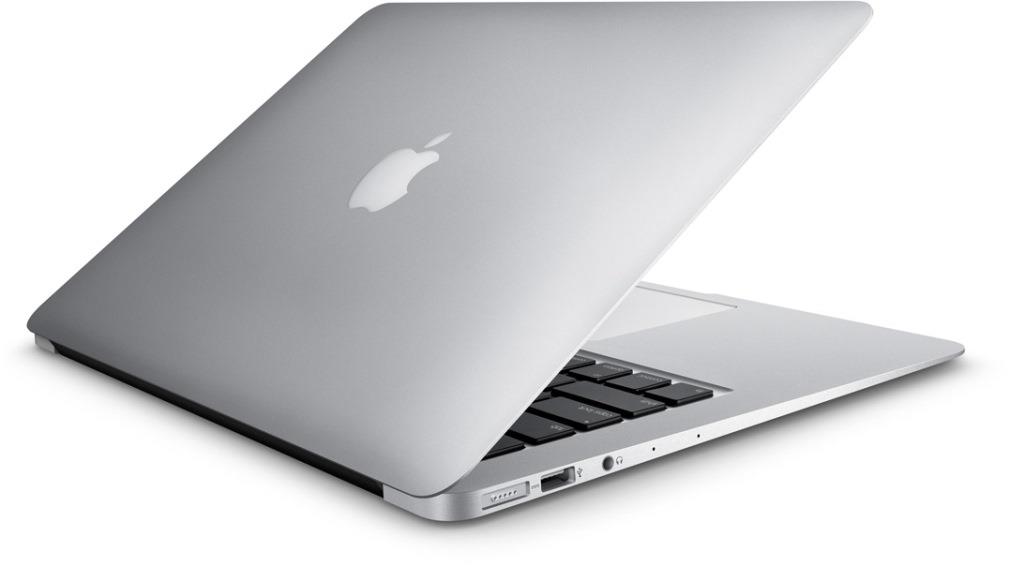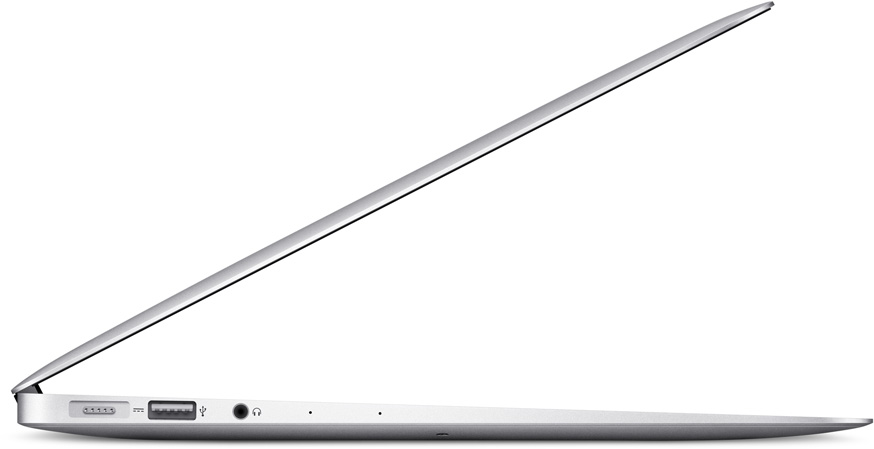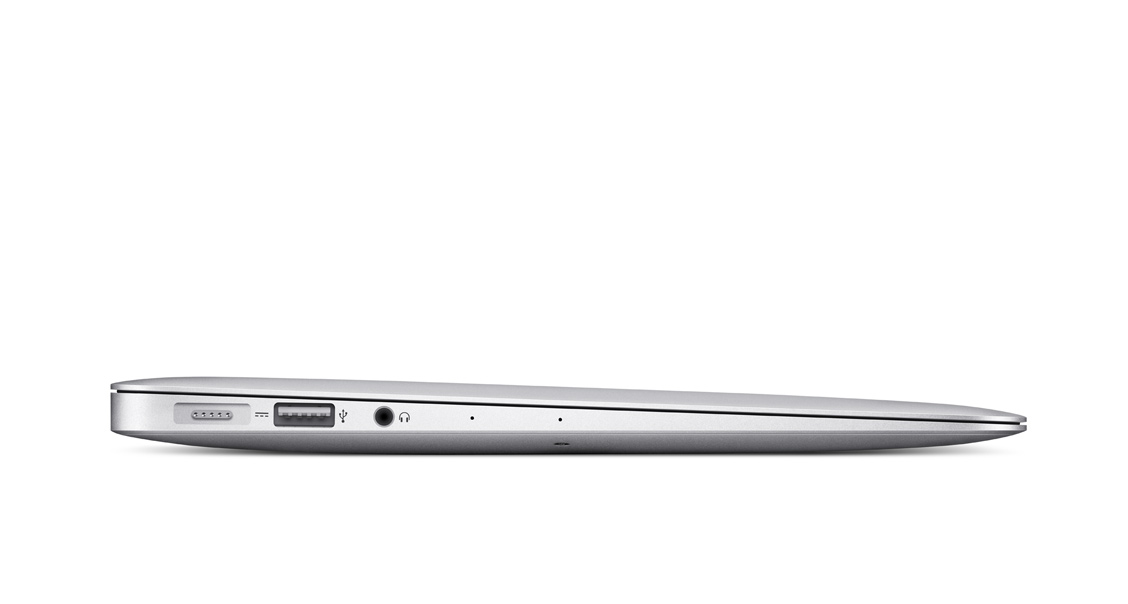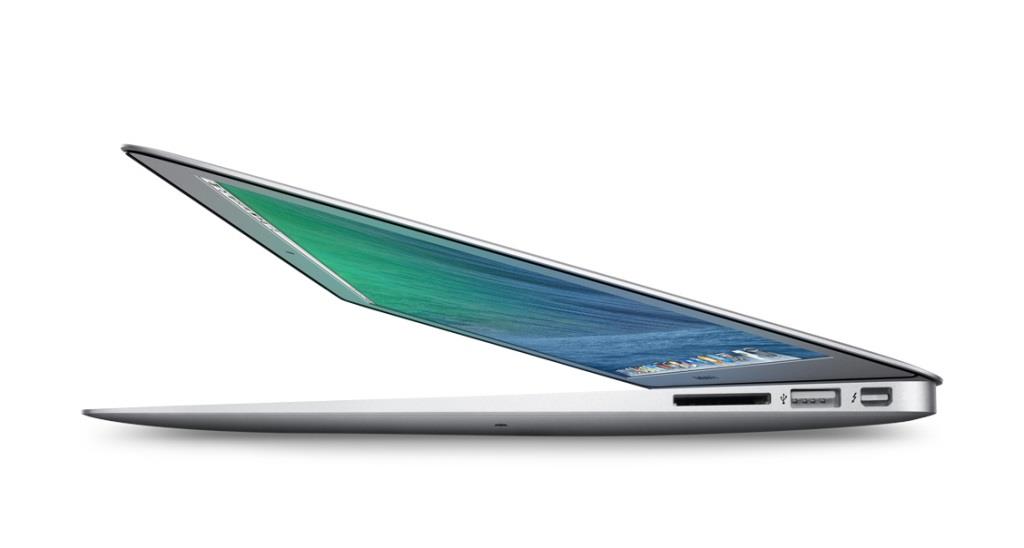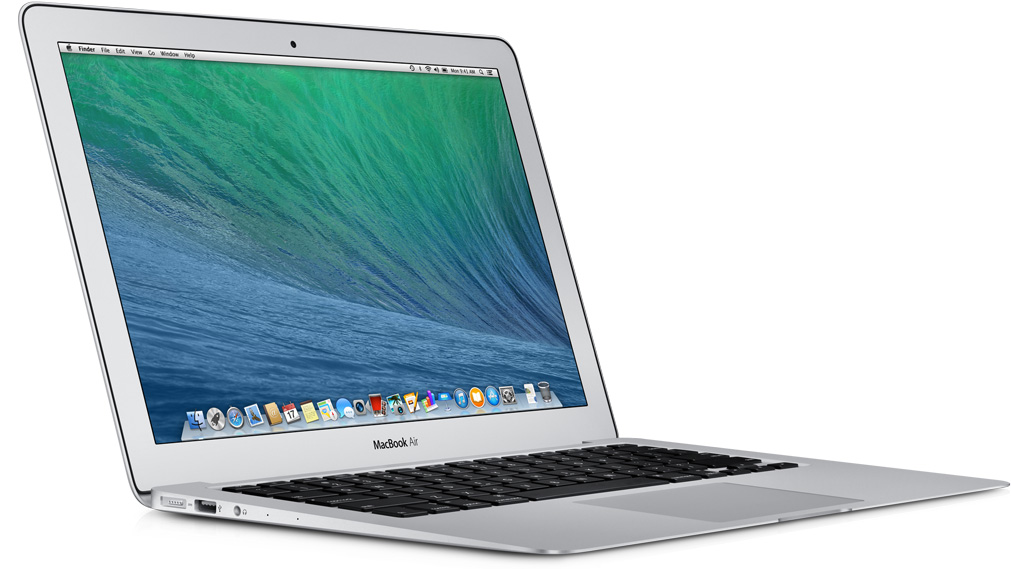 Features
Fourth Generation Intel Core Processors with Fast Graphics
Fourth-generation Intel Core i5 and i7 processors — based on the groundbreaking Haswell ULT architecture — give MacBook Air the power you need to finish the task at hand. Whatever the task may be. The dual-core Intel Core i5 with Turbo Boost speeds up to 2.7GHz comes standard. Or you can choose the optional dual-core Intel Core i7 processor for 1.7GHz of processing power and Turbo Boost speeds up to 3.3GHz. In addition, these processors are much more power efficient, which means you're able to do all the things you love to do on a computer for longer than ever — up to 9 hours between battery charges on the 11-inch MacBook Air and up to 12 hours on the 13-inch model.1 And with the Intel HD Graphics 5000 processor, you get advanced graphics performance. So when you're trying to level up in your favorite game — or taking on other graphics-intensive tasks — things move more smoothly and with greater detail.



Fast Memory
MacBook Air features up to 8GB of superfast, power-efficient 1600MHz LPDDR3 memory. Combine that with powerful processors and fast flash storage and you get a notebook that can run more memory-intensive applications at the same time — without compromising performance.

Fast Flash Storage
From the moment you start up MacBook Air, you realize this is exactly how a notebook should perform. Much of that power is thanks to flash storage, which is up to 9x faster than a traditional 5400-rpm notebook hard drive.2 Apps launch quickly. Files and documents open faster. Even after a month in standby mode, MacBook Air springs to life.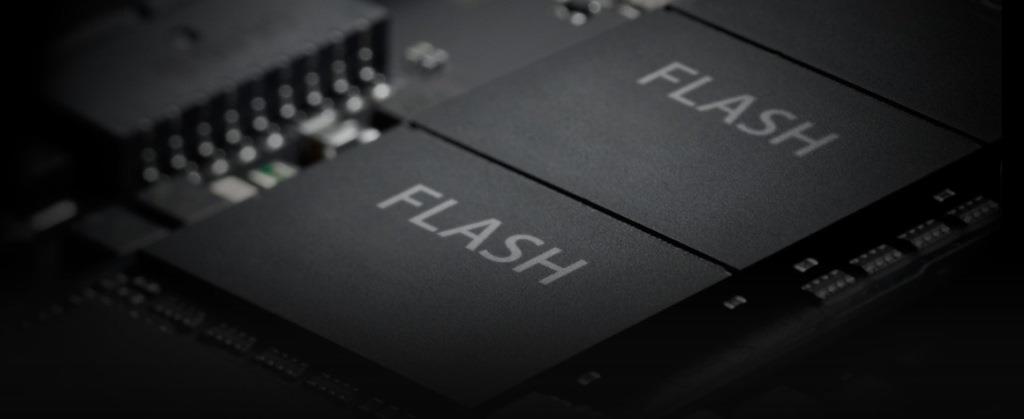 High-Speed Thunderbolt and USB 3.0
A high-speed Thunderbolt port and two USB 3 ports allow MacBook Air to transfer data at lightning-fast speeds and connect to displays like the Apple Thunderbolt Display. So with a few connections, you can turn a highly portable notebook into a highly versatile workstation.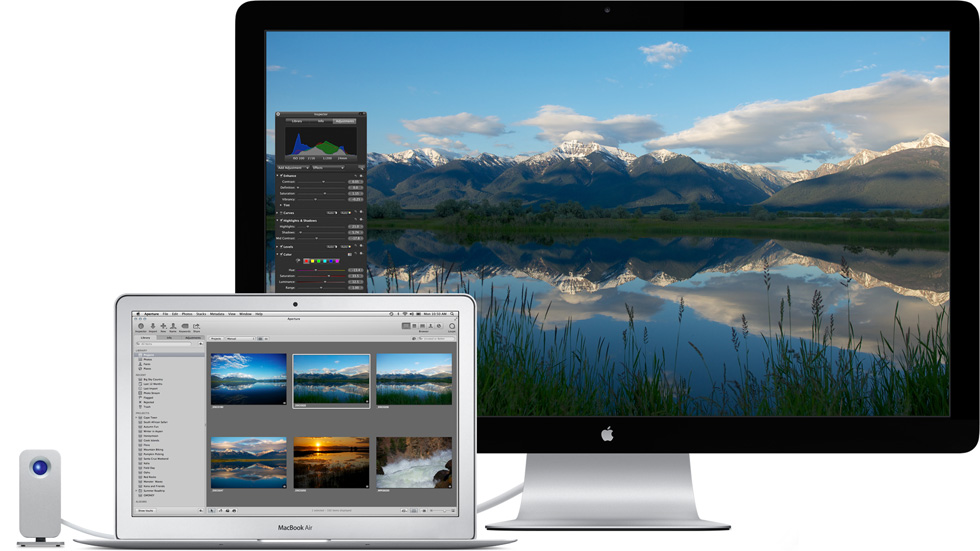 802.11 ac Wi-fi
MacBook Air supports ultrafast 802.11ac Wi-Fi. When connected to an 802.11ac base station — including AirPort Extreme and AirPort Time Capsule — wireless performance is up to 3x faster than with the previous generation of Wi-Fi or MacBook Air with 802.11n Wi-Fi.2And your Wi-Fi range improves as well. With Bluetooth technology, you can connect MacBook Air to Bluetooth-enabled devices like speakers and headphones. Even without all the wires, you're totally connected.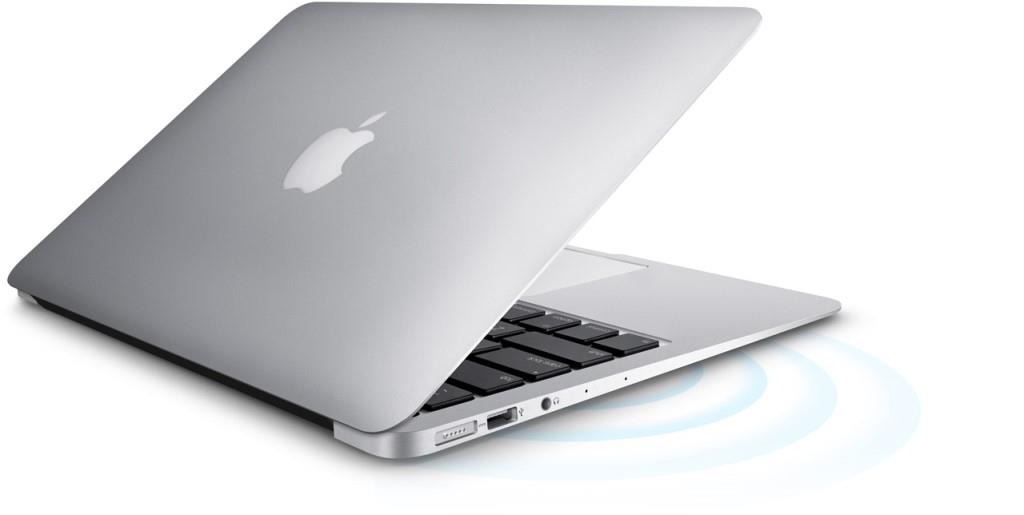 A battery that can get you throughout the day. And the Month.
If you looked inside MacBook Air, you'd see something remarkable: how much space we devoted to the battery. That's thanks to smaller components such as flash storage. And when the goal is to design the perfect notebook for everyday use, giving priority to the battery just makes sense. With the 11-inch MacBook Air, you'll get up to 9 hours of battery life while surfing the web or watching iTunes movies. And the 13-inch model lasts up to a staggering 12 hours.2 Put MacBook Air to sleep for more than 3 hours, and it enters standby mode. That means you can come back to MacBook Air up to an entire month later and it wakes in an instant. Time is on your side, courtesy of MacBook Air.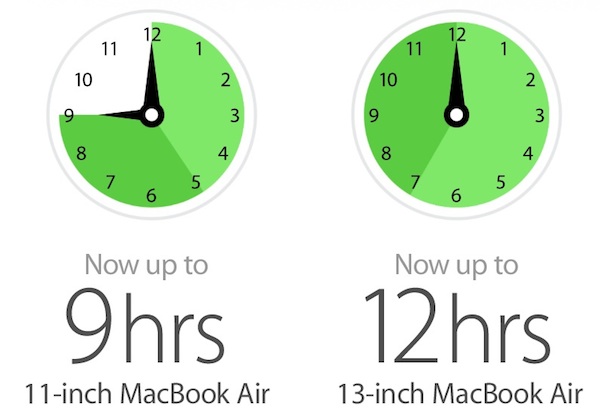 See your QWERTY in Lights
Anyone can try to make a notebook that's thin and light. Success comes in doing it without cutting corners. That's why MacBook Air features a full-size keyboard that's just as comfortable to type on as a desktop keyboard. And the keyboard is backlit, so you can type in low-light conditions with ease. A built‑in sensor detects changes in the ambient lighting and adjusts the keyboard and display brightness automatically, giving you the perfect illumination in any environment.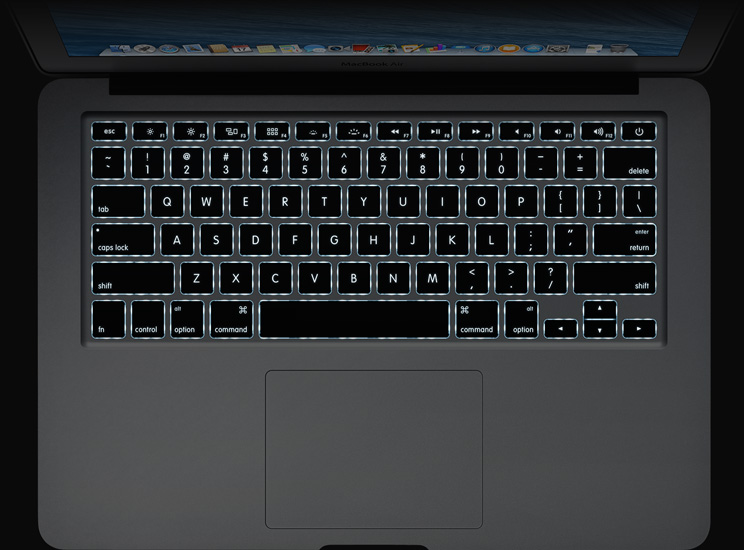 The Best Way to Multi-Touch on a notebook
Multi-Touch technology is part of practically every Apple product. It's the best and most personal way to interact with your devices. And the optimal way to experience Multi-Touch on a notebook is through a trackpad. That's precisely the case with MacBook Air. The trackpad's spacious, all-glass surface doesn't have a button because the whole thing is the button. And with Multi-Touch gestures in OS X, you can interact with MacBook Air in ways that feel more intuitive and realistic than ever before.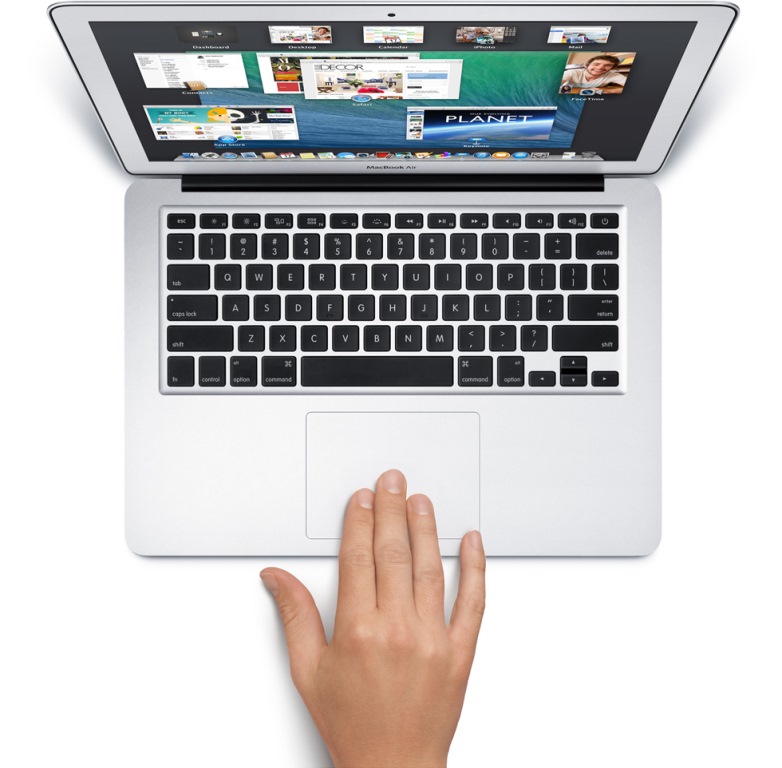 Display, Cameras and Mics : Impressive. In every sense
720p FaceTime HD Camera. Stay Sharp
Let your friends and family see more of you with the 720p FaceTime HD camera. Every smile looks bright, even halfway around the world. And the widescreen format means everyone can fit into the picture without having to crowd around the display. And the dual microphones in MacBook Air are great for when you want to be heard. If you're making a FaceTime call, for example, the mics reduce background noise from behind the notebook. And when you use Dictation, they create an adaptive audio beam that intelligently adjusts to detect your voice — instead of the noise around you.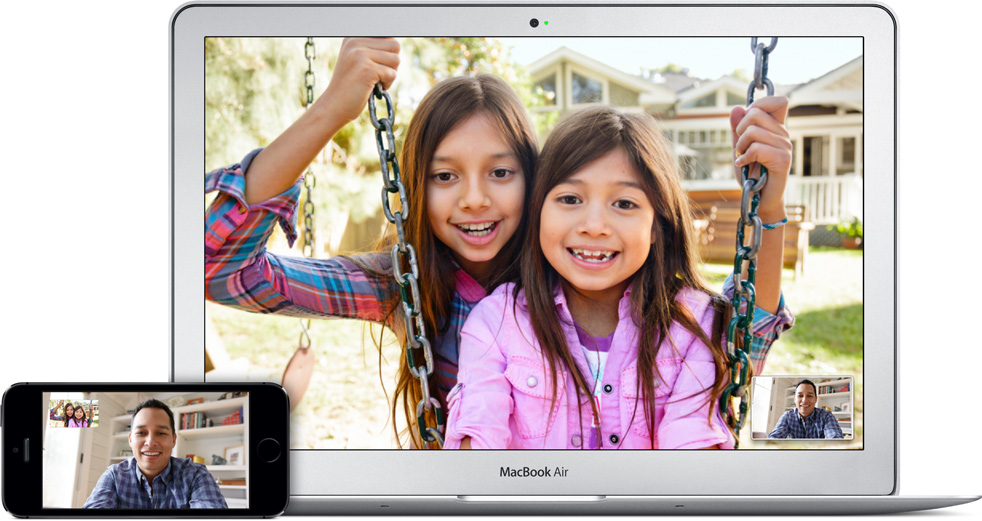 iCloud : Your Content. On All Your Devices
iCloud stores your content and lets you access your music, photos, calendars, contacts, documents, and more from whatever device you're on. So if you take a picture with your iPhone or make changes to your meeting schedule on your iPad, iCloud makes sure everything appears on your Mac, too. And it works both ways — create a to-do list on your Mac and you can make edits to it on your iPhone.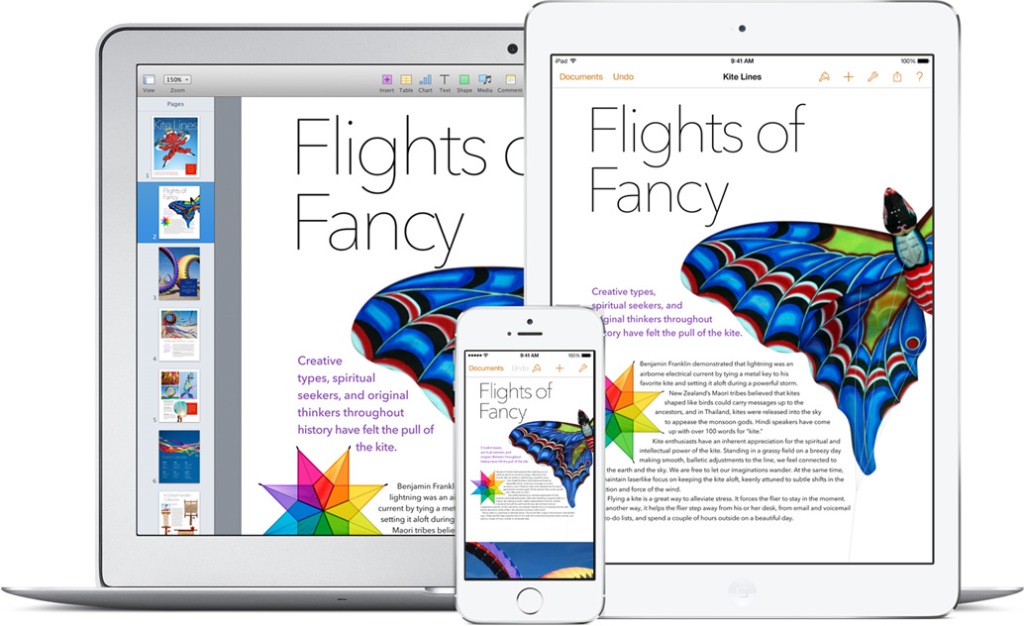 OS X
OS X is the operating system that powers every Mac. Built on a rock-solid UNIX foundation, it's engineered to take full advantage of what the hardware is capable of. And it's designed to deliver the most intuitive and integrated computer experience in the world.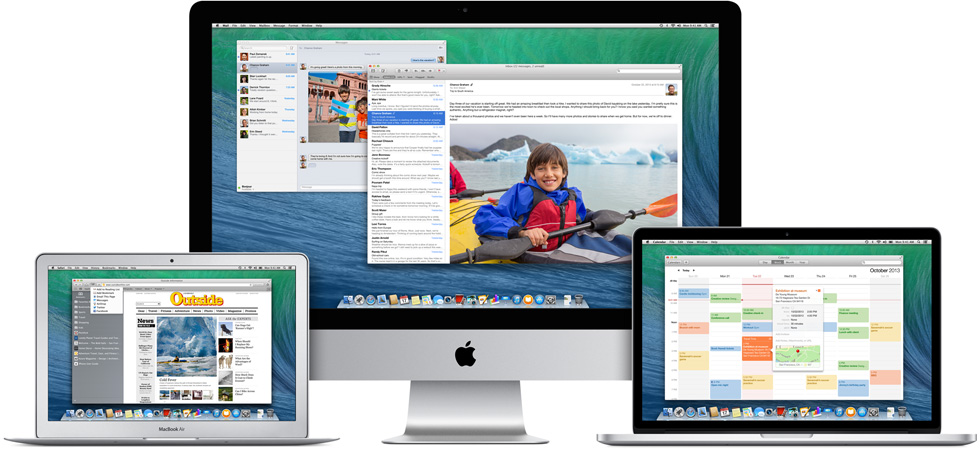 Built for Power. From the Ground Up
Making powerful things simple requires some seriously advanced technologies. OS X is loaded with them. It's built on a rock-solid, time-tested UNIX foundation that provides unparalleled stability and industry-leading support for Internet standards. OS X takes full advantage of the multicore Intel processors in every new Mac. And the incredible graphics capabilities in OS X allow applications like Aperture and Final Cut Pro to give you unprecedented photo and video editing power.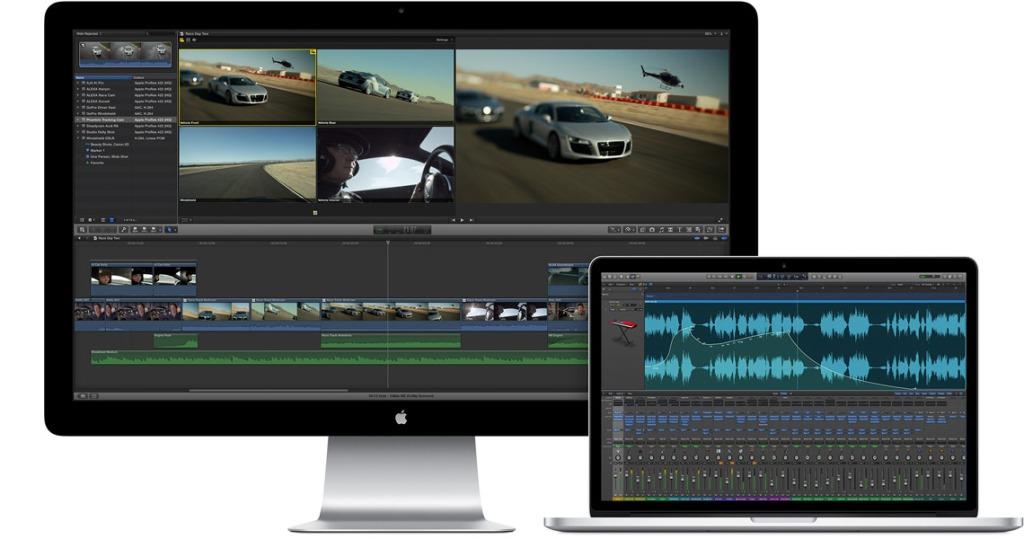 Unboxing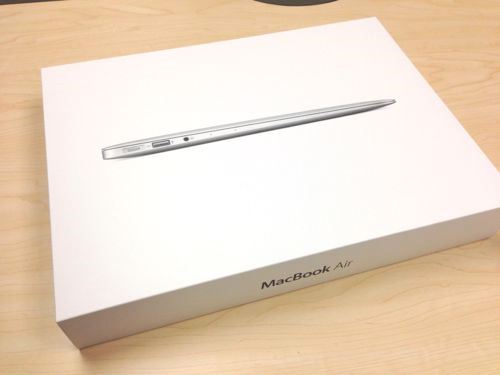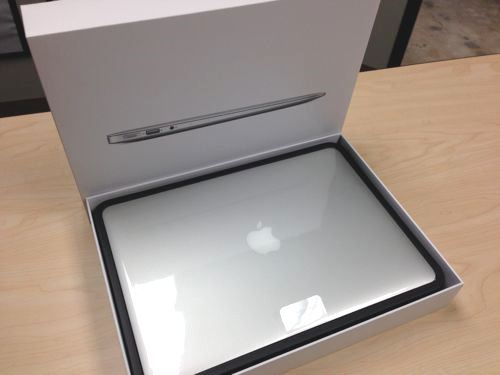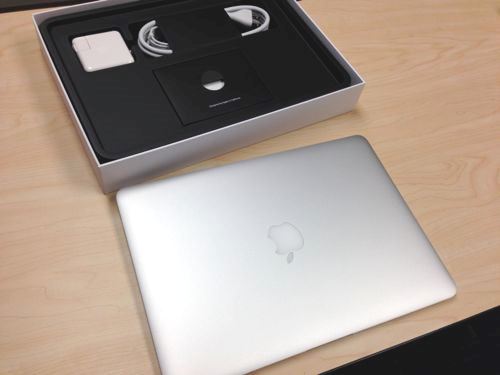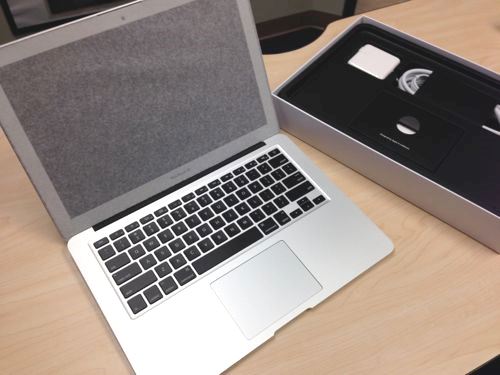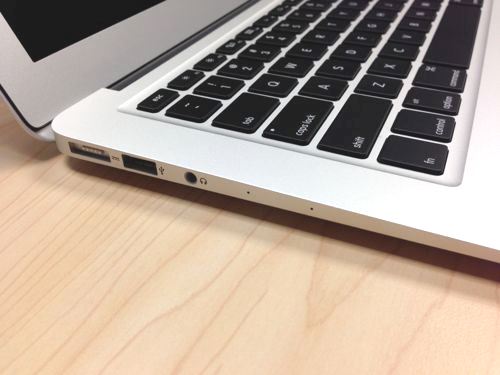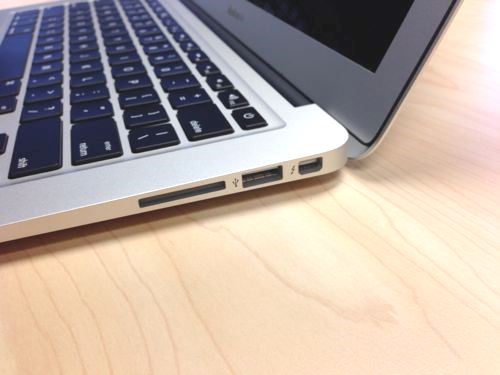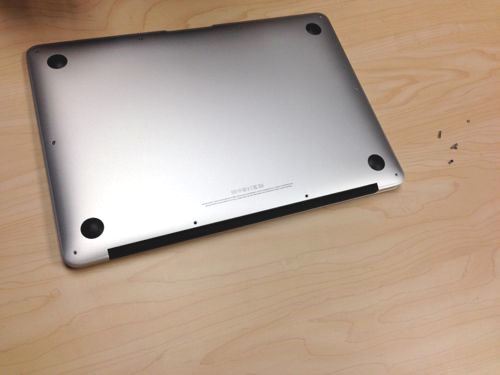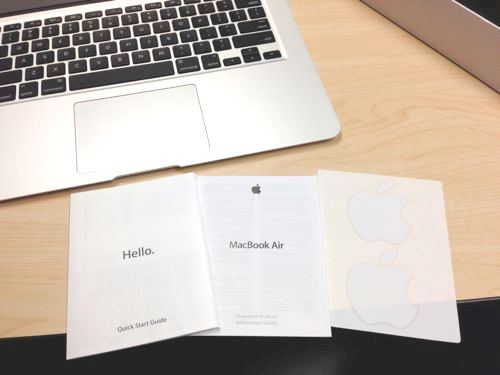 What's in the Box
13.3-inch MacBook Air

45W MagSafe 2 power adapter

AC wall plug

power cord

printed and electronic documentation
Specifications
Processor

1.4GHz dual-core Intel Core i5 (Turbo Boost up to 2.7GHz)

Cores - Cache
Cores = 2 - Cache = 3 MB
Chipset
N/A
Memory

4GB of 1600MHz LPDDR3

No. of memory slots
N/A
Storage

256GB PCIe-based flash storage

Optical Drive
No
Operating System
OS X Mavericks
Graphic Card

Intel HD Graphics 5000

Display

13.3-inch (diagonal) LED-backlit glossy widescreen display with support for millions of colors

Screen Resolution

1440 by 900 (native)

Touch Screen
No
HDMI

HDMI audio and video output using third-party Mini DisplayPort to HDMI Adapter (sold separately)

VGA Output

VGA output using Mini DisplayPort to VGA Adapter (sold separately)

DVI Output

DVI output using Mini DisplayPort to DVI Adapter (sold separately)

Finger Print
No
Bluetooth

Bluetooth 4.0 wireless technology

Camera

720p FaceTime HD camera

LAN
No
WiFi

802.11ac Wi-Fi networking;

4

IEEE 802.11a/b/g/n compatible

Keyboard Layout

Full-size backlit keyboard with 78 (U.S.) or 79 (ISO) keys, including 12 function keys and 4 arrow keys (inverted "T" arrangement) with ambient light sensor

Backlit Keyboard
Yes
USB Port
USB 3.0
Total USB Port
2
eSATA
No
Card Reader

SDXC card slot

Headphone Output
Yes,

Support for Apple iPhone headset with remote and microphone

Microphone Output
No
Battery

Built-in 54‑watt‑hour lithium‑polymer battery

Color
Silver
Weight

2.96 pounds

Dimensions

Height: 0.11-0.68 inch (0.3-1.7 cm)

Width: 12.8 inches (32.5 cm)

Depth: 8.94 inches (22.7 cm)

Warranty
International Warranty