Presenting the all new Apple iMac. iMac features a gorgeous 21.5 inches widescreen display, the latest generation Core i5 processor, 8 GB of 1600MHz DDR3 memory, 1 TB (5400 rpm) Hard Drive and a Intel Iris Pro Graphics processor. Experience the perfect blend of elegant design and extreme performance with the all new and improved iMac.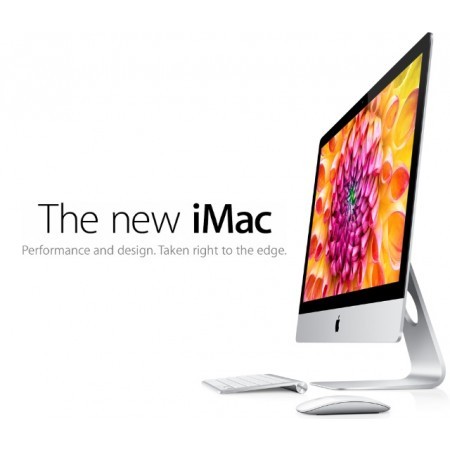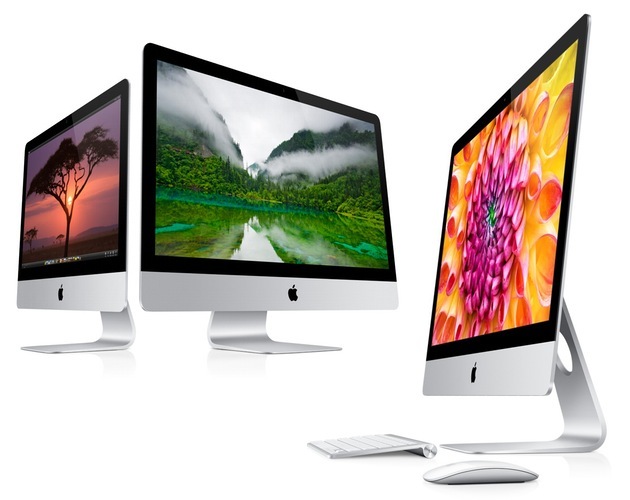 Design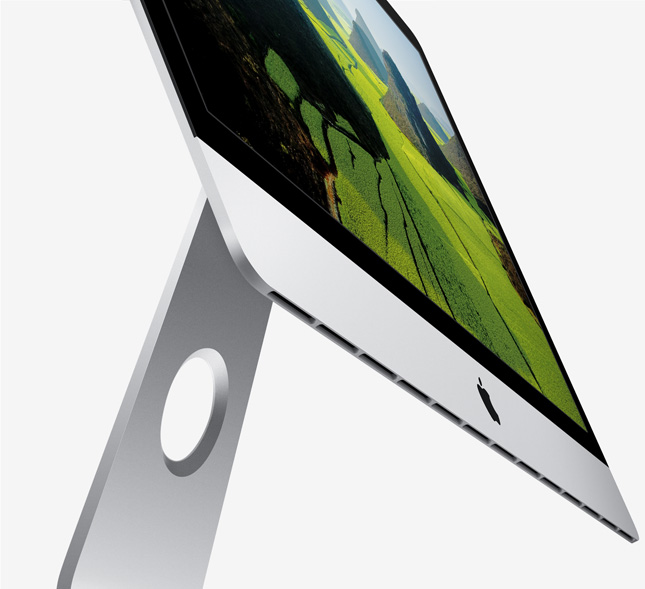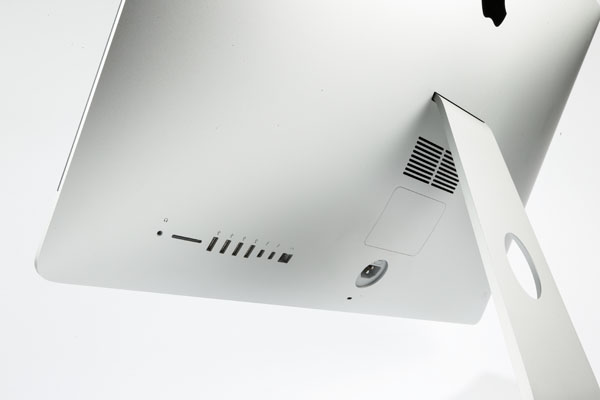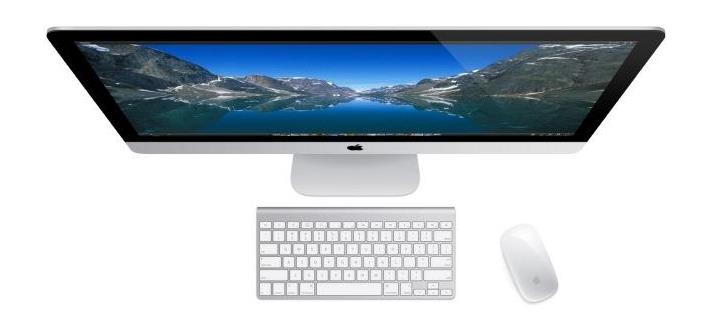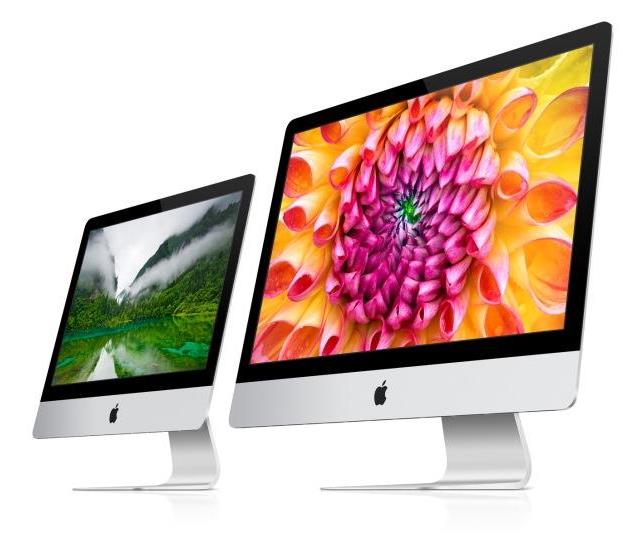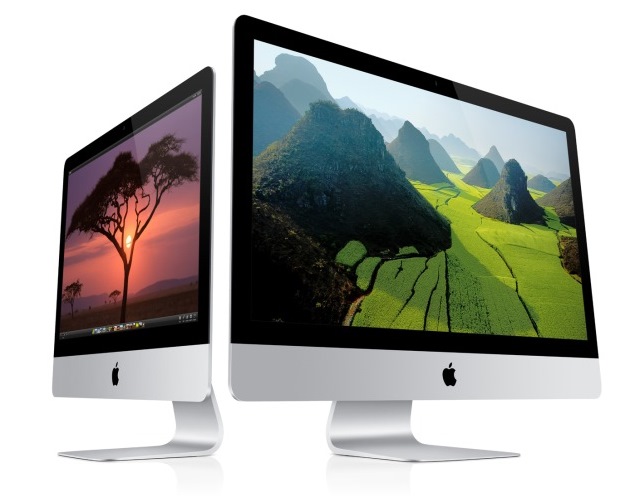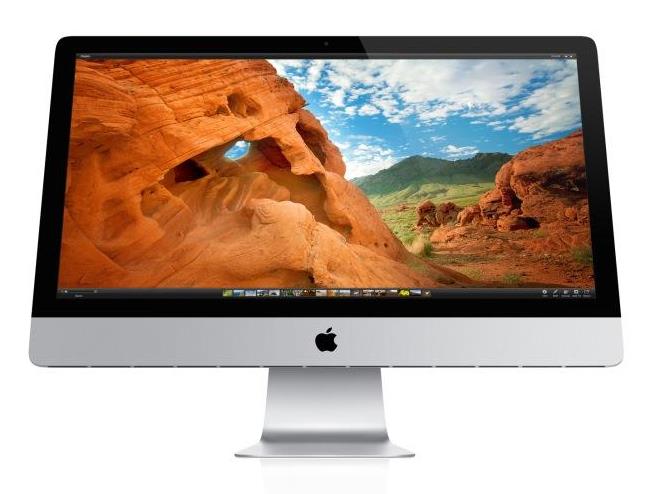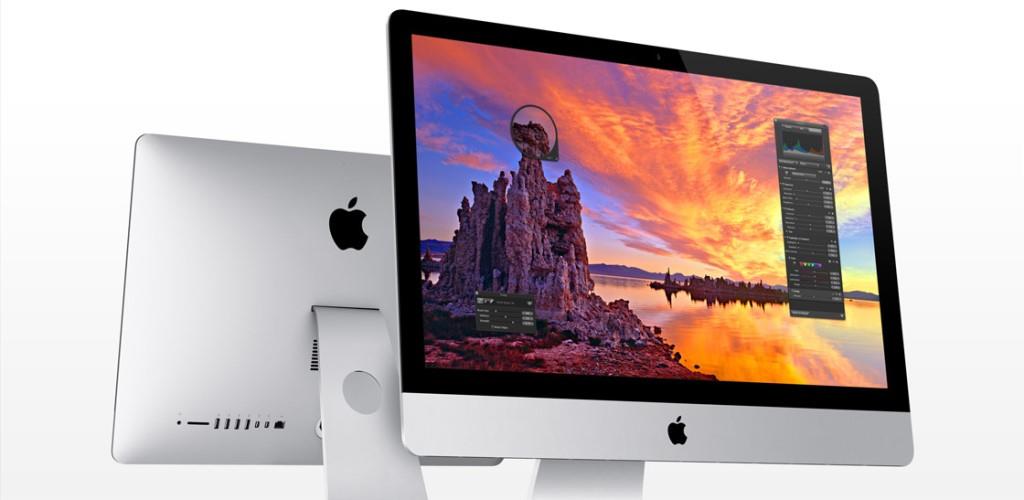 Features
Re-engineered Display
Experience new heights of innovations when viewing the beautiful 21.5 and 27 inch displays of the new iMac. The all new display design reduces reflection by 75%. And since the LCD sits right up against the glass, your content seems to leap off the screen.
IPS technology allows for a bright picture with exceptional colors from every possible angle. LED backlighting offers instant-on, uniform brightness with no waiting.
Evey iMac display is individually color-caliberated using state-of-the-art spectroradiometers to match color standards recognized around the world. Hence, everything you see on the big, glossy display of the iMac, ranging from skin tones and dark shadows to bright blue skies and green fields, everything is rich and vibrant. Best of all, colors are more true to life too.
Experience new heights of viewing pleasure with the all new iMac.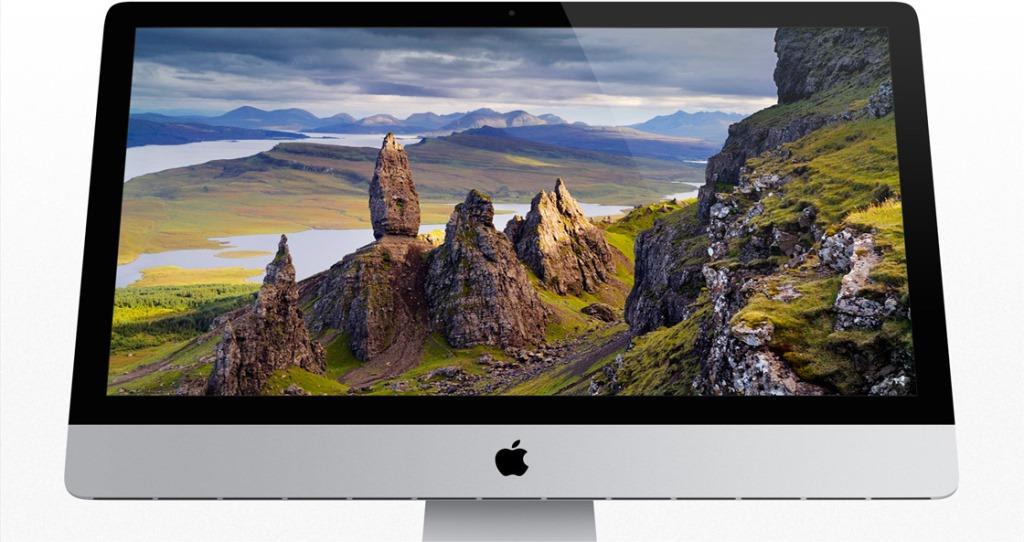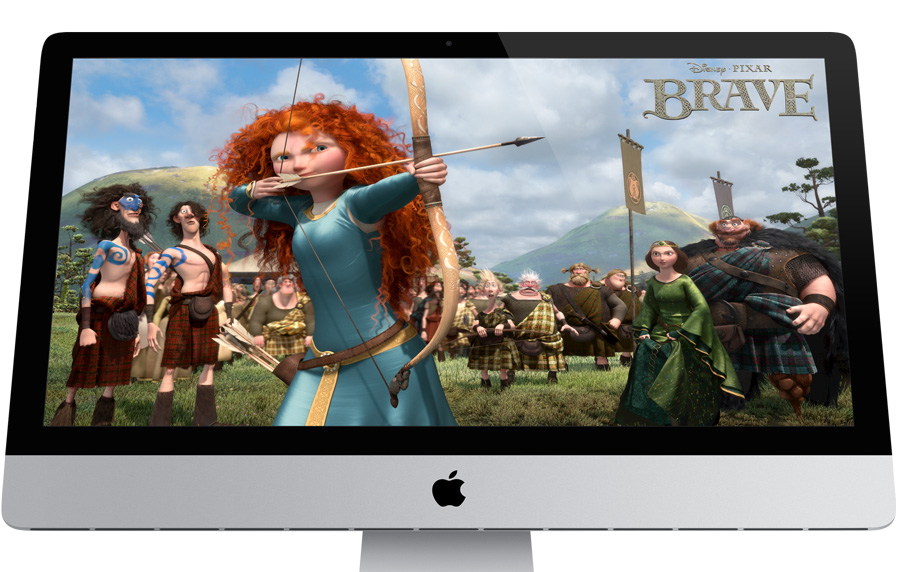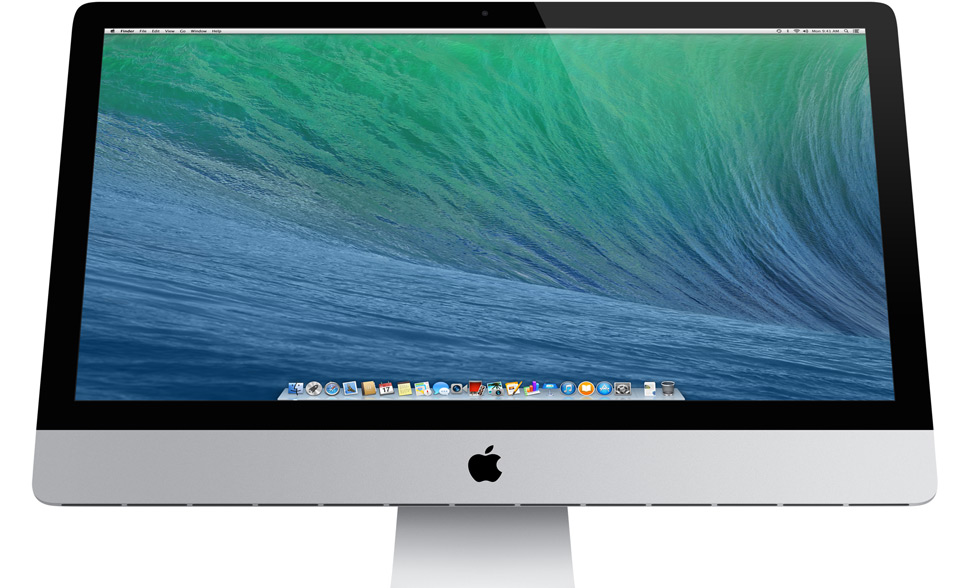 Fourth Generation Intel Core Processors
The fourth generation quad-core Intel Core i5 processor - based on the latest Hashwell architecture is standard on the iMac. It is available at clock speeds of up to 3.4 GHz. You can even configure your iMac with a Quad Core Intel i7 processor at up to 3.5 GHz. Since OS is designed to take advantage of each core, iMac capitalizes on every bit of performance the processor has to offer.
Turbo Boost 2.0 allows the processor to manage performance without sacrificing on efficieny by shifting core frequency in small increments. The turbo boost automatically increases the speed of the active cores, meaning that the Core i7 for example, can offer up to 3.9 GHz, and make you run your power-intensive applications run smoother and faster.
Experience the true power of the latest generation intel core processors on the all new and improved iMac.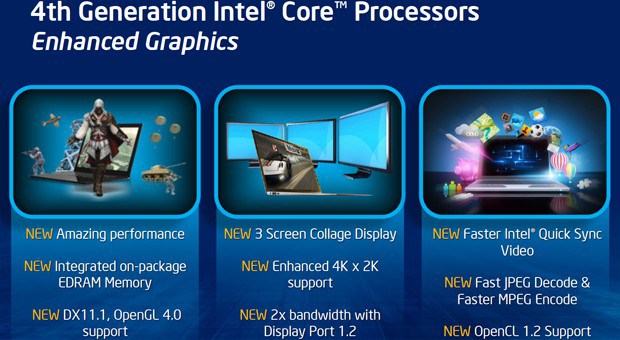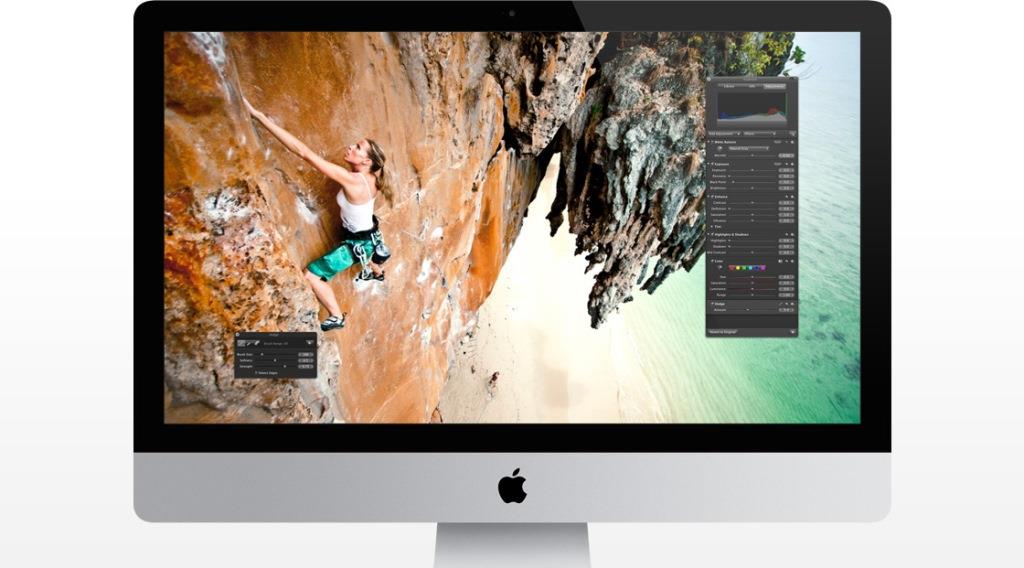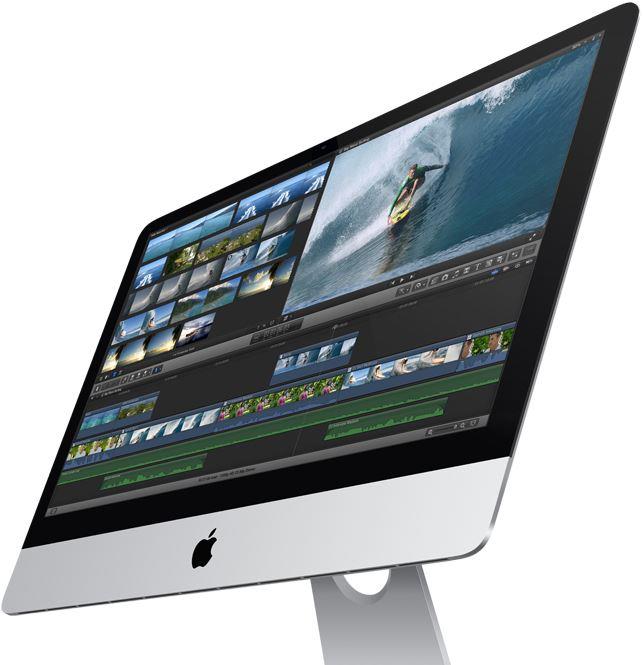 New NVIDIA Graphics
Nvidia 700 series graphics processors are faster than the previous generation and include double the video memory. That translates into more frames per second, smoother animations, and better responsiveness when you're using graphics intensive apps like 3D games, high-resolution photo and video editors etc.
Experience new heights of graphic capabilites on the all new and improved iMac.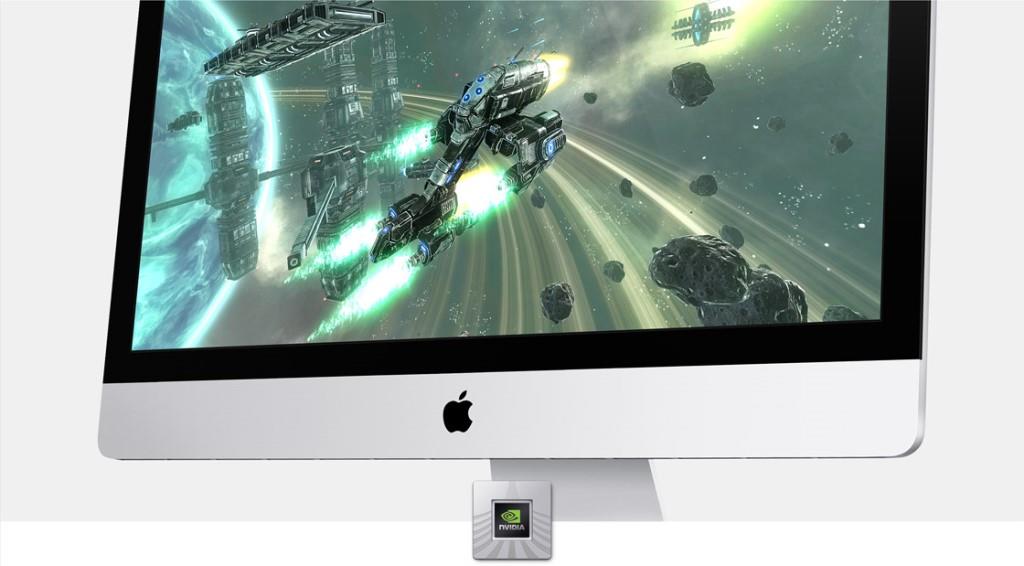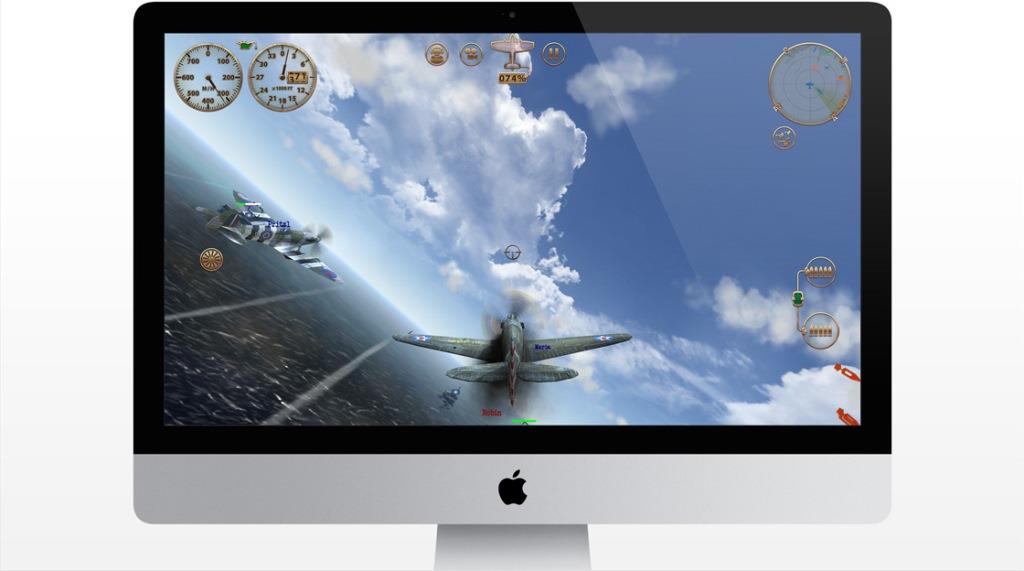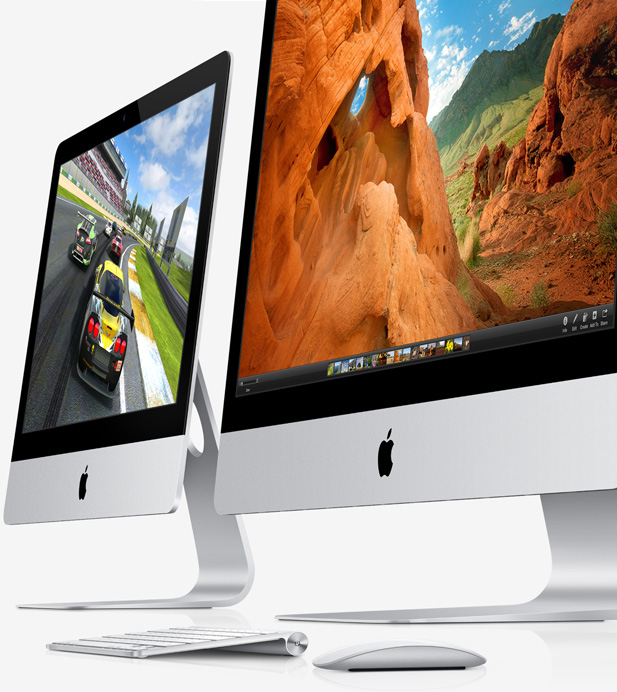 Faster Fusion Drive
Experience the breakthrough in high storage capacity with the Fusion Drive on the new iMac. Available as a configurable option, the Fusion Drive offers up to 50 percent faster performance than previous generation flash storage. The Fusion Drive combines the best of both worlds, the high storage capacity of a traditional hard drive, and the high performance of a Flash Storage. With the Fusion Drive on your iMac, experience everything, ranging from booting up to launching apps to importing photos, faster and more efficient.
Experience the next generation of hard drive performance with the Fusion Drive on the all the new iMac.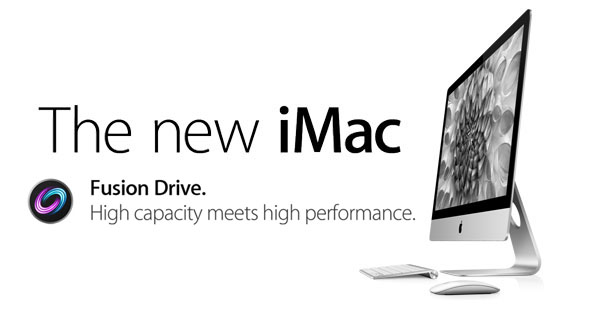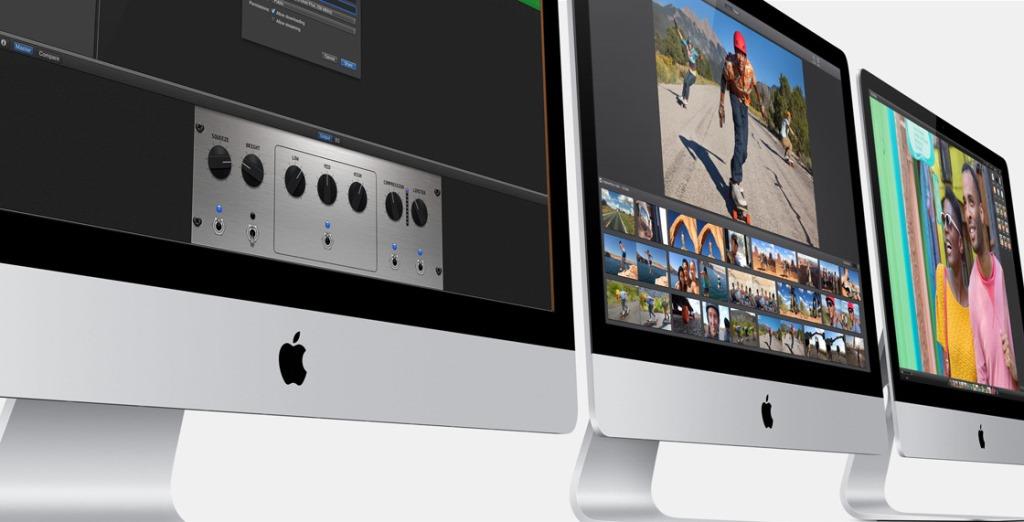 802.11 ac Wi-Fi
Experience the iMac taking the desktop Wi-fi speeds over the top with the three-stream 802.11 ac technology. When connected to an 802.11 ac base station like the new AirPort Extreme and AirPort Time Capsule, enjoy data rates of up to 1.3 Gbps. That's triple the 802.11 n standard, meaning that you get up to three times faster Wi-fi. And with the 800 MHz-wide channels, you also get double the channel bandwidth that provide more room for the data to flow faster than ever.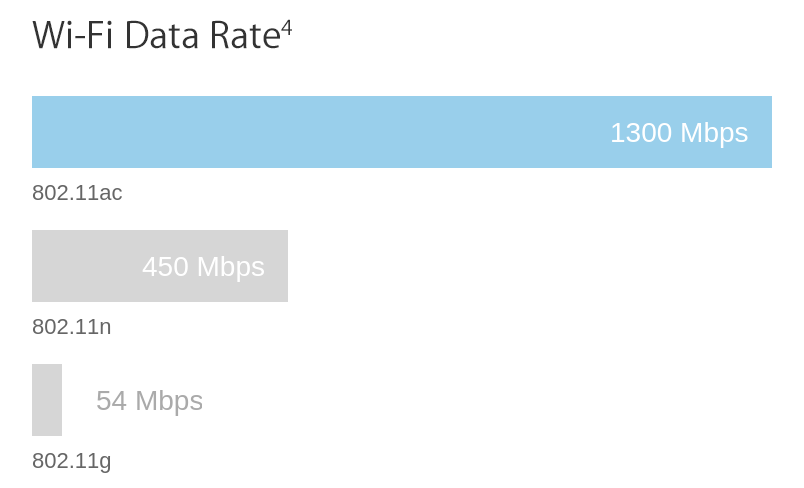 Thunderbolt I/O
Experience superfast data transfer speeds and huge expansion capabilities with just one tiny port. The Thunderbolt features two 10-Gbps data channels per port, which means data transfer is up to twice as fast as USB 3.0 and up to 12 times faster than FireWire 800. And you don't have to worry about a single drive or peripheral tying up a Thunderbolt port: You can daisy-chain as many as six devices plus a display. All iMac models include two Thunderbolt ports for even more expansion possibilities.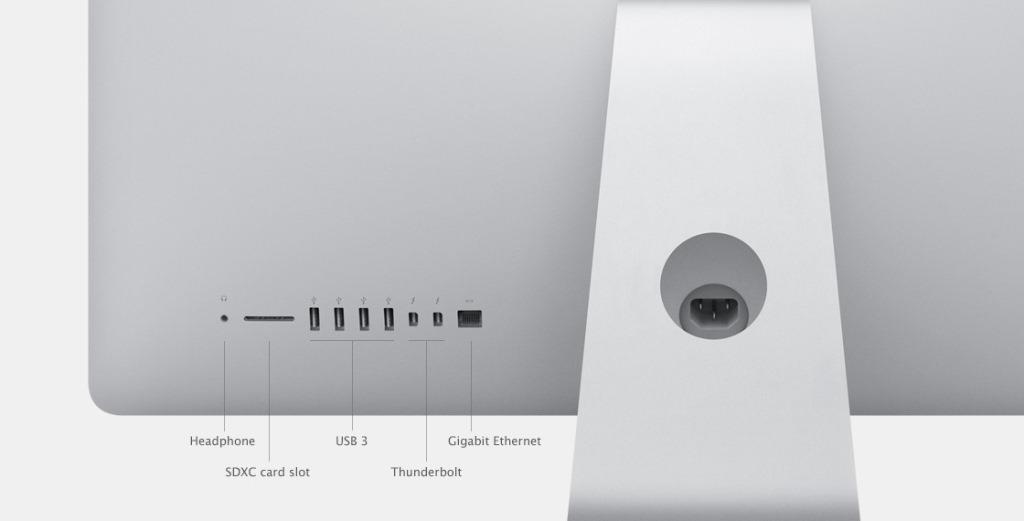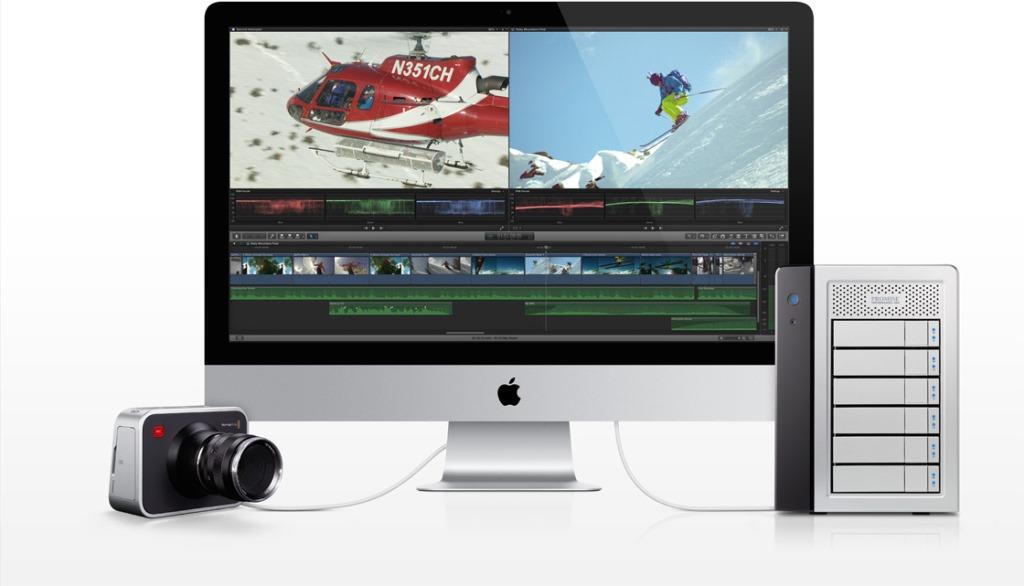 720p Face Time Camera with Dual Mic
Enjoy HD FaceTime calls from your iMac to an iPhone 4 or later, iPad, iPod Touch, or another Mac running FaceTime for Mac. The 720p FaceTime HD Camera lets your friends and your family see more of you. The widescreen format ensures that you fit in the display easily without having to crowd with the display. Enjoy reduced background noise during FaceTime calls with the dual microphones on the new iMac. Experience being seen and being heard better with the new iMac.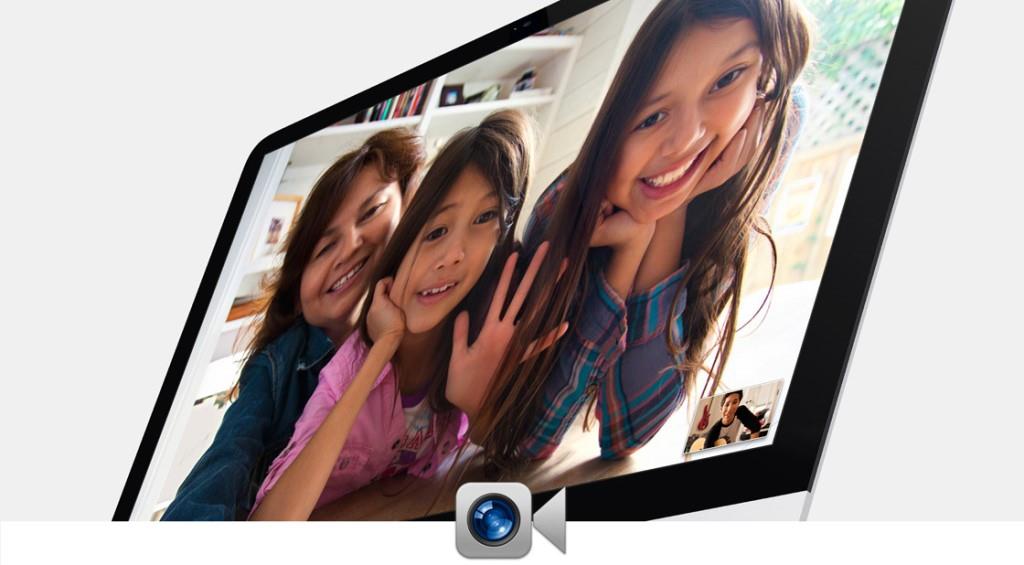 Wireless Magic Mouse
Choose your perfect cord-free setup with the Magic Mouse for your all new iMac.
The Magic Mouse comes as a standard with your iMac. It lets you perform simple gestures across its smooth, seamless top shell. Simply scroll in any direction with one finger, swipe through web pages and photos with two, and click and double click anywhere. Experience OS X in the most easy and intuitive way using gestures on the Magic Mouse with your iMac.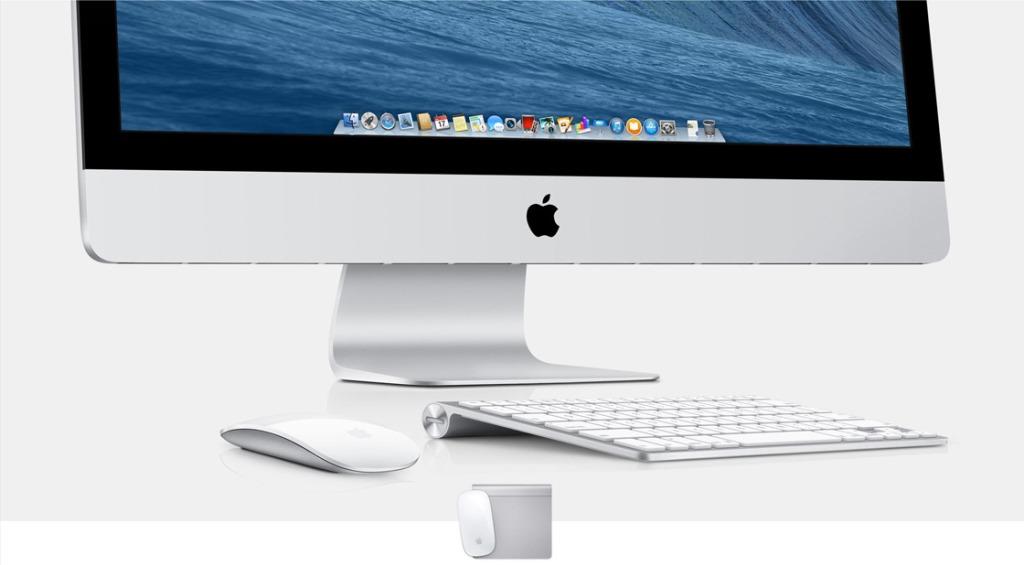 OS X Mavericks

Experience the world's most advanced operating system with your iMac. And since OS X is specifically built for Mac, you get to enjoy a full integrated system where everything works together perfectly. Enjoy an amazing collection of apps for browsing the web, viewing maps, sending messages, and so much more. And with the iCloud, OS X makes your Mac, iPhone, iPad, and iPod touch work seamlessly together. Experience the best operating system that is worthy of running on the best all-in-one desktop, the all new OS X on the all new iMac.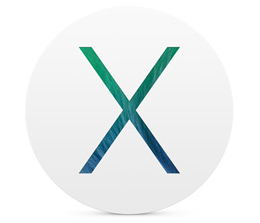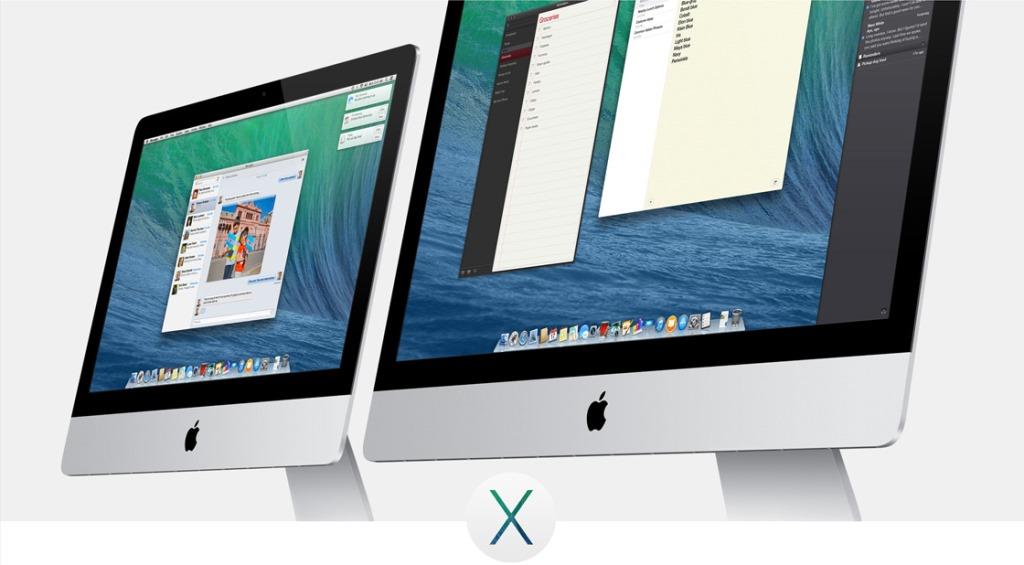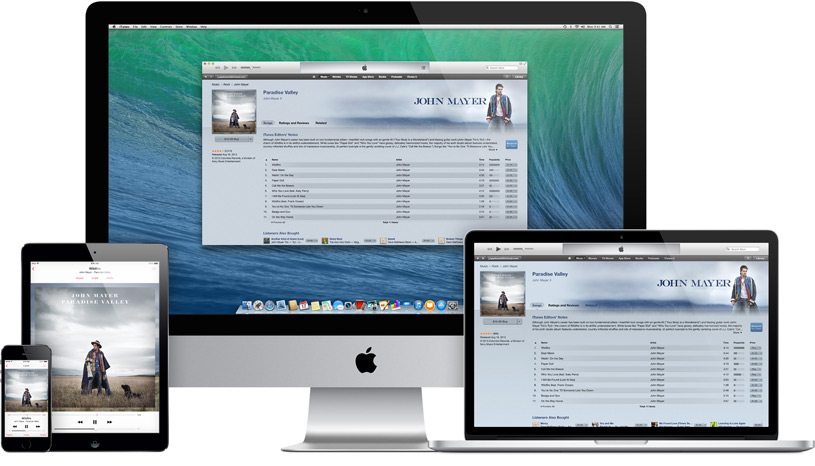 Amazing Built in Apps
Enjoy great creativity apps that come pre-loaded with your all new iMac. Apps include iPhoto, iMovie, GarageBand, Pages, Numbers and Keynote. Now you can do more with your photos, videos, music, documents, spreadsheets and presentations. You also get an app for sending email, managing your schedule and automatically backing up your Mac. There's even an app for shopping for new apps at the Mac App Store. Get all the things you need to do all the things you want with apps on your all new iMac.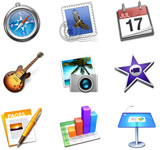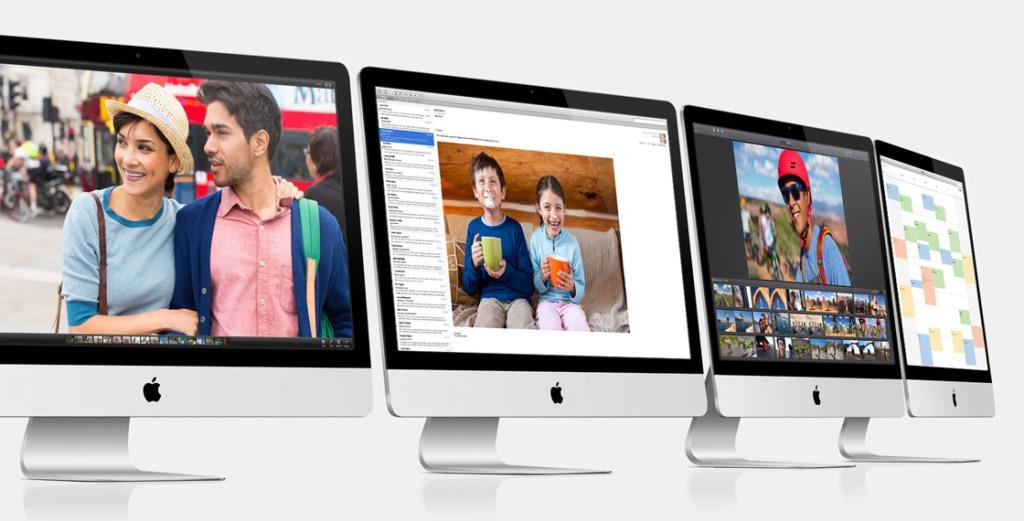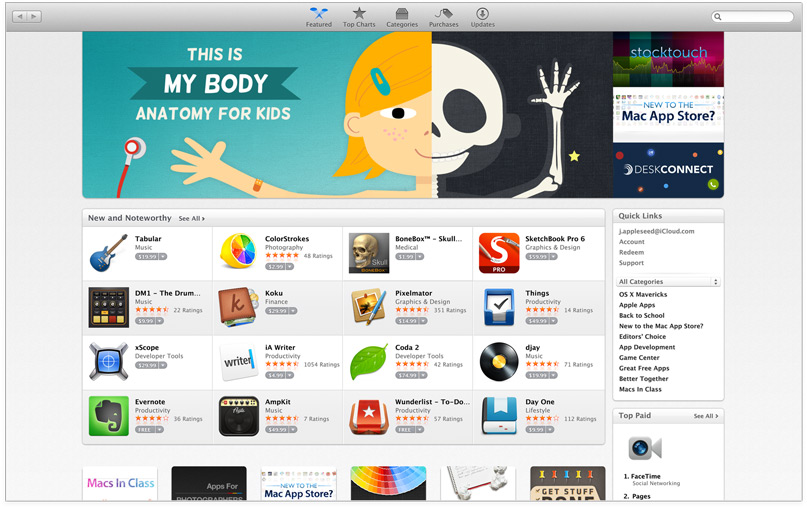 Unboxing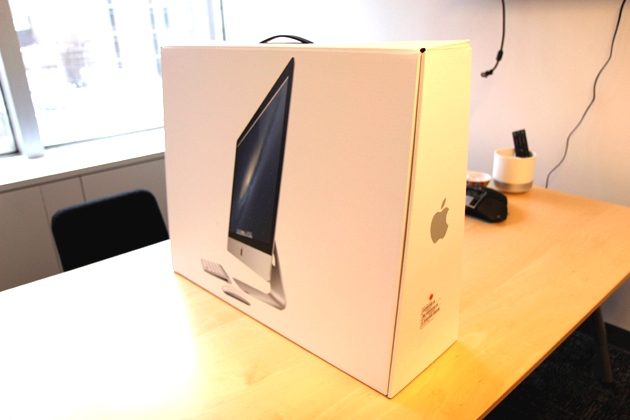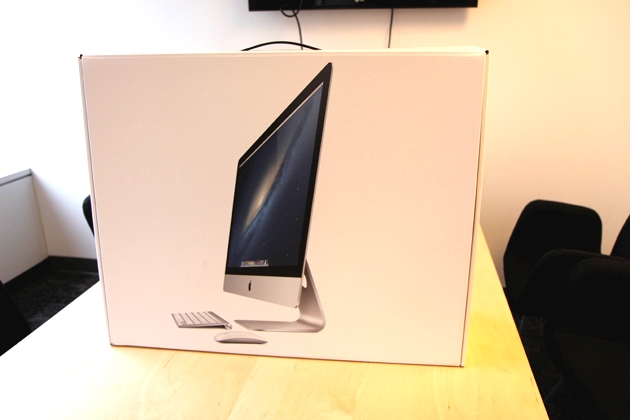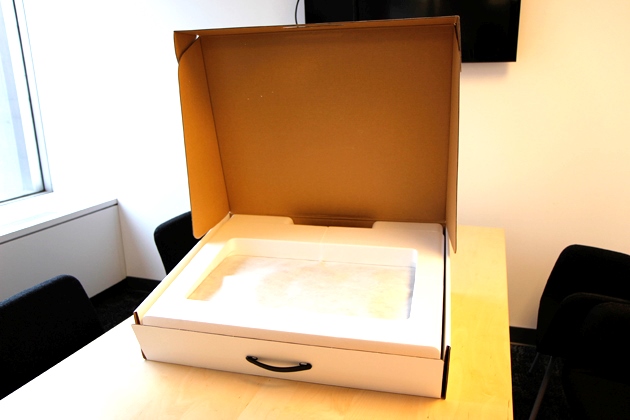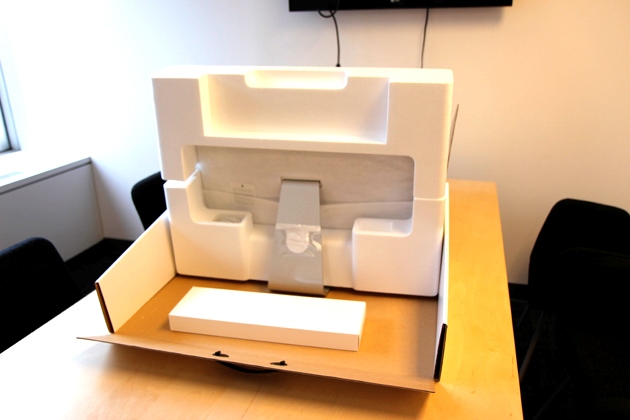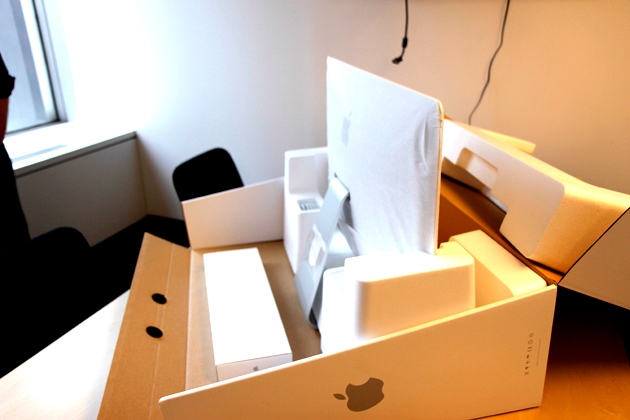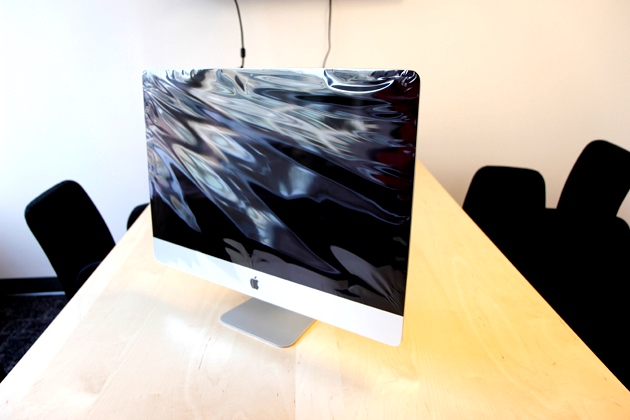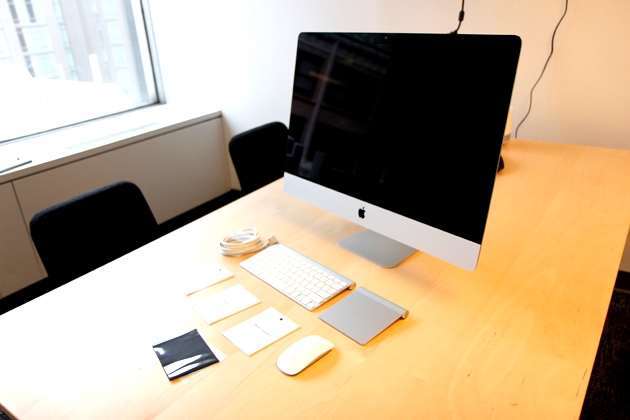 What's in the Box
iMac

Apple Wireless Keyboard

Apple Wireless Mouse

Power Cord

Official Documentation
Specifications

Processor
2.7 GHz Quad Core Intel Core i5 processor (Turbo Boost up to 3.2 GHz)
Cores - Cache
No. of Cores = 4 , Cache = 4 MB L3 cache
Chipset
-
Memory
8 GB (two 4GB) of 1600 MHz DDR3
No. of memory slots
2
Storage
1 TB (5400-rpm) Hard Drive
Optical Drive
No
Operating System
OS X Mavericks
Graphic Card
Intel Iris Pro Graphics
Display
21.5 inches (diagnol) LED-backlit display with IPS Technology with support for millions of colors
Screen Resolution
1920 x 1080 resolution (Full HD)
Touch Screen
No
HDMI
No
VGA Output
Yes
DVI Output
Yes
Finger Print
No
Bluetooth
Bluetooth 4.0 wireless technology
Camera
FaceTime HD Camera
LAN
Yes
WiFi
802.11 ac Wi-fi wireless networking, IEEE 802.11 a/b/g/n compatible
Keyboard Layout
Full-size keyboard with 78 (U.S.) or 79 (ISO) keys, including 12 function keys and 4 arrow keys
Backlit Keyboard
No
USB Port
USB 3.0
Total USB Port
4
Thunderbolt Ports
2
Card Reader
Yes (SDXC Card Slot)
Headphone Output
Yes
Microphone Output
No
Battery

Line Voltage : 100 - 240V AC

Frequency : 50Hz to 60Hz, single phase

Color
Silver
Weight
5.68 kg
Dimensions
(H) 17.7 inches (W) 20.8 inches (D) 6.9 inches
Warranty
1 Year Apple Warranty