Product Description
Storyline:
Charlie's Tramp character finds himself at a circus where he is promptly gets chased around by the police who think he is a pickpocket. Running into the bigtop, he is an accidental sensation with his hilarious efforts to elude the police. The ringmaster/owner immediately hires him, but discovers the Tramp cannot be funny on purpose, so he takes advantage of the situation by making the Tramp a janitor just happens to always in the Bigtop at showtime. Unaware of this exploitation, the Tramp falls for the owner's lovely acrobatic daughter, who is abused by her father. His chances seem good, until a dashing rival comes in and Charlies feels he has to compete with him.
Storyline:
A lone prospector ventures into Alaska looking for gold. He gets mixed up with some burly characters and falls in love with the beautiful Georgia. He tries to win her heart with his singular charm.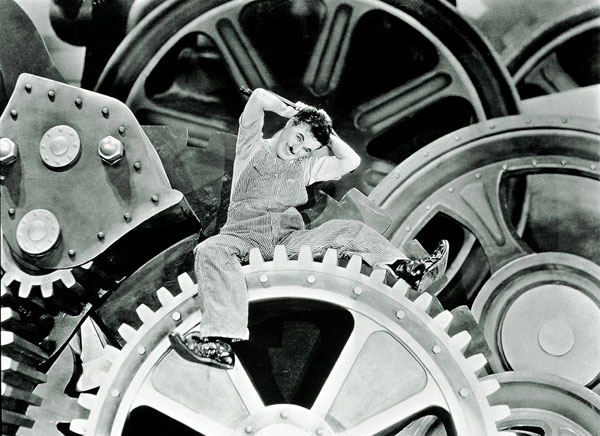 Storyline:
Chaplins last 'silent' film, filled with sound effects, was made when everyone else was making talkies. Charlie turns against modern society, the machine age, (The use of sound in films ?) and progress. Firstly we see him frantically trying to keep up with a production line, tightening bolts. He is selected for an experiment with an automatic feeding machine, but various mishaps leads his boss to believe he has gone mad, and Charlie is sent to a mental hospital... When he gets out, he is mistaken for a communist while waving a red flag, sent to jail, foils a jailbreak, and is let out again. We follow Charlie through many more escapades before the film is out.
Storyline:
The opening title reads: "A comedy with a smile--and perhaps a tear". As she leaves the charity hospital and passes a church wedding, Edna deposits her new baby with a pleading note in a limousine and goes off to commit suicide. The limo is stolen by thieves who dump the baby by a garbage can. Charlie the Tramp finds the baby and makes a home for him. Five years later Edna has become an opera star but does charity work for slum youngsters in hope of finding her boy. A doctor called by Edna discovers the note with the truth about the Kid and reports it to the authorities who come to take him away from Charlie. Before he arrives at the Orphan Asylum Charlie steals him back and takes him to a flophouse. The proprietor reads of a reward for the Kid and takes him to Edna. Charlie is later awakened by a kind policeman who reunites him with the Kid at Edna's mansion.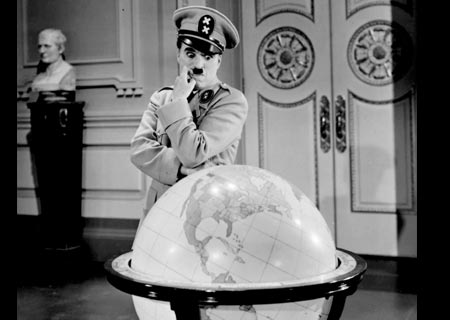 Storyline:
Twenty years after the end of WWI in which the nation of Tomainia was on the losing side, Adenoid Hynkel has risen to power as the ruthless dictator of the country. He believes in a pure Aryan state, and the decimation of the Jews. This situation is unknown to a simple Jewish-Tomainian barber who has since been hospitalized the result of a WWI battle. Upon his release, the barber, who had been suffering from memory loss about the war, is shown the new persecuted life of the Jews by many living in the Jewish ghetto, including a washerwoman named Hannah, with whom he begins a relationship. The barber is ultimately spared such persecution by Commander Schultz, who he saved in that WWI battle. The lives of all Jews in Tomainia are eventually spared with a policy shift by Hynkel himself, who is doing so for ulterior motives. But those motives include a want for world domination, starting with the invasion of neighboring Osterlich, which may be threatened by Benzino Napaloni, the dictator..