Product Description
A Set-Top Box (STB) is a digital receiver that connects to a television. It receives dishtv signals from a minidish and turns the signals into content on your screen. Every STB is uniquely numbered (a unique serial number is printed on every STB. No two boxes can have the same serial number). Additionally, each STB comes with its own remote control, making it easy to operate.
The Equipment or Customer Premise Equipment (CPE) consists of the following:
* Dish Antenna with LNB
* STB with Remote
* Pre-activated Viewing Card
The Dish Antenna is installed at an appropriate location at the customer's premise. It is then connected to the STB through a cable. The cable in turn, is connected to the TV set.The encrypted TV signals are received from the satellite on the Dish Antenna and transmitted to the STB. The customer is also provided with a Viewing Card, which is inserted into a slot in the STB. The Viewing Card decrypts the TV signals chosen & paid for by the customer, for better clarity of viewing on TV.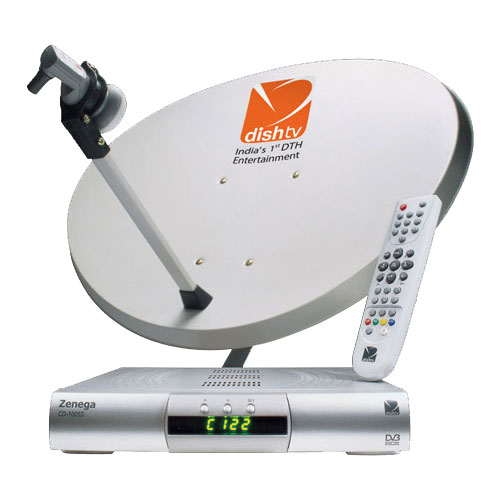 Customer Review

Product Reviews
Showing reviews 1-10 of 19 | Next
recharge

Posted by umar on 3rd Oct 2011

hi hsn hope u all are fine kindly tell me where can i get my dishtv recharge can u recharge my dishtv for me i want to recharge the platinium package if yes kindly give details i want full year recharge thanks

Answer: You have to recharge by using its web site.

Thanks

sales team

---

Sale in peshawar

Posted by Awais on 24th Sep 2011

Hi,

Can you guide me that is it workable in Peshawar?

Answer:Sure it is but thier you have to take and install by your own self .

Thanks

Sales team

---

Where to get in lahore...any contact number or address..??

Posted by ImranAdrees on 13th Sep 2011

where i can get dish tv...can you provide any contact number or address....

Answer: Kindly call to our Mr.Shayan Tahir on 0323-2030440 for the same inquiry.

Thanks

Sales team



---

Instalation

Posted by Unknown on 22nd Aug 2011

Can I install this myself, is the instalation user frendly.

Thanks

Answer: Yes you can install the same by your self.

Thanks

Sales Team

---

Pakistani Chennals?

Posted by imran on 19th Jul 2011

Is main pakistani chennals nahin hain

Answer: No it does not support Pakistani channels as you can use it with an ordinary cabel..

Thanks

Sales team

---

HD?

Posted by Usman on 18th Jul 2011

Can you provide Dish TV HD?

and how are we supposed to make payments?

Answer: Yes we provide and you can search this on our site as well. price has also mentioned there.

Thanks

Sales team

---

Equipment Detail

Posted by Zulfiqar on 7th Jul 2011

Please confirm what kind of equipment you will provide with the connection and how much I've to purchase before i can enjoy all these channels on my TV.

Answer:We will provide you Dish and Receiver first 2 months are free and after you have to pay 600/- per month and installation charges are also include in this.

Thanks

Sales Team

---

sialkot

Posted by zahid on 4th Jul 2011

can i buy dishtv in sialkot

Answer: Sorry we do not have a team to do the installation in your area for now.

Thank you

Sales Team

---

Hi

Posted by Ali on 25th Jun 2011

How can i get this in Peshawar?

Answer; Yeah sure we can have it installed in your city also.

Thank you

Sales Team

---

Do u have anything in HD, True High Definition

Posted by Deen Sheikh on 25th Jun 2011

this is is just digital cable TV from Indian provider Dish TV, do u have anything in PURE HD
I would like HD Cable at my place, any chance of HD coming to Pak?

Answer: Yes we also have the HD ones.

Thank you

Sales Team


---
Showing reviews 1-10 of 19 | Next
Product is Coming Soon Or Out of Stock