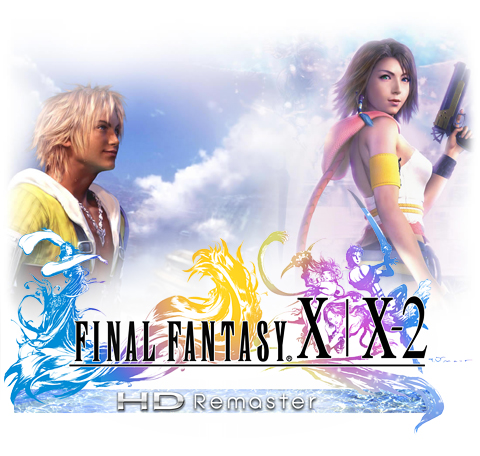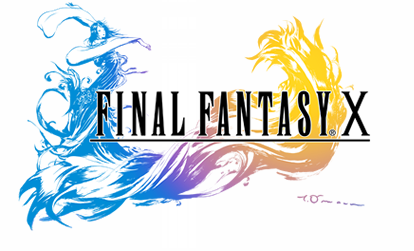 "The world lies on the brink of destruction. Only a select few may be able to save it."
In ages past, the world of Spira experienced a golden age of perfection, brought about by an advanced civilization through the use of wondrous machinery called machina.
However, around one thousand years before the present day, a colossal menace known only as "Sin" appeared and sundered all before it. Though a line of summoners have since brought Sin low many times, it inevitably returns in an unending cycle of destruction. In the face of this ever-pervasive threat, the people of Spira flocked to the teachings of Yevon, which tell that Sin is a punishment to those who relied overly on machina.
Tidus is a young Blitzball star who mysteriously finds himself in Spira after his home city of Zanarkand is destroyed by Sin one thousand years in the past. Believing Sin to be the key to returning home, Tidus joins a young summoner named Yuna on her pilgrimage to destroy Sin and bring about the Calm.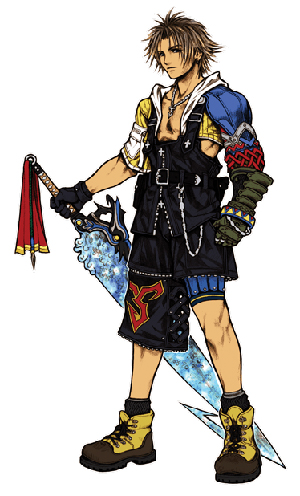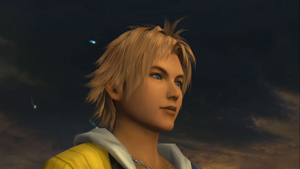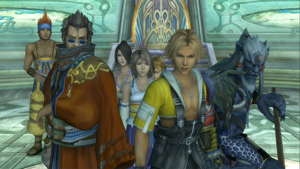 Tidus is a cheerful, rising blitzball star playing for the Zanarkand Abes. He has long resented his father, who was a renowned player himself before his untimely death. Tidus's quick moves allow him to attack even the swiftest foes with ease.
"This is my story..."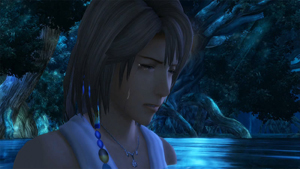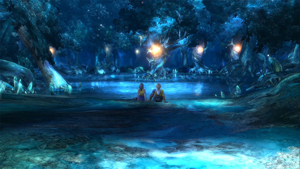 Daughter of High Summoner Braska. Honest and determined, Yuna embarks on a pilgrimage to obtain the Final Aeon and defeat Sin.
Yuna is learning the mystical art of summoning Aeons - powerful spirits of yore.
"I will defeat Sin...I must defeat Sin."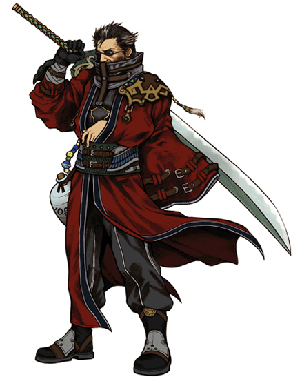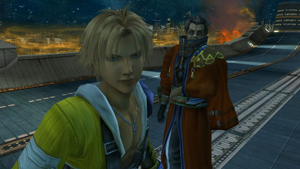 The legendary guardian who, together with High Summoner Braska, defeated Sin ten years before. A man of few words, he guides Yuna and Tidus on their mission to vanquish Sin once more. He swings his gigantic sword with such power that even the toughest fiends are cut asunder.
"This...is your world now."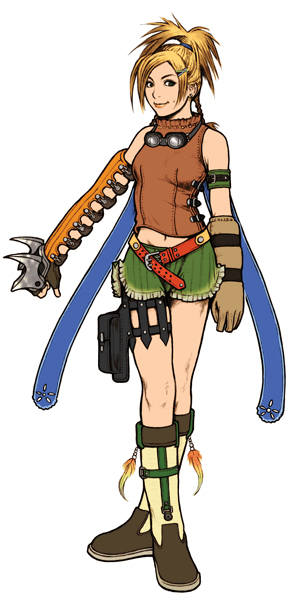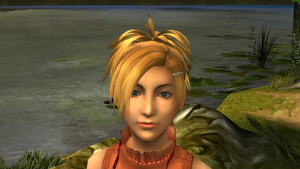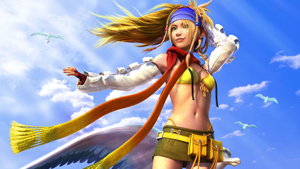 A young Al Bhed girl. Her personality is upbeat and positive, and she is not afraid to speak her mind. She works hard to restore her outcast people to their former glory. Rikku handles mechanical devices with ease, and can steal items from enemies too.
"I wanna go home! I hate lightning! I hate thunder!"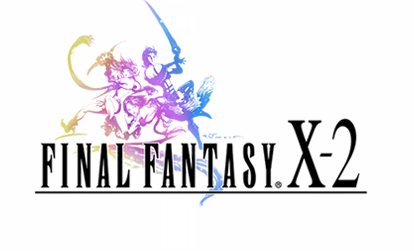 "Last time she saved the world. This time its personal!"
Two years have passed since Sin was destroyed. Since her victory and becoming a high summoner, Yuna has lived on her childhood home of Besaid Island. Then one day, Rikku comes to Besaid and shows Yuna a sphere. The recording is of him. Or is it?
Yuna can't tell whether it's him or just someone who looks like him. If it is him, Yuna might be able to see him one more time. No matter what the truth may be, the answers she finds may change things forever.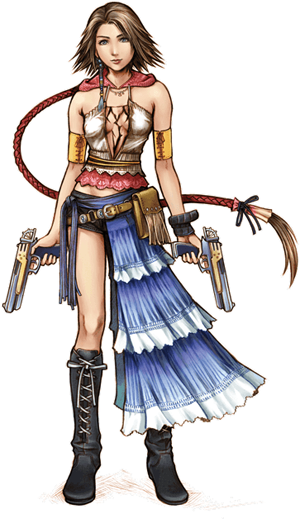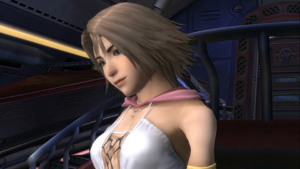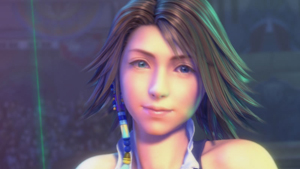 After defeating Sin, Yuna returned to her home on Besaid. The days passed without incident, but she still sensed something missing in her quiet existence. A movie sphere that Rikku showed her gave her a reason to journey once more.
For now, life as a sphere hunter affords Yuna the chance to live on the wild side. Old habits die hard, though. Yuna still can't walk away from people in need.
"Things are...disasterrific."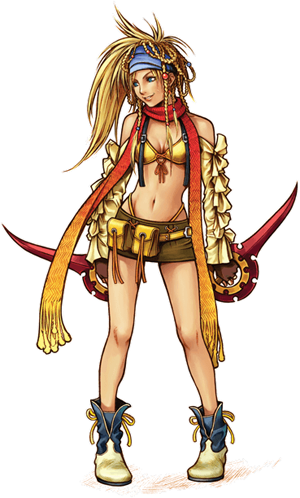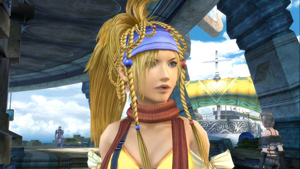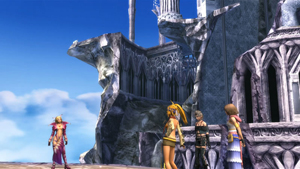 In the two years since she helped Yuna defeat Sin, Rikku has travelled with other Al Bhed around Spira, teaching people all there is to know about machina.
During the so-called "search for truth" that overtook Spira after Sin's defeat, a group of Al Bhed joined the ranks of sphere hunters. With their airship, the Celsius, as a base, Rikku, Buddy and Brother founded the Gullwings. Rikku invited Yuna to join the Gullwings and they have been travelling together ever since. As always, Rikku's endless supply of energy keeps the team on their toes.
"Y.R.P. In position. It's showtime, girls."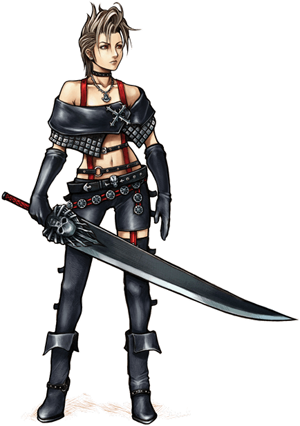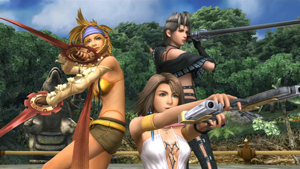 Paine is armed with a one-handed sword and a lukewarm attitude. It seems she joined the Gullwings because of something that happened in her past. However, none of the Gullwings know exactly what that might be. The often ridiculous antics from the Gullwings tend to prompt sarcastic remarks from Paine, but the others don't seem to worry about it too much.
"Maybe we should both let go of our past, and focus more on what's to come."