Product Description
Focusrite Clarett 4Pre
The Focusrite Clarett 4Pre has four XLR/TRS combination ports accessible to the front with new preamps based on the ISA range of hardware, each input offers 48v of phantom power and gain control with LED metering. Individual volume control is available for the master output and for the two individual headphone outs, perfect for tracking and collaborating.
In addition to the inputs on the front of the Focusrite Clarett 4Pre, you get four more TRS inputs along with ADAT and SP/DIF. Four outputs come from the balanced TRS ports and sit next to a single MIDI in and out port. All this connectivity along with the clarity provided by the on-board convertors lends this unit to being a highly versatile interface, capable of handling most studio situations.
Better. Faster. Easier.
Excellent sound is the quality Clarett owners love most. With up to 119dB of dynamic range, superbly low noise, precision 24/192 conversion and four specially-designed mic preamps with a unique analogue "Air" effect, Clarett 4Pre simply sounds great, easily out-performing other interfaces in its class and beyond. Meanwhile, its astonishing 1.67ms round-trip latency* simplifies your workflow and lets you use your favourite plug-ins in real time.
Hispasonic: Product of the year
"Where Focusrite have laid down the challenge to other manufacturers, though is in the sound quality of these devices, which offer audio specifications previously unheard of in this price bracket."
"…the Focusrite Clarett 8Pre offers outstanding value for money (really), the latency claims seem to stand up to scrutiny and the sound is gorgeous, especially when used with the air option. Add to this the ease of set-up and you have a killer offering."
"I was absolutely able to record and monitor through my DAW without noticeable delay."
"A very solid interface for a whole host of applications – very highly recommended indeed."
Four New Clarett Mic Pres with extra 'Air'
The mic pres have been designed especially for the Clarett range, with plenty of gain, yet low noise and distortion. In addition, they include a special "Air" feature that switches in an analogue model of the classic transformer-based Focusrite ISA mic pre. The Instrument inputs also feature extra headroom to handle the loudest pickup.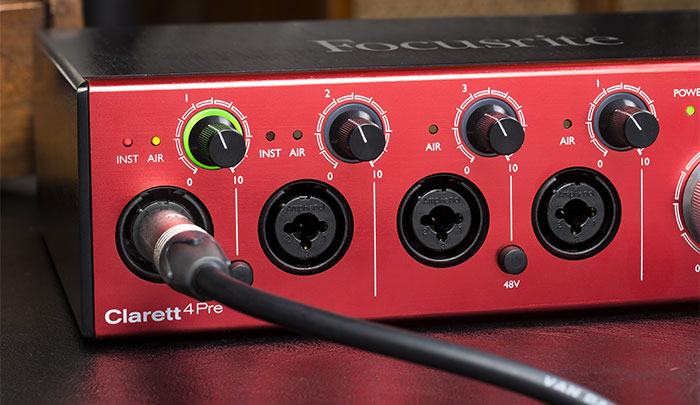 Precision Digital Conversion
Clarett features Focusrite's class-leading 24/192 conversion: with up to 119dB dynamic range, Clarett offers the cleanest way yet to get music in and out of your DAW.
The clarity of Clarett
The Clarett range is acclaimed for its sound quality. It's due partly to Clarett's specially-designed mic pres with the unique "Air" effect, adding air and clarity especially to vocals and acoustic instruments. Plus Focusrite's precision digital conversion, carefully balancing noise floor, dynamic range, frequency response and distortion for the best possible sound to and from your DAW.
We invited audio engineering professionals to a blind listening test at Riverside Studios in Berlin to compare the sound of Clarett to that of the Apollo 8p, from Universal Audio, makers of the Apollo Duo; and the Apogee Ensemble. What did they discover? Watch the Thunderbolt Interface Shootout and find out!
Easy Access
All four mic/line inputs are on the front panel for instant, easy access, and Clarett 4Pre's compact, rugged form factor makes it ideal for use on the road as well as in the studio.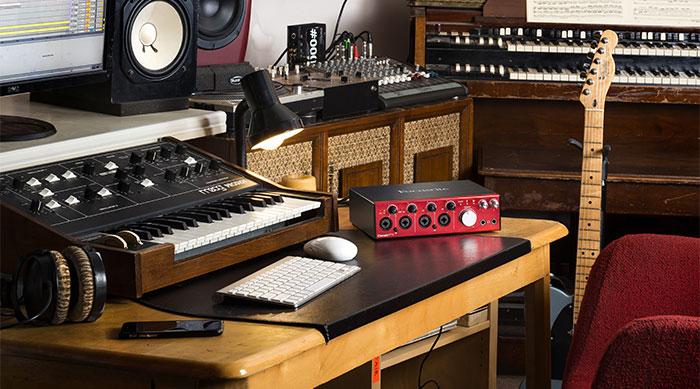 Simplifying the way you work
Clarett's ultra-low round-trip latency completely transforms your workflow. If you're used to having to build two different mixes – one using input monitoring to overdub, the other using the DAW for playback – the good news is that now, one is enough. Build your mix on the DAW and use it whether you're overdubbing (monitoring the input you're recording with the new Focusrite Control software mixer) or playing back, with all your plugins in place, all the time. Use your favourite plugins while recording too – whether it's reverb on a vocal, a guitar amp simulator, or even virtual instruments live on stage.
Intuitive, Easy to Use Software Mixer and Sweet Sounding Plug-ins
Focusrite Control is a brand new software mixer designed for easy configuration of monitoring and routing setups. Simple and intuitive to use, Focusrite Control offers a traditional mixer workflow and allows immediate access to internal hardware functions. Also included is a sweet sounding plug-in collection comprising Softube's world-class Time and Tone Bundle, with TSAR-1R Reverb, Tube Delay, Saturation Knob and Drawmer S73 Intelligent Master Processor. This is complemented by the Red 2 & Red 3 AAX, AU & VST Plug-in Suite, which accurately models Focusrite's classic Red range equalizer and compressor hardware.

'Gain Haloes' help keep levels in check
Each of the four front panel inputs includes Focusrite's signature "Gain Halo" – an illuminated ring around the gain control that lights up green when there's signal and red when it's too high. There's a main monitor knob plus dual high-power headphone outputs with their own volume controls.
Plenty of ins and outs
Clarett 4Pre offers a full 18 audio inputs and eight outputs, including four front-panel multi-function inputs, four independent line inputs and line outputs, stereo S/PDIF I/O and dual headphone outputs. There are also eight channels of ADAT-format digital input – ideal for adding eight channels of digital mic pre.
Tech Specifications
The world is full of innovative software companies creating a wealth of powerful plug-ins. With such variety, you'll want to find exactly the right plug-ins for you, and use them in real time, thanks to Clarett's ultra-low latency environment. To help you on this mission, we've formed the 'Plug-in Collective', working with the very best to bring you exclusive plug-in offers and content every month.
Supported Operating Systems
OSX 10.9 Mavericks or 10.10 Yosemite

Windows Compatible 64-bit 8.1 or 10 windows
The popular Clarett range of Thunderbolt™ interfaces are now compatible with PCs with the release of the Clarett Windows driver. The driver enables users to run these interfaces with the growing number of Thunderbolt-equipped Windows computers, delivering identical functionality to that experienced on the Mac. Windows users can enjoy sub 3 milliseconds round trip latency, and the same reliable, stable operation as Mac-based Clarett owners already experience. The low latency allows users to record and monitor while using their favourite plug-ins in real time, as well as other DAW workflow benefits.
The first release of the driver will support the Thunderbolt 1 and Thunderbolt 2 protocols for all Clarett interfaces. The driver is compatible with the latest 64-bit updates of Windows 8.1 and Windows 10. Further details of the driver specification and compatibility can be found. Future iterations will add support for Thunderbolt 3 Type C connectivity and the range of Red interfaces.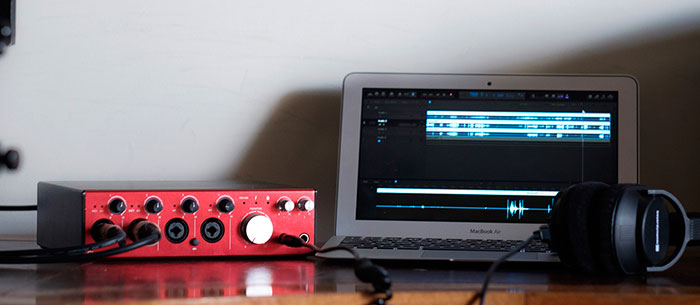 The driver also supports Focusrite Control, Focusrite's included software mixer designed for easy configuration of monitoring and routing setups, which is now available in a Windows version, again with identical functionality to the Mac version, including support for Focusrite Control iOS.
Focusrite's Clarett audio interfaces are widely praised for their sound quality, performance and value for money. They feature specially-designed high-performance, low noise, low distortion mic preamps, which include the unique analogue "Air" effect, emulating the sound of Focusrite's heritage transformer-based mic preamps. The interfaces include precision 24-bit/192 kHz conversion and offer super-low latency.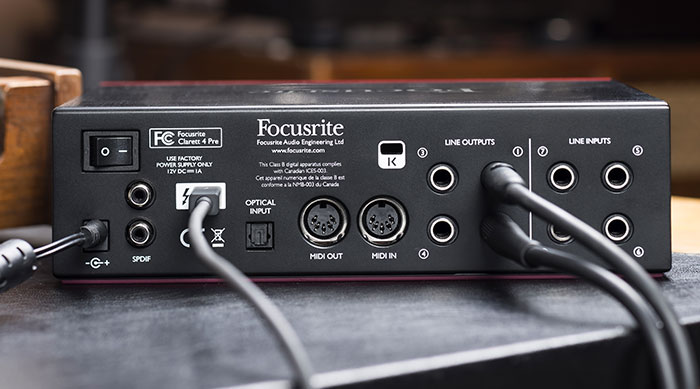 WHY THUNDERBOLT?
Thunderbolt differs a little from interfaces like USB and FireWire. It brings the PCI Express interface – used for super-fast graphics cards and other slots inside the computer – out to external devices. It's not so much an interface as a bus that gives you direct access to the machine's inner workings. And as a result, it's ideal for audio, with exceptionally high speed and correspondingly low latency – making possible the astonishingly low round-trip latency figures that Clarett offers – and unparalleled flexibility. The Clarett range demonstrates many of the significant benefits that Thunderbolt provides.
ROUNDTRIP LATENCY PERFORMANCE
Round Trip Latency (ms) tested at 96 kHz on Windows 10 and a Molten Music Technology X99 machine
| Buffer Size | Cubase Pro 8 | Ableton Live 9 | Pro Tools 12 | Reaper 5 |
| --- | --- | --- | --- | --- |
| 32 | 2.9 | 3.2 | n/a | 2.8 |
| 64 | 3.6 | 3.6 | 3.5 | 3.4 |
| 128 | 5.3 | 5.3 | 5.3 | 5.2 |
Round Trip Latency (ms) tested at 48 kHz on Windows 10 and a Molten Music Technology X99 machine
| Buffer Size | Cubase Pro 8 | Ableton Live 9 | Pro Tools 12 | Reaper 5 |
| --- | --- | --- | --- | --- |
| 32 | 4.1 | 4.8 | 4.1 | 4.0 |
| 64 | 5.8 | 5.8 | 5.8 | 5.6 |
| 128 | 9.8 | 10.5 | 9.8 | 9.6 |
Supported Sample Rates
44.1 kHz, 48 kHz, 88.2 kHz, 96 kHz, 176.4 kHz, 192 kHz
Microphone Inputs
| | |
| --- | --- |
| Frequency Response | 20 Hz - 20 kHz +/-0.1 dB (min gain) |
| Dynamic Range | 118 dB (A-weighted) |
| THD+N | 0.001% |
| Noise EIN | –128 dBu (A-Weighted) |
| Maximum input level | +18 dBu |
| Gain Range | 57dB |
Line Inputs 1-4 (variable gain)
| | |
| --- | --- |
| Frequency Response | 20 Hz - 20 kHz +/-0.1 dB (min gain) |
| Dynamic Range | 118 dB (A-weighted) |
| THD+N | 0.001% |
| Maximum input level | +24 dBu |
| Gain Range | 57dB |
Line Inputs 5-8 (fixed gain)
| | |
| --- | --- |
| Frequency Response | 20 Hz - 20 kHz +/-0.1 dB (min gain) |
| Dynamic Range | 115 dB (A-weighted) |
| THD+N | 0.001% |
| Maximum input level | +10 dBu |
Instrument Inputs
| | |
| --- | --- |
| Frequency Response | 20 Hz – 20 kHz ± 0.1 dB |
| Dynamic Range | 116 dB (A-weighted) |
| THD+N | 0.001% |
| Maximum input level | +14dBu |
| Gain Range | 57dB |
Line & Monitor Outputs
| | |
| --- | --- |
| Dynamic Range (Line Outputs) | 119dB |
| Dynamic Range (Monitor Outputs) | 117dB |
| Maximum Output Level (0 dBFS) | +16 dBu, balanced |
| THD+N | 0.0007% |
Headphone Outputs
| | |
| --- | --- |
| Dynamic Range | 116dB |
| THD+N | 0.0008% |
| Maximum Output Level | +16dBu |