Product Description
Create and Collaborate
Ideal for multi-instrumentalists, producers and small bands
Our latest generation 6-in, 6-out USB audio interface is perfect for anybody who wants more than two analogue inputs: multi-instrumentalists, producers, recording artists, and small bands who want to record vocals, guitar and keyboards simultaneously. It gives you four analogue inputs with two Scarlett mic preamps, four analogue outputs and two separate headphone outputs, so you can give different headphone mixes to different artists, or an engineer and an artist.
Huge Focusrite Sound in a Small Package
The second-generation Focusrite Scarlett 6i6 USB audio interface gives you a ton of flexibility for a portable interface. Two vibrant Focusrite mic/instrument preamps are right on the front panel where you need them, while the back panel hosts two additional line inputs and four line outputs. With MIDI I/O and two channels of S/PDIF I/O, the Scarlett 6i6 is a perfect foundation for home or project studios that may need to expand in the future. And with its rugged metal unibody design, the Focusrite Scarlett 6i6 is perfect for recording on the go. Plug in, fire up the bundled software, and you're ready to rock.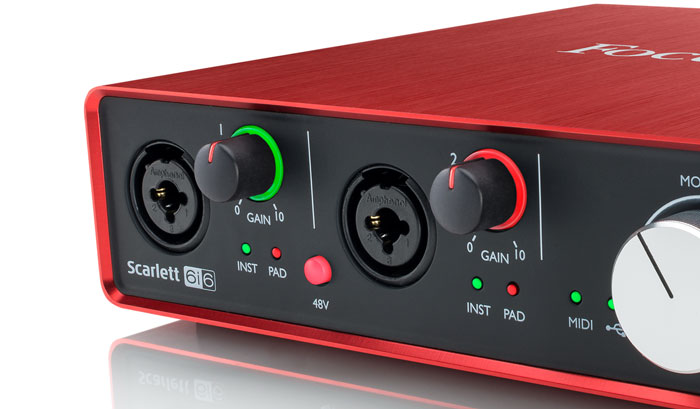 Focusrite Scarlett 6i6 at a Glance:
Optimized second-generation technology

Super-low latency for better performances

Exclusive software bundle gets you up and running fast

Smart I/O configuration for small-format recording

Powerful signal management
Optimized second-generation technology
The 2nd-generation Focusrite Scarlett 6i6's exterior has undergone a sleek makeover. Under the hood, though, it's been tweaked and upgraded to deliver better sonics, lower latency, and enhanced ease of use. With sample rates up to 192kHz, you've got studio-grade sound you can take anywhere. And Focusrite has evened out the gain structure of the natural-sounding Scarlett mic preamps, letting you set levels more accurately. The instrument inputs have also been reengineered to handle the hottest active pickups. Lastly, Focusrite has wired analog protection circuitry across the Scarlett 6i6's inputs and outputs, safeguarding your interface from damaging power surges.

Focusrite interfaces are perfect partners for Pro Tools, so Scarlett 6i6 comes with Pro Tools | First - Focusrite Creative Pack in the box, as well as Ableton Live Lite recording software and a suite of software and samples, so you can start recording straight away. As you'd expect, it works with all major DAWs on Mac and PC.
Sound Like You
Backed by 30 years of design experience, these two Scarlett preamps offer a pristine and natural sound, with 48V phantom power, superior linear gain, low noise, low distortion and dynamic range that is unrivalled in this class.
Be Ready For Anything
Need to record vocals, guitars and bass together? You needScarlett 18i8. It gives you twice as many preamps as Scarlett 6i6 and 18 separate inputs, so you can be ready for anything.
Separate Headphones
Two separate headphone outputs let you give two artists (or an engineer and artist) their own headphones and monitoring settings.
You also get four balanced outputs so you can connect two sets of monitors, or send audio to an effects processor.
Effects In Real Time
An unrivalled round-trip latency as low as 2.74ms* lets you do things that are simply impossible with most other USB interfaces (subject to your software, settings and computer). You can work entirely inside your DAW for both overdubbing and playback, and use your favourite plugins while recording – whether it's reverb on a vocal, a guitar amp simulator, or even virtual instruments live on stage. You'll also get the best out of vocal performances, by applying real-time comfort reverb to headphones.
Start Recording Today
Compose, record, edit, save and export your music straight away, with time-unlimited versions of industry-standard music software: Ableton Live Lite and Pro Tools | First - Focusrite Creative Pack, which features 12 additional plug-ins including the Eleven Lite for real life guitar amp emulations and Black Op for iconic distortions and overdrives.
You also get Softube's Time and Tone bundle, the Focusrite Red Plug-In Suite, Novation's Bass Station Virtual synthesiser and 2GB of Loopmasters samples.
Scarlett 6i6 works flawlessly with all major DAWs on Mac and PC, and all the software included is simple enough for beginners, yet sophisticated enough for advanced users.
Record Live?
At just over 1kg and protected by a solid metal case, Scarlett 6i6 is lightweight and compact, yet tough enough to take to your live shows for onstage recording or playback.
Designed for the Guitarist
We've redesigned the instrument inputs and given them plenty of extra headroom, so you can handle extreme levels without any unwanted clipping or distortion. If you're recording extra loud instruments, you can also engage the 10dB pad in Focusrite Control software.
New Generation – Better In Every Way
The latest generation Scarlett 6i6 is packed full of upgrades. It operates at sample rates all the way up to 192kHz with new super-low latency* that lets you record and monitor with software effects in real time.
We completely redesigned the instrument inputs so they can handle even the hottest guitar pick-ups, and we've made it easier than ever to set your levels accurately. We've also built in new analogue protection circuitry across the inputs and the outputs, to guard your interface against unwanted power surges.
*Super-low latency depends on your choice of software, settings and computer.
Intuitive Control Software
Scarlett 6i6 works with all major DAWs on Mac and PC, and comes with Focusrite Control: our brand new software mixer designed for easily configuring your monitoring and routing setups. Simple and intuitive to use, it gives you a traditional mixer workflow and immediate access to internal hardware functions.
Find the Perfect Level
Setting the perfect level couldn't be easier, thanks to haloes around the gain knobs that glow a reassuring shade of green when you're recording at the perfect volume. If they turn red, it's time to back off.
Tech Spec
Supported Sample Rates
44.1 kHz, 48 kHz, 88.2 kHz, 96 kHz, 176.4 kHz, 192 kHz
Supported Operating Systems
| | |
| --- | --- |
| Mac OS | 10.10 (Yosemite), 10.11 (El Capitan) |
| Windows | Windows 7 (64-bit), Windows 8.1, Windows 10 |
Microphone Inputs
| | |
| --- | --- |
| Frequency Response | 20 Hz - 20 kHz +0.5/-1.5 dB |
| Dynamic Range | 109 dB (A-Weighted) |
| THD+N | <0.002% |
| Noise EIN | -127 dBu |
| Maximum input level | +8.5 dBu |
| Gain Range | 50 dB |
Line Inputs 1-2
| | |
| --- | --- |
| Frequency Response | 20 Hz - 20 kHz +0.5/-1.5 dB |
| Dynamic Range | 109 dB (A-Weighted) |
| THD+N | <0.003% |
| Maximum input level | +22 dBu |
| Gain Range | 50 dB |
Line Inputs 3-4
| | |
| --- | --- |
| Frequency Response | 20 Hz - 20 kHz +0.5 dB |
| Dynamic Range | 110 dB (A-Weighted) |
| THD+N | <0.003% |
| Maximum input level | +16 dBu |
Instrument Inputs
| | |
| --- | --- |
| Frequency Response | 20 Hz - 20 kHz +0.5/-1.5 dB |
| Dynamic Range | 109 dB (A-Weighted) |
| THD+N | <0.003% |
| Maximum input level | +12 dBu |
| Gain Range | 50 dB |
Monitor Outputs (1-2)
| | |
| --- | --- |
| Frequency Response | 20 Hz - 20 kHz ±0.5 dB |
| Dynamic Range (Line Outputs) | 108 dB (A-Weighted) |
| THD+N | <0.001% |
| Maximum Output Level (0 dBFS) | +16 dBu |
Line Outputs (3-4)
| | |
| --- | --- |
| Frequency Response | 20 Hz - 20 kHz ±0.5 dB |
| Dynamic Range (Line Outputs) | 108 dB (A-Weighted) |
| THD+N | <0.001% |
| Maximum Output Level (0 dBFS) | +16 dBu |
Headphone Outputs
| | |
| --- | --- |
| Frequency Response | 20 Hz - 20 kHz ±0.5 dB |
| Dynamic Range | 108 dB (A-Weighted) |
| THD+N | <0.001% |
| Maximum Output Level | +13 dBu |