Product Description
A Recording Studio in a Box
Stop Wasting TimeOur easiest way to make pro recordings from home
You could spend another evening comparing equipment online. Or you could spend it recording your demo. Scarlett Solo Studio Pack gives you everything you need to easily make studio-quality music on PC or Mac.
Microphone and Cable
CM25 large diaphragm condenser mic for capturing crystal clear sound, plus a three metre XLR mic cable and stand clip.
Headphones
HP60 closed-back studio headphones for blocking out background noise.
Scarlett Solo
Our most compact and simple USB interface, ideal for singer songwriters who want to record studio quality audio.
The Solo Artist's Focusrite Studio Pack
The Focusrite Scarlett Solo Studio bundle provides you with everything you need to make great-sounding recordings. You get Focusrite's second-generation Scarlett Solo audio interface with a vibrant Focusrite mic preamp, ultra-clean instrument DI, and two line outputs to connect to speakers. On top of that, you get a Scarlett Studio condenser mic and a pair of headphones. Focusrite didn't stop at stellar sound quality and flexible routing with the Scarlett Solo — you also get a killer software bundle that'll have you up and running fast. And Focusrite's Scarlett Solo Studio delivers it big time!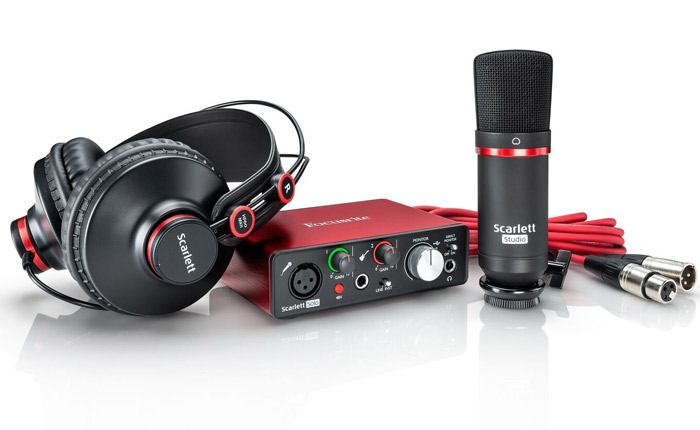 Focusrite Scarlett Solo Studio at a Glance:
Optimized second-generation technology

Super-low latency for better performances

Exclusive software bundle gets you up and running fast

Award-winning Focusrite preamp captures great audio

Keep an eye on your levels with front-panel indicators
Optimized second-generation technology
The 2nd-generation Focusrite Scarlett Solo's exterior has undergone a sleek makeover. Under the hood, though, it's been tweaked and upgraded to deliver better sonics, lower latency, and enhanced ease of use. With sample rates up to 192kHz, you've got studio-grade sound you can take anywhere. And Focusrite has evened out the gain structure of the natural-sounding Scarlett mic preamp, letting you set levels more accurately. The instrument input has also been reengineered to handle the hottest active pickups. Lastly, Focusrite has wired analog protection circuitry across the Scarlett Solo's inputs and outputs, safeguarding your interface from damaging power surges.

Perfect Partners
Plus, because Focusrite interfaces are the perfect partner for Pro Tools, this studio pack comes with Pro Tools | First - Focusrite Creative Pack in the box, as well as Ableton Live Lite recording software with a further suite of software and samples so you can start recording straight away.
Sound As Good As You
If you want your recordings to sound as good as your performances, you want this studio pack. It gives you an interface with the best sound quality and digital conversion in its class, plus a stunning large diaphragm condenser microphone that captures beautifully crisp and clean audio.
Combined, they'll make sure your recordings that sound as true to life as possible. You also get a long mic cable and a stand clip, so you can get started straight away.
Hear Everything
The art of recording is all about getting lost in the music. You don't want background noises interfering or distracting you when you're trying to concentrate.
The closed-back headphones in this studio pack block out background noise and give you absolutely stunning playback. They let you hear everything you want to hear, and nothing you don't – so you can stay entirely focused while recording and mixing.
Of course, you can connect and power professional monitors to the interface as well.
Need To Use Two Mics?
If you want to record two vocals at once, or mic up your vocal and guitar cab separately, take a look at the Scarlett 2i2 Studio Pack.
Effects in Real Time
Don't let latency hold you back. Enhance your recordings in ways that are simply impossible with any other interface in this class , like real-time guitar amp simulation and vocal reverb (depending on your software, settings and computer).
LEARN MORE
Start Recording Today
Compose, record, edit, save and export your music straight away, with time-unlimited versions of industry-standard music software: Ableton Live Lite and Pro Tools | First, which features 12 additional plug-ins including the Eleven Lite for real life guitar amp emulations and Black Op for iconic distortions and overdrives.
You also get Softube's Time and Tone bundle, the Focusrite Red Plug-In Suite, Novation's Bass Station Virtual synthesiser and 2GB of Loopmasters samples.
Scarlett Solo works with all major DAWs on Mac and PC, and all the software included is simple enough for beginners, yet sophisticated enough for advanced users.
LEARN MORE
Record Absolutely Anywhere
Never miss another moment of inspiration. Everything in this studio pack is compact, lightweight and sturdy enough to take with you anywhere, so you can lay down ideas at a friend's house or record your next gig. You don't need a power supply, either – just connect with a USB cable and start recording.
Designed for the Guitarist
No matter how loud you play, or how hot your pick-ups, the newly-designed instrument input can handle it. You'll be free to play without the worry of unwanted distortion.
LEARN MORE
New Generation – Better In Every Way
The latest generation Scarlett Solo is packed full of upgrades. It operates at sample rates all the way up to 192kHz with new super-low latency* that lets you record and monitor with software effects in real time.
We completely redesigned the instrument input so it can handle even the hottest guitar pick-ups, and we've made it easier than ever to set your levels accurately. We've also built in new analogue protection circuitry across the inputs and the outputs, to guard your interface against unwanted power surges.
LEARN MORE
*Super-low latency depends on your choice of software, settings and computer.
Crisp and Clear Conversion
Converting your performance into digital audio and back again is the most important part of the recording process. We've been making class-leading converters for over 20 years, and Scarlett Solo is no exception, with the best converters of any interface in its class. And you can hear the difference! Every part of your recording will be beautifully crisp and clear, even when you're playing softly. This means you can amplify your quieter moments without any unwanted hiss or buzzing.
LEARN MORE
Find the Perfect Level
Setting the perfect level couldn't be easier, thanks to haloes around the gain knobs that glow a reassuring shade of green when you're recording at the perfect volume. If they turn red, it's time to back off.
Tech Spec
Supported Operating Systems
Mac OSX 10.10 Yosemite or 10.11 El Capitan
Windows 7 (64-bit), Windows 8.1, Windows 10
Supported Sample Rates
44.1 kHz, 48 kHz, 88.2 kHz, 96 kHz, 176.4 kHz, 192 kHz
Microphone Inputs
| | |
| --- | --- |
| Frequency Response | 20 Hz - 20 kHz ± 0.1dB |
| Dynamic Range | 106 dB (A-Weighted) |
| THD+N | <0.002% (minimum gain, -1dBFS input with 22Hz/22kHz bandpass filter) |
| Noise EIN | < -128 dB (A-Weighted) |
| Maximum input level | +4 dBu |
| Gain Range | 50 dB |
Line Inputs
| | |
| --- | --- |
| Frequency Response | 20 Hz - 20 kHz ± 0.1dB |
| Dynamic Range | 106 dB (A-Weighted) |
| THD+N | <0.002% (minimum gain, -1dBFS input with 22Hz/22kHz bandpass filter) |
| Maximum input level | +22 dBu |
| Gain Range | 50 dB |
Instrument Inputs
| | |
| --- | --- |
| Frequency Response | 20 Hz - 20 kHz ± 0.1dB |
| Dynamic Range | 106 dB (A-Weighted) |
| THD+N | <0.02% (minimum gain, -1dBFS input with 22Hz/22kHz bandpass filter) |
| Maximum input level | +13 dBu |
| Gain Range | 50 dB |
Phono (RCA) Outputs
| | |
| --- | --- |
| Dynamic Range Outputs | 106 dB (A-Weighted) |
| Maximum Output Level (0 dBFS) | +10 dBu |
| THD+N Outputs | <0.002% (minimum gain, -1dBFS input with 22Hz/22kHz bandpass filter) |
Headphone Outputs
| | |
| --- | --- |
| Dynamic Range | 107 dB (A-Weighted) |
| THD+N | <0.002% (minimum gain, -1dBFS input with 22Hz/22kHz bandpass filter) |
| Maximum Output Level | > +10dBu |