Product Description
MHL
Connect and watch HD content from your phone on the TV's large screen with your MHL cable and control it with the TV's Magic Remote. The phone is also charged while it is connected.
IPS PANEL
Knock it to know it.

The secret behind LG TV's superior viewing angle and quality is the panel. Just as the
quality of the beans determines the quality of the coffee, the quality of the panel determines the quality of the TV. The IPS Panel used by LG is the reason why LG LED TVs have clearer, more consistent, and sturdy screens.
LED
Brilliant LED backlighting display delivers crystal-clear images, true blacks, and the most vivid, life-like colors on a slim screen.
DYNAMIC MCI 100
Motion Clarity Index is a comprehensive indicator of the genuine clarity of fast motion display, incorporating factors beyond mere frame rates. LG's detailed backlight scanning, advanced local dimming and powerful engine all add to a superb performance in reducing blur in fast-moving pictures.
TRIPLE XD ENGINE
excellence in Color, Contrast, and Clarity for the best picture quality and performance.LG's latest and most advanced Triple XD Engine brings the highest level of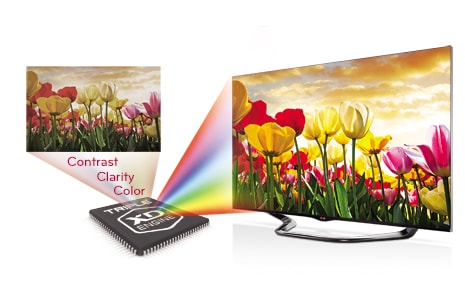 RESOLUTION UPSCALER
Viewers can enjoy your content in high-resolution.
Very often is the case that external content from the net or devices look bad on TV due to low resolution of the files. LG provides a solution with Resolution Upscaler, which magically improves the resoltuion of orginal content and makes them look good on the big screen as well.
CLEAR VOICE II
Clear Voice II automatically recognizes and enhances the volume of human
voices in movies and shows to make them more audible against background
sound.
SMART ENERGY SAVING
The Backlight Control function controls the brightness of the TV. The Screen Off function lets you switch off the screen while keeping the audio on. Standby Mode Zero function sets your TV to a power saving mode where zero electricity is used.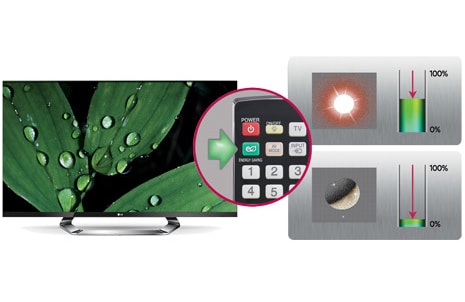 HDMI
Consolidation of HD video, audio, and data in a single cable enables high speed communication.
USB 2.0
Connect your digital camera, M-P-3 player or USB stick through the USB port to show off your latest holiday snaps, music collection or High Definition movies for a true multimedia experience.
LG 42 INCH LED TV LN5420
42LN5420
No. of HDMI Ports
No. of USB Ports
MHL
Resolution
BLU Type (Backlight)
Dynamic MCI (Hz)
1920x1080
Direct LED
100 (50Hz)
Aspect Ratio
(3D MPEG) Noise Reduction
Real Cinema 24p (3:2 pull down)
Picture Mode
Picture Wizard II (2D/3D)
Just Scan (1:1 Pixel Matching)
Triple XD Engine
Dynamic Color Enhancer
Resolution Upscaler (Plus/Basic)
8 modes ( 16:9, Just scan, Original, Full Wide, 4:3, 14:9, Zoom, Cinema Zoom 1)
Yes
Yes
7 Modes (Intelligent Sensor/Vivid/Standard/Cinema/Game/ISF Expert 1/ISF Expert 2)
Yes
( HDMI/Component/RF) 1080i / 1080p / 720p
Yes
Yes
Yes Basic
Audio Output
Sound System
Speaker System
Dolby Digital Decoder
Clear Voice II
Mono/Stereo/Dual (MTS/SAP)
Sound Mode
Sound Optimizer
20W
Virtual Surround
1 Way 2 Speaker
Yes
Yes
Yes
6 modes (Standard, Music, Cinema, Sport, Game, User setting)"
3 modes(Normal, Wall-Mount Type, Stand Type)
Motion eye care
Smart Energy Saving
Input Labeling
e-Manual
Key Lock
SET (w/o stand) (mm)
Including stand (mm)
894 x 525 x 79.0
894 x 587 x 235
Divx (SD/HD/Plus HD)
Picture
Audio Codec
DivX HD
JPEG
AC3(Dolby Digital), EAC3, AAC, Mpeg, MP3, PCM