9.1 CH CINEMA SOUND
ARAMID FIBER SPEAKERS
1460 W
REAR WIRELESS SPEAKERS
9.1 CHANNEL
SURROUND SOUND
Four vertical firing speakers are added to a conventional 5.1 channel Home Theatre System resulting in a 9.1 channel sound experience. 9.1 channel Home Theatre Systems employ 10 individual audio amplifiers.
ARAMID

FIBRE SPEAKERS
LG has utilised Aramid Fibre in the midrange speaker cones, this inclusion improves the durability and strength of the speaker cone for clear powerful sound.
UPRIGHT

SPEAKERS
4 additional Upright Speakers fill the space with sound from top to bottom. Experience sound coming not only from each side, but also from above.
PRIVATE

SOUND MODE
Ensure the rest of the family isn't disturbed when one member wants to enjoy the AV equipment at inconvenient times. Send sound directly from the LG Smart product to your smartphone* via Wi-Fi** and enjoy with headphones. Enjoy the convenience of no hard wiring without the expense of purchasing separate wireless headphones.
MIRACAST
TM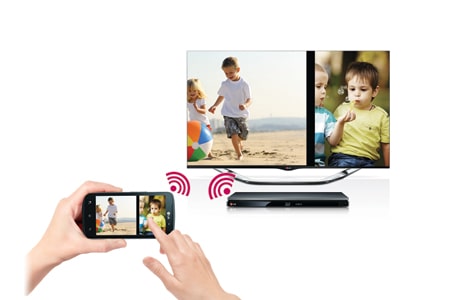 Miracast™ allows screen mirroring from compatible mobile devices to LG Smart products.* Just mirror the screen of mobile devices and enjoy mobile contents pictures, videos, games right on your TV screen.
Enjoy and control your own music collection on your iPod, iPhone and iPad in rich LG sound via a simple USB connection* while recharging your device.
Dimensions:



Main
444x66x292.5
Front Speaker
270x1000x270
Rear Speaker
360x81x70
Center Speaker


Subwoofer
251x336x355

Output



Channel
9.1
Output
1460W
Front L/R
180WX2
Center
180W
Subwoofer
200W
Front Top(L/R)
90WX2
Wireless rearL/R
180WX2
Wireless Surround Top(L/R)
90WX2

3D Compatibility:



2D/3D
Yes/Yes
2D to 3D Converter
Yes

Connectivity:



Wifi Built in
Yes
Wifi Display
Yes
DLNA(Smart Share)
Yes
NFC
Yes
Miracast
Yes
Wifi Direct
Yes

LG Smart TV:



Premium Contents
Yes
LG Apps
Yes
Full Browser(Flash 10/Html 5)
Yes

Interface:



Audio Input(Audio L/R)
Yes
Audio Input(optical)
1
HDMI(Out)
1
HDMI(In)
2
Radio(FM)
Yes
Ethernet
Yes
USB
1

Convience



Smart Phone Remote App
Yes
Sound Privacy
Yes
Auto Volume Level
Yes
SIMPLINK
Yes
Dimmer
Yes
USB Direct Recording
Yes
External HDD Playback
Yes
Made for Ipod,Ipad,Ipohne via USB
Yes

Playbility Format:



Disc Type

BD-ROM,BD-R,BD-RE,DVD(NTSC),DVD(PAL),DVD-RW,DVD+R,

DVD+RW,Audio CD,DTS-CD,CD-R,CD-RW

Video Format
Yes
Audio Format
Yes