Powerfully Smart. Beautifully Quiet.
HOM-BOT 3.0
VR6270LVM
Thoughtfully designed, LG vacuums are so powerful and easy to use that vacuuming no longer seems like a chore. Loaded with features, like our innovative dust compression system, washable HEPA filters and detachable tools, LG vacuum cleaners are designed to let you clean more places and dispose of dirt faster, so you can take care of the cleaning and focus on more important things. Explore all of our vacuums, as well as our other innovative home appliances, and discover the products you need to help make life good.
DUST COLLECTION : BAGLESS
CLEANING TIME : 100 MINUTES
NOISE LEVEL (IEC) : 60 DB
LG HOMBOT CORNER MASTER
SQUARE DESIGN
Because of the square design, the side brushes are placed closer towards the front.
LONGER SIDE BRUSHES
HOM-BOT SQUARE thoroughly cleans corners due to 1.5cm longer side brushes.
SMARTER CORNER CLEANING
CORNER DETECTING SYSTEM
HOM-BOT SQUARE smoothly follows the wall and cleverly detects the corner without bumping.
THANKS TO THE FLAT SIDE SHAPE OF HOM-BOT SQUARE, IT IS IN CLOSE PROXIMITY TO THE WALL.
OPERATING CORNER DETECTION SYSTEM, IT CAN CLEAN 89% MORE EFFICIENTLY THAN OTHERS.
BACKWARD CLEANING IS CARRIED OUT TO FINISH THOROGHLY CLEANING AT THE CORNER.
IT WILL CONTINUE TO CLEAN THE NEXT SECTION WITHOUT COLLISION.
UPGRADED DUAL EYE 2.0™
LG HOM-BOT SQUARE has adopted the new generation of upper camera, II-SLAM(Illumination Invariant based Simultaneous Localization and Mapping)

Conventional robotic vacuums can easily wander in the dark because it is hard to take pictures without light. With its II-SLAM technology, HOM-BOT SQUARE's Dual Eye 2.0™ has been upgraded and now automatically calculated the intensity of light scans the ceiling. Whether it is bright or dark, Dual Eye 2.0™ can take clear pictures of the room and minimize wandering.
WORLD FIRST AND UNIQUE DUAL EYE SYSTEM
Upper Camera
(CV-SLAM Celing Vision based Simultaneous Location and Maping). Using a camera which takes 30 images per second, it scans ceiling surfaces. Continuous comparison of these sequential images generates simultaneous localization and mapping information.
Lower Camera
(OFS : Optical Flow Sensor)
An optical sensor reads the floor for measuring of moving distance and recognizes even the slight changes of floor.
MAPPING RESUME FUNCTION
Using Mapping Resume Function, HOM-BOT SQUARE finds the location by itself even after you pick it up and move it to somewhere else.
DIGITAL BUMPER
Multple sensors recognize obstacles around and minimize collision. LG HOM-BOT SQUARE knows how far the obstacles are ahead. Others are "bump to know". Digital Bumper avoids obstacles and minimize collisions.
LEARNING FUNCTION
With its Learning Function, HOM-BOT SQUARE memorizes the location of the obstacles and cliffs of your room minimizing bumping.
HOM-BOT SQUARE REMEMBERS THE LOCATION OF OBSTACLES AND CLIFFS DURING THE CLEANING.
IT REMEMBERS THE WRITTEN MAP INTO MEMORY AFTER CLEANING.
IT AVOIDS THE OBSTACLES AND DANGEROUS AREA BY ADSUSTING THE OBSTACLE DETECTION SENSOR SENSITIVITY OR BY REDUCING THE SPEED.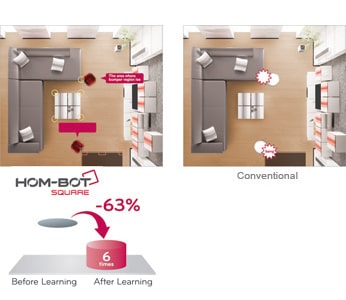 EASY OUT DUST BIN
HOM-BOT SQUARE's dust bin is designed to take out from the top. Easier to use than the sliding type dust bins of conventional robotic vacuums. This minimizes hassles of residual dust around the dust din slot. Also, HOM-BOT SQUARE has a bigger capacity (O.6L) for more dust intake that makes less effort to dump the dust bin. Pull up type LG dust din prevents flying dust when emptying. Therefore you can enjoy healthier and more convenient cleaning.
LOW NOISE
Low noise of 60dB(A), cleaning doesn't annoy you at home. HOM-BOT SQUARE wont' bother you in everyday life.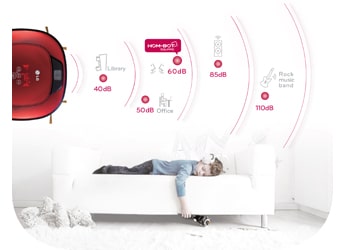 FEATURES
Zigzag, Cell by Cell, Spot, My Space
- Corner Cleaning - smart Mapping - Long lasting battery - Low noise: 60dB - ultra sonic sensor