Product Description
LaCie Rikiki 1TB USB 2.0 Portable Hard Drive (9000112) Description
The LaCie Rikiki now features an integrated USB 2.0 cable, ensuring that you'll always have everything you need to transfer and store your data. With the LaCie Rikiki, you don't have to choose between capacity and mobility; it's perfect for anyone who needs constant access to all of their files, without having to carry around a massive hard drive. ts brushed aluminum casing works on two levels: it helps protect your data, but also gives the LaCie Rikiki a sophisticated look. The aluminum exterior is tough, but it's also light enough for mobility, ensuring your data will always make it to its destination. Its integrated USB cable tucks away when not in use for convenience, and it also means you'll never lose it.
Key Features
Storage capacity: 1TB
Ultra-compact with embedded cable
User-friendly backup software
10GB of Cloud storage from Wuala (1yr)
Data transfer using USB 2.0
Hassle-Free Backup
Designed to be intuitive and user-friendly, the LaCie Rikiki backup software lets you seamlessly and automatically back up your Mac or PC. It works in the background, protecting your valuable files and bringing you piece of mind.
Space to Spare
With up to 1TB of storage capacity, the LaCie Rikiki lets you back up your computer and store a massive multimedia library, with room to grow. Thanks to the LaCie Rikiki's compact size and embedded cable, this digital warehouse is as ready to travel as you are. In addition, it comes with one year and 10GB of online storage from Wuala, which helps you easily back up, store your files, and share them with friends.
The LaCie Rikiki 1TB Hard Drive Holds:
Up to 200,000 digital photos
Up to 250,000 songs (MP3)
Up to 24,000 songs (uncompressed CD quality)
Up to 76 hours of Digital Video (DV)
Up to 380 hours of DVD quality video
Up to 120 hours of HD video
Item Number
Capacity
Interface
Interface Transfer Rate
Up to 480Mbits/s (60MB/s)
Size
109.7 x 75 x 13.4 mm / 4.3 x 2.9 x .5 in.
Weight
System Requirements
Computer with a USB 2.0 port
Latest version of Windows XP, Windows Vista, Windows 7/ Mac OS X 10.5, 10.6
Minimum free disk space: 600MB recommended
Box Content
LaCie Rikiki
USB 2.0 cable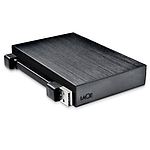 Customer Review

Product Reviews
Product is Coming Soon Or Out of Stock