Linksys E2500 N600 Dual-Band Wireless Router
The Linksys E2500 N600 Dual-Band Wireless Router is a simultaneous dual-band router that lets you access the Internet through wireless connection or by using its four-port switch. It has four (4) internal antennas. This Wireless-N Router comes with the Linksys Connect software that allows you to manage your wireless network easily. It comes with Guest Access and Parental Controls features in the web-based setup page that provide added security to your home network.
IMPORTANT: Only Linksys Connect versions 1.4.11222 and newer are compatible with OS X® Lion and later.
Enhanced security features are included to help protect your data and privacy while connected online. These are:
Wi-Fi Protected Access 2 (WPA2) security provides encryption for data on your wireless network.
Stateful Packet Inspection (SPI) Firewall Protection blocks unwanted access to your Linksys Wi-Fi Router, E2500.

NOTE: The IPv6 and IPv4 SPI Firewall Protection features are only available for firmware Ver.1.0.07. To obtain these features, you must upgrade the firmware of your router accordingly.
Network Address Translation (NAT) technology protects and allows your entire network to access the Internet using a single Internet IP address.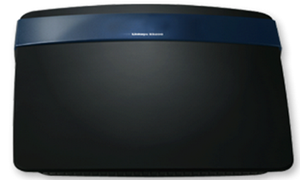 Setting up the Linksys Wi-Fi Router, E2500 is easy using the Linksys Connect software. Configuring its advanced settings can be done through the router's web-based setup page.
QUICK TIP: For a more stable Internet connection using the 5 GHz wireless connection, upgrade your router's firmware to its latest version.


USB port is used to share disk storage with other users on your network or on the Internet. The USB port is ONLY available to Linksys Wi-Fi Router, E2500 v3.

Ethernet 1, 2, 3, 4 (Green) flashes to indicate network activity on a particular port.



Internet port light flashes green to indicate network activity. The connection is between the modem and the router.



Wi-Fi Protected Setup™ (WPS) button is used to automatically configure wireless security for your wireless network(s). To learn more about WPS, click here.

Power (Green) light turns green when the router is powered ON. To power ON the router, simply attach the power cord into the Power port of the device and plug the other end into a power outlet. To switch it OFF, unplug the power adapter from the power outlet.
Power Port connects to the included power adapter.

Reset button is located at the bottom of the router. This allows you to reset the router to its factory defaults. Press and hold the Resetbutton for approximately five (5) seconds. You can also restore it to factory defaults from the Administration > Factory Defaults screen in the router's web-based setup page.
NOTE: For more details about this product, visit the Linksys Support Site to browse for more troubleshooting articles, downloadable user guides or firmware updates and other support information.

After getting to know the Linksys Wi-Fi Router, E2500 and its features, you may now set up the router and then connect the other home networking devices such as wireless adapters, access points and range extenders to further utilize your wireless network.