Product Description
NVIDIA GeForce GTX 965M 2 GB GDDR5
5th Generation Intel Core i7 5700HQ (2.70GHz)
16GB Memory 1TB HDD 128GB SSD
15.6" 1920 x 1080
15.35" x 10.47" x 0.78" 4.2 lbs.
BETTER AND FASTER PERFORMANCE WITH 5TH GEN INTEL CORE 17 PROCESSORS
5th Gen Intel Core processors combine the power efficiency of the new 14nm process with improvements in processor instructions to deliver faster performance. In addition, Intel® Turbo Boost 2.02 dynamically controls the performance and power of both cores and graphics-boosting performance exactly where and when it is needed and saving energy when it counts.
Longer Battery Life
Processor power design improvements across CPU, graphics, I/O, and power management, plus the increased power efficiency of Intel's 14nm manufacturing process, combine to offer users up to 1.5 hours of additional battery life vs 4th gen Intel® Core™ processors.
ADVANCED DESKTOP GAMING PERFORMANCE MADE PORTABLE
The next-generation GeForce GTX 965M brings performance to the notebook driving impressive 1080p gameplay at ultra settings in sleek new designs.
-Get the power to play challenging games like Shadows of Mordor, Far Cry 4, and EVOLVE at ultra-settings at 1080p.
-Next-generation NVIDIA Maxwell™ architecture delivers advanced performance, power efficiency, and gaming features for truly unique ways to a game.
-Enjoy an incredible 60% faster performance than the previous-generation GeForce GTX 860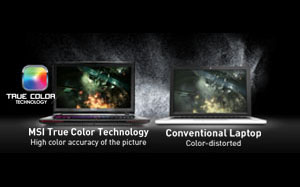 AN EYE OPENING EXPERIENCE WITH TRUE COLOR TECHNOLOGY
See the world for what it is using MSI's exclusive True Color Technology. Precisely calibrated to deliver vibrant colors, stunning details, and sharp images. True Color technology brings the colors of the world right to your display.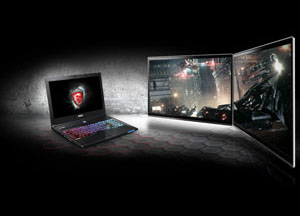 WATCH, STREAM AND PLAY SIMULTANEOUSLY
Do everything, all at once with MSI's Matrix Display technology, supporting multiple externa displays so you can multi-task like a pro via HDMI and mini-Display Ports. Stream on Twitch or watch your favorite shows while playing your games, what it is you do, you'll never miss another moment.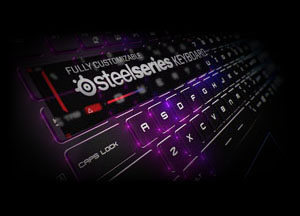 SWIFT. ACCURATE. POWERFUL
Gain the unfair advantage day or night with a fully illuminated keyboard, tactile fast action keys, a strategic layout and powerful customizaiton capabilities.
CUSTOMIZE EVERYTHING
Modify the color, macro every key and enhance the way you play with the powerful SteelSeries Engine 2 app.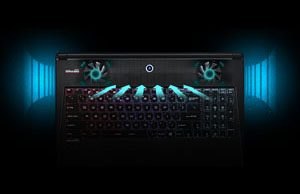 DUAL FAN THERMAL COOLING
Designed for maximum efficiency, the dual fan thermal cooling maintains a constant cool temperature during intense and long gaming sessions. Meticulously and intelligently built to ensure optimal gaming performance, heat is dissipated at a 45 degree angle to avoid any contact with the hands.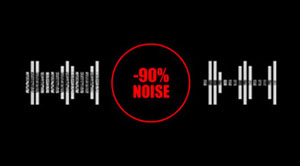 NAHIMIC VIRTUAL SURROUND SOUND - MILITARY TECHNOLOGY, THE NEXT GAMING STANDARD
Technology originally developed for the military fighter jets, Nahimic specializes in 3D sound software processing and audio improvements offering virtual 7.1 sound in immersive high definition. Designed to work with standard audio stereo equipment, Nahimic transports gamers into the action, allowing them to sense every footstep, hear every bullet whizzing past, and feel every explosion. Nahimic highlights even the smallest sounds, intensities gameplay by boosting bass, and reducing exterior noise pollution for optimum in-game voice clarity and comprehension. It also features a high definition audio recorder to easily capture and stream studio quality sound. This new technology is exclusive with MSI gaming laptops.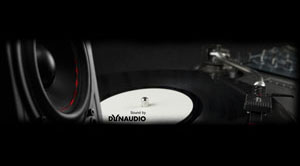 TURN IT UP
Fill the room and feel the bass with Dynanudio high fidelity speakers, acoustically tuned to perfection to deliver unheard of quality fit for any audiophile.
Drop the beat or feel the thunderous roar of the battlefield with an integrated subwoofer
Get an extra boost in performance for your audio with built-in dedicated bass, speaker, and headset AMPs, gold plated for maximum audio transfer. Add dynamics and punch to every gunshot, explosion and gaming sound with stunning surround effects, producing an incredibly realistic surround sound experience even from just a pair of headphones or stereo speakers.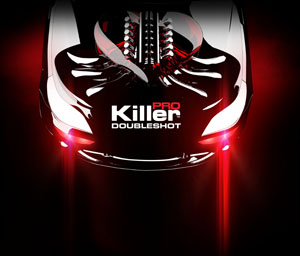 LEAVE LAG BEHIND
Killer DoubleShot combines intelligence, control and superior networking speed for HD video, high quality audio, and online games whether you go wired or wireless. Get even more bandwidth and coverage with the high performance Kill Wireless 802.11ac.
Combine both wired and wireless networking to give you even more bandwidth to jump in multiplayer games and watch your streams simultaneously without worry of a bottlenecked network.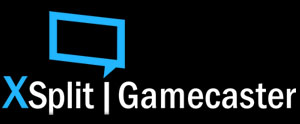 SHOW OFF YOUR SKILLS TO THE WORLD
XSplit Gamecaster lets you easily record your gaming moments and broadcast your live gameplay sessions to Twitch, YouTube UStream and more. It's simple, easy to use and ideal for sharing your gameplay with the world. So what are you waiting for? Join the revolution and start streaming and recording with XSplit Gamecaster today.