DELIVER ON DEFENSE
Set the tone on defense with more control thanks to an all-new arsenal of pass rush moves. Contain the open field with intuitive tackling mechanics, and play as a team with redesigned zone and man coverage logic, all while being immersed in the play from the other side of the line, with defensive player lock cameras. Madden NFL 15 delivers on defense.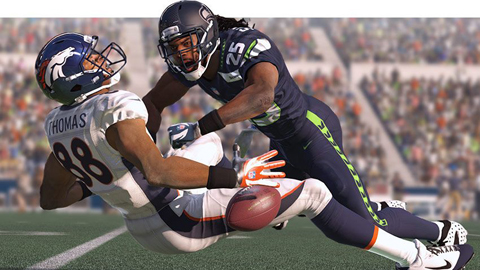 Player Sense 2.0
In Madden NFL 15, Player Sense 2.0 creates the smartest playing Madden ever by improving player emotion, contextual awareness, head tracking, reach tackles and more.
Pass Accuracy
In Madden NFL 15, the quarterback accuracy rating (THA), situation, and scenario have never been more important.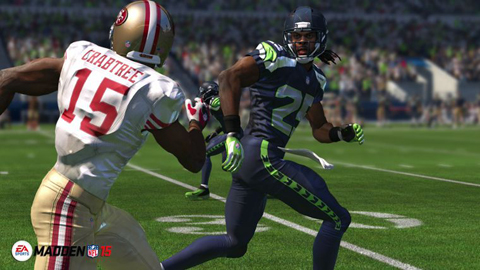 Playcalling
Madden NFL 15's presentation upgrades extend beyond the improved broadcast package. Playcalling has also been redesigned with responsiveness in mind, allowing players to get real-time information on how well they're performing on the field.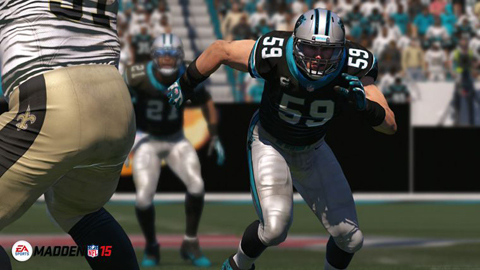 War in the Trenches 2.0
Madden NFL 15 raises the bar even further with War in the Trenches 2.0, including all-new pass rush mechanics for both finesse and power moves, as well as new disengage and block shedding animations.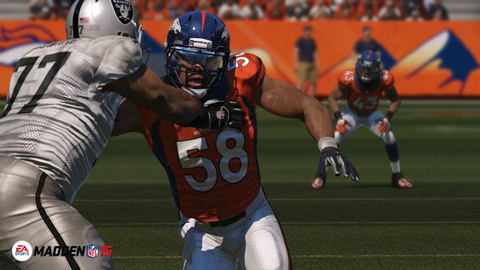 Tackling Mechanic
Madden NFL 15 includes all-new tackling mechanics that change the way gamers play defense.
NFL FILMS-INSPIRED PRESENTATION
Relive the greatest moments in games played with dynamic pre-game and halftime shows , and get your all-access field pass with NFL Films inspired in-game camera angles dropping you right in the heart of an NFL game. Gain a new perspective of the game with six new gameplay cameras to toggle through pre-snap on every play. Madden NFL 15 features NFL Films inspired presentation.
KNOW YOUR OPPONENT
Call your plays with confidence using data from millions of online games played by Madden gamers and test your new found skills through intense challenges and conditions in The Gauntlet. Madden NFL 15 gives you the advantage to know your opponent.