Product Description
MARTIN LOGAN 5.1 CHANNEL HOME THEATER SYSTEM
MARTIN LOGAN MOTION SLM SPEAKER SYSTEM (1 SET)
MARTIN LOGAN DYNAMO 500 SUBWOOFER (1 Piece)
MOTION SLM
Ultra-Slim Motion® SLM Series Loudspeakers
The slender Motion SLM & SLM XL speakers feature an advanced resolution Folded Motion™ tweeter, two 4-inch high-excursion fiber cone woofers and two passive bass radiators for maximum controlled low-end bass extension - all in an ultra-slim profile designed expressly for super-thin TVs.
For even greater low-end bass extension, step up to the Motion SLM XL which adds two extra 4-inch passive radiators and aesthetically matches 65-inch and larger TV sizes.
Inspired by MartinLogan's ultra-high-end electrostatic loudspeakers, the Motion Series was created to provide stunning sound for your ultimate-performance home theater or stereo. MartinLogan's dedicated in-house engineers carefully crafted the Motion Series to create an extremely affordable and compact product line that seamlessly blends our exquisite Folded Motion transducers with powerful, compact bass technology. The result is a smooth, refined sound with stunning dynamic range and jaw-dropping clarity.
The Audible Truth About Thin TVs
TV manufacturers are pushing the physical limits of electronics, making TVs that are thinner than ever at less than 2-inches from the wall. While they look great, creating a thinner television means making compromises to the built-in speakers; tiny drivers, cheaper parts, reduced cabinet volume and placement behind the TV create unnatural, lifeless sound. Worse yet, these speakers are usually underpowered, and easily distort when you turn up the volume. Motion SLM & SLM XL provides a clean, easy to install solution for elevating the aural experience that has been sacrificed with ultra-thin TV technology.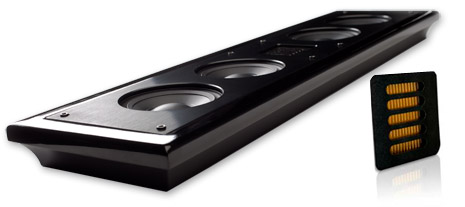 Slender Profile & Stunning Performance
The secret to the Motion SLM's outstanding performance is the innovative dual 4-inch, ultra-slim fiber cone woofers and dual 4-inch high-velocity passive bass radiators, paired with a Folded Motion tweeter to create stunning acoustical alchemy typically found in much larger speaker systems. Hidden discretely underneath the grille, the drivers are held securely in place by a solid, black-anodized brushed aluminum baffle. The high-gloss black SLM cabinet is only 1.45-inches thin, for a total wall protrusion of 1.83-inches with magnetic grille and included wall mount bracket.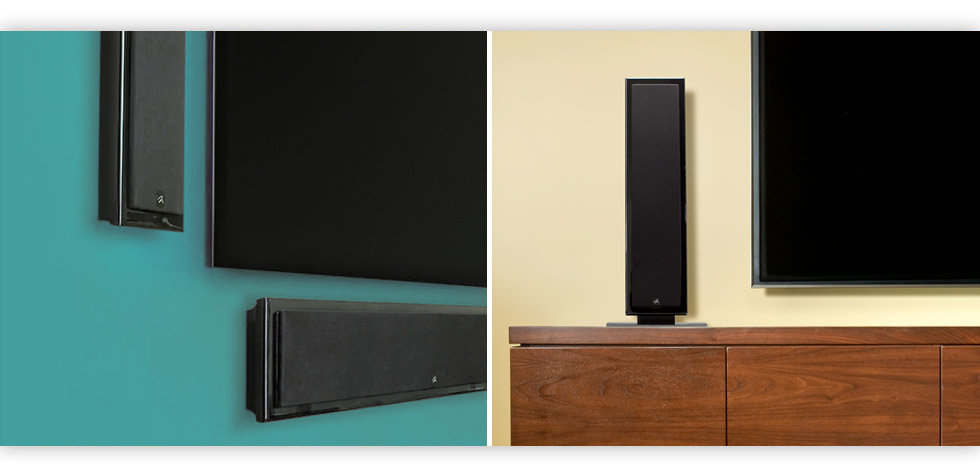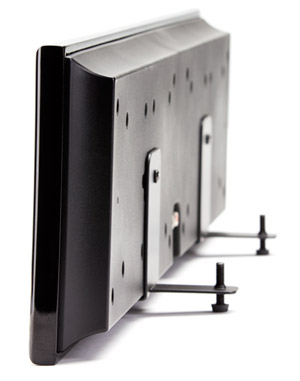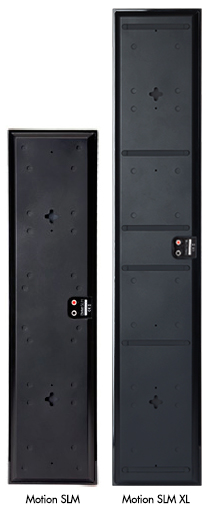 On-Wall or On-Shelf Versatility
With keyhole slots on the speaker's back panel that attach easily to the included wall bracket, you'll have the SLM wall-mounted and playing in no time. While we created the Motion SLM to wall mount next to ultra-flat panel TVs, that's not their only application. Included with each speaker is a curved black base to allow them to sit on a shelf or equipment cabinet.
The Perfect LCR System
The Folded Motion tweeter has an 80° x 80° dispersion pattern, which allows the Motion SLM to sound exactly the same in a horizontal or vertical orientation, making them perfect for Left-Center-Right (LCR) system applications. The logo on the grille is magnetic and can move and rotate to the proper atheistically pleasing location in any orientation.
Each speaker includes "kick-stand" brackets that attach to the back of the cabinet, allowing them to free-stand for center channel applications. The stands are easily adjustable with the provided screw feet.
DYNAMO 500
Dynamo 500
Compact, Affordable Performance
No other subwoofer offers Dynamo 500's bass extension, power, and detail at such an affordable price. Perfect for either home theater or stereo applications, the Dynamo 500 is solidly built with high-density materials to minimize cabinet resonance and provide a foundation for the high-output 10-inch woofer and high-current 120-watt RMS, 360-watt peak amplifier. Additionally, dual rear-mounted low-turbulence ports maximize bass output while minimizing port induced distortions.
Whether you are looking for high performance bass to enhance your music experience or take your home theater system to the next level, a new Dynamo family subwoofer should be at the top of your list.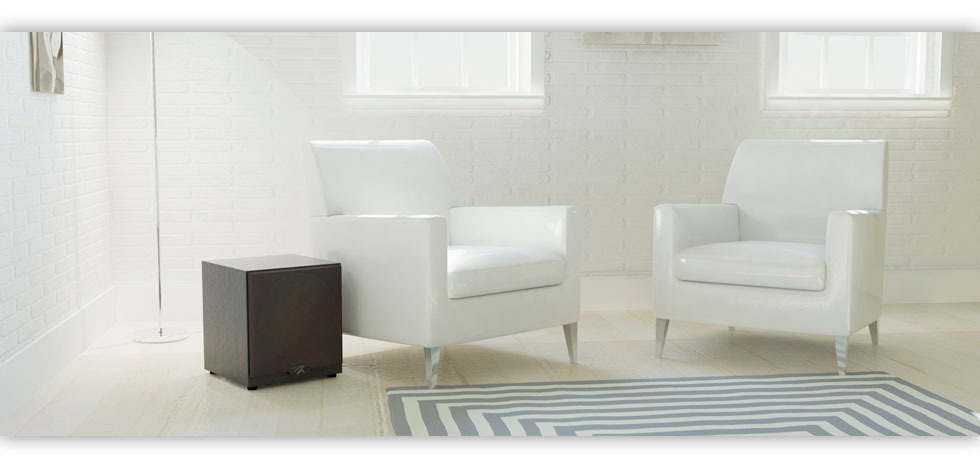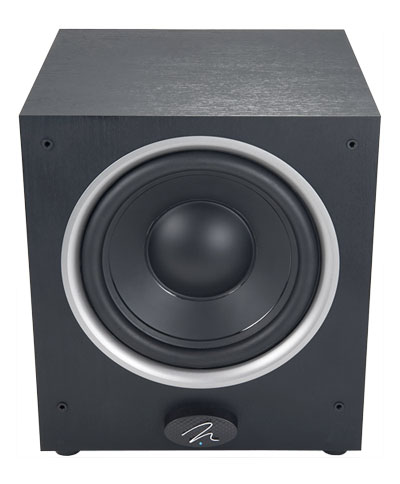 Low-Distortion 10-Inch Woofer
Dynamo 500's high-resolution driver combines a 10-inch polypropylene cone with a high-intensity magnet structure to achieve huge excursion and output capability without sacrificing detail. By eliminating cone flexure, even at long voice-coil excursions, Dynamo 500's advanced-technology bass driver achieves the very low distortion necessary for proper blending with MartinLogan Folded Motion™ and electrostatic speakers.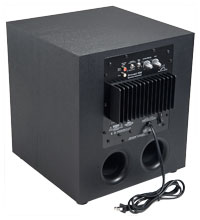 120-watt (360-watt peak) Amplifier
Dynamo 500's amplifier belongs to a recently-developed class of switch-mode designs that incorporate a variety of innovative techniques to reduce noise, distortion, and heat to the lowest possible levels. In particular, the switching frequency is much higher than in typical subwoofer amplifiers of this type, providing a tremendous true 120 watts continuously with extremely low distortion.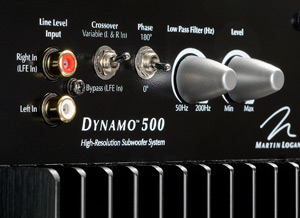 Seamless System Integration - Engineered for Stereo and Home Theater
Dynamo 500's connections and controls are designed to enable easy, seamless integration with any stereo music or multi-channel home theater system. Its main left and right line-level inputs feed into a precision low-pass filter with a cutoff frequency variable from 50 to 200 Hz. For systems in which a surround processor supplies the crossover, Dynamo 500 provides an LFE input low-pass filter switch that completely bypasses its internal filters.
Dual Low-Turbulence Ports
Ports are a convenient and cost-effective way of increasing low-frequency output. Dynamo 500's dual low-turbulence ports are carefully designed to provide superb low-end efficiency while minimizing port induced distortion.