Practical accessory storage included
The accessory storage keeps all your Philips meat mincer accessories easily at hand.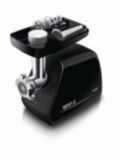 Self correcting knife and screw assembly
The knife can only be assembled correctly on the feeding screw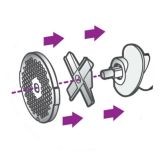 Innovative 2 sided cleaning tool
Innovative 2 sided cleaning tool shortens cleaning time with 50%. After mincing, simply click the mincing screen onto the cleaning tool and rinse under running water. No more tedious cleaning of clogged screen holes!
Eco passport
Philips cares about the environment and society at large, and strongly supports eco-design of products.
Accessories included:

Stainless steel screen:

5mm (medium); 8mm (coarse)

Knife:

yes

Kebbe maker:

yes

Sausage horn:

12mm diameter; 22mm diameter
Accessory storage tray:

yes

Meat tray:

plastic

Meat tray dust cover:

yes

Cleaning tool:

Yes


Design:

Color:

Black



specifications:

Voltage:

220-240 V

Frequency:

50 Hz

Speeds:

1+ Reverse