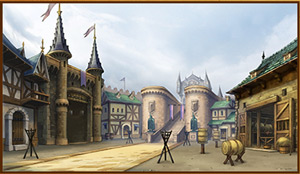 Travel to the medieval city of Labyrinthia, where witchcraft and magic are very real indeed. In this strange place, lies bring about injustice and challenging conundrums stand in the way of the truth. Step into this story as famed investigator Professor Layton and ace attorney Phoenix Wright, and crack the ultimate case!
Investigate. Search the city for clues. Solve puzzles. Unravel the mystery. Defend your client in court. Cross-examine witnesses. Spot lies and contradictions. Present evidence. Uncover the truth.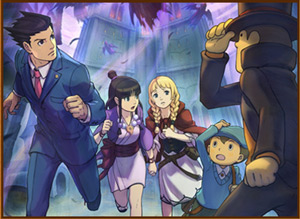 This spectacular crossover brings together the investigative puzzle-solving of the Professor Layton series and the logic-fueled courtroom action of the Ace Attorney series. With a unique new art style, a beautiful soundtrack, a host of original brainteasers, and the brand new ability to cross-examine several witnesses at once, this truly is a case like no other! Do you have what it takes to stand up for justice?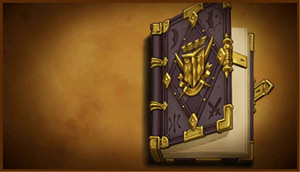 A Note of Caution:
The Historia Labyrinthia is a mysterious book that contains all that has ever happened – and ever will happen – in Labyrinthia, a town you won't find on any map. Be careful when turning the pages of this ancient tome, or you may find yourself walking straight into the fairy tale within.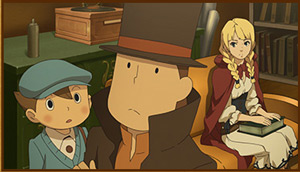 The Professor's Story
One Dark and Stormy Night in London:
Espella Cantabella unexpectedly appears at Professor Layton's office. Claiming to be pursued by witches, dressed in medieval clothing, and armed only with a mysterious old book, she begs for Layton's help and protection.
Together Luke and Layton engineer a plan to trick her pursuers, allowing the young lady to escape! Inspecting Espella's book, the famed puzzle-solvers discover it tells the tale of a place called Labyrinthia! And this is where they step right into the story…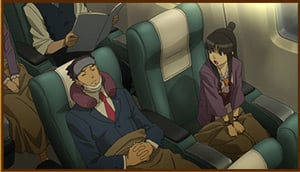 The Lawyer's Story
One Dark and Stormy Night in London:
Phoenix Wright and Maya Fey come to England as part of the Legal League of Attorneys' exchange program. As usual, the pair soon find themselves dragged into an odd case: a local student called Espella Cantabella stands accused of theft and assault – and her teacher asks Espella to plead guilty. Stranger still, Espella seems to think she's on trial for witchcraft! Somehow, Phoenix and Maya manage to turn the case around for a 'Not Guilty' verdict. And this is where they step right into the story…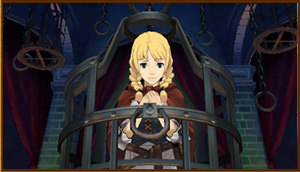 Legends Collide
One Bright and Pleasant Day in Labyrinthia:
Layton, Luke, Phoenix and Maya find themselves in the medieval city of Labyrinthia! How did they get here? How will they get home? And what does Espella have to do with all this?
When Espella is put on trial for witchcraft, Phoenix steps forward to defend her in court – our ace attorney had better learn the bizarre laws of the land, and fast!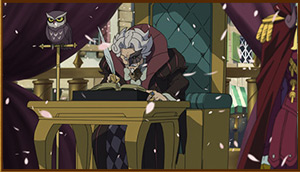 Meanwhile Layton and Luke set out to solve the many mysteries of Labyrinthia. There's talk of witches, strange disappearances, and the city is ruled by a sinister character called the Storyteller – a man who writes things about the town that come true!
To unravel all these mysteries and more, this is where you must step into the story of Labyrinthia…

Professor Hershel Layton:
A famed archeology professor, all-round clever fellow and absolute gentleman. He's always sharply-dressed, polite to a fault, and his love for a nice cuppa rivals only his love for a challenging puzzle. He can rarely be found without his sidekick, Luke Triton.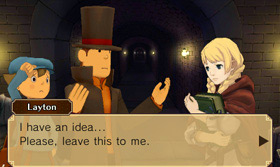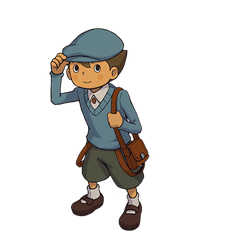 Luke Triton:
This young chap is Layton's self-professed apprentice, a budding gentleman, and – of course – a bit of a puzzle enthusiast. Luke is amiable, good with animals and respects Layton like a father. His fierce loyalty can make him react without thinking, but a kind reminder soon puts him back on track.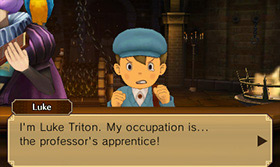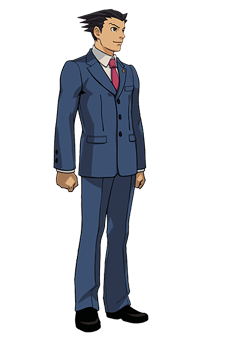 Phoenix Wright:
Don't let his spiky hair and youthful looks fool ya – this accomplished attorney is often the last line of defense for the innocent! Phoenix is a bit of an accidental genius in the courtroom, and – true to his name – his cases often rise from the ashes at the last moment.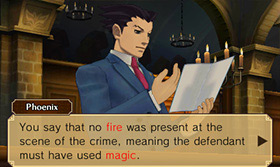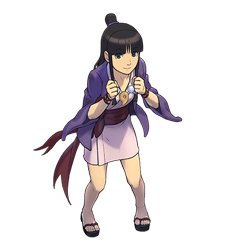 Maya Fey:
Spirit medium-in-training Maya is Phoenix Wright's assistant of sorts, and her optimistic nature has turned many a case around when things weren't looking too good. Multifaceted Maya has a mad love for noodles and the "Steel Samurai" TV show, but also acts as the head of a prominent family of respected spirit mediums.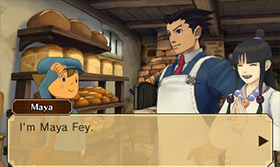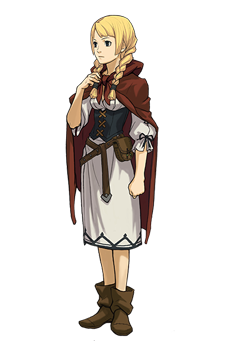 Espella Cantabella:
The girl whose appearance brings the investigators to Labyrinthia. She seeks Professor Layton's help when she's on the run from a mysterious force, and will be the defendant that Phoenix Wright represents during a witch trial!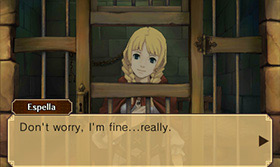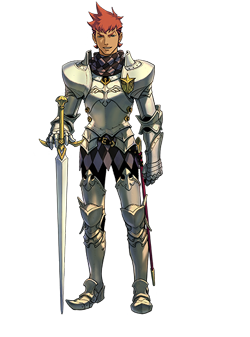 Sir Zacharias Barnham:
Sharp sword. Shiny armour. Adored by all the people of Labyrinthia. This flame-haired prosecutor will challenge defense lawyer Phoenix Wright in court. Only a blade of logic can rival the steel of his accusations!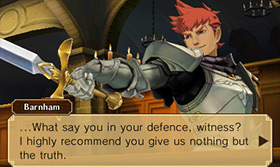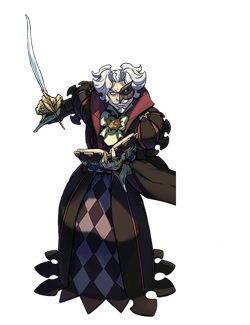 The Storyteller:
The sinister ruler who holds the fate of Labyrinthia quite literally in the palm of his hand: whatever the Storyteller writes down comes to pass! His pen may bring joy, or fear and sorrow – but just who is he? And how did he gain such incredible power?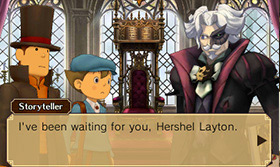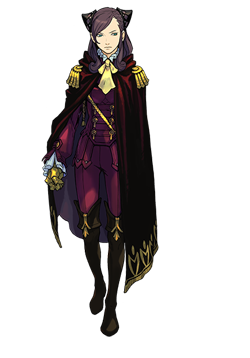 High Inquisitor Darklaw:
This enigmatic woman is the leader of the Mass Inquisition, the force within Labyrinthia tasked with the job of apprehending and trying witches. Her cold and unsympathetic demeanor makes her perfectly suited to such an unpleasant job.