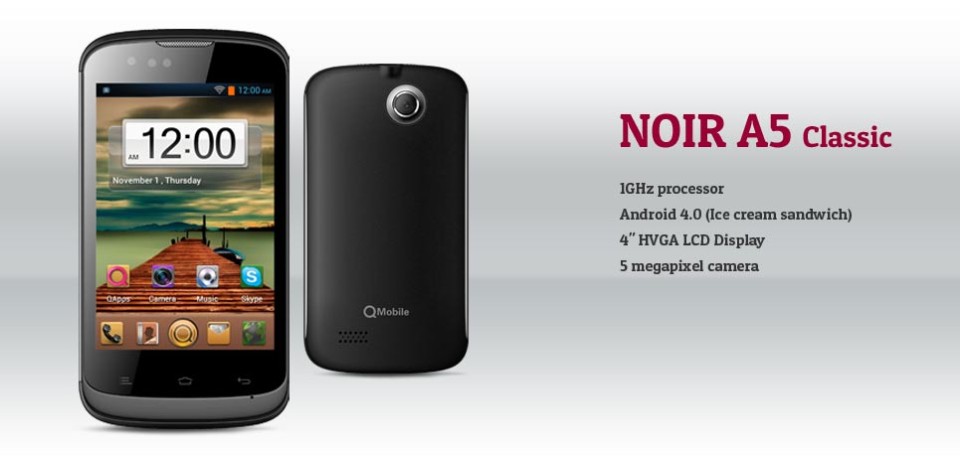 Introduction
The QMobile Noir A5 Classic is an impeccable smartphone that makes a very loud and bold statement about design, hardware and software, alike. The phone has been crafted beautifully and loaded with features carefully, keeping the low-budget consumer in mind. It has a powerful 1 GHz processor, an equally eloquent 5 Mega Pixel camera and a bright as well as vivid 4" HVGA display. It runs on Android 4.0 Ice Cream Sandwich, which brings a new and improved redesign to the user interface, unlike its predecessors. The phone offers a colorful and striking user experience at a very low price.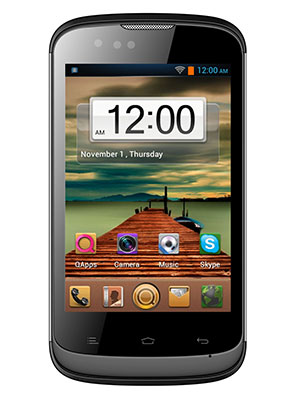 Hardware
The Noir A5 Classic packs improved hardware, which makes it distinctive amongst its QMobile brethren of the same price range. It has a beautiful and clear 4" HVGA display that has only one job: bringing your content to life. The phone also features a 5MP rear camera, which is capable of capturing tremendous amount of detail in photos and videos alike. The front facing Smart Camera makes connecting with your loved ones through video, easier than ever, with the help of apps like Skype. The A5 Classic is powered by a 1 GHz processor that goes along with 512MB RAM, ensuring fast and smooth performance and multitasking.
This phone has 4GB ROM but less will be available considering some of it will be occupied by system files, to overcome this hassle, there is a micro SD slot which can expand your storage up to 32GB. The Noir A5 Classic packs all the basic connectivity options including Wi-Fi, Bluetooth, GPS and GPRS/EDGE. All of these options make for better sharing of content with friends and provide better connectivity to the internet. Similar to almost every other QMobile phone, the A5 Classic also has Dual SIM capability. The 1,700mAh battery on this phone is lively enough to get you through a day of normal sage, breezily.
360˚
Starting from the front, there are no physical keys present here. There are three capacitive keys below the screen, below which, the body is extended a bit. On the back of the phone, the 5MP camera is located on the top right. The speaker grille is located towards the bottom left and the QMobile branding just above it.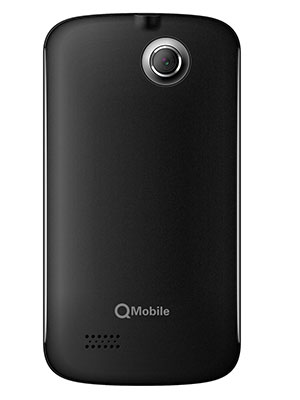 Above the screen, there is the secondary camera and the earpiece. On the right side of the phone, the volume rocker and the power button are located. On the top side, the headphone jack and the micro USB port are present.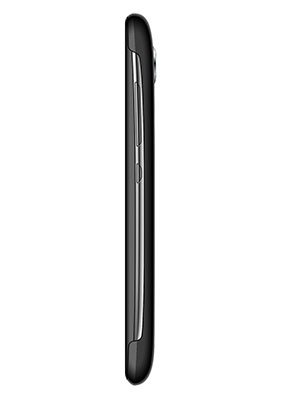 Software
The QMobile Noir A5 Classic runs on Android 4.0 Ice Cream Sandwich. This version of Android OS brings an improved user interface and compatibility with many new apps and games on the Google Play Store. The Play Store is one of the biggest moneymakers for Android and in turn, Google. It has over a million downloadable apps and games, most of which should support the Noir A5 Classic, considering its 4" display and the rest of its impressive hardware. The rom on this phone has been adjusted to match the design language of its counterparts. The apps that come pre-installed on this phone, have been custom designed by QMobile to fit its capabilities.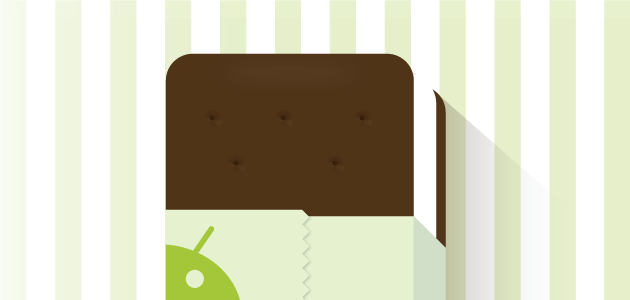 Android is well known and loved for its open source nature which allows it to be greatly customizable, unlike any other mobile OS. With just a little knowhow, the look and feel of the software can be adjusted to the user's preference; from the home screen, down to the system font (Requires rooting your phone - warranty may become void). Android's deep integration with Google's services allows the user to stay productive, organized and connected on the go! By logging into your Google account on your phone, you can access all your previously stored data and preferences for Google services you might have used, either on a computer or on another smartphone. Once you sync your phone with your Google account, any new data such as a new contact can be backed up to your account, and if you ever change your phone, all of it will be available with just a few taps of your fingers!
Conclusion
The QMobile Noir A5 Classic is easily one of the best phones this company has ever made in this particular low-end category. It has a big 4" screen that can display all your content perfectly. The camera is powerful and so is the battery. If you're seeking to purchase a phone in this exact price range, here's our advice: close your eyes and buy it!
Specifications