Product Description
Sogo Rechargeable Air Cooler With Remote Controller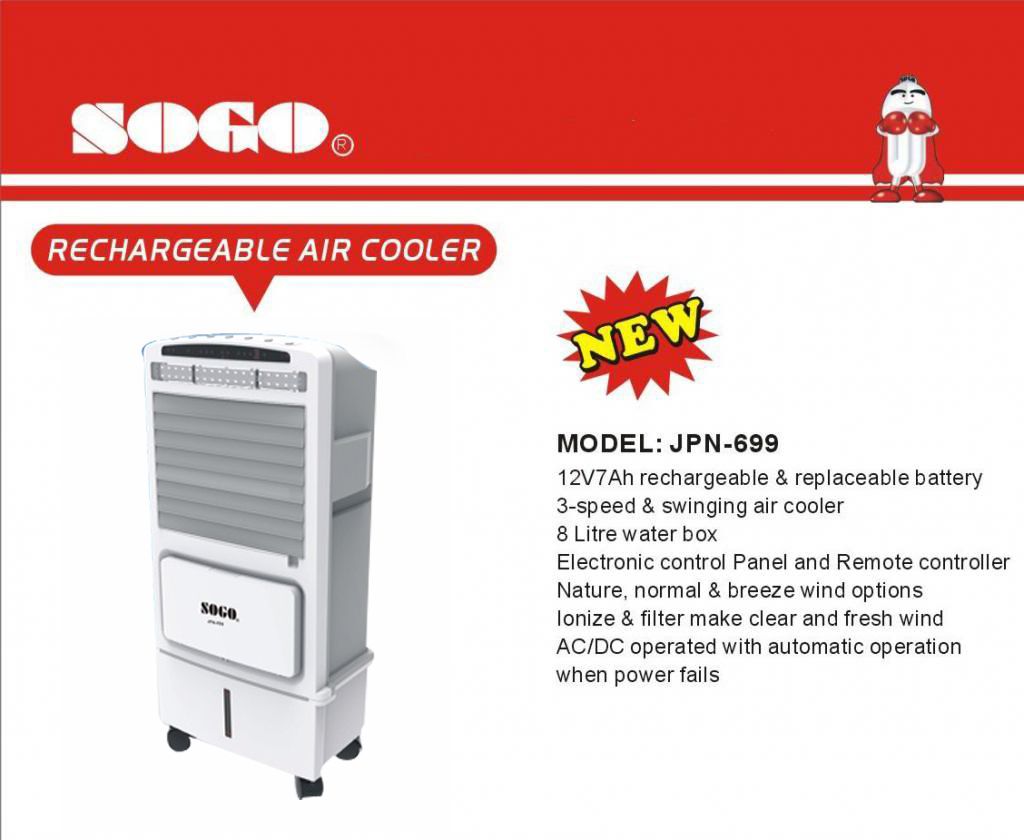 ​
FEATURES:
Digital Control System with LED Display.
Fan, Cooler, Air Fresh Ionizer.
Enviroment Cardboard Water Curtain.
Remote Control, Two Ice Boxes.
Energy Saving and Effective.
1 to 7 hours timer control.
3 Fan Speeds:High-Medium-Low.
8L Large Tank for Cooler Air Output.
SPECIFICATIONS:
Volts : 220V/110V
Frequency: 50HZ/60HZ
Power: 65W
Max Air Volume: >400M/H
Net Weight: 7.0KG
Gross Weight: 8.0KG
Noise Level: <55DB
Produce Size: 365*300*690MM
1. Cool: It will blow out the fresh and cool wind for you. The air temperature can be lower 3-5 degree. Especially in the dry heat area, the effect would be more obvious while using the cooler.
2. Humidity: In a dry area or in a dry season the effect would be more obvious while using the air cooler. It can keep the room in a fit humidity.
3. Wind way: Auto blow, swing from left to right(120). Also it can be changed the wind way up or down by hand.
4. Speed: Not only there are 3 kinds of wind velocity(high, medium,low) but also a nature breeze can be selected.
5. Time: We can set the cooler to stop after 8 hours at most.
6. Moving: The cooler can be moved to somewhere expediently because of the casters.
7. Air purifier: At entryway, there is a filter so it can adsorb scrap garbage in the air such as dust, fiber, hair etc.
8. With soft touch panel display, and remote control can received with 5 meter distance and 120 degree.
9. With ice brick to refrigeration and save the power.
10. Strong and power wind capacity from 3-6meter.
11. With 3speeds wind selector of low, mid and high, nature and sleep wind selector.
As the hot and dry weather persists since the start of June, the condition ideally suits the use of room coolers, which also provide a comfortable humidity inside houses by spraying a small amount of water into the air.

The ongoing loadshedding and exorbitant tariff of electricity had compelled the citizens to look for an alternative of split air conditioners.

It work with Rechargeable Battery, No Electricity Required. RECHARGEABLE AIR COOLER with excellent performance! STAY COOL ALL THE TIME!!
Battery Timing :- If Usage at Low level 4 to 5 hours & If Usage at High Level 2.30 to 3 hours
Customer Review

Product Reviews
No Price History Available