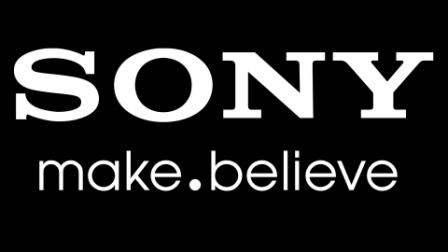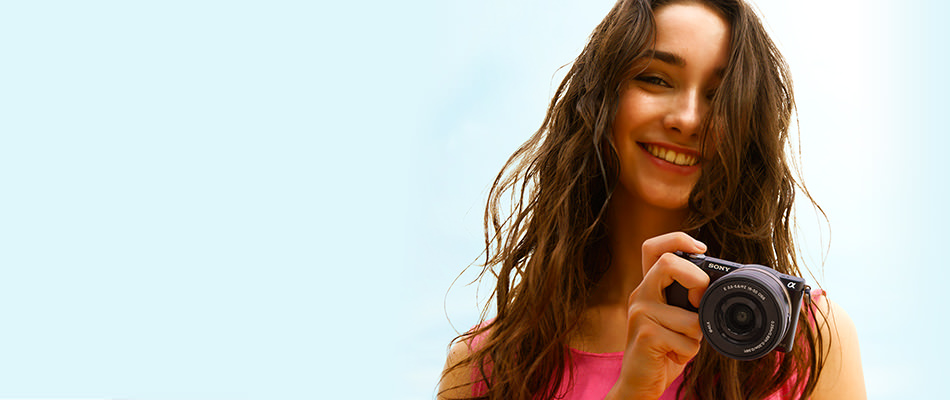 Presenting the world's lightest interchangeable-lens camera, the Sony Alpha 5000 (Sony ILCE-5000L). The Sony Alpha 5000 features a 20.1 MP Exmor APS HD CMOS Sensor, BIONZ X image sensor, a 180 degree tiltable LCD Screen accompanied with Soft Skin Effect Mode, Wi-Fi/NFC Capabilities and PlayMemories Camera Apps and a Built-in-flash. Enjoy DSLR-like image quality in an incredibly lightweight body with the Sony Alpha 5000 (Sony ILCE-5000L).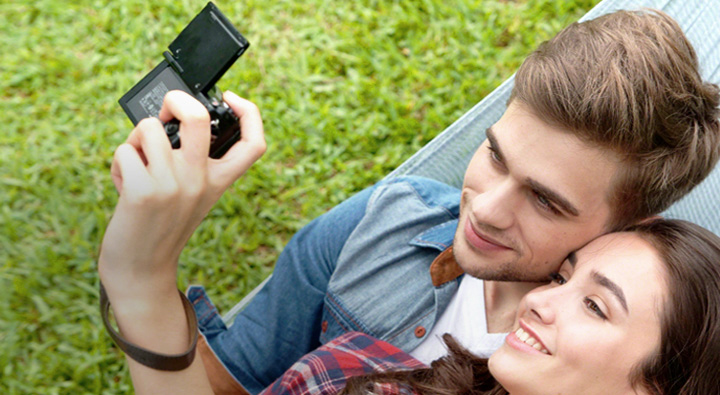 Design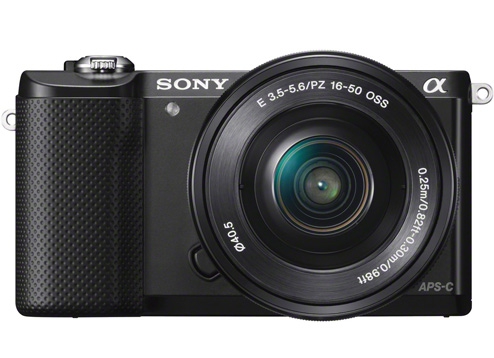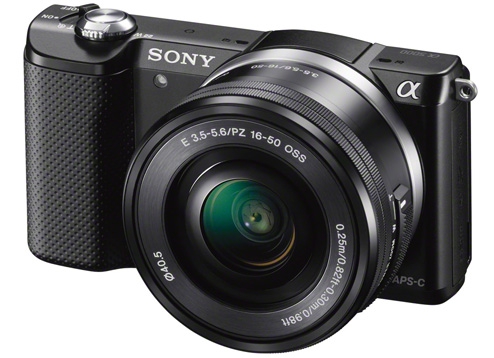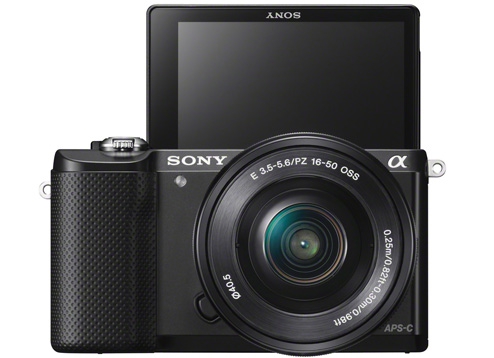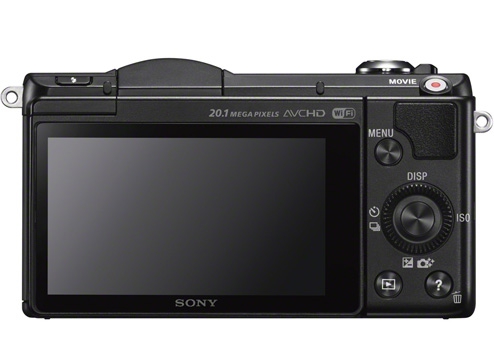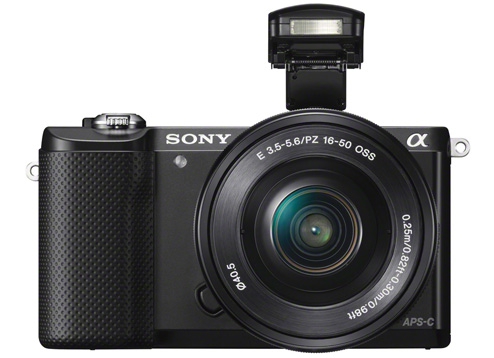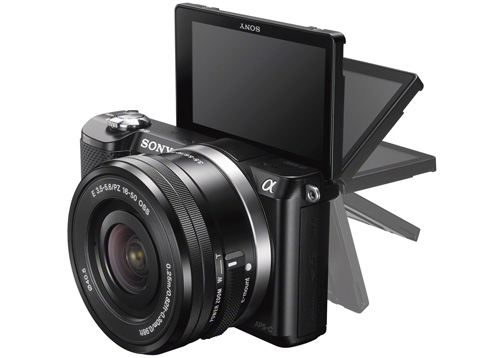 Features
Compelling Realism and Detail
The Sony ILCE-5000L features 20.1 MP Exmor APS HD CMOS sensor that produces attractive defocusing effects thanks to its large dimensions. Sony's BIONZ X image processing engine faithfully reproduces textures and details in real time, just as seen by the naked eye, through extra high speed processing capabilities. It enables more natural details, more realistic images, richer tonal gradations and lower noise whether you shoot still images or movies. Experience image processing brilliance with the all new Sony ILCE-5000L.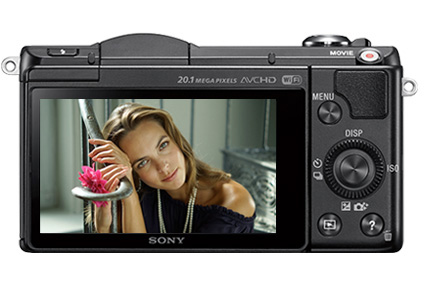 Attractive results in Low Light
The Large Sensors dimensions raise the sensitivity settings to as high as ISO 16000, hence allowing you to naturally capture the mood of dimly lite scenes without using a flash. You can even couple high sensitvity settings with fast shutter speeds to clearly freeze fast moving action. Advanced noise reduction keeps the noise to a bare minimum while maintaining maximum detail. Experience low light brilliance with the Sony ILCE-5000L.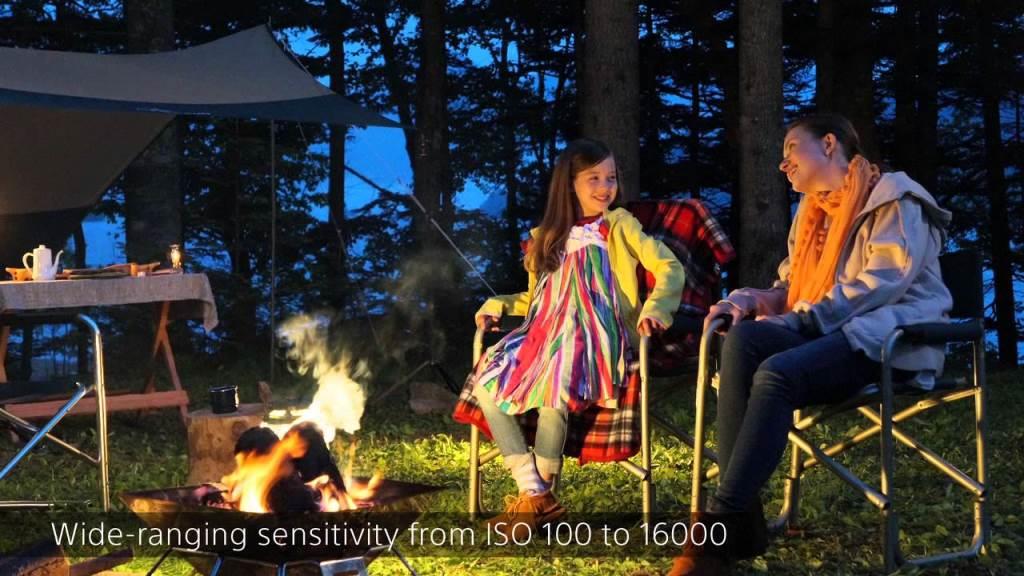 Full HD Movie Shooting
Simply press the Movie button on the Sony ILCE-5000L to start recording a Full HD movie in AVCHD format. You have the option of choosing either a fast 60i/50i setting for a super-smooth result or a slower 24p/25p setting to recreate the look of traditional cinema. The fast autofocus ensures great results too.

180 degree tiltable LCD Screen
Simply flip the LCD screen up to see what the camera sees and conveniently capture the perfect pose of yourself - alone or with someone special.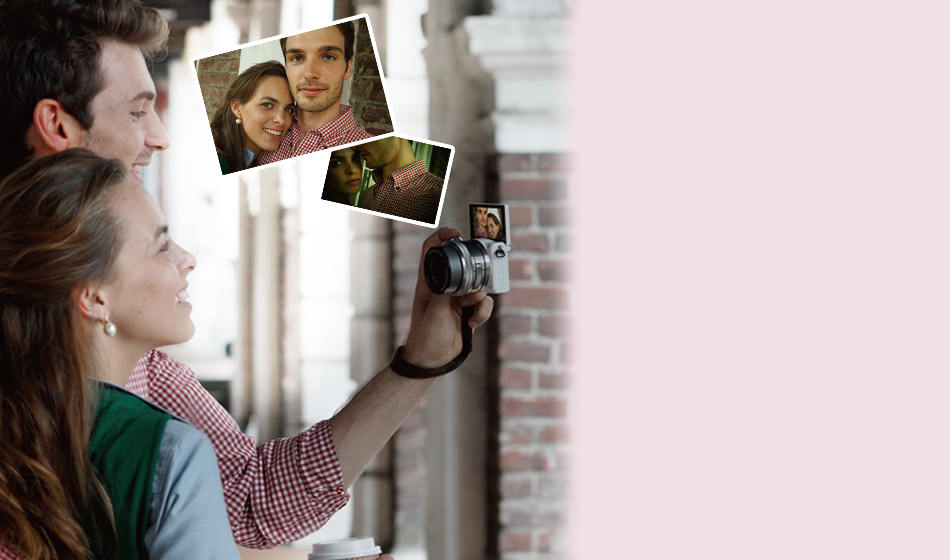 Conveniently Positioned Zoom Lever
The positioning and design of the zoom lever allows for one-handed zoom so that you can easily capture what you like even while shooting self portraits. Clear Image Zoom ensures clarity at all zoom settings, so you can enjoy the best zoom experience from your Sony ILCE-5000L.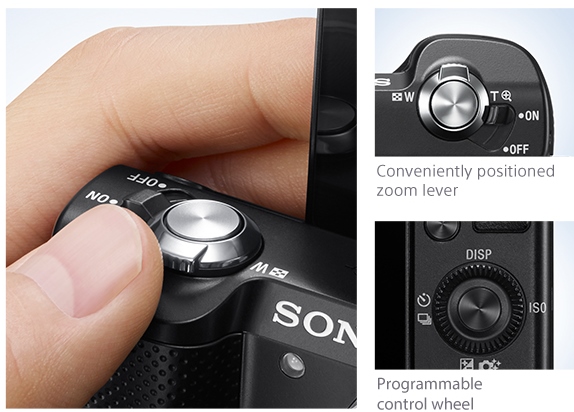 A Flash of Brilliance
Whenever you need a little extra burst of light, the built-in pop-up flash (GN4; ISO 100.m) of the Sony ILCE-5000L has got you covered. Coupled with the Aplha 5000's maximum sensitivity of ISO 16000, the flash ensures lovely photos, even in dimly lit interiors or at night. Furthermore, various Flash Modes can be used to add appealing catch lights to portraits, convey a sense of motion etc.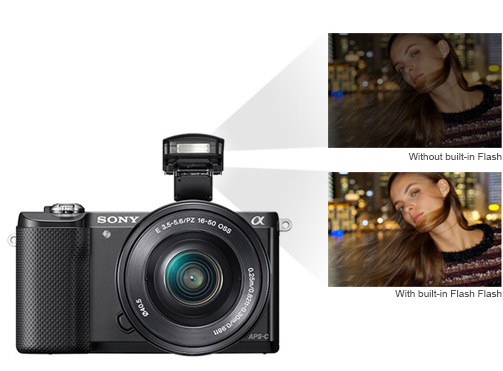 One Touch Image Share
To share your photos and MP4 movies instantly, simply touch the camera to a friend's Android Smartphone or Tablet. The Sony ILCE-5000L comes equipped with built-in Wi-Fi and NFC that allows you to share wirelessly.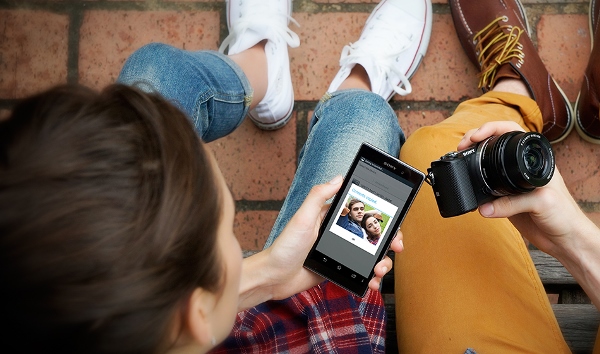 Superior Auto and Photo Creativity
The Superior Auto Mode makes great photography as easy as simply pointing and shooting. It also lets you enjoy photographic expressions by entering the Photo Creativity Mode. The Photo Creativity Mode allows for easy adjustment of Background Defocus, Brightness, Color and Vividness or simply adding Picture Effect modes while viewing the results in real time on the LCD Screen.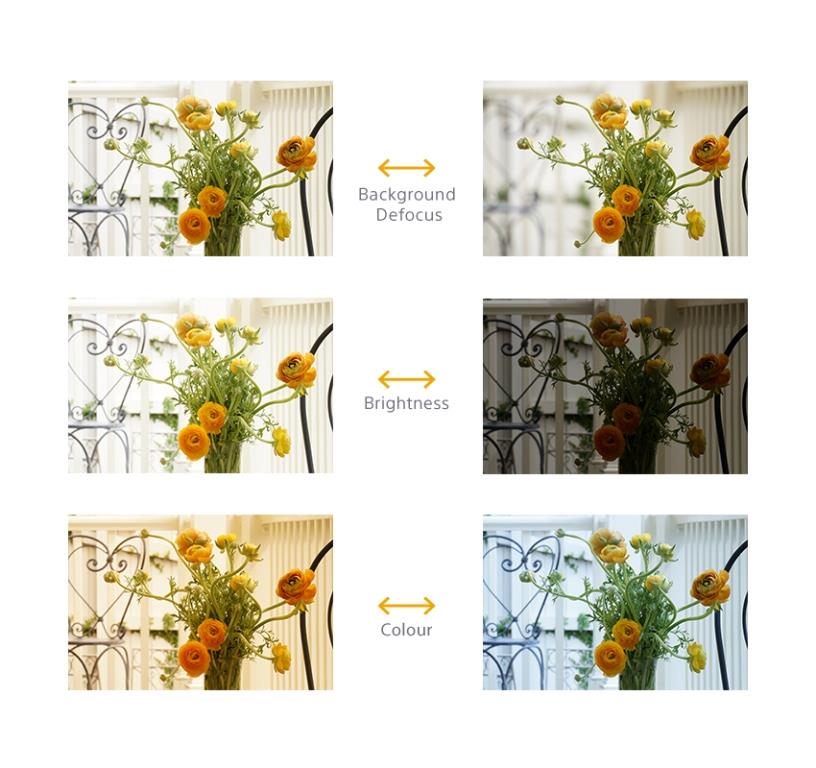 Picture Effect
Transform your everyday photos into works of art with the Picture Effect on the Sony ILCE-5000L. The camera includes 13 modes (including Soft High-key, Miniature and Pop Color) which can be applied to photos or movies, giving you the chance to explore your artistic repertoire. You can view the effects in real time before you take the shot on the LCD Screen so that you may get to experiment with different looks till you get your desired result.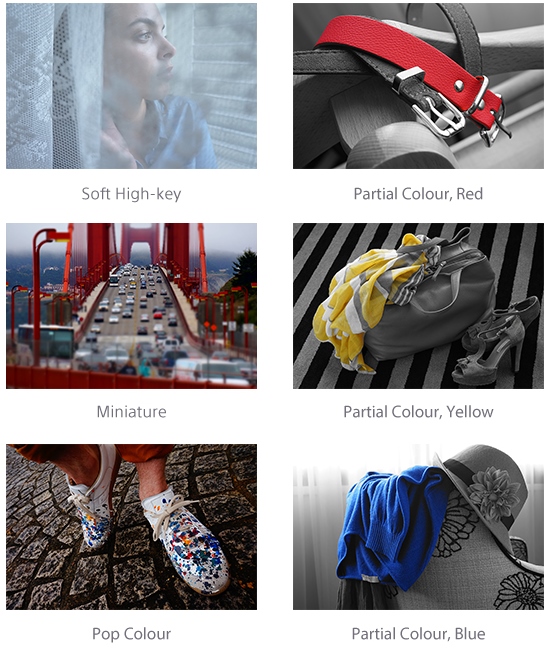 Auto Object Framing
Use the Auto Object Framing to give your photos a professional look. Auto Object Framing analyses portraits, close-ups or even images of moving subjects and then crops them after you have taken the shot to produce photos with maximum appeal. And thanks to Sony's By Pixel Super Resolution Technology and high-resolution Exmor Sensor, the images can radically cropped without any loss on image quality.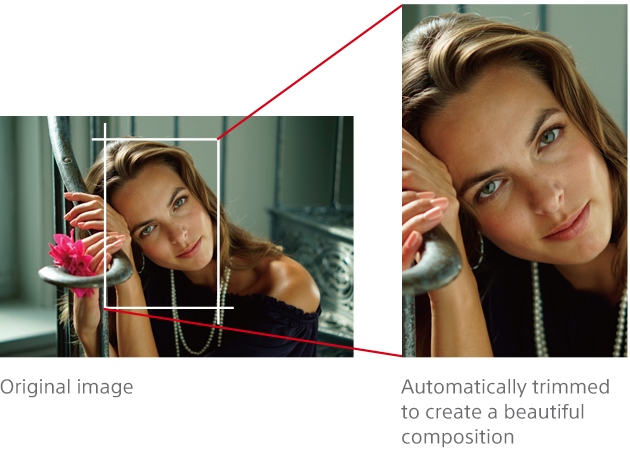 DRO (D-Range Optimizer)
Use the DRO to tame contrasty scenes for a more natural looking image. And unlike traditional Auto HDR, it can be used when photographing moving subjects, and even during high-speed continuous shooting.

Auto HDR
Expand the dynamic range of your images using Auto HDR and turn dark shadows to bright highlights. Capture every tonal graduation you can see with the Auto HDR on the Sony ILCE-5000L.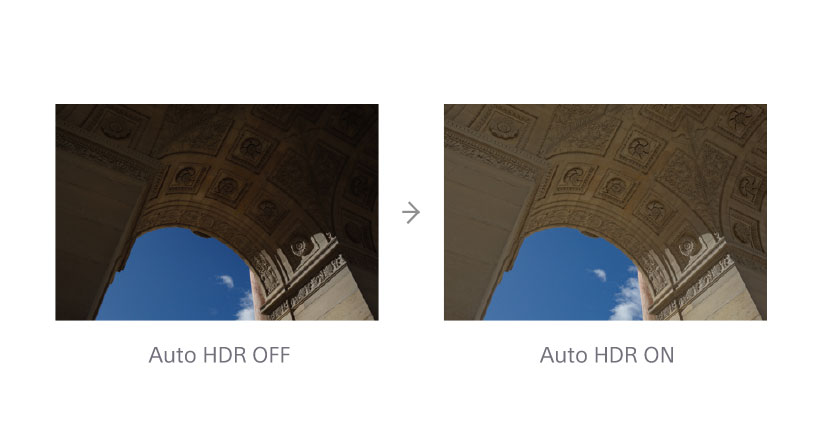 Sweep Panorama
Simply sweep the camera while shooting to capture a spectacular panoramic landscape that can later be enjoyed on the LCD Screen or a wide-screen TV.

Camera Samples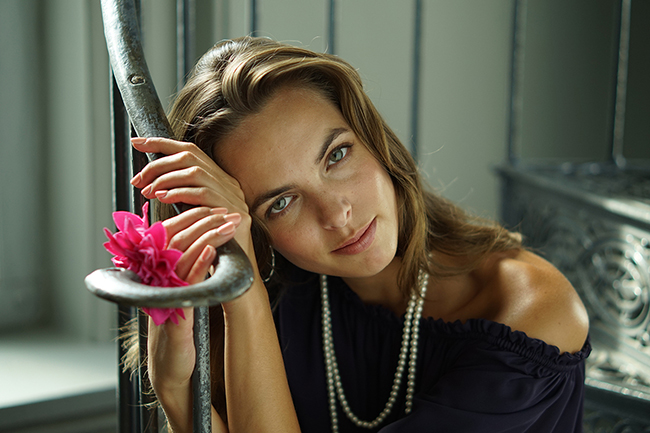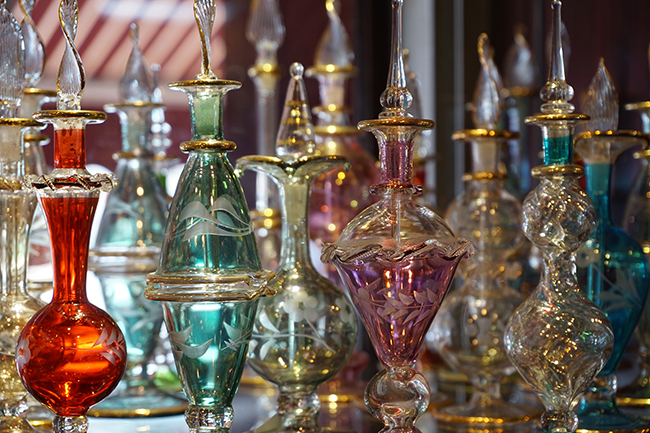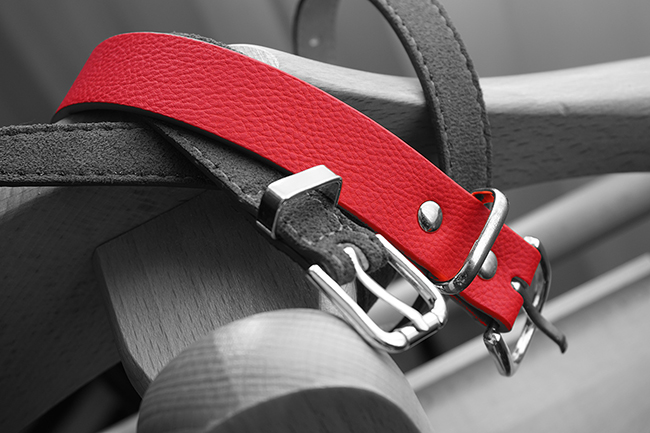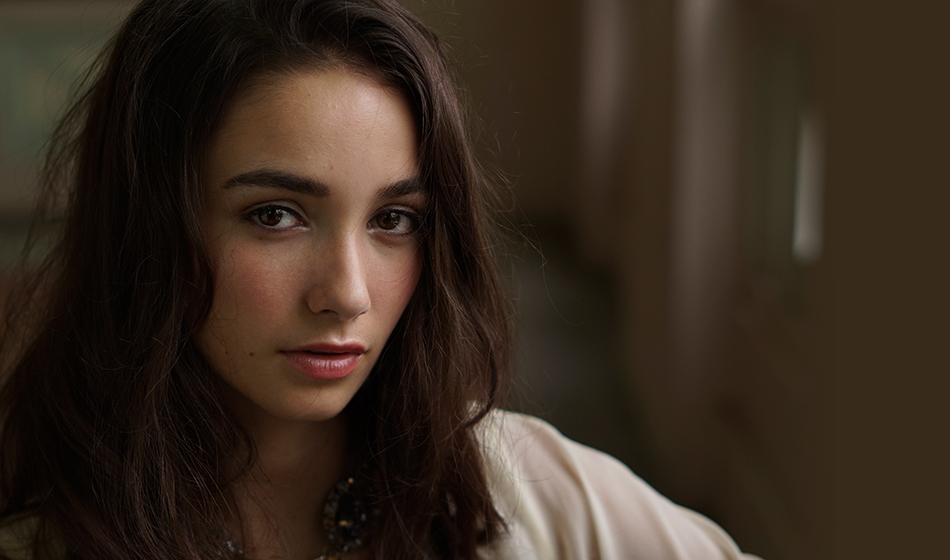 Specifications

System