Product Description
PlayStation 3 Specifications and Details
Product name: PLAYSTATION 3
CPU: Cell Processor
PowerPC-base Core @3.2GHz
1 VMX vector unit per core
512KB L2 cache
7 x SPE @3.2GHz
7 x 128b 128 SIMD GPRs
7 x 256KB SRAM for SPE
* 1 of 8 SPEs reserved for redundancy total floating point performance: 218 GFLOPS
GPU: RSX @550MHz
1.8 TFLOPS floating point performance
Full HD (up to 1080p) x 2 channels
Multi-way programmable parallel floating point shader pipelines
Sound: Dolby 5.1ch, DTS, LPCM, etc. (Cell-base processing)
Memory:
256MB XDR Main RAM @3.2GHz
System Bandwidth:
Main RAM: 25.6GB/s
VRAM: 22.4GB/s
RSX: 20GB/s (write) + 15GB/s (read)
SB: 2.5GB/s (write) + 2.5GB/s (read)
System Floating Point Performance: 2 TFLOPS
Storage:
HDD
Detachable 2.5" HDD slot x 1
I/O:
USB: Front x 4, Rear x 2 (USB2.0)
Memory Stick: standard/Duo, PRO x 1
SD: standard/mini x 1
CompactFlash: (Type I, II) x 1
Communication: Ethernet (10BASE-T, 100BASE-TX, 1000BASE-T) x3 (input x 1 + output x 2)
Wi-Fi: IEEE 802.11 b/g
Bluetooth: Bluetooth 2.0 (EDR)
Controller:
Bluetooth (up to 7)
USB2.0 (wired)
Wi-Fi (PSP®)
Network (over IP)
AV Output:
Screen size: 480i, 480p, 720p, 1080i, 1080p
HDMI: HDMI out x 2
Analog: AV MULTI OUT x 1
Digital audio: DIGITAL OUT (OPTICAL) x 1
CD Disc media (read only):
PlayStation CD-ROM
PlayStation 2 CD-ROM
CD-DA (ROM), CD-R, CD-RW
SACD Hybrid (CD layer), SACD HD
DualDisc (audio side), DualDisc (DVD side)
DVD Disc media (read only):
PlayStation 2 DVD-ROM
PLAYSTATION 3 DVD-ROM
DVD-Video: DVD-ROM, DVD-R, DVD-RW, DVD+R, DVD+RW
Blu-ray Disc media (read only):
PLAYSTATION 3 BD-ROM
BD-Video: BD-ROM, BD-R, BD-RE
About Sony Computer Entertainment Inc.
Recognized as the global leader and company responsible for the progression of consumer-based computer entertainment, Sony Computer Entertainment Inc. (SCEI) manufacturers, distributes and markets the PlayStation game console, the PlayStation 2 computer entertainment system and the PlayStation Portable (PSP) handheld entertainment system. PlayStation has revolutionized home entertainment by introducing advanced 3D graphic processing, and PlayStation 2 further enhances the PlayStation legacy as the core of home networked entertainment. PSP is a new portable entertainment system that allows users to enjoy 3D games, with high-quality full-motion video, and high-fidelity stereo audio. SCEI, along with its subsidiary divisions Sony Computer Entertainment America Inc., Sony Computer Entertainment Europe Ltd., and Sony Computer Entertainment Korea Inc. develops, publishes, markets and distributes software, and manages the third party licensing programs for these platforms in the respective markets worldwide. Headquartered in Tokyo, Japan, Sony Computer Entertainment Inc. is an independent business unit of the Sony Group.
Storage media (HDD, "Memory Stick", SD memory card, and CompactFlash) are sold separately.
"Dolby" is a trademark of Dolby Laboratories.
"DTS" is a trademark of Digital Theater Systems, Inc.
"CompactFlash" is a trademark of SanDisk Corporation.
"HDMI" is a trademark of HDMI Licensing LLC.
"Blu-ray Disc" is a trademark.
"Bluetooth" is a trademark of Bluetooth SIG, Inc.
"Memory Stick" and "Memory Stick PRO" are trademarks of Sony Corporation.
"PlayStation", the PlayStation logo and "PSP" are registered trademarks of Sony Computer Entertainment Inc.
All other trademarks are the property of their respective owners.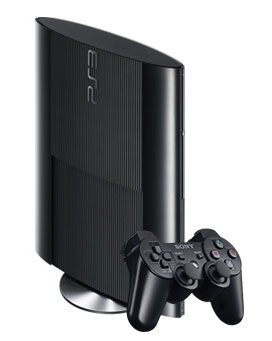 Customer Review

Product Reviews
Product is Coming Soon Or Out of Stock