Product Description
FEATURES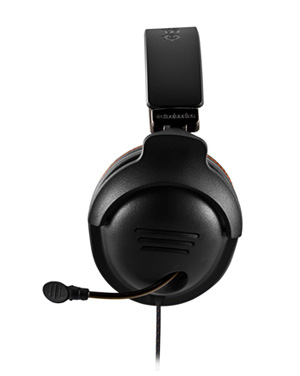 Steelseries 9H with Dolby® Technology

Delivering a tournament-grade audio experience, incredible digital features, and best-in-class comfort, the SteelSeries 9H with Dolby® Technology is our best competitive gaming headset yet. Equipped with an advanced USB soundcard, the SteelSeries 9H provides users with Dolby® technology, SteelSeries Engine support and much more.
Dolby® Technology

The SteelSeries 9H when used with the included advanced USB soundcard features two Dolby® technologies. Dolby Headphone allows up to 7.1 channels of realistic multi-channel surround sound. Dolby Prologic IIx can convert a simple stereo signal into a rich, surround sound experience. In addition, it can convert a true 5.1-signal in a full 7.1-surround experience allowing for multiple listening modes and a more realistic sound.
SteelSeries Audio

Building on the historic SteelSeries audio tradition, a custom-engineered soundscape features a wide dynamic range, which makes it possible for 9H to deliver a balanced and linear tournament-grade advantage. Powerful, detailed audio experience via tournament grade, next generation SteelSeries audio drivers that feature a wide dynamic range that allows you to hear all levels of your audio: lows, mids, and highs. Our audio engineers custom-engineered the soundscape for the best possible gaming experience. Advanced components like high grade mylar film to further perfect the sound with added clarity and no distortion.
---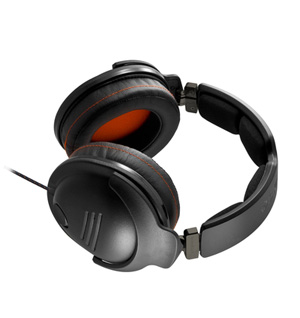 Retractable Microphone

The 9H features a retractable microphone system. Pull it out when you need it. Hide it in the left earcup when you don't.
Smart Noise-Canceling Mic

When the SteelSeries 9H headset is plugged into its advanced USB sound card, it enables a noise cancellation microphone. When you're playing multiplayer, it's more than just skill that will win you achievements, it's communication that will help you dominate. To support that, the 9H headset features an active noise-canceling, "smart" microphone that allows your team to hear you above whatever is happening in the area around you – appliances, dogs barking, whining spouses, and more.
Swappable Cable Ends

The ends of the 9H are swappable so that you can use your headset with PC, Mac®, phones and tablets. A mobile end with a single three-pole 3.5mm jack and a PC cable with a 3.5mm headphone jack and a 3.5mm microphone jack have both been included.
---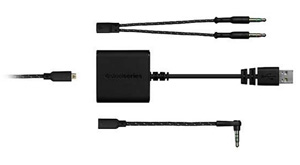 Double Enclosure Design

The SteelSeries 9H features double enclosure technology. A second internal enclosure is sealed around the back of the speaker creating a closed design typically only found in high-end audio studio and DJ headphones. When coupled with the extra-padded, leather ear cushions it creates a level of noise isolation unlike any other headset in gaming.
In-Line Controls

The double braided cable gives the 9H increased durability and also features an integrated volume controller on the cord also offers a microphone mute switch, all for instant control without having to navigate through software settings.
---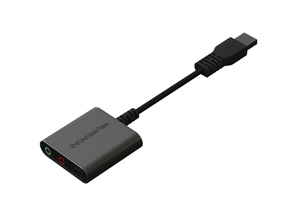 Personalize. Equalize.

Let's face it, the way you hear the game is unique to the tones your hearing can pick up, and probably completely different than the next gamer, which is why SteelSeries provides 9H Headset users the ability to adjust, personalize and save all of their audio and equalizer settings. Save eight equalizer settings for each of your game profiles.