AC1200 Dual Band Wi-Fi
The Archer C5 operates simultaneously over both a 2.4GHz and 5GHz band, offering you the flexibility of two dedicated networks. Simpler tasks like sending e-mails or browsing the web can be handled by the 2.4GHz band while more intensive tasks such as online gaming or HD video streaming can be processed by the clearer 5GHz band.
1200Mbps
The Archer C5 comes with the next generation Wi-Fi standardxxxxxxxxxxmdash;802.11ac, which runs 3 times faster than wireless N technology. The dual band router's lightning-fast combined wireless data transfer rate of up to 1.2Gbps includes 867Mbps over the 5GHz band and 300Mbps over the 2.4GHz band, making it the superior choice for bandwidth-intensive tasks like seamless HD streaming and online gaming.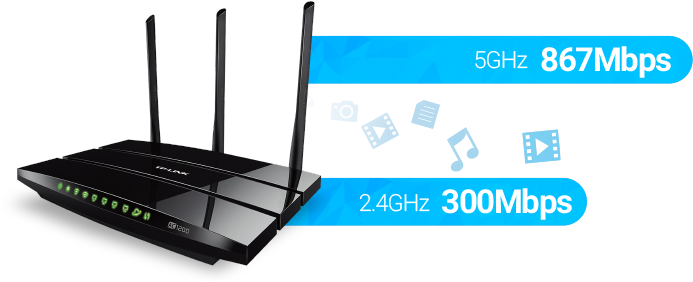 Create faster Internet access for your 802.11b/g/n and 802.11ac Wi-Fi devices. The RE200 delivers fast dual band speeds of up to 750Mbps and connects reliably to laptops, smartphones, tablets, and other wireless devices.