Product Description
Tempered Glass Screen Protector for Samsung Galaxy Note 3 Neo
1.Surface is anti-oil processing (Oleophobic coating), so fingerprints and oil is not easy to stay surface, easy to clean.

2.Full bonding, automatic adsorption can be repeated bonded

3.Fully transparent: very thin, chemically treated transparent tempered glass.

4.Surface hardness: The surface has a hardness of

8-9h

,It is 9 times stronger than ordinary glasses. Tool and keys are not cuts

5.Delicate touch: the back of strong adhesives, easy to install, close to the screen, and therefore does not affect the touch sensitivity of the touch screen.

6.Explosion-proof, shatter-resistant glass breaks into small piece of for sharp, more secure than other glass products.

7.Ultra-thin glass

(T≈0.2mm)

can be treated by toughening under high temperature of 420
Compatible with:
Samsung Galaxy Note 3 Neo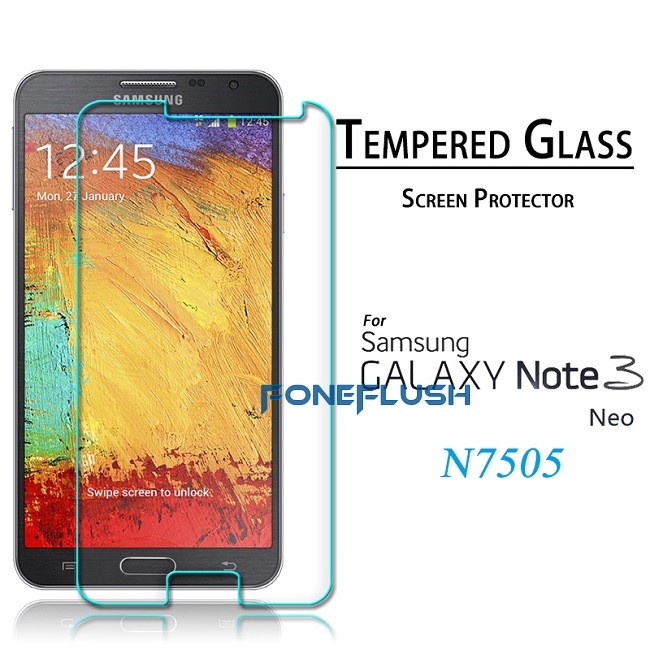 Package includes:
1 x Tempered Glass Protector
1 x Cleaning Cloth
1 x Alcohol Swab
CAUTION
*As this is a glass product, please note that the edges of the glass are the most vulnerable areas. We highly recommend that you use a case along with your Tempered Glass Protector to avoid chipping or cracking the edges of your Tempered Glass Protector. *When removing for re-use, the adhesive properties might wear off to an extent where the screen protector will not adhere to the device. It is not recommended to reuse the Tempered Glass Protector once it's been applied. *Using excessive force when installing or removing the screen protector may damage the product.
Customer Review

Product Reviews
Product is Coming Soon Or Out of Stock