Product Description
World's first and only gaming keyboard with patented cooling fan built onto the keyboard.

64KB on-board memory stores five unique user profiles, each with its own set of ten dedicated macro keys.

Included software with user-friendly Graphic User Interface allows user to quickly setup macro keys and gaming profile fitted for each individual.

Two Hi-Speed USB 2.0 ports located conveniently on the side of keyboard for user to quickly connect mouse, headset or other USB devices.

Keyboard-wide red backlight LEDs enable users to fully utilize what the keyboard can offer even in complete darkness.

Allows gamers' hand to stay dry and enabling better grip as well as superior control.
Feature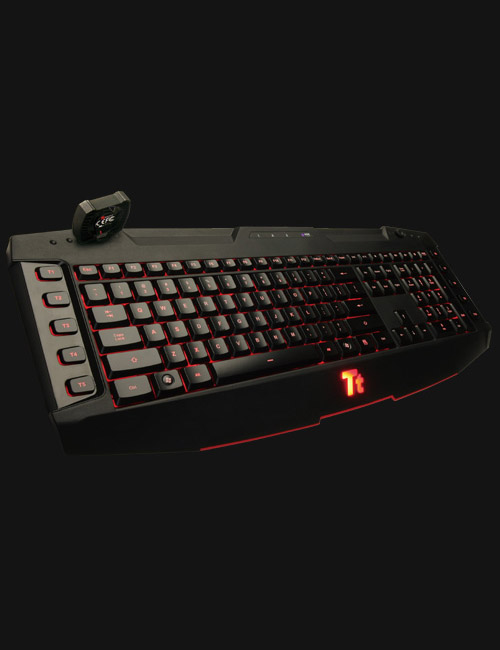 FULLY BACKLIT.
Improving on the revolutionary Challenger keyboard design, the Challenger Pro features full red backlighting.
MACRO KEYS.
Keep your custom commands at a finger's distance with 10 programmable macro keys. There are 5 located on either side of the keyboard.
KEEP YOUR HANDS COOL.
The Challenger Pro keyboard features the same great fan located directly on the keyboard.
DUAL USB PORTS.
For easy access, two USB ports are included with the Challenger PRO for your convenience.
CHANGE-ABLE KEYCAPS.
Add some flair to your input weapon with red W-A-S-D and arrow key keycaps.
SPECIFIC COMBINATION
Space + WASD: No ghosts key while pressing
Space + IJKL: No ghosts key while pressing
Space + ↑↓←→: No ghosts key while pressing
Space + WASD+Q: No ghosts key while pressing
Space + WASD+E: No ghosts key while pressing
Space + FGHJ: No ghosts key while pressing
Space + VBNM: No ghosts key while pressing
SDFE: No ghosts key while pressing
SDFJ: No ghosts key while pressing
JKLY: No ghosts key while pressing
JKLS: No ghosts key while pressing
Space + SDFJKL: An optionally six key, No ghosts key while pressing
Space + DFGKL: No ghosts key while pressing
Customer Review

Product Reviews
Product is Coming Soon Or Out of Stock