Product Description
ASUSTOR Desktop NAS 2 Bay AS5202T Price & Specs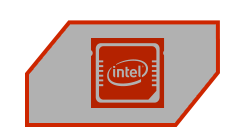 Intel Celeron J4005 / J4025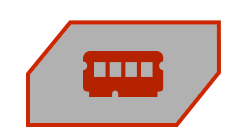 DDR4-2400 2GB Max 8GB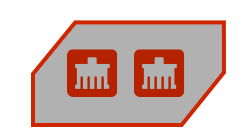 2.5GbE x 2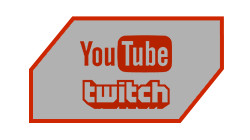 YouTube & Twitch Game Videos Backup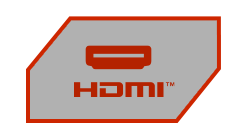 10-bit 4K Hardware Decoding
HEVC/ VP9 10bit Profile2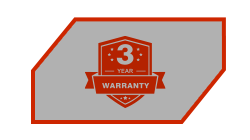 3 Year Warranty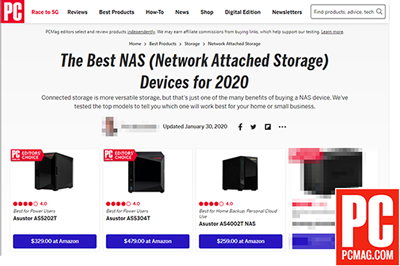 "The Best NAS (Network Attached Storage) Devices for 2019 & 2020"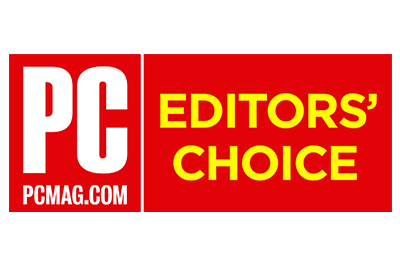 Editors' Choice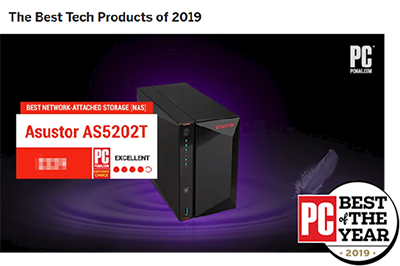 "The Best Tech Products of 2019"
ASUSTOR Storage with Adobe Creative Cloud
ASUSTOR is an official Adobe Partner for video and audio solutions »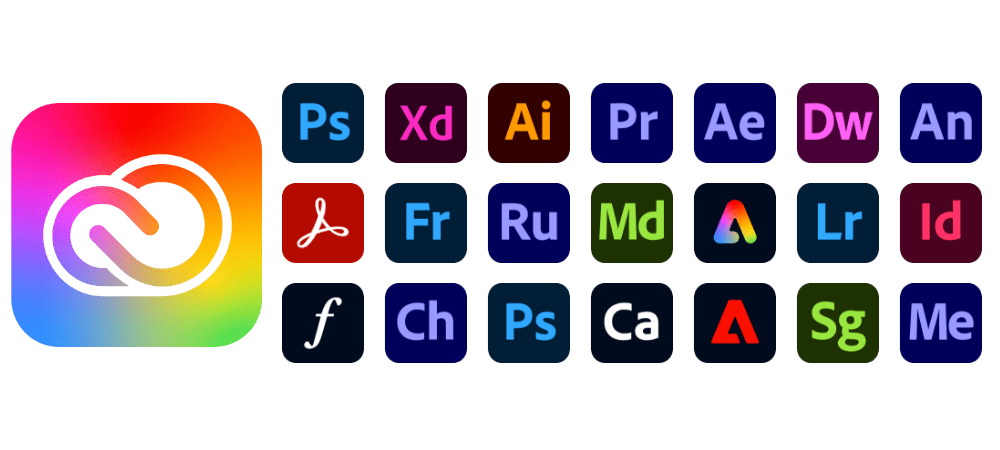 2.0Ghz Dual Core CPU Boosts to 2.7Ghz
The AS5202T utilizes the Intel Gemini Lake Celeron J4005 dual core CPU and is 30% faster than Apollo lake. The Celeron J4005 also doubles the on-chip cache to 4MB, making the AS5202T one of our fastest NAS devices ever.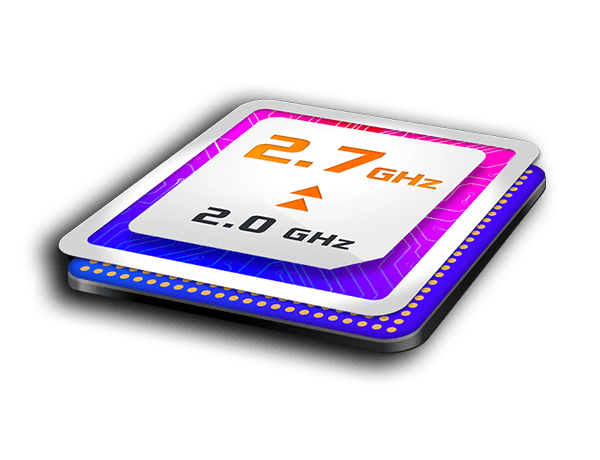 Upgradeable 2GB DDR4-2400 RAM
The AS5202T comes with two Gigabytes of DDR4 RAM and can be upgraded up to 8GB. DDR4 RAM provides up to 30% greater performance than DDR3 while also lowering energy requirements by 40%.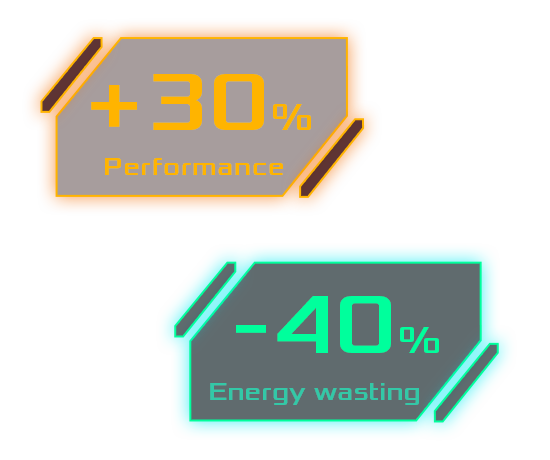 150% Faster with 2.5-Gigabit Ethernet
The AS5202T provides two 2.5-Gigabit Ethernet ports. Enable up to 150% faster performance than Gigabit Ethernet with compatible hardware and up to 5 Gbps using Link Aggregation.*
*Link Aggregation only supported with compatible hardware. Please check beforehand and verify that Link Aggregation is supported on your equipment.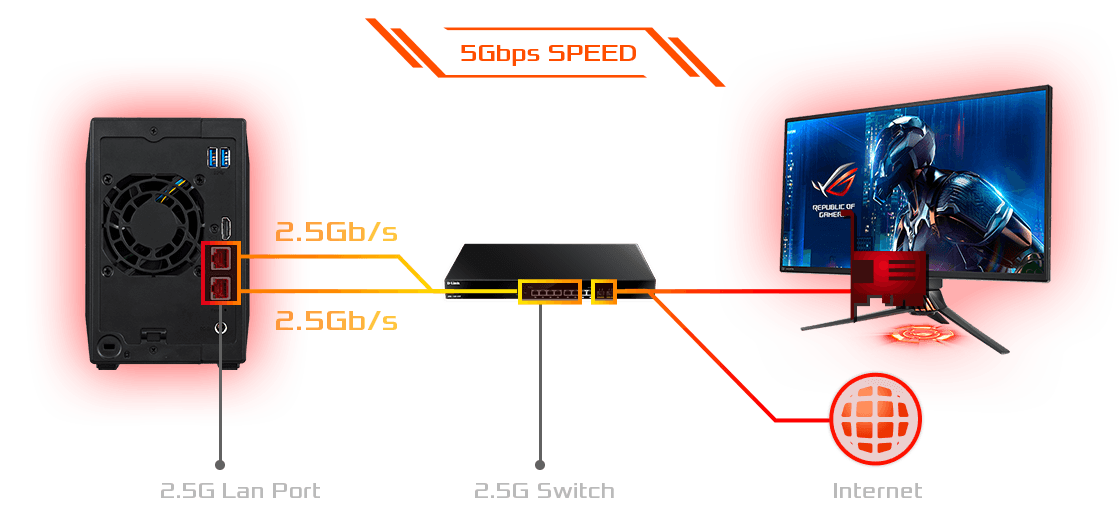 Link Aggregation (RAID 1)
Windows sequential read and write
* Performance figures are achieved in the ASUSTOR lab using state of the art client computers under optimized network settings, and could vary in different environments. Ordinary desktop or notebook computers may be unable to reproduce these figures.
All New Gaming-Inspired Theme for ADM
Take a look at the all new gaming-inspired elements brought to ADM.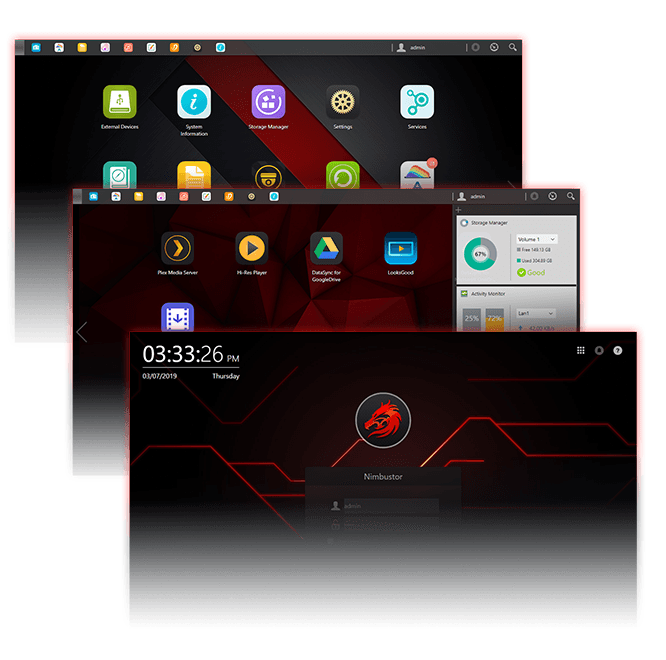 ASUSTOR Live
Your own streaming center. Stream your from a phone or tablet as well as a computer to multiple streaming platforms, Including, but not limited to Twitch, YouTube, Facebook, Instagram, Restream or RTMP compatible platforms. Unlike services like restream.io, ASUSTOR Live doesn't require fees to operate to stream to multiple platforms and channels which saves you money and streaming resources. Recordings can be safely saved to your NAS for future use.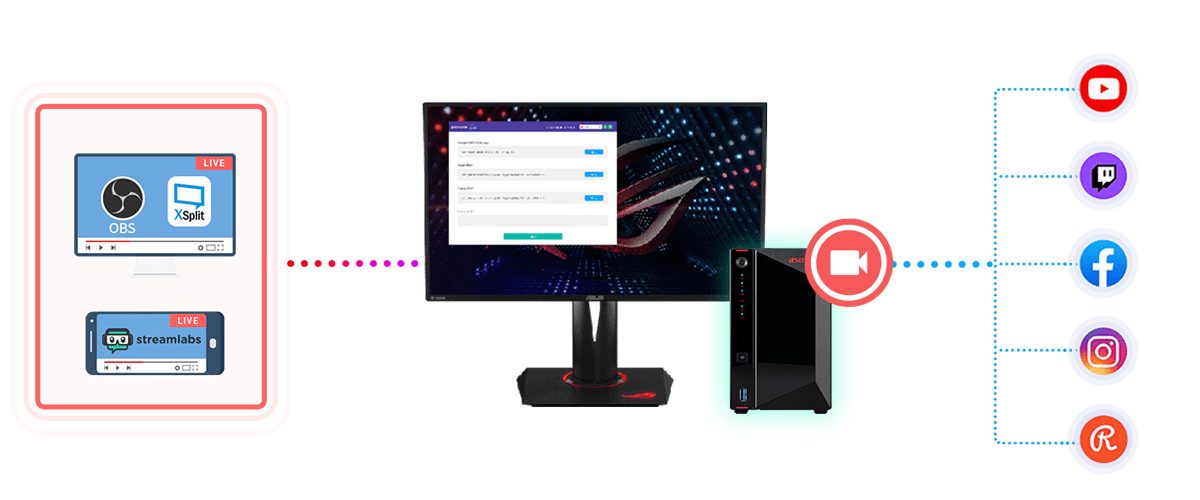 Live Streaming With Your NAS
ASUSTOR NAS devices offer live stream records in up to 4K HDR to be saved directly onto a NAS without affecting game performance. For gamers without large hard drive capacities, LAN parties and internet cafés, ADM offers iSCSI to store less demanding titles to play across multiple devices simultaneously.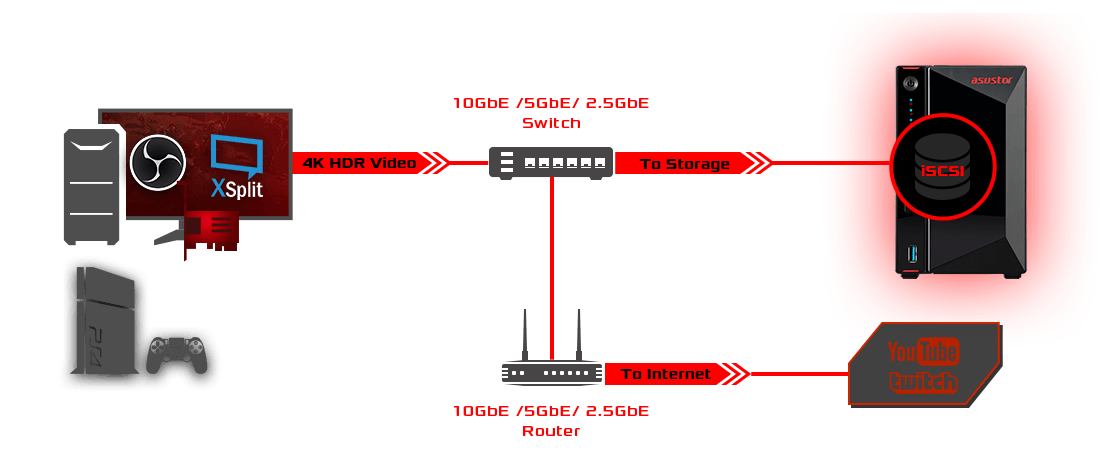 YouTube and Twitch as cloud platforms are not always reliable with long-term archival of content and videos may be deleted without notice. For that, ASUSTOR provides Takeasy, an app that downloads videos from YouTube and Twitch for archival purposes and can automatically download all public content from a specific channel.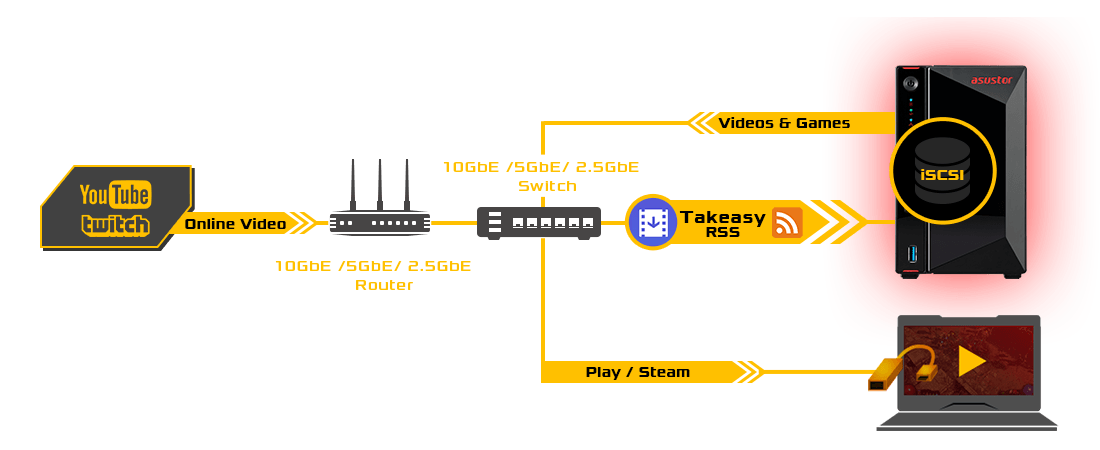 As Much Space as Needed
The AS5202T supports up to 36 TB, enabling storage of large live streams and videos. Complement gameplay recordings with a NAS. Not enough? Expand your AS5202T with up to three AS6004U expansion units for a total of 252 TB.
*Maximum Raw Capacity with Expansion Units is maximum internal raw capacity plus expansion unit's capacity. Expansion unit's capacity is an independent space from NAS internal capacity.
Compatibility List

Overwhelming 4K HDR Experience
The AS5202T features HDMI 2.0a with 10bit 4K hardware decoding, HEVC decoding and VP9 10bit Profile2 decoding for a smoother experience and lower CPU usage. Use Plex Pass or a third-party player to play 4K HDR videos.
Plex Media Server
Learn more about this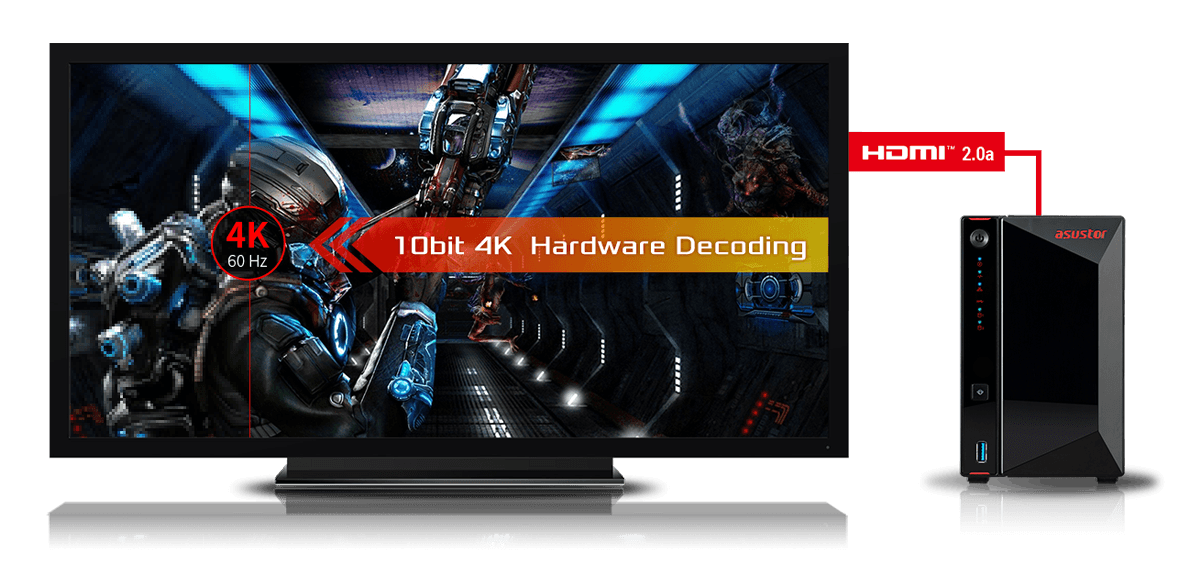 A New Look
Diamond-cut exterior with gaming-inspired elements. ASUSTOR's AS5202T features a diamond-cut exterior with new gaming-inspired aesthetic. Installation of hard drives is easy with the included toolless caddies while also supporting hot swapping.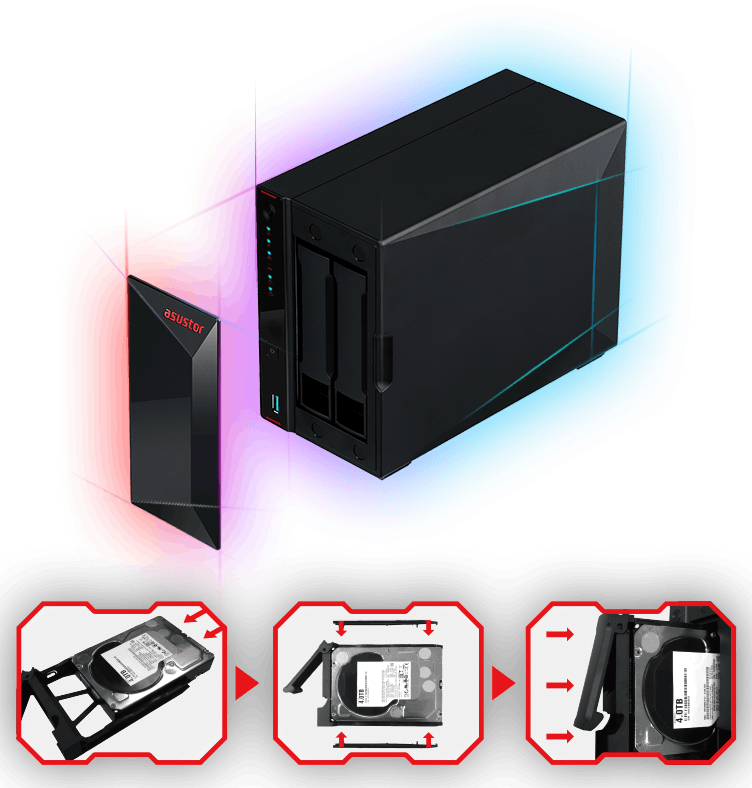 Ultra-quiet Operation
The AS52 series devices produce only 19 decibels of noise during system standby, equivalent to the almost inaudible sound of a pin drop. During system operation, only 32 decibels of noise is produced, equivalent to the hushed tones of a quiet library, allowing the AS52/53 series devices to seamlessly and comfortably integrate into any living environment.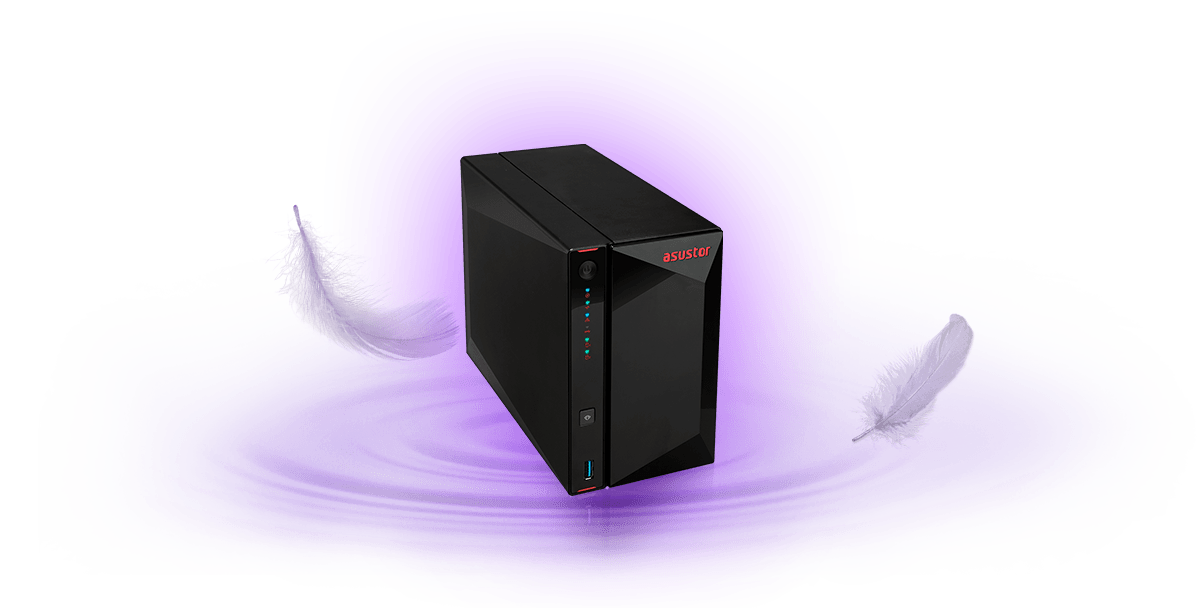 24/7 Reliability and Durability
All ASUSTOR NAS are designed for and are suitable for 24/7 use. ASUSTOR NAS devices have also undergone rigorous tests, such as drop tests and burn tests to test durability in extreme conditions. Heatsinks were added to sensitive components to dissipate heat, helping to maintain the longevity of the device.
---

Save Power to Save Money
ASUSTOR NAS products are designed and developed around ecologically friendly concepts. When in use, our devices consume far less power than the average computer or server. Furthermore, our advanced power control features allow you to more efficiently manage your NAS device and hard drives. This lowers your electric bill and prolongs the lifespan of your hard drives all at the same time. While in disk hibernation, the AS5202T consumes only 10.5 W of power. Under normal operating conditions it still only consumes 17 W of power.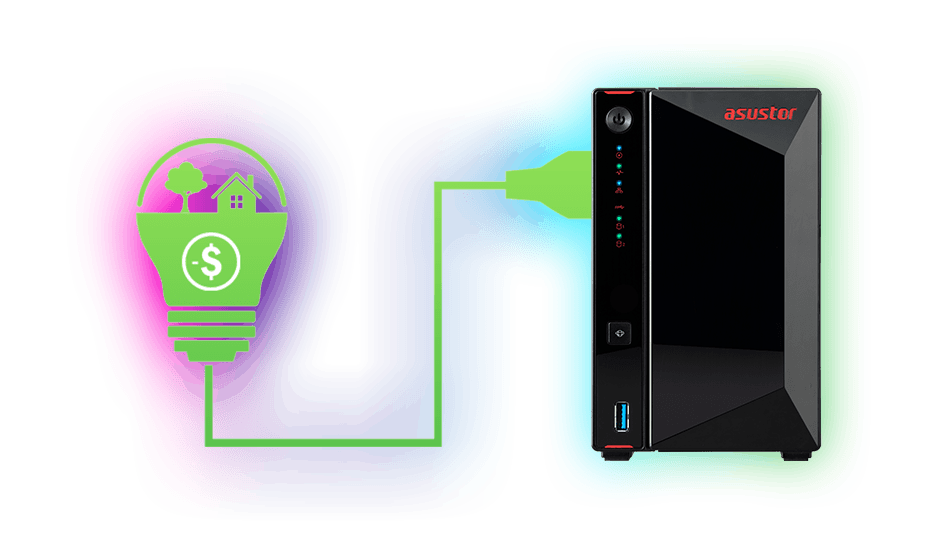 Comprehensive Backup Solutions
ASUSTOR's comprehensive backup solution provides more than twelve backup options, including, but not limited to Amazon S3, Dropbox, Google Drive, and OneDrive. ASUSTOR Backup Plan for Windows as well as Time Machine for macOS provide easy backups for desktop and laptops while MyArchive removable hard drives provide long term storage. Btrfs is now supported and with Snapshot Center, can take snapshots of your information in the event of unintentional modification. Restore previous versions easily with Snapshot Center.
Learn more about this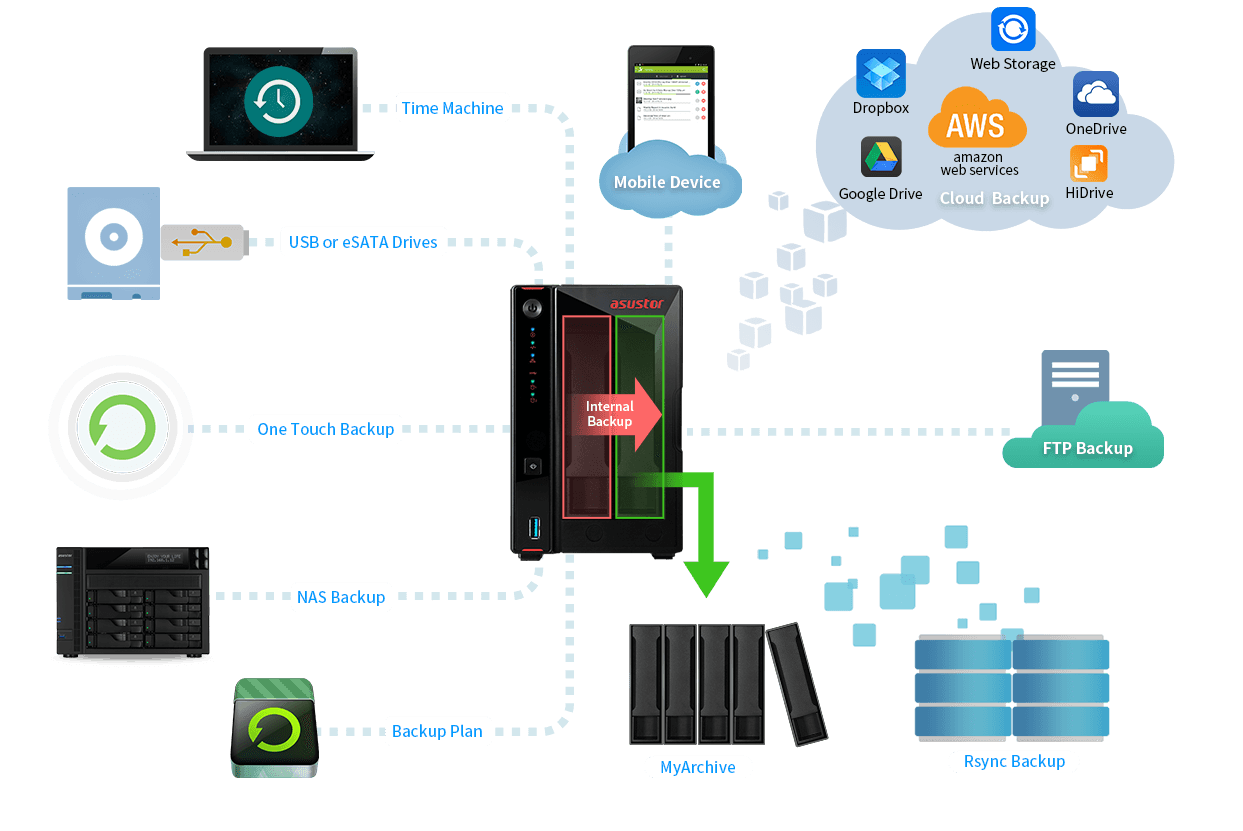 Exclusive MyArchive Cold Backup Technology
Unlimited Capacity Expansion
MyArchive cold backup technology turns NAS hard disks into removable storage archives. Directly insert a MyArchive hard disk into the NAS to easily access, backup and share terabytes of content.
Learn more about this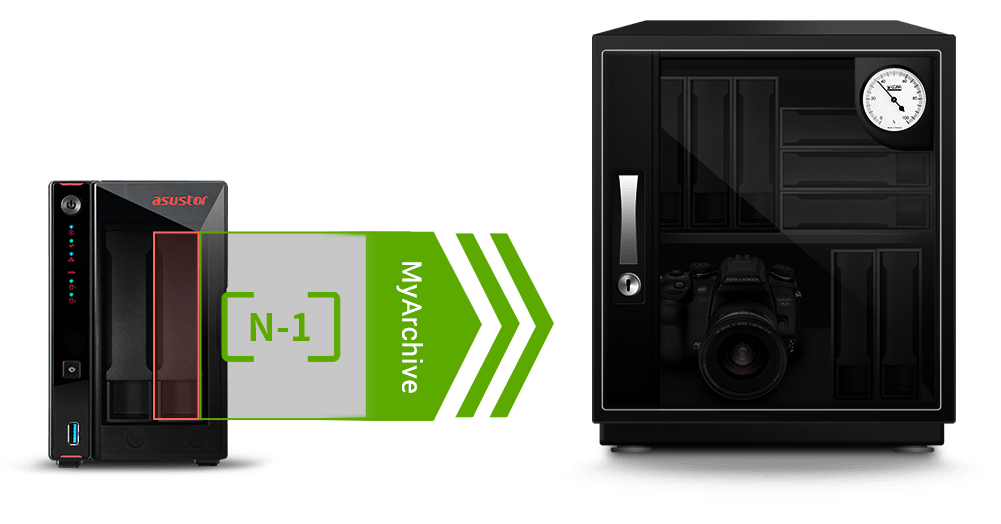 Snapshot Center
Snapshot Center is a new feature for ASUSTOR NAS devices to utilize Btrfs and iSCSI volumes to take snapshots of the information inside a NAS. Snapshot Center supports up to 256 snapshots of a volume and can be done every five minutes, creating a backup that can be restored easily if data is damaged or lost.
Learn more about this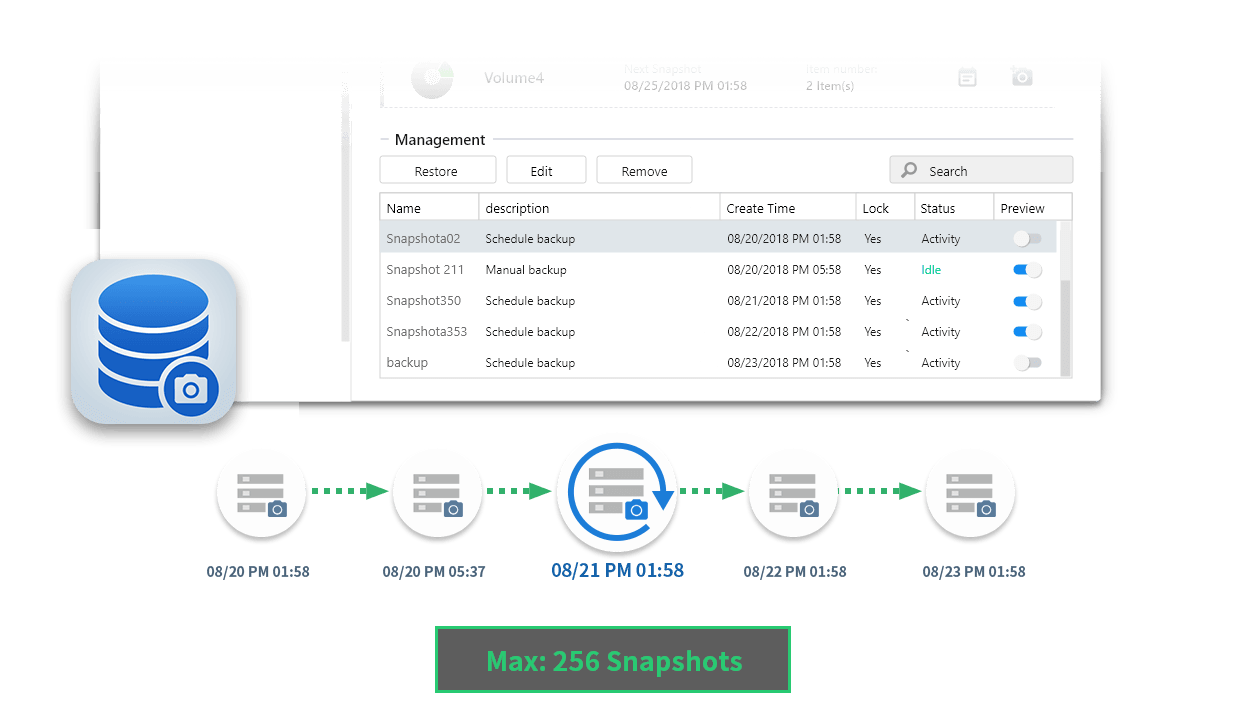 Software
Portainer – Easy Docker Deployments
Even more possibilities for ADM with Portainer for Docker images. With thousands of images, Portainer can download and deploy more types of programs than ever before. Portainer is incredibly user friendly and employs a graphical interface to make docker images easier to deploy than ever.
Learn more about this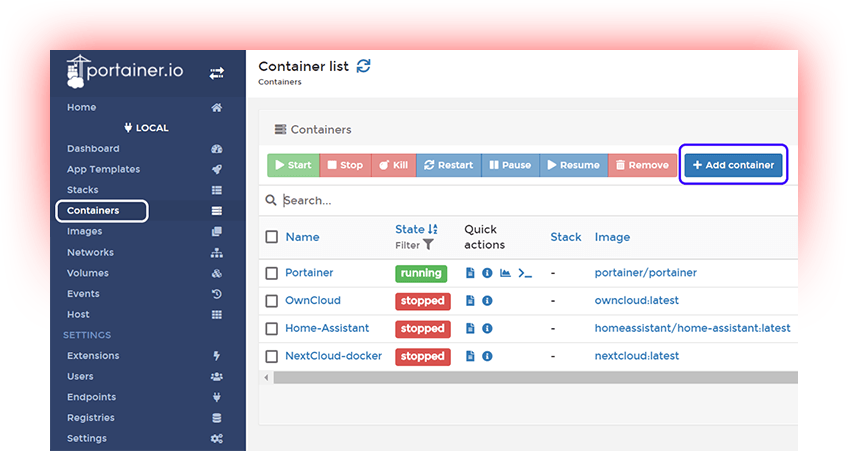 Cross-Platform Multi-User Access
The ASUSTOR NAS provides seamless cross-platform and multi-user access, allowing you to easily connect to your NAS from Windows, macOS or Unix-like operating systems no matter if you are using a PC, notebook, tablet or smartphone.
512
---
Concurrent Connections
Effortless Connections to Your NAS
ASUSTOR NAS devices support automatic port forwarding to allow remote connections to the NAS. Automatic port forwarding eliminates the need to manually configure routers. ASUSTOR EZ Connect is an ASUSTOR service that allows customers to easily connect with a customized Cloud ID and access their information while away. ASUSTOR EZ Connect supports Windows with a desktop client while EZ Connect is supported on mobile devices through ASUSTOR's Ai Series of apps.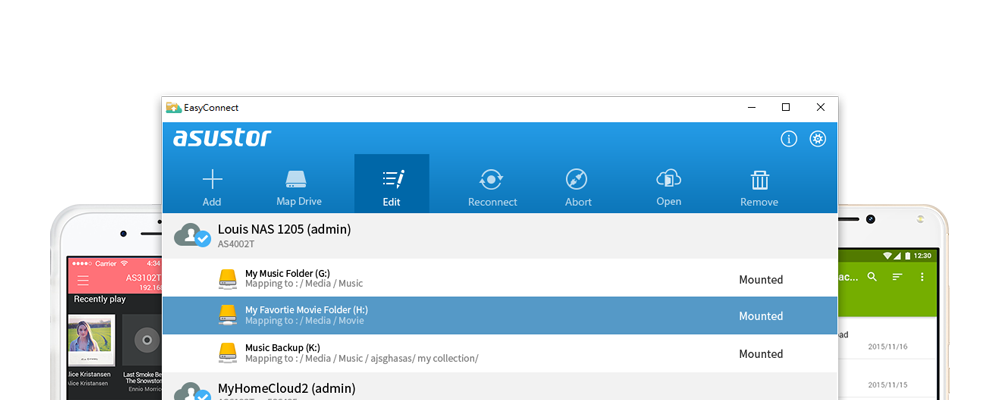 Protected From the Inside and Out
Protect your data from loss, damage and attacks with the ASUSTOR NAS. An ASUSTOR NAS is better protected by running the Linux-based ADM, employing a built-in firewall, ClamAV Antivirus, MyArchive and ADM's various backup tools help protect ransomware even better.


Network Attack Protection
Internal Data
MyArchive on and offsite backups

AES-256 folder encryption

Antivirus software
*MyArchive not applicable: AS10, AS11(Drivestor)
Learn more about this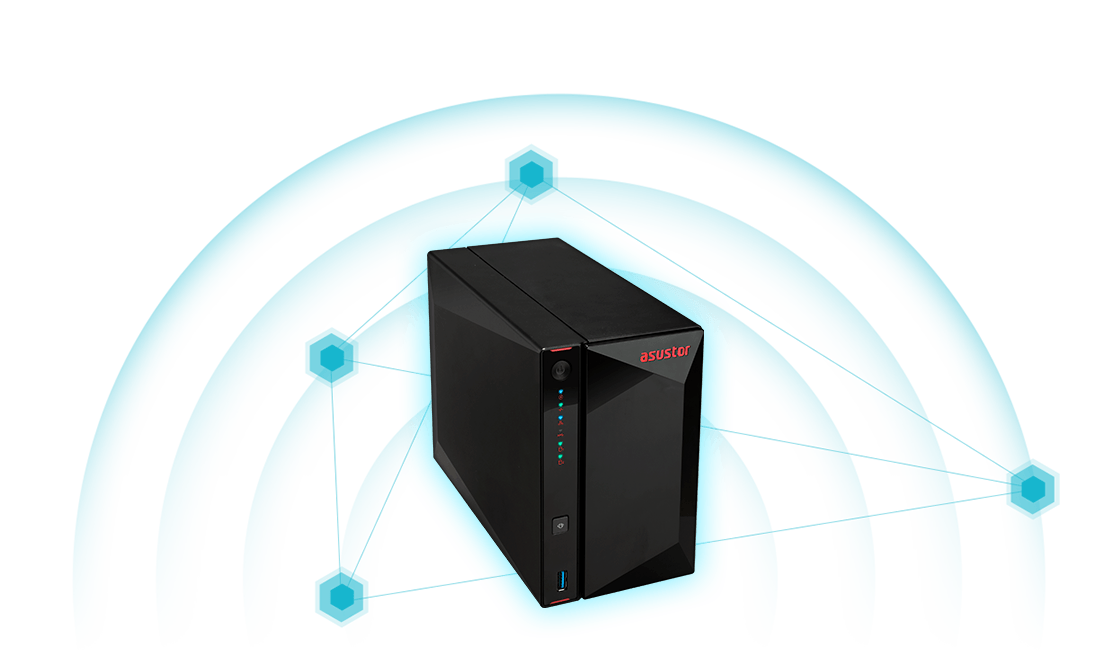 Created for the Digital Home
ASUSTOR NAS allows you to enjoy thrilling digital entertainment at any time. Via the built-in HDMI port and various multimedia Apps the NAS can be connected directly to ultra high resolution TVs and players. Enjoy multimedia with family and friends or use the UPnP multimedia server to stream your favorite media to compatible computers and mobile devices.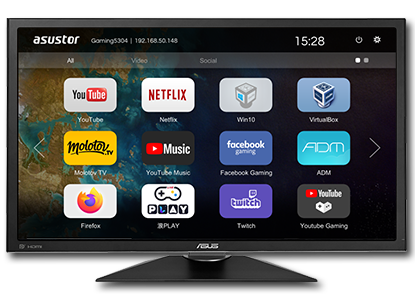 ASUSTOR Portal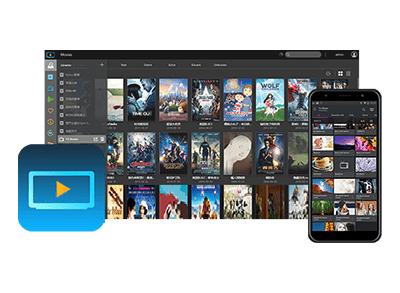 LooksGood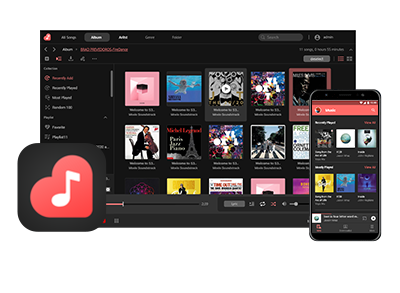 SoundsGood + Hi-Res Player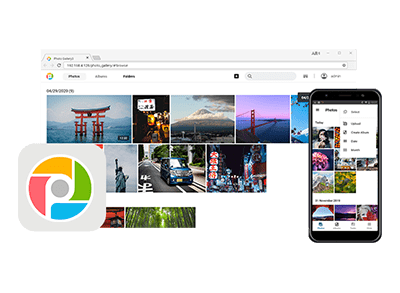 Photo Gallery 3
Live streaming with StreamsGood
Stream shows from your favorite content creators with StreamsGood. StreamsGood connects to accounts on Twitch, YouTube Gaming, Facebook Gaming, Douyu and King Kong and enables streaming from almost any content creator. Download StreamsGood and start streaming and interacting with your favorite streamers today.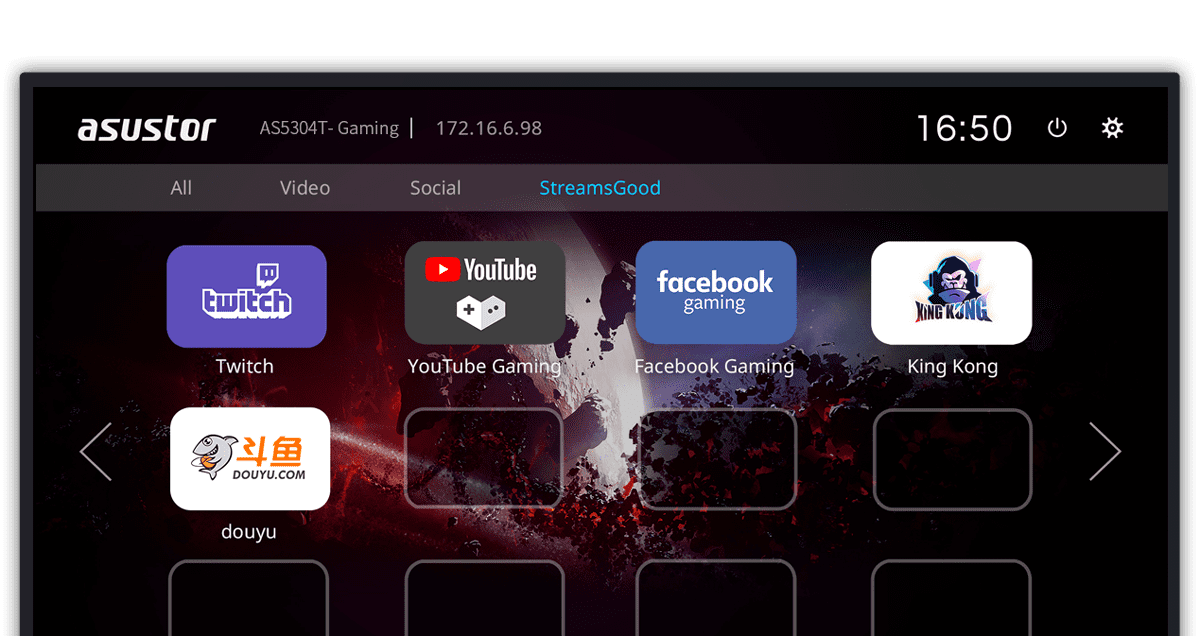 App Central
Unleash the unlimited potential of ASUSTOR NAS. The applications that come pre-installed with each ASUSTOR NAS device are just the beginning. At your convenience, you can browse through and download any applications that pique your interest from App Central. Whether your interests lie in business, website construction or even digital home entertainment, App Central has got you covered. With over 200 unique Apps, App Central provides you with the boundless variety of applications that you require to satisfy your digital lifestyle needs. Explore the unlimited potential of ASUSTOR NAS devices while creating a personalized NAS device for yourself.
Learn more about this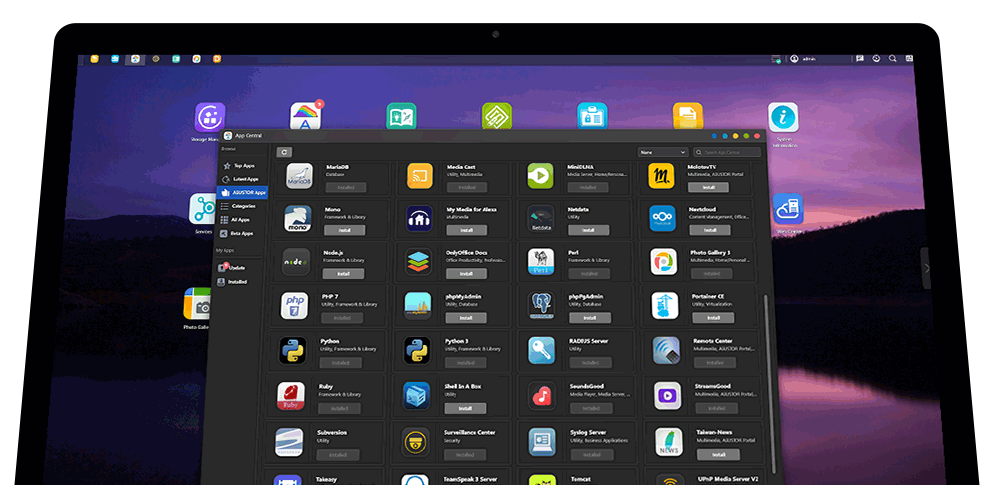 Comprehensive Surveillance System
An ASUSTOR NAS provides optimal reliability for home and small business users looking to set up a surveillance system. Four free camera channels are offered, making it an extremely cost-effective surveillance solution for those looking to protect their home or small business. ASUSTOR provides each NAS with the capability to expand to more cameras for those with bigger demands. Up to 36 camera channels can be purchased through camera licenses. After installing Surveillance Center and its corresponding mobile app AiSecure, stream live surveillance feeds to virtually any internet-connected Android or iOS smartphone to keep an eye on your most valued assets from anywhere, inside or outside.
Purchasable Camera Licenses Compatible with a wide range of cameras
Setup your surveillance system in a flash
Start quick installation wizard

Automatic camera search

Add cameras with just one click

Configure video format

Configure recording schedule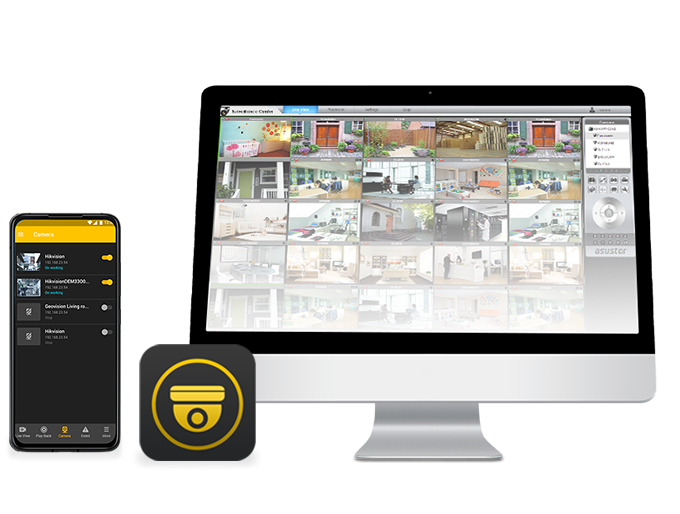 Mobile Apps
ASUSTOR's exclusive EZ Connect technology allows you to connect to your NAS from anywhere with your Mobile device in order to access and share your files. ASUSTOR mobile apps provide pass code lock functions in order to protect your privacy and data. You can also make use of HTTPS connections for even more added security.
Learn more about this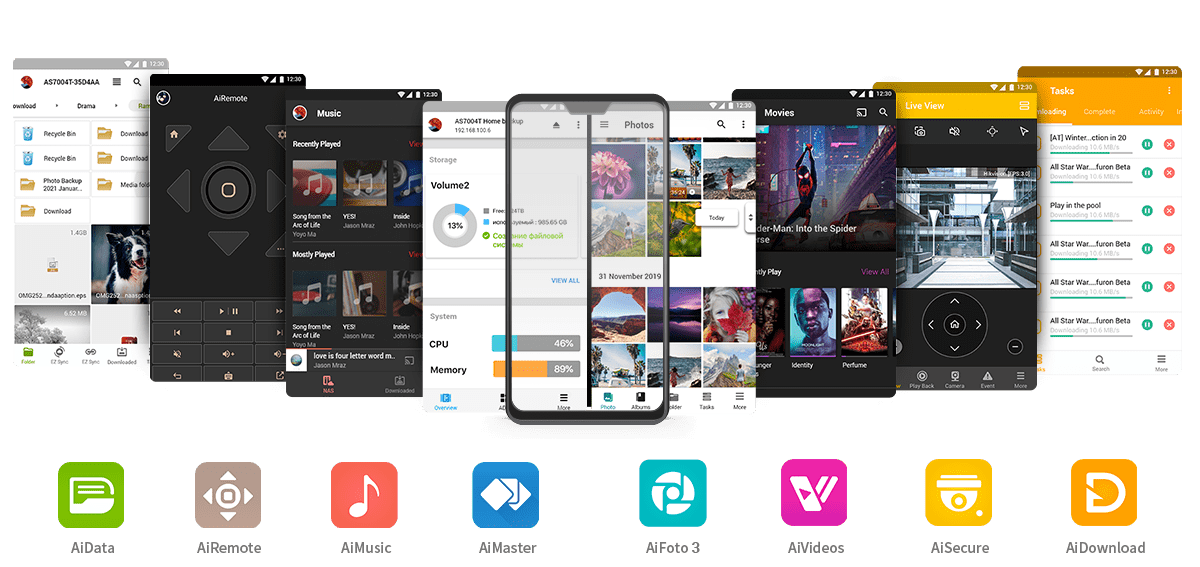 Customer Review

Product Reviews
No Price History Available