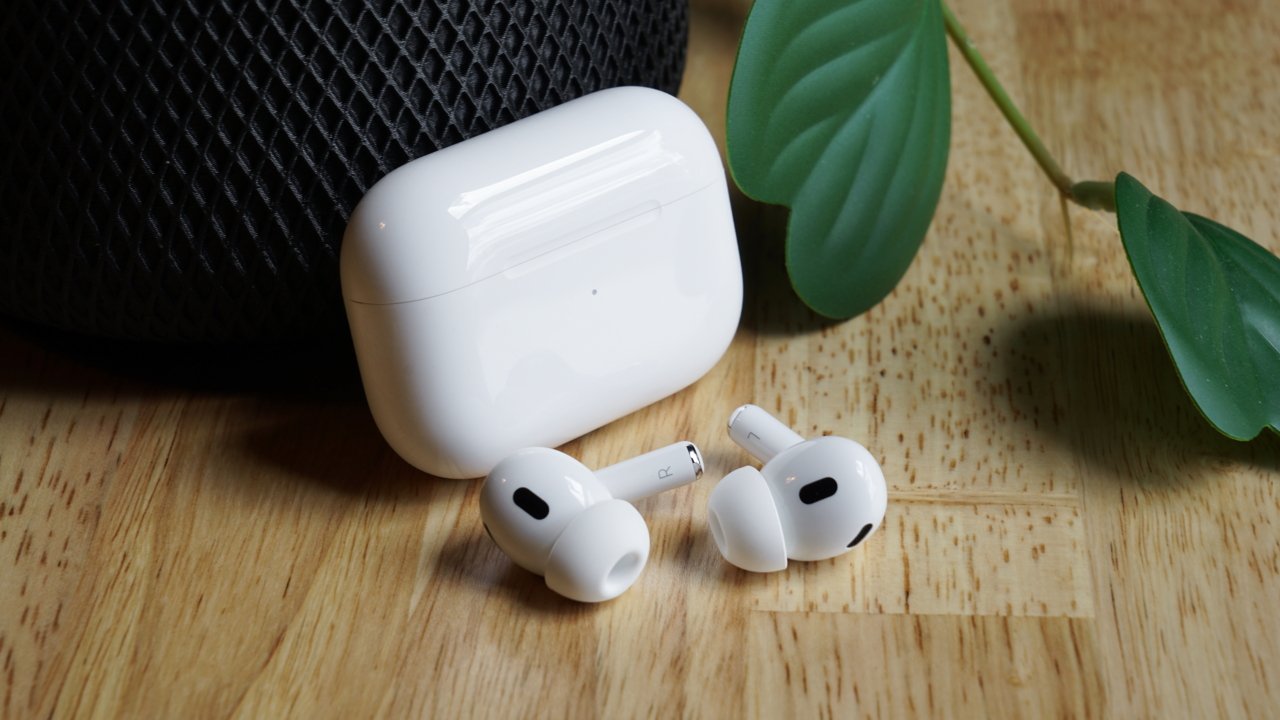 AirPods Pro 2 Features
The H2 processor is at the center of the new feature set of AirPods Pro 2. It offers high-bandwidth connectivity thanks to Bluetooth 5.3 and improved audio processing.
There wasn't any word on official support for lossless audio, but rumors are promising. Apple could be working on a version of lossless that would work with Bluetooth 5.3.
For now, users get access to 48kHz audio over SharePlay.
The earbuds have a new low distortion audio driver and a custom amplifier powering it. Users should notice a wider range of frequencies that offer clearer audio and more detail.
Spatial Audio is still a tentpole feature and benefits from the improved processing power as well. Gyroscopes in the earbuds determine head position so users can "move" through the 3D audio space.
ANC and Adaptive Transparency
Active Noise Cancellation is improved thanks to the H2 with twice as much noise canceled. Algorithms work with multiple microphones to determine what audio needs to be blocked.
The new Adaptive Transparency feature uses the same microphones and algorithms to eliminate unwanted audio while letting other sounds in. For example, a loud vehicle or construction noise would be canceled out while a person's voice would be allowed through.
The H2 analyzes sound 48,000 times per second, so fast changes in environmental noise can be processed near instantly.
With the ear tip fit test, users can determine if a chosen ear tip size is providing a suitable seal. A new feature of iOS 16 also allows users to scan their ear using the 3D dot projector found in Face ID-equipped iPhones.
Design and controls
The AirPods Pro 2 have the same bulbous earpiece, short stems, and changeable ear tips. Apple included a smaller ear tip size for a better range of fits.
As before, Squeeze the stem between two fingers to play or pause audio. Squeeze and hold to switch audio modes between ANC and Transparency.
The stem is now touch-sensitive, too, so swipe up or down to control the volume.
Proximity sensors will determine if the AirPods are located in the person's ear or not. When removed, audio playback will be paused, and then resume again when placed back in the user's ear.
The microphone is located at the bottom of the stem. It uses beamforming to isolate the user's voice for calls and commands. "Hey Siri" can be used to control audio playback, give Apple Home commands, or activate a Shortcut.
Charging Case and battery life
A single charge will provide up to 6 hours of battery life. The Charging Case has enough power to allow up to 30 hours of total listening time before needing a charge.
The Charging Case can be charged via Lightning, MagSafe, and the Apple Watch charger. It magnetically aligns with the chargers to ensure proper alignment.
There are multiple changes to the Charging Case to address previous problems. The case can be located via Find My, and thanks to a speaker cutout, it can play a chime to help find it nearby.
The Charging Case also has a U1 chip. So, iPhones that also have U1 can pinpoint the case's location to within a few feet.