Product Description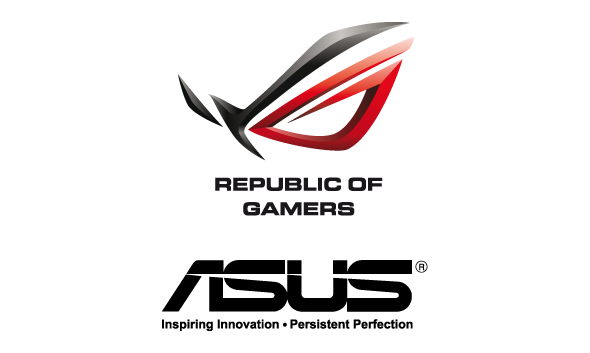 Presenting the all new ASUS ROG G750JZ 2014 Edition. The ASUS ROG G750JZ 2014 Edition features a 17.3" Full HD Non-Glare Display, an Intel Core i7-4700 HQ Processor, 32 GB Ram, 1 TB + 256 GB SSD Hard drive, Windows 8.1 64-bit OS and the all new and powerful 4GB Nvidia GTX 880M GPU. Break the barriers with the all new and improved ASUS ROG G750JZ 2014 Edition.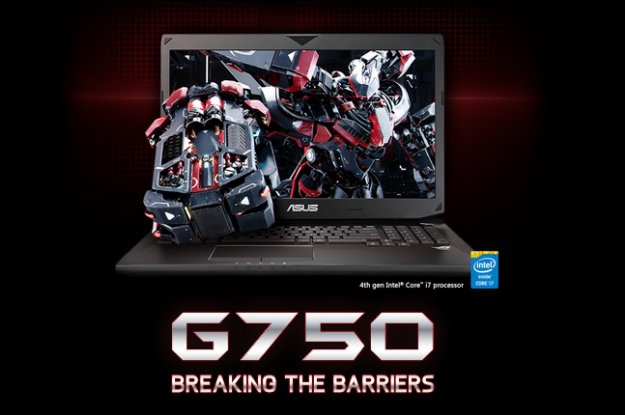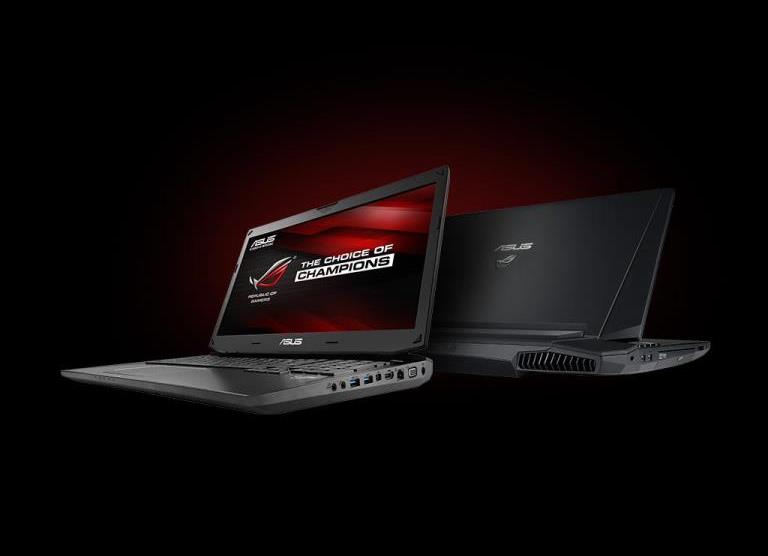 Design
Gamer Centric Design
G750 is even slimmer and more gamer-centric than previous G Series notebooks, which is saying a lot. It meets your gaming needs as the ultimate weapon in any gameplay genre, making you a better gamer and a mightier ally to your teammates. Once more, the eye-catching design draws inspiration from stealth fighters, presenting an ergonomically-inclined surface for greater comfort during long gaming sessions.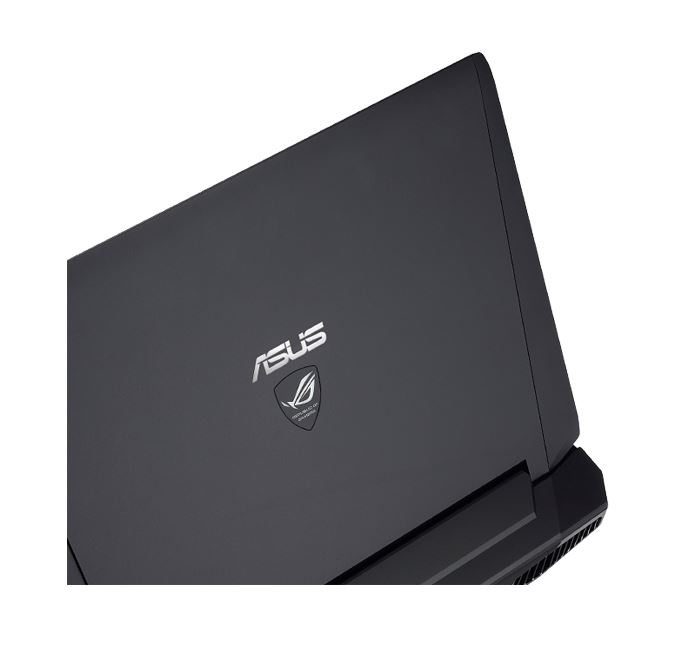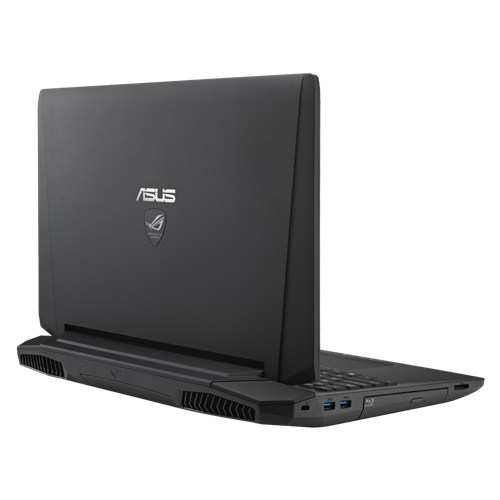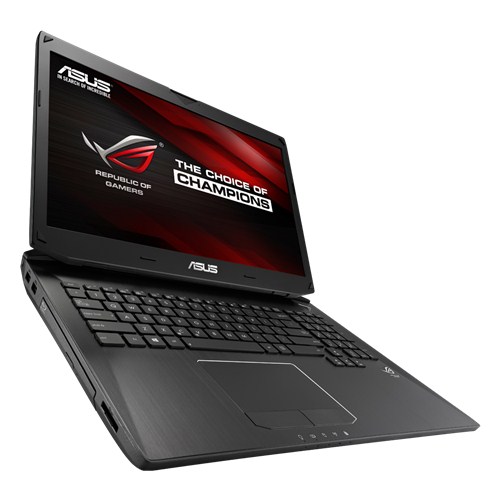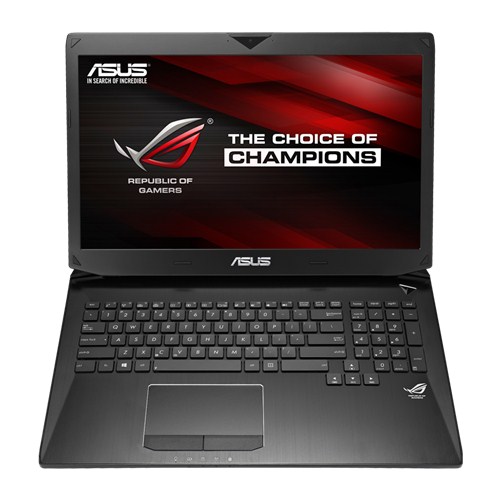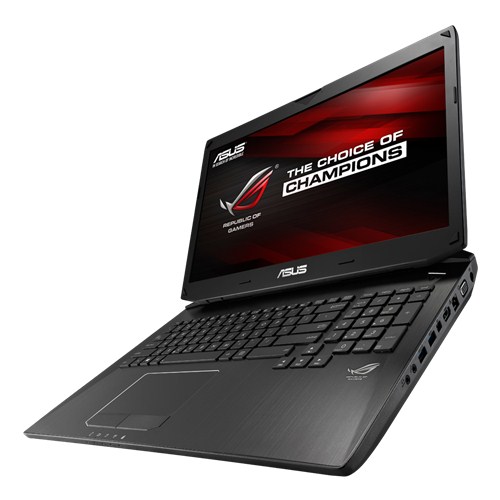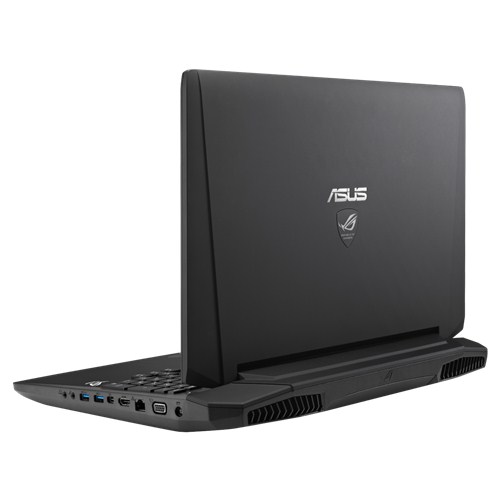 Features
Ergonomics :
Inclined to be comfortable
Gaming over long periods demands much from gamer and machine, but with G750, that's not a hurdle. The angled surface has been researched and tested to ensure you maintain top skills for the duration. Unlike flat surfaces, G750's ergonomic keyboard angling goes easy on your hands and wrists, eliminating fatigue so you can go on having fun. Don't let that much-anticipated gaming session go wasted: G750 has you covered with just the right inclination plus aluminum palm rests that prevent sweaty wrist syndrome. With G750, always focus on your game and never let discomfort pull you away from great times. And of course it's a gorgeous show-off machine everyone will flock to, with the illuminated ROG logo on the cover serving as a beacon of cool.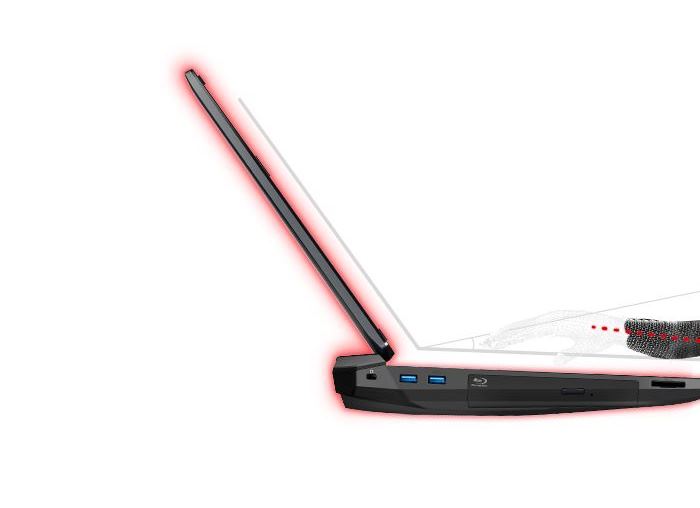 Keyboard : The Key to Gaming is Optimized Input
G750 uses a full-size one-piece keyboard tailored to PC gaming. Its construction assures strength, so even if you're an intense gamer, the keyboard can handle it while remaining absolutely responsive. It blends seamlessly with the notebook, minimizing dust accumulation around and underneath keys. Variable keyboard backlighting serves a dual purpose: it looks great, standing out starkly in the dark, and is an aid to continued gaming after lights-out. Want to keep playing without disturbing others? Keyboard backlighting! You also get a complete numeric keypad and isolated directional keys, plus longer key travel distance to make sure response is smooth and accurate. Tough, attractive, and totally comfortable, this is the finest keyboard on any gaming notebook to date.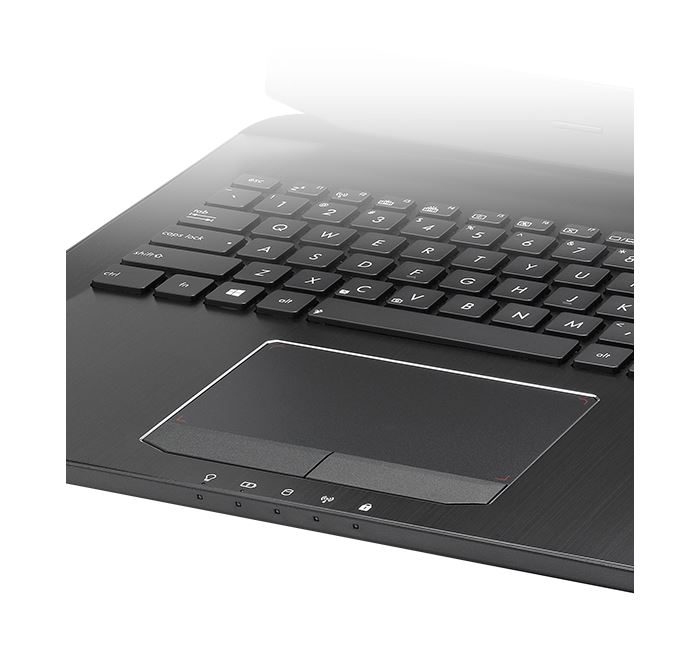 Extreme Performance
Gaming Grade Power
Enjoy desktop-level performance with a pumped 4th-generation Intel® Core™ i7-4700 processor and gaming-grade NVIDIA® GeForce® GTX 880M graphics, with ASUS TurboMaster technology for the ultimate gaming experience.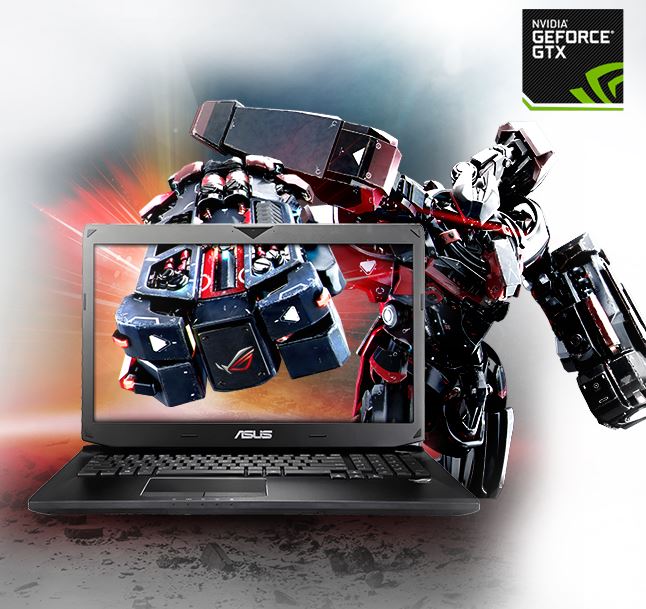 CPU : New Generation at Heat
G750 leverages the advanced technology and power offered by 4th generation Intel® Core™ i7 processors, which far outpace previous-generation performance. Fast and thermally efficient, the latest high-end processors from Intel™ open up smooth gaming and multitasking while helping extend battery life. Smart technologies embedded in the new processors lead to extra short boot times, reduced load waits, and a host of other great features that culminate in a vastly improved user experience.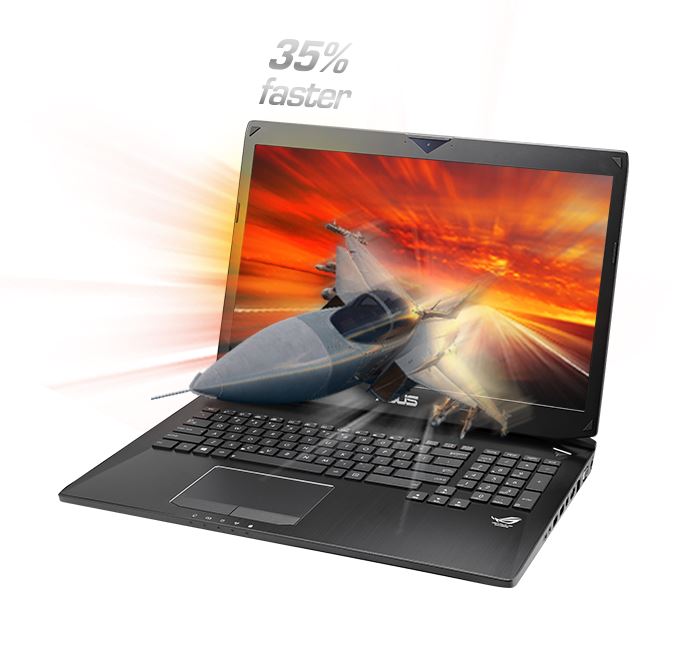 Graphics : Awe-inspiring 3D Performance - Over 8600 3DMark 11 Performance!
With NVIDIA® GeForce® GTX 880 discrete GPUs, G750 is an awesome performer. The new NVIDIA® GeForce® GTX 880M graphics helps give G750 a 3DMark 11 score of over 8,600, outperforming previous G-Series notebooks by up to 15%. And that's not all — NVIDIA ShadowPlay™ lets you record and share your best gameplay, automatically. Battery life problems are reduced thanks to NVIDIA Battery Boost, which gives you up to twice the gaming time. G750 is built to win — anytime, anywhere!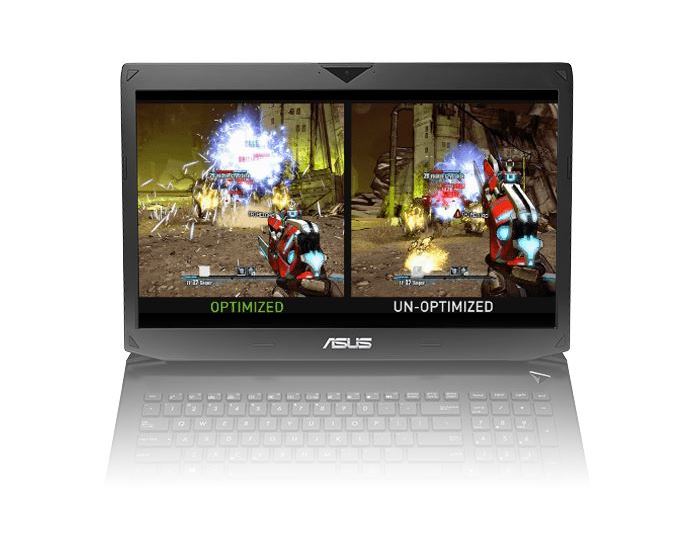 ASUS TurboMaster - For Ultimate Graphics Performance
ASUS TurboMaster technology, which includes ROG-exclusive GPU Tweak software and upgraded component design, gives you the ultimate gaming experience. It supports real-time overclocking — over 5% — for the G750's discrete NVIDIA® GTX 800 Series GPUs. It is specially designed for simple and safe overclocking, even for long periods, giving you the gaming edge when it matters.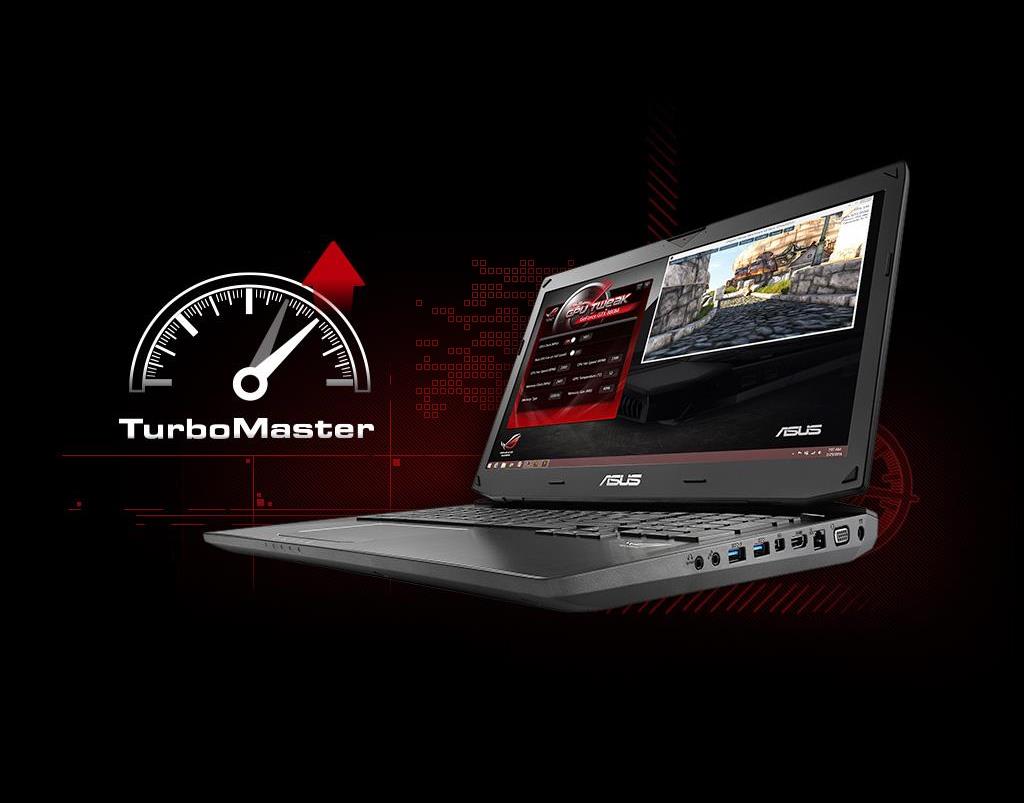 Dual Fans : Incredibly Powerful, and Incredibly Cool
Heat is the serious gamer's worst enemy, as it can cause unreliability and performance degradation — but not in the G750. Its intelligent cooling system uses dual independent fans and copper heatsinks, guaranteeing stability even when overclocking. Both the CPU and GPU are independently cooled according to their needs, and the GPU has three directly-connected heatpipes that draw heat to the dedicated GPU fan, giving maximum cooling efficiency with minimum noise.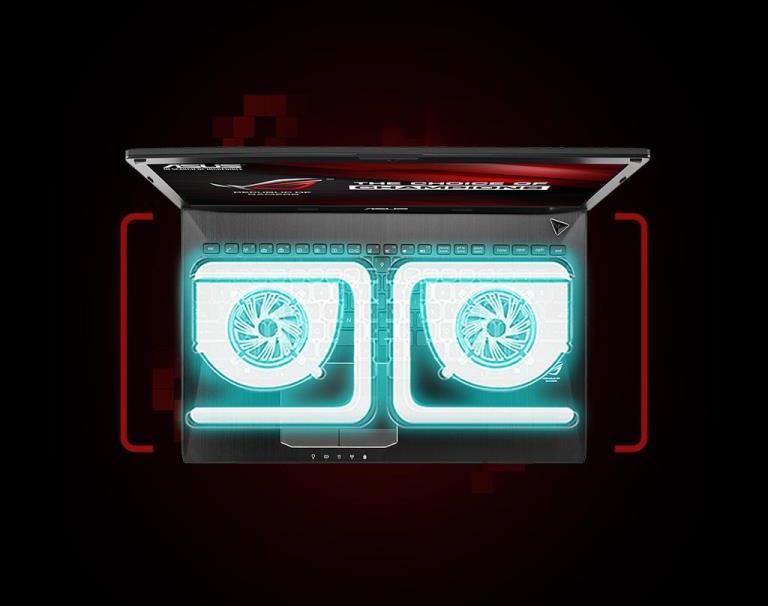 SSD : High Performance Storage
Solid state storage on G750 accelerates data access, resulting in a faster and more responsive system. SSDs are also more reliable and longer-lasting than mechanical hard drives, and by installing the operating system on solid state, G750 shortens annoying game loading times. For large capacity storage that has enough room for your game and multimedia libraries and then some, G750 includes a hefty SATA 6Gb/s hard drive up to 1.5TB and configured in RAID 0, so you tap speed and space in one neat hybrid design that's fast and sturdy.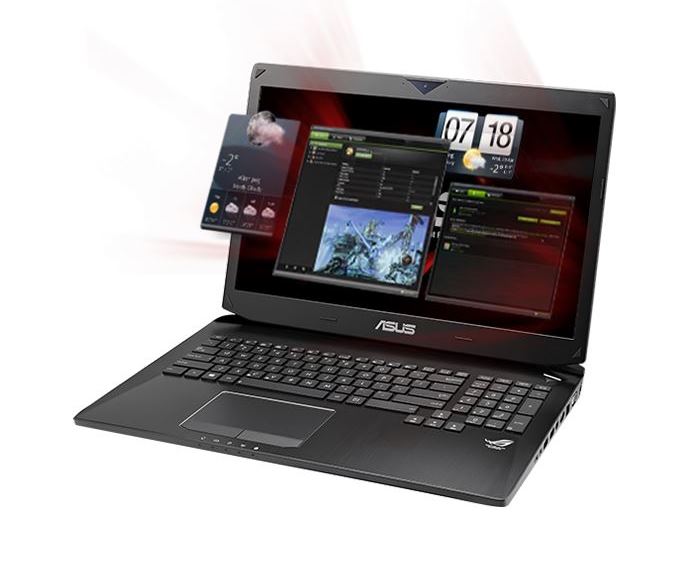 Thunderbolt : The Fastest Connections
As befits a notebook dedicated to blisteringly-quick performance, G750 includes Intel® Thunderbolt™ technology. This new standard delivers data and graphics via one connection and cable at up to 10Gbit/s, which is roughly double the bandwidth of USB 3.0. With more external devices beginning to implement Thunderbolt™, you can count on your G750 to become a hub for content and data that moves quicker than ever, including really large multimedia files, high definition video and sound, and much more. ROG always means the fastest – gaming and beyond.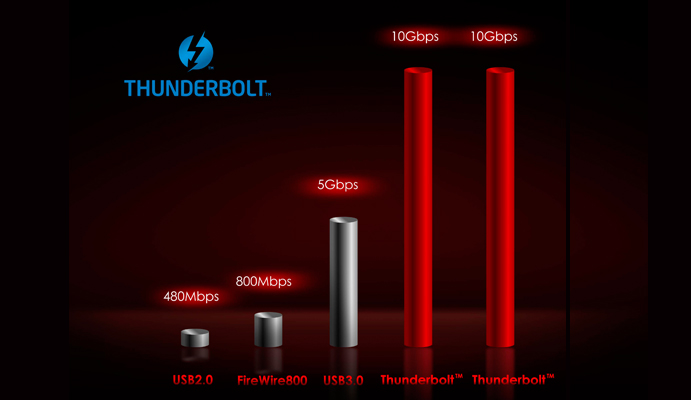 Killer Wireless N : Faster Networking for Online Gaming
ASUS G750JZ includes exclusive wireless technology in the form of Killer™ Wireless-N 1202. Wireless-N 1202 is a dual-band (2.4 and 5GHz), dual-stream MIMO, 802.11a/b/g/n adapter that delivers fasts data-transfer speeds of up to 300Mbits/s. With built-in Bluetooth, Wi-Fi Direct™ technology for direct (peer-to-peer) connections and Advanced Stream Detect™ technology that intelligently prioritizes game-related traffic, Killer Wireless-N 1202 keeps you ahead of the game.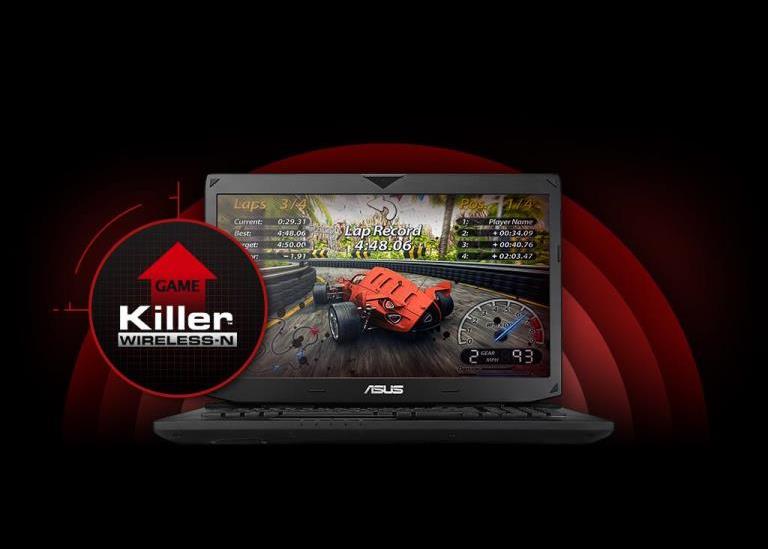 Output 4K2K : Four times more Detail, Endless excitement
The HDMI 1.4 port on G750JZ adds support for extremely high video resolutions that go far beyond today's 1080p systems. Staying true to its commitment to future-readiness, the G750JZ can now support 4K/UHD LCD displays with the extremely high bandwidth these require. When you're playing games, you will have a breathtaking and brilliantly true-to-life viewing experience.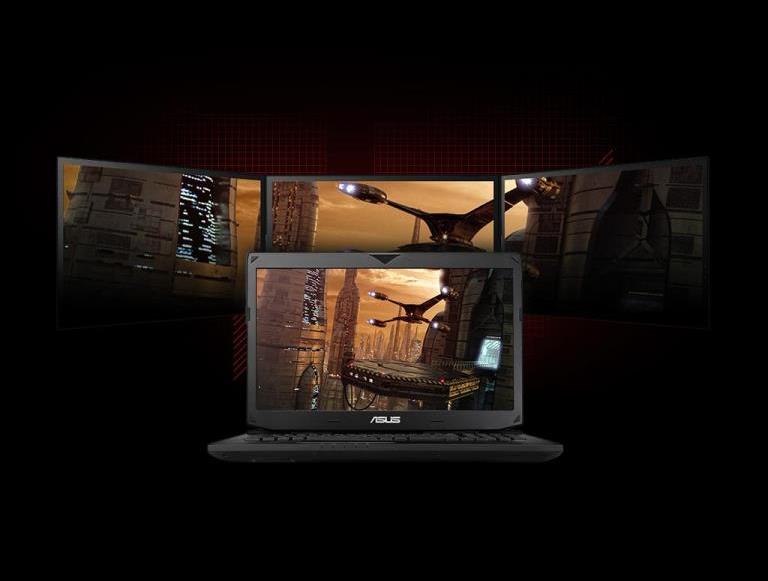 Audio for the Win
The G750JZ's audio system packs a punch, providing extra power to headphones so they perform to their full potential. An onboard amplifier produces a wider frequency range for more accurate and detailed stereo sound, while reducing audio distortion and unwanted interference like headset crosstalk. This rock-solid audio foundation also comes with ROG AudioWizard, letting you personalize sound settings or choose between 5 preset modes for the ultimate winning soundtrack. Tweak the audio for clear, detailed dialogue or ramp up the power on the internal Bass Eye Subwoofers for an impressive low-end sound that you can feel. It's up to you.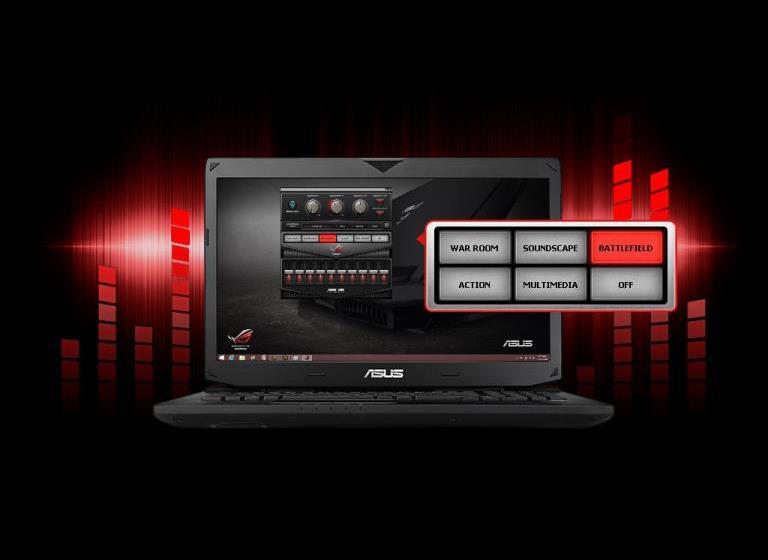 Bass Eye : Bass like no other
G750JZ features Bass Eye, an internal subwoofer — located under the notebook — that is perfectly balanced with G750's audio system to add impressive bass response for maximum sonic impact. Games have never sounded so good on a notebook!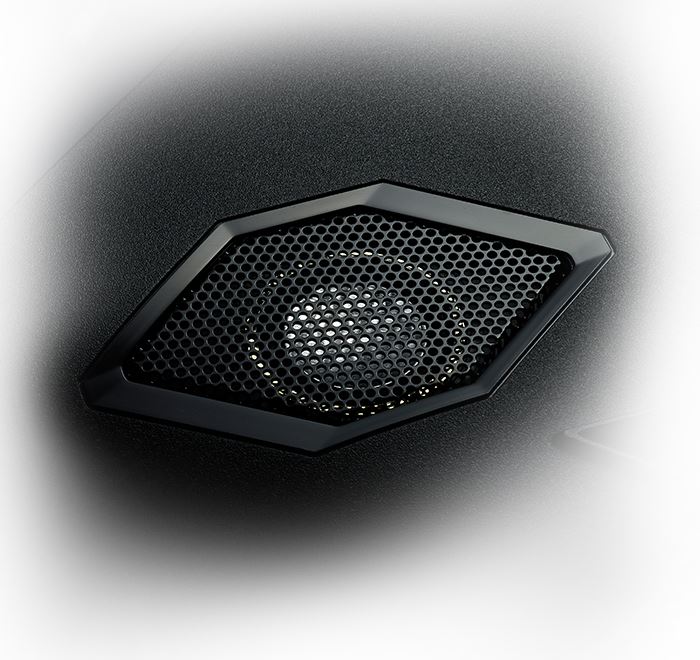 Microphone : Lined up for better house
G750 holds the secret to superb voice quality when talking to other people online. It's an array microphone that far exceeds the performance of generic single-microphone designs. This is vital when communicating with teammates during multiplayer engagements, but is just as great to have for chatting and doing VoIP with family and friends. The microphones are designed to filter out ambient noise, which means that even if you're at a LAN party or some other loud event, your voice still carries true. So speak up and don't hold back!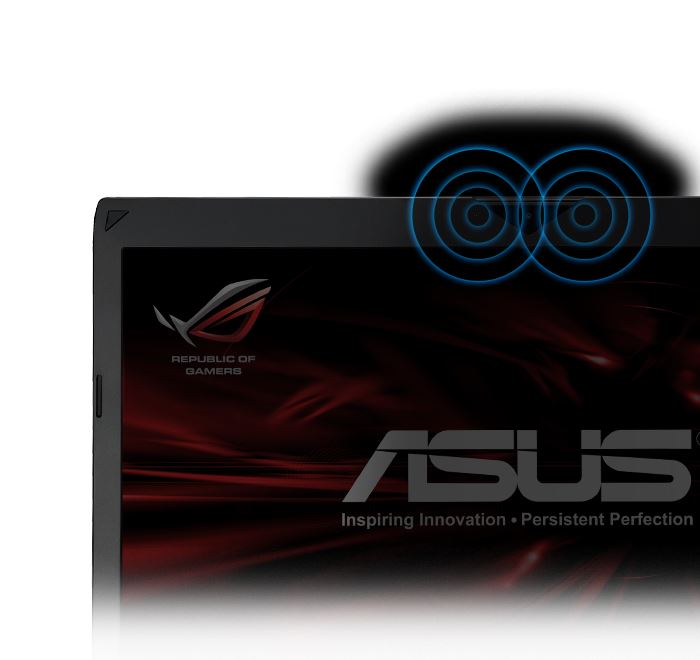 Incredible Cloud : Store, Share and Sync
ASUS cloud services provide the most complete platform for online living that's accessible anywhere from a host of devices. With ASUS WebStorage, convenience is the main priority, offering you easy storage, sharing, and syncing of everything from business presentations to photo albums and favorite multimedia content. Each ASUS ROG G750 comes with 16GB of WebStorage space free for the three years, and offers you the MyBitCast app so you can easily sync your content to multiple devices and accounts simultaneously.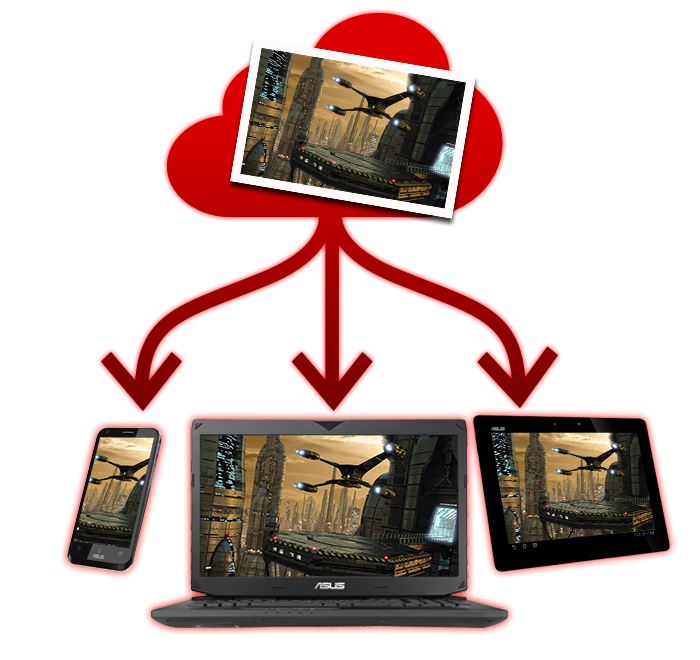 Accessorize your Gaming world with ROG PC Gaming Accessories
Maximize your game with Republic of Gamers accessories. Grab your GX gaming mouse, throw it in your durable ROG backpack along with your G series notebook, and then hit the road to a friends' house, LAN event or anywhere on your travels. ROG Accessories empower your everyday gaming with the right features, best precision and the quality you expect.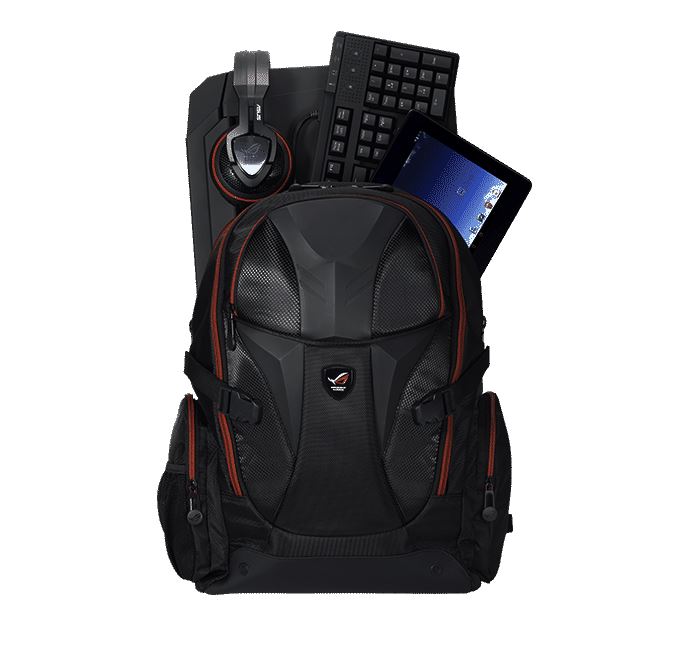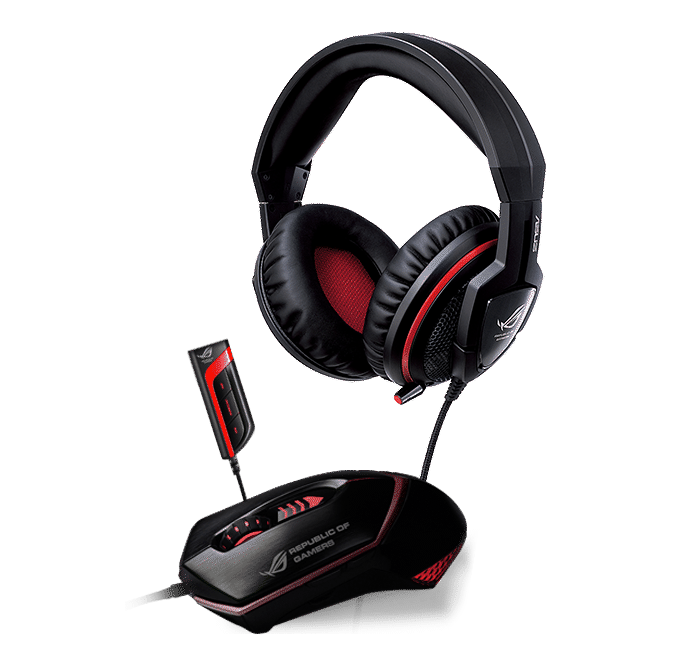 ROG Nomad Laptop Backpack
ROG Nomad is a backpack that's truly built for gamers. Lightweight, rugged and stylish, the Nomad can carry up to a 17-inch notebook, while its internal suspension system keeps your precious cargo safe when you're on the move. Generous shoulder padding lets you carry a heavy pack in comfort, but you won't work up a sweat before you get your game on thanks to its ventilated design.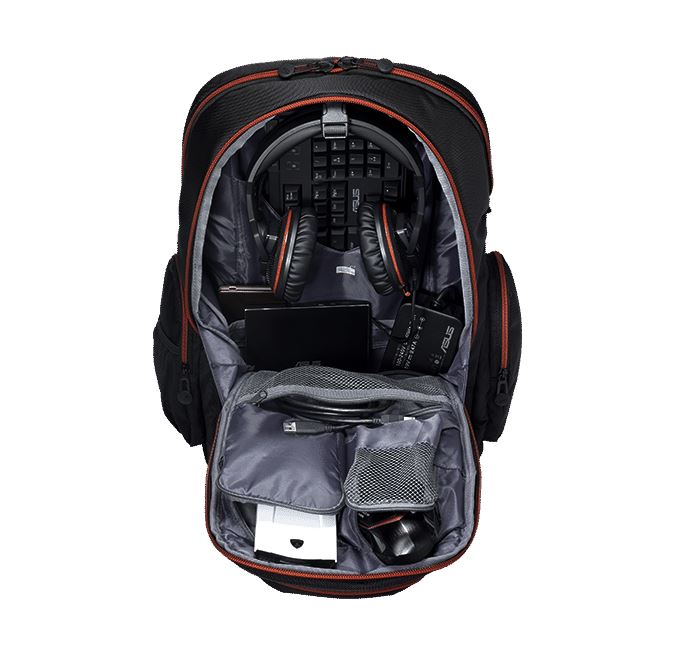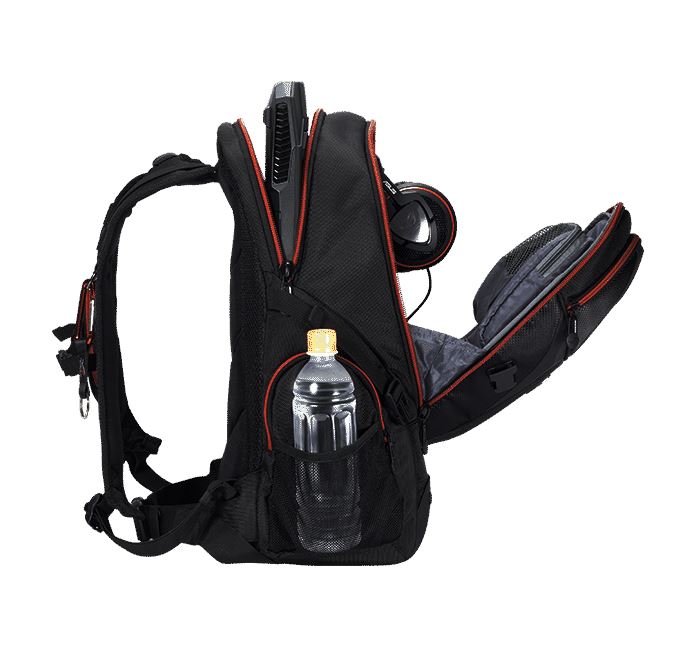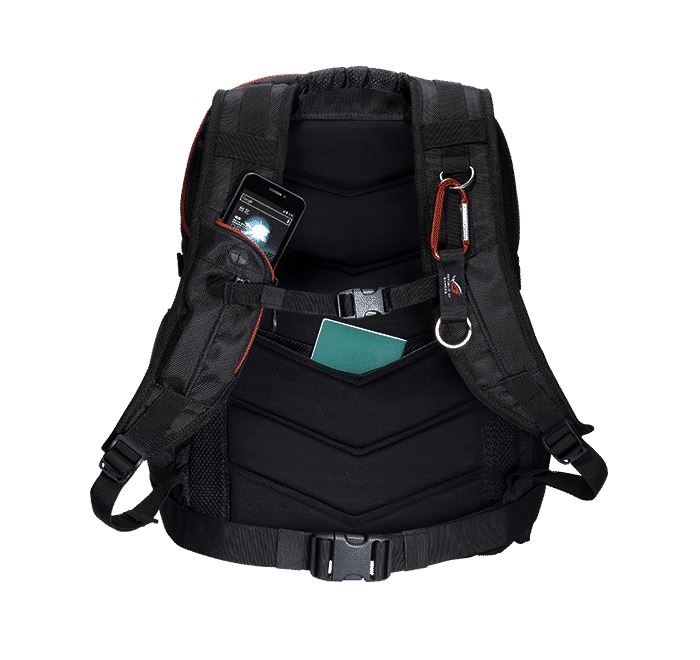 ROG GX1000 'Eagle Eye' Gaming Mouse
The ROG GX1000 gaming mouse was crafted with its high precision laser sensors capable of up to 8200dpi, and PTFE feet for effortless surface gliding for only one purpose: attain gaming superiority. The ergonomic ROG GX1000 gives you the best hand comfort to stop fatigue and the instant customizable dpi switching and indication, plus six programmable macros, are at your fingertips.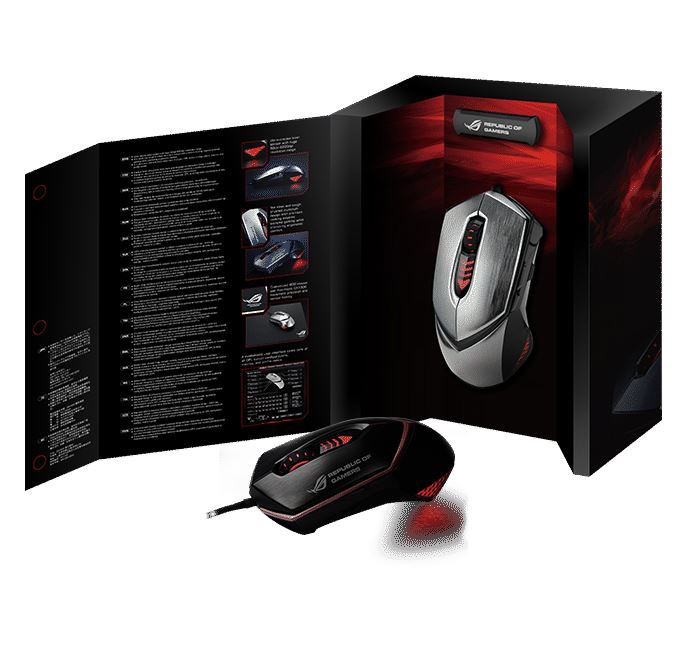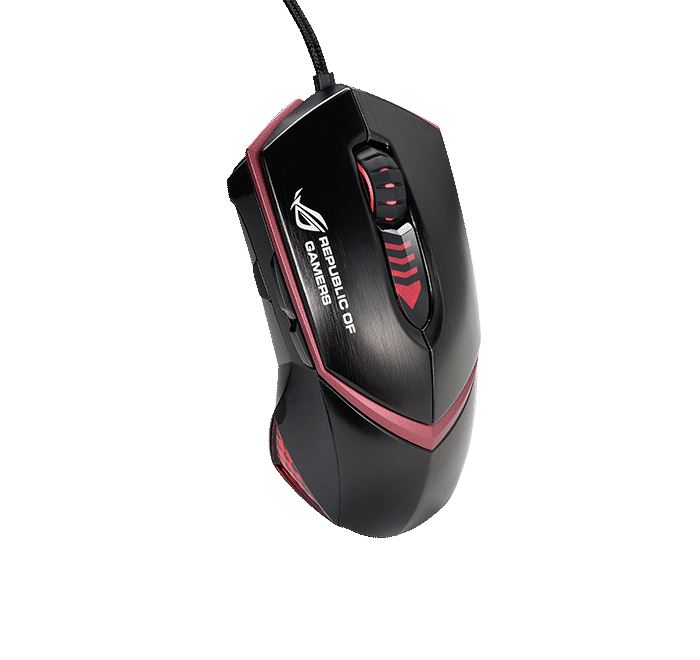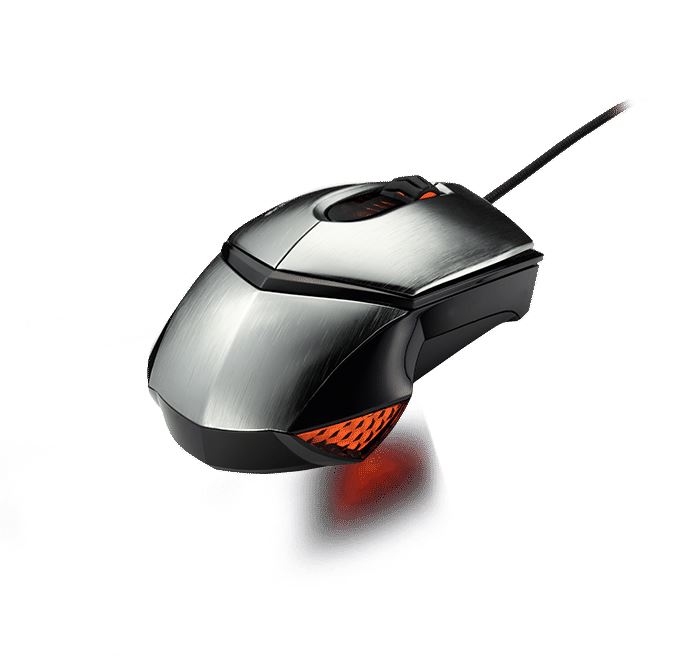 ROG Orion Pro Gaming Headset
ROG Orion PRO gaming headset has been designed for win-focused gamers. Their 50mm neodymium drivers are fine-tuned to produce high quality, dynamic audio positioning while large 100mm over-ear cushions generate greater comfort over prolonged gaming sessions. Orion PRO offers gamers the exclusive ROG Spitfire USB audio processor, which features one-click FPS EQ, 7.1 virtual surround, and headphone amplifier modes.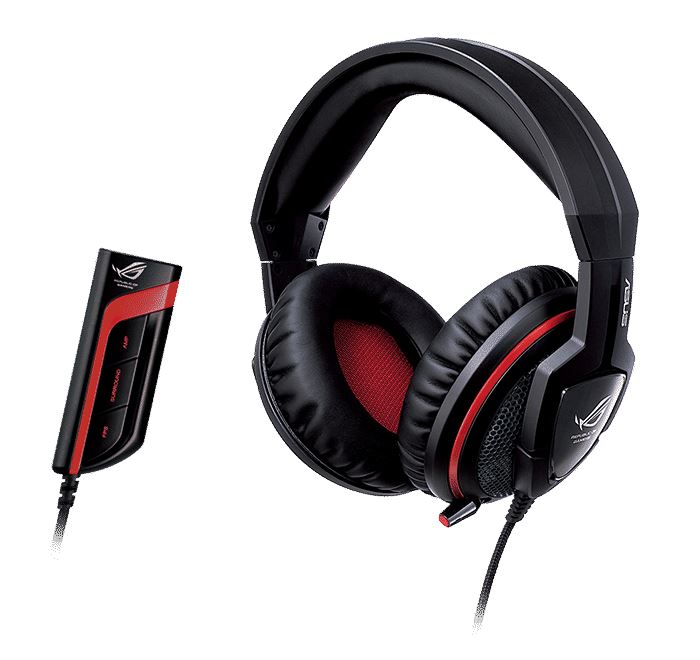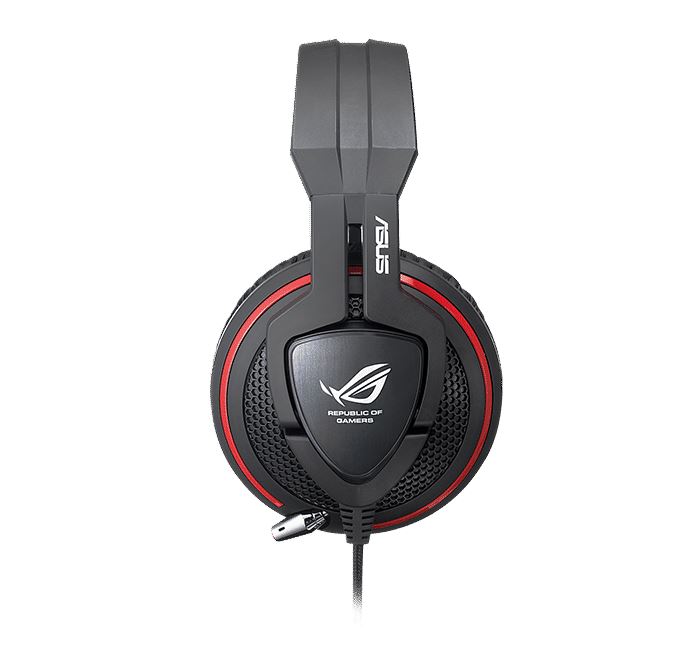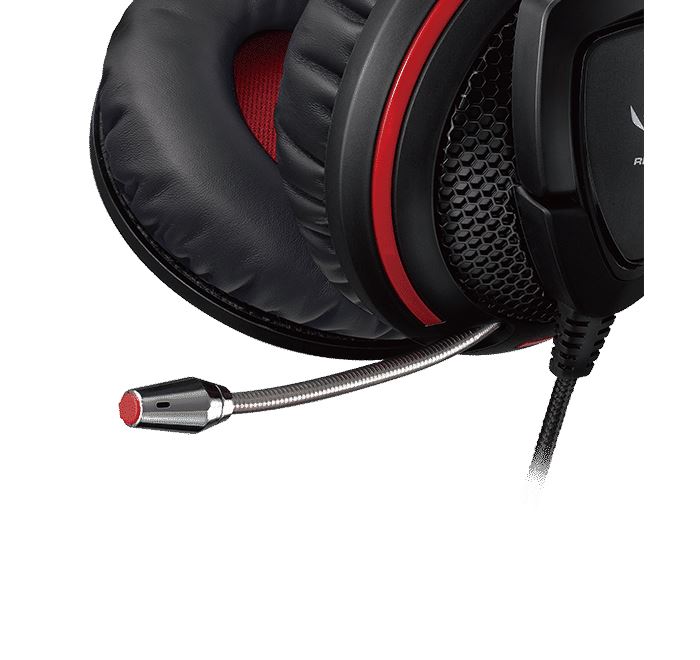 Specifications
Mfr Part Number: G750JZ-T4004H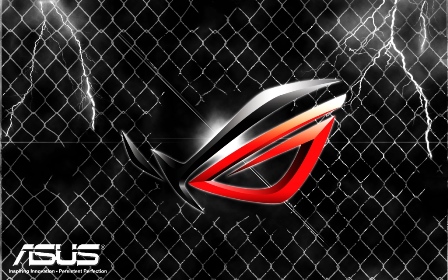 | | |
| --- | --- |
| Processor | Intel Core i7-4700HQ Processor (2.4GHz Clock Speed, 3.4GHz Max Turbo) |
| Cores - Cache | Cores : 4 - Cache : 6 MB |
| Chipset | Intel® HM87 Express Chipset |
| Memory | 32GB DDR3L-1600 SDRAM Memory, Max Capacity of 32GB |
| No. of memory slots | N/A |
| Storage | 1.5TB 5400RPM Hard Drive + 256GB Solid State Drive (2x 128GB SSD RAID) |
| Optical Drive | Integrated Blu-Ray Disc Reader |
| Operating System | Microsoft Windows 8.1 64-bit |
| Graphic Card | NVIDIA GeForece GTX 880M w/ 4GB GDDR5 VRAM Video Memory |
| Display | 17.3" Non-Glare Matte LCD Display w/ LED Backlight |
| Screen Resolution | Full HD (1920 x 1080) |
| Touch Screen | No |
| HDMI | Yes |
| VGA Output | Yes |
| DVI Output | N/A |
| Finger Print | No |
| Bluetooth | Yes v 4.0 |
| Camera | HD Web Camera |
| LAN | (Killer LAN) Wireless LAN |
| WiFi | 802.11a/g/n |
| Keyboard Layout | N/A |
| Backlit Keyboard | Yes |
| USB Port | USB 3.0 |
| Total USB Port | 4 |
| Thunderbolt port | 1x Thunderbolt Port |
| Card Reader | 2-in-1 Card Reader, Supports SD/ MMC |
| Headphone Output | 1x Headphone-Out |
| Microphone Output | 1x Microphone-In |
| Battery | 8-Cell 5900mAh 89WHrs Li-ion Battery, Up to 3.5 Hours of Battery Life |
| Color | Black |
| Weight | 4.8 kg (w/ 8-Cell Battery) |
| Dimensions | (WxDxH): 410.0 x 318.0 x 17.0 ~ 58.0 mm (w/ 8-Cell Battery) |
| Warranty | 1 Year Local + International |
| | |
| | |
Comes with 1 Year (Parts+ Labor) Local + Inernational Official Warranty - Provided by ASUS.