Blue Skies, White Clouds, a Glittering Ocean, and a Vast Beach...
Hope's Peak Academy is holding its school trip at Jabberwock Island - a tropical island famous for being a popular vacation resort. But thanks to the actions of their wicked headmaster, the students quickly realize that they are not leaving this island any time soon. Their only chance of escape is to murder one of their classmates, and survive the class trial without getting caught.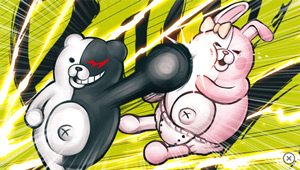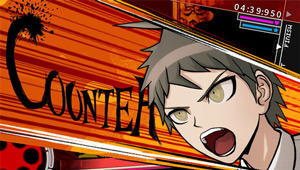 During the frantic, high-stakes class trial, you must use the evidence you gathered during your investigation, as well your classmates' testimonies, to literally shoot down your opponent's arguments.
Amid the heightened suspicion, encroaching madness, and emotional exhaustion, the next evolution of the class trial is about to begin.

Hope's Peak Academy is a government-funded, elite high school that recruits the top students from every field imaginable to inspire hope. Whenever Hope's Peak Academy is mentioned, it's only a matter of time before someone says: "If you come here and manage to graduate, you'll be set for life."
There are two criteria you must meet in order to attend this school:
One, you must be a current high school student.
Two, you must be the very best at what you do.
Unlike other schools, Hope's Peak Academy does not offer entrance exams to its prospective students. The only way to get in is if the school personally scouts you!

School Trip Executive Committee Guidelines
Extreme violence is prohibited on this island. Please live peaceful and relaxing lives with your fellow students.
Fighting is not allowed among the students. The purpose of this school trip is for everyone to get along and live peaceful lives together.
Littering is not allowed. Let us coexist with this island's bountiful nature in mutual prosperity.
The lead teacher cannot directly interfere with the students. An exception to this rule is made if any student violates a rule.

Please install Flash or view this from an HTML5-capable browser.

To escape from this island, the Ultimate students of Hope's Peak Academy must kill each other yet again. After the body discovery announcement, the students are given time to conduct an investigation. Afterward, a class trial will begin in order to identify the blackened killer.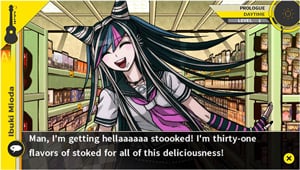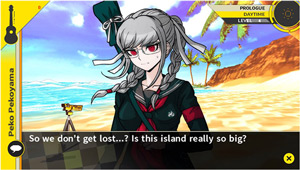 During your Free Time in between killings, you will be able to talk to the other students and get to know them better.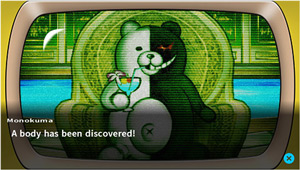 Once a murder occurs and three or more people have discovered the body, Monokuma will use the monitors placed throughout the island to issue his "body discovery announcement".

During your investigation, you can gather clues by examining the scene of the crime or by asking other students for information.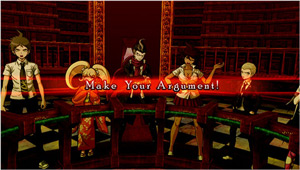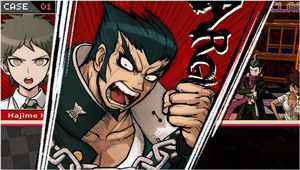 During the trial, you will use the evidence you found during your investigation to deduce the identity of the killer. Point out your classmates' lies and contradictions to finger the culprit.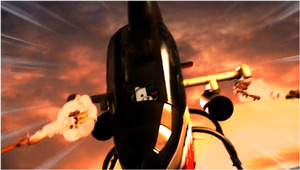 The killer will be punished by headmaster Monokuma...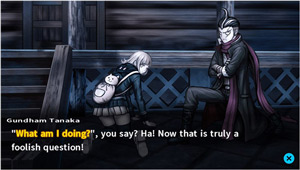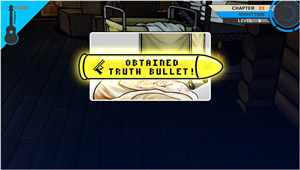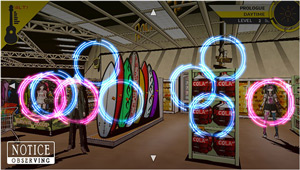 During the investigation, you must gather clues about the murder by interviewing other students and examining objects. As the investigation progresses, you will obtain Truth Bullets - hints that will help you solve the case. These hints may range from physical evidence to students detailing their account of events.
Furthermore, there are hidden Monokumas lurking throughout the island. If you can find them, you will earn a huge Monocoin payday.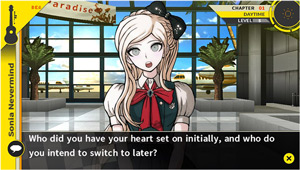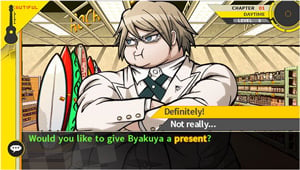 During Free Time, you can choose a student to spend time with and get to know them better. By spending time with a student and giving them presents, you can learn their personal secrets and form a stronger bond with them. Presents can be obtaining either through the Monomono Yachine or vending machines.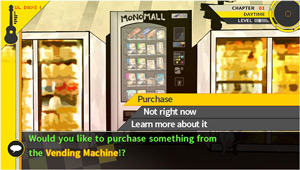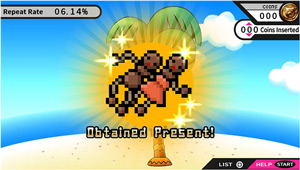 You can use these machines once you've reached a certain point in the story. By spending Monocoins, you can obtain various presents.
The Monomono Yachine dispenses different presents at random, while the vending machine allows you to spend set amounts of Monocoins to obtain specific presents.

The class trial starts after a murder has occurred. During the class trial, you will debate the surviving students to uncover the truth behind the incident and identify the true killer.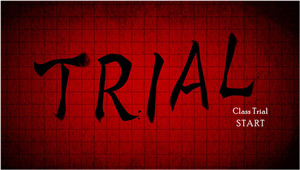 Before the class trial starts, you can prepare by assigning skills that you think will be useful during the trial. You can assign as many skills as you have available SP to spend on them. Your maximum SP will increased every time you level up.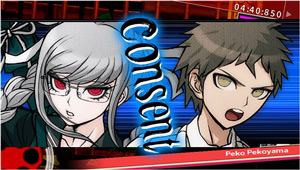 There will come a point during the class trial when the students will be confronted by several issues that need to be clarified. When that happens, the trial will shift to a "Nonstop Debate" so that the students can exchange their arguments. Using the Truth Bullets you obtained during your investigation, you can advance the trial by shooting down the weak points hidden in your classmates' statements and break a student's argument by either Refuting or Agreeing with it. If you point out something that is wrong or irrelevant, the other students will mistrust you and your Influence Gauge will lower. If the Influence Gauge reaches zero, the truth will remain shrouded in darkness, forever beyond your reach.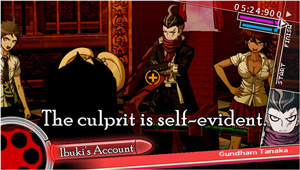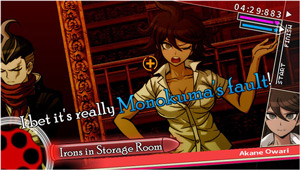 Weak Point - Refute:
These weak points are yellow. If you suspect that this part of a student's statement is false, you can refute it with the Truth Bullet that counters their argument.
Weak Point - Agree:
These weak points are blue. If you suspect that this part of a student's statement is true, you can agree with it by firing the Truth Bullet that supports their argument.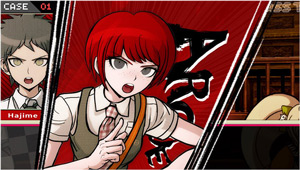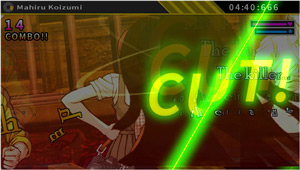 The Rebuttal Showdown will begin when a student denies your argument during a class trial. You can counterattack the statements in your opponent's rebuttal that appear by using the directional keys and x button. By doing this, you can skew the debate to your advantage in order to reveal the rebuttal's weak point and refute it.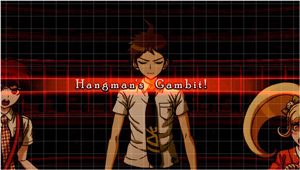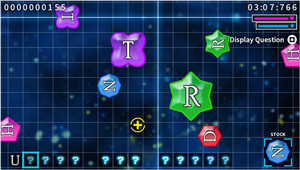 The Hangman's Gambit (Improved) will activate in situations where you need to figure out an important key word. Using the letters that appear onscreen from all directions, you must arrange the letters in the proper order to spell the key word. If you misspell the word or let different letters collide with each other onscreen, the letters will explode and you will receive damage. You can "catch" a letter to temporarily remove it from the field, then "release" it where the reticle is positioned. By doing this, you will prevent letters from colliding and have an easier time completing the key word.

The Logic Dive will activate when the main character needs to collect their thoughts. Skate through the tubular course created in your mind's eye and make your way to the correct answer by choosing the proper path when the course forks. If you select the wrong path, you will fall off the course.
As you progress the story, you will be able to enjoy various other modes as a diversion from the main game.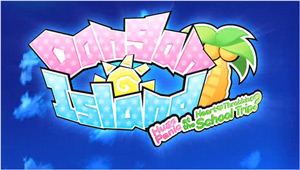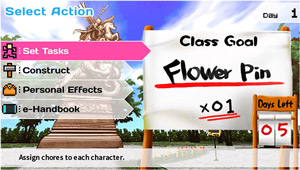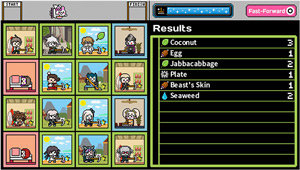 This mode is an alternate scenario in which the students get to enjoy their school trip without Monokuma's interference.
Work with your fellow students to complete the class goals assigned to you by Usami. You can also gather Hope Fragments with your classmates. If you manage to achieve your class goals, Usami will give you something nice!

The protagonist of Danganronpa 2: Goodbye Despair. Hajime lost all his memories prior to arriving at Jabberwock Island, so he doesn't even remember what his Ultimate talent is. Even when he's in a surreal situation surrounded by murder and mystery, Hajime does his best to stay positive and track down the killer so he and his classmates can survive.