Product Description
HP Spectre x360 13 Price & Specs
Product Have Very Slight scratches on Front Lid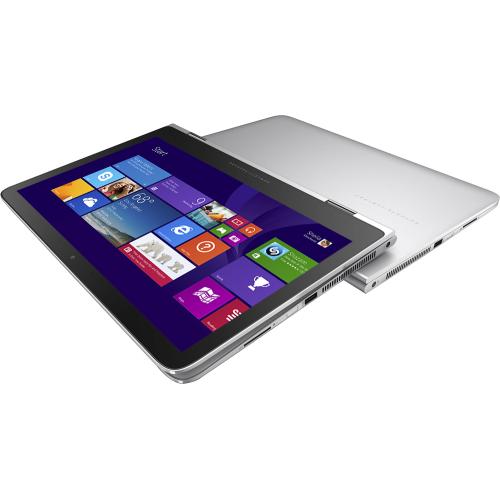 Recalibrate the way you think about thin. Impressively designed to put every single millimeter to work, the latest Spectre x360 trims away the excess - leaving you with a lean, sleek, lightweight powerhouse that demands zero compromises.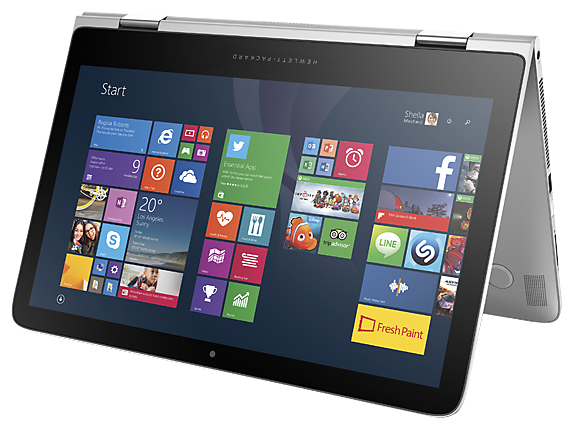 View and edit high-resolution photos on a 4K display5 with 8 million pixels of detail, or sketch and draw with your active pen and Windows Ink.3,10
Windows Ink: quickest way to bring ideas to life.
When the universal pen hits the Windows Ink certified panel your possibilities are endless. Quickly jot notes and drawings, or simply navigate without leaving smudges or fingerprints. 3,10
NVIDIA® Graphics Card
Editing graphic heavy, high-definition files needs a level of performance only a discrete graphics card can provide. Experience seamless, lag-free rendering with added power of NVIDIA® GeForce® 940MX every time you watch videos, create digital masterpieces and edit photos or videos.14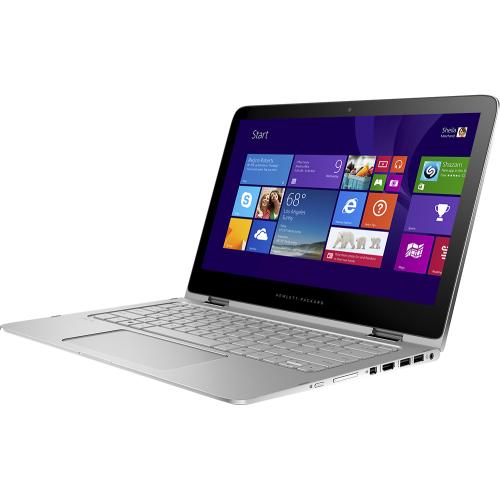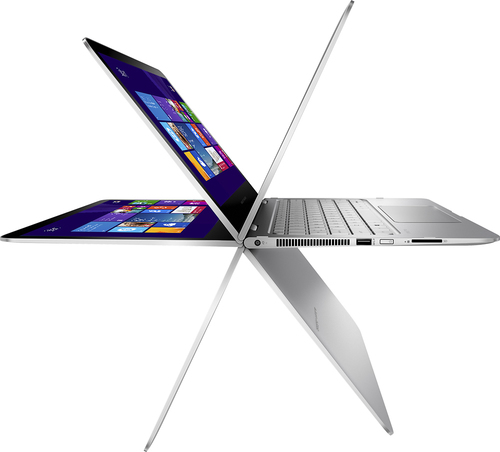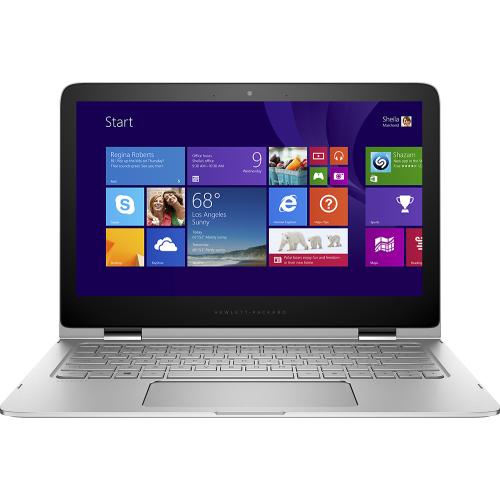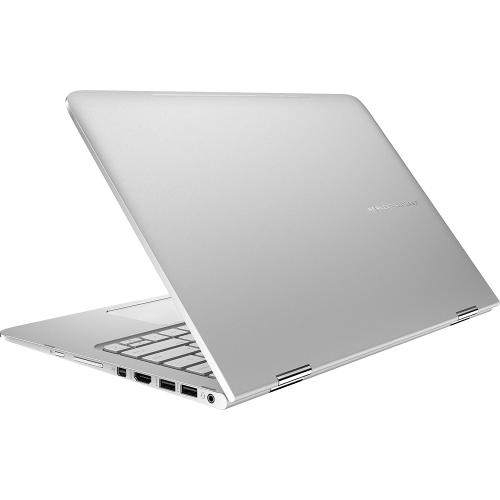 Memory
Cache Memory

Cache memory, also called CPU memory, is random-access memory (RAM) that a computer microprocessor can access more quickly than it can access regular RAM. This memory is typically integrated directly with the CPU chip or placed on a separate chip that has a separate bus interconnect with the CPU.

4 megabytes

Media Card Reader

Media card reader is a hardware device that lets you read and write data on a memory card such as a multimedia card.

No

Type of Memory (RAM)

Different types of RAM are available; some of the most common are DDR4, DDR3, and DDR2. Each type of RAM delivers a different level of speed, bandwidth, energy efficiency, and performance.

LPDDR3
Certifications & Listings
ENERGY STAR Certified

Devices carrying the Energy Star service mark, such as computer products and peripherals, kitchen appliances, buildings and other products, generally use 20% to 30% less energy than required by federal standards.

Yes

EPEAT Qualified

The Electronic Product Environmental Assessment Tool (EPEAT) was designed to provide an environmental assessment tool for purchasers. In order to qualify for EPEAT, a product must meet all 23 required criteria.

Yes

EPEAT Level

The Electronic Product Environmental Assessment Tool (EPEAT) was designed to provide an environmental assessment tool for purchasers. In order to qualify for EPEAT, a product must meet all 23 required criteria. Products are rated Bronze, Silver or Gold based on how many of 28 optional criteria they meet (below 50%, 50%, 75%).

Silver
Graphics
Graphics Type

There are two types of graphics: dedicated/discrete graphics card and integrated graphics. A dedicated graphics card has its own random-access memory (RAM), its own cooling system, and dedicated power regulators, with all components designed specifically for processing video images. Integrated graphics is the video hardware that is integrated into the motherboard or the CPU. In a PC with integrated graphics, the graphics processor shares system resources (like memory) with the CPU.

Integrated

Graphics Processing Unit/GPU

Intel HD Graphics 620

Total Available

Video Memory

The workspace of the graphics card, the video memory temporarily stores data the graphics card is handling. This allows faster access to data and improves graphics performance. If a computer uses integrated graphics, the GPU will share the computer's memory (RAM).

4162 megabytes
Included
HP ePrint, HP Support Assistant, HP Jumpstart, Netflix, HP Recovery Manager, HP Orbit, McAfee LiveSafe (30 days trial)

Optical Drive Type

An optical disk drive (ODD) uses a laser light to read data from or write data to an optical disc. These discs include CDs, DVDs, and Blu-ray Discs. This allows you to play music or watch movies using prerecorded discs.

None

Additional Accessories Included

Power adapter, Stylus pen

No

Yes

Yes
Connectivity
3

Port Type(s)

USB 2.0 connects external drives, gaming controllers, smartphones, MP3 players and other accessories. USB 3.0 transfers data faster than USB 2.0, but only when used with USB 3.0 devices. USB Type-C provides fast speeds and versatile power, featuring connectors with identical ends that plug in upside down or right side up. Adapters allow for video as well as backward compatibility. Thunderbolt provides ultra-high bandwidth for fast data transfer between devices featuring a Thunderbolt or MiniDisplayPort connection. HDMI allows you to connect a projector or display HD media on your HDTV or monitor. Media card slots allow you to transfer photos from your digital camera or camcorder.

DisplayPort, Headphone, Microphone, USB 3.1, USB Type C

Bluetooth Enabled

This device will connect to other Bluetooth-enabled devices without the need for cables or cords. Many wireless printers, wireless speakers, wireless keyboards, wireless mice, wireless headphones, desktops, laptops, tablets, and cell phones are Bluetooth enabled.

Yes

NFC Enabled

Near-field communication (NFC) enables two electronic devices, one of which is usually a portable device such as a smartphone, to establish communication when the devices are no more than 2" apart. This wireless data transfer method detects and enables technology in close proximity to communicate without the need for an Internet connection.

No

Embedded Mobile Broadband

None
Network
Wireless Networking

This device can connect via Wi-Fi to other devices without using cables or cords.

Wireless-AC (867 Mbps)

No
Display
Screen Resolution

Higher resolution equals better picture quality. Screens come in a range of resolutions (measured in pixels, horizontal x vertical). The higher the resolution the greater the picture quality.

1920 x 1080 (Full HD)

Touchscreen Widescreen LED-LCD

No

Active (Windows Ink Capable)
General
Lithium-ion polymer

3-cell

Natural silver

Silver

13-AC013DX
Dimension
0.55 inches

12.07 inches

8.58 inches

2.89 pounds
Customer Review

Product Reviews
Product is Coming Soon Or Out of Stock