Hyperdevotion Noire: Goddess Black Heart, the very first strategy RPG in the Hyperdimension Neptunia series. Unlike previous Hyperdimension Neptunia games, Hyperdevotion Noire is not set within the world of Gamindustri, but instead within a similar, but separate, world known as "Gamarket." The goddesses of each of the four nations are locked in heated battle against one another for dominion over this world. Just as Noire is one step away from complete domination, the goddesses are suddenly robbed of their powers by an unknown force. Now in order to save the world from destruction, the four goddesses must unite Gamarket and defeat the onslaught!
A Moe Army Awaits
Lead goddesses in their first-ever foray into strategy RPG gameplay, taking on enemies in a whole new way. You'll fight off hordes of enemies in turn-based strategy, dodging laser beams and flaming pits, and using dangerous environments against your enemy.
Link Up with the "Lily System"
The more often characters are in battle together, the higher their bond becomes. Activating the "Lily Boost" grants special stats and abilities, while "Lily Points" can be used to activate ultra-special moves and even goddess transformations. Don't be shy to build up those battle relationships and seal it all with a kiss!
Livin' the Noire Life
Sometimes Noire just wants to relax at home, and with the "SimNoire" mode you'll be able to do just that! Customize the place by buying furniture and accessories with in-game points, and make Noire feel like the goddess she is. She'll also get to go out with friends and build up her social level!
Item Customization & Dual Languages
You'll get tons of replay with so many ways to boost your gear's stats. The more enemies you defeat, the more items you can get to customize your gear in whatever way you see fit. Let the great experiment begin!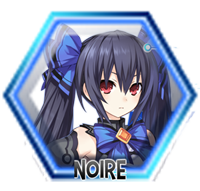 The protagonist of this game. Noire is the CPU of Lastation, making her the leader of one of the four nations that make up Gamarket. She has a hard time expressing her true feelings, and instead puts up a defensive wall. In other words, she is a classic tsundere.
When she activates HDD, her personality shifts and she becomes more confident and haughty, but also fools around a bit more than she should.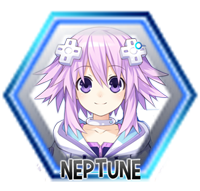 The former main character of the Neptunia series. Neptune is the CPU of Planeptune, making her the leader of one of the four nations that make up Gamarket. She has more energy and optimism than a sack full of rainbows. This attitude tends to get her into trouble.
After accessing HDD, she becomes a calm, mature woman—a stark contrast to her normal personality. She's aware of it, and tries her best to compensate.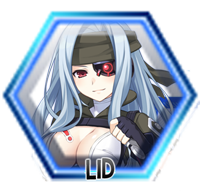 A collected, objective-minded woman, Lid normally has her ducks in a row. If one falls out of line, she lets everyone know without beating around the bush. Fearing confrontation, she prefers to set traps, hide inside her cardboard box, and keep tabs on those around her. If she is taken aback, she tends to flub her lines and bite her tongue.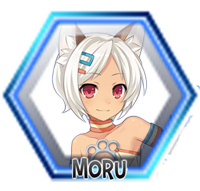 True to her appearance, she is the youngest of the generals. She is full of energy, pure, and innocent to a fault. Her breadth of knowledge is quite narrow, so she tends to go off and do only the things she knows how to do. Moru is an excellent tracker, able to find any enemies or animals based on subtle signs like broken twigs, crunched leaves, or by smell.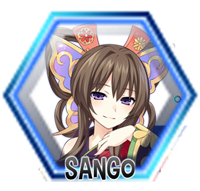 Sango thinks herself the mightiest of all and maintains this arrogance in her interactions with others. She enjoys teasing and bringing calamity to others, giving her a sadistic streak, but she does not seem to mind receiving the same treatment...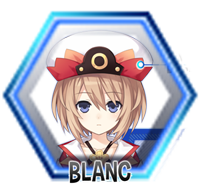 Blanc is the CPU of Lowee, making her the leader of one of the four nations that make up Gamarket. She usually keeps to herself and has a calm demeanor, but once she snaps, nobody can stop her until her rage subsides.
Based on appearances, she looks like the youngest of the four CPUs. She has a complex about that.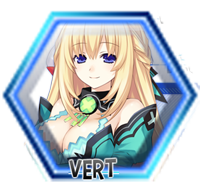 Vert is the CPU of Leanbox, making her the leader of one of the four nations that make up Gamarket. Among the four CPUs, she looks like the most mature one and acts like an older sister toward the others. She is also a hardcore gamer. Vert also has a soft spot for cute girls. She will do anything to make them like her.
After activating HDD, she becomes even more level-headed and mature. But she still shows off her assets in the same manner.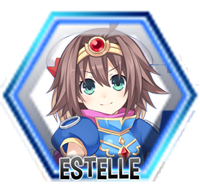 A simple-minded, energetic, and naïve girl, Estelle is a self-professed "legendary" hero seeking "legendary" items. Her quest gets her in trouble from time to time, even though she means no harm through her actions.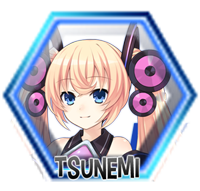 Tsunemi struggles to show her emotions and comes across as having a stiff, almost mechanical personality. Despite this, she is very sensitive to the emotions of others. She is best able to communicate her true feelings through song.
As a fighter, Lee-Fi values strength over all else. Admiring those with strength that rivals or bests her own, she will obey their command once they have defeated her in combat. She would rather act before thinking.