Product Description
Microsoft Lumia 950 Price & Specs.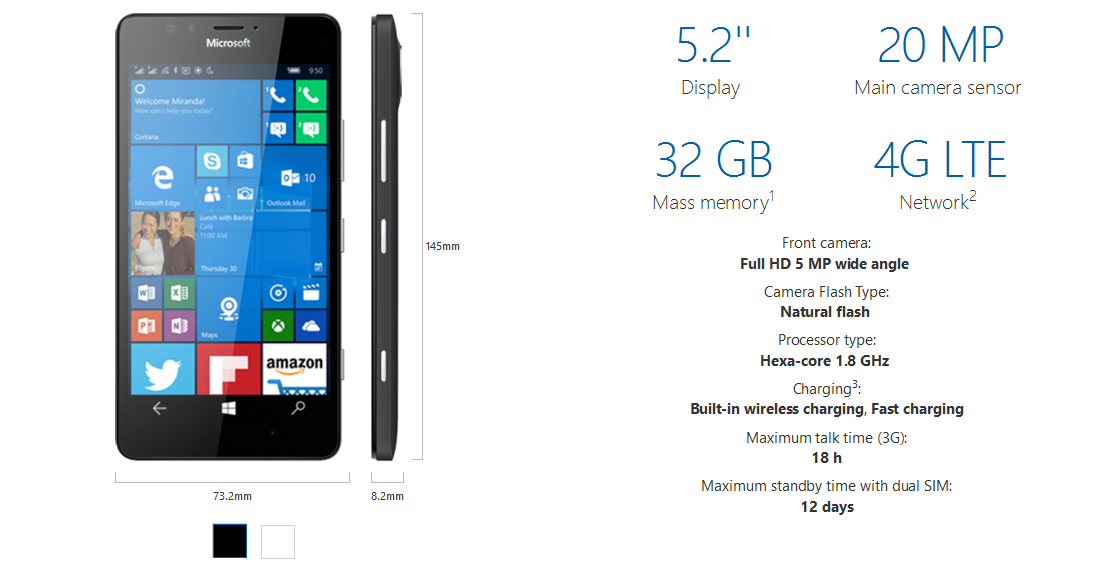 Essentials

Operating System
Software release: Windows 10

Size & weight
Length: 145 mm
Width: 73.2 mm
Thickness4: 8.2 mm
Weight: 150 g

Display
Display size: 5.2 ''
Display resolution: WQHD (2560 x 1440)
Display colours: TrueColor (24-bit/16M)
Display technology: AMOLED, ClearBlack
Pixel density: 564 ppi
Display features: Orientation sensor, Sunlight readability enhancements, Corning® Gorilla® Glass 3, Easy to clean, High brightness mode,Lumia Color profile, Wide viewing angle, Automatic brightness control
Touch screen technology: Capacitive multipoint-touch

Memory
Mass memory1: 32 GB
RAM: 3 GB
Maximum memory card size5: 200 GB
Expandable memory card type: MicroSD
User data storage: In device, OneDrive cloud storage, App and data storage on memory card

Battery6
Replaceable battery: Yes
Battery capacity: 3000 mAh
Battery voltage: 3.85 V
Charging3: Built-in wireless charging, Fast charging
Wireless charging standard: Qi
Maximum standby time with dual SIM: 12 days
Maximum talk time (2G): 23 h
Maximum talk time (3G): 18 h
Maximum music playback time: 67 h
Maximum Wi-Fi network browsing time: 9.5 h
Maximum video playback time: 10 h

Design
Design details: Exchangeable back cover
Other user interface features7: Glance screen, Tactile feedback, Voice Commands, Voice dictation in edit fields

Keys and Input Methods
User Input: Touch
Dedicated hardware key: Volume Keys, Camera Key, Power/Lock key

Sensors
Sensors: Ambient Light Sensor, Accelerometer, Proximity Sensor, Barometer, Gyroscope, Magnetometer, SensorCore

Processor
CPU name: Qualcomm Snapdragon 808
Number of cores: Hexa core
Clock rate: 1800 MHz


Connectivity
Connectivity basics
SIM card type: Nano SIM
Dual SIM: Dual Standby SIM
AV connectors: 3.5 mm stereo headset connector, DisplayPort over USB-C
Charging connectors: USB-C
System connectors: USB-C
USB: USB 3.1, USB Dual Role Port (Gen1)
Bluetooth: Bluetooth 4.1
Bluetooth profiles: Advanced Audio Distribution Profile (A2DP) 1.2, Audio/Video Remote Control Profile (AVRCP) 1.3, Generic Attribute Profile (GATT), Hands-free profile (HFP) 1.6, Human Interface Device Profile (HID), Object Push profile (OPP) 1.1, Personal Area Network Profile (PAN) 1.0, Phone Book Access Profile (PBAP) 1.1, HID over GATT profile (HOGP) 1.0, Message Access Profile (MAP) 1.1
NFC: Pairing, Secure NFC for payment, Sharing, Tagging
Wi-Fi: WLAN IEEE 802.11 a/b/g/n/ac, MIMO, Wi-Fi call
Wi-Fi hotspot: Up to 8 Wi-Fi-enabled devices
Other wireless connectivity: Screen projection
Local sharing
Peer-to-peer sharing: Nearby Discovery
Cellular connectivity2
GSM network: 850 MHz, 900 MHz, 1800 MHz, 1900 MHz
GSM max data speed DL: EGPRS 296.0 kbps
GSM max data speed UL: EGPRS 236.8 kbps
WCDMA network: Band 1 (2100 MHz), Band 2 (1900 MHz), Band 4 (1700/2100 MHz), Band 5 (850 MHz), Band 8 (900 MHz)
WCDMA max data speed DL: 42.2 Mbps (Cat 24)
WCDMA max data speed UL: 5.76 Mbps (Cat 6)
LTE FDD network: Band 1 (2100 MHz), Band 2 (1900 MHz), Band 3 (1800 MHz), Band 4 (1700/2100 MHz), Band 5 (850MHz), Band 7 (2600 MHz), Band 8 (900MHz), Band 12 (700 MHz), Band 17 (700MHz), Band 20 (800MHz), Band 28 (700 MHz)
TD-LTE network: Band 38 (2570-2620 MHz), Band 40 (2300-2400 MHz)
LTE max data speed DL: 150 Mbps (Cat 4)
LTE max data speed UL: 50 Mbps (Cat 4)


Maps and navigation
GPS and navigation8
Location technologies: A-GLONASS, A-GPS, Barometer, Cellular and Wi-Fi network positioning, Sensor enhanced positioning, Gyroscope, A-BeiDou
Maps: Free maps, Online and offline favourites, Pin places to Start screen, Real-time traffic information, Reveal the surrounding places, Turn-by-turn walk directions, Public transport and drive directions, Free global voice guided turn-by-turn drive navigation, Offline maps and navigation, Speed limit information, Map views: satellite - street map - public transport
Navigation apps
Maps Maps


Camera
Main camera
Main camera: 20 MP
Camera Focus Type: Auto focus with two-stage capture key
Camera digital zoom: Yes
Camera optics: 6-lens optics
Stabilization: Optical image stabilization
Oversampling: Yes
Sensor size: 1/2.4 inch
Camera F number/aperture: f/1.9
Camera focal length: 26 mm
Camera Flash Type: Natural flash
Camera features: Backside-illuminated image sensor, PureView, True 16:9 sensor, Fast Focus, High resolution zoom
Camera minimum focus range: 10 cm
Front-facing camera
Front camera: Full HD 5 MP wide angle
Front camera f-number/aperture: f/2.4
Front camera features: Still image capture, Video call, Video recording
Front camera video resolution: 1080p (Full HD, 1920 x 1080)
Video recording
Main camera video resolution: 4K (Ultra HD, 3840 x 2160)
Camera video frame rate: 30 fps
Video recording features: Video zoom, Optical image stabilization, Continuous autofocus, Video Light, Lumia Rich Recording with four
microphones
Video recording formats: MP4/H.264
Photography apps
Creative Studio Creative Studio


Video and Audio
Audio
Audio recording codecs: AAC LC, AMR-NB, GSM FR
Audio recording features: Lumia Rich Recording with four microphones
Audio playback features: Graphical equalizer, Virtualized loudspeaker listening
Video playback
Video playback frame rate: 30 fps
Video playback codecs: H.263, H.264/AVC, MPEG-4, VC-1, Windows video, H.265/HEVC
Video streaming: YouTube browsing and video streaming, Streaming from video services and internet, Progressive video download
Music apps
MixRadio MixRadio
Groove Music Groove Music


Other services and features9

Tools and productivity
Productivity features: Calendar, Interactive notifications, Pin information to start screen, Reminders, Voice dictation in edit fields, Wired and wireless Continuum for phone, Word flow keyboard
Features (Personal information Management): Calculator, Clock, Alarm clock, Reminders, Phonebook, To-do list, Kid's Corner, OneNote, Social networks in Phonebook, Wallet, File Manager
Business apps: Adobe Reader free download, Company Hub for enterprise applications, Microsoft Outlook, OneDrive storage for documents and notes, Skype for Business, Integrated OneDrive for business, Office apps
Back-up and restore your data: Yes
Syncronization: Exchange ActiveSync, Via Windows Phone apps, OneDrive documents
Device management: AirWatch, MobileIron, Symantec, Microsoft System Center, OMA Client Provisioning v1.1, OMA Device Management v1.1.2, OMA Device Management v1.2, Windows Intune
Call management
Call types: Conference call, HD Voice call, Skype video call, Skype voice call
Features (Call Management): Call waiting, Call history, Call forwarding, Integrated hands-free speakers, Speed dial, Voice mail, Call recording, Seamless upgrade to video call
Noise cancellation: Multi-microphone uplink noise cancellation
Supported amount of phonebooks: One integrated phonebook
Other Applications
Game features: Touch UI, DirectX 11, Xbox
Email
Email features: Viewing and editing of email attachments, Multiple email accounts, HTML emails, Inbox filtering, Text-to-speech message reader, Conversational view on email, Linked inboxes
Messaging features
Messaging features: Text messaging, Automatic resizing of images for MMS, Distribution lists for messaging, Multimedia messaging, Conversational chat style SMS, Unified inbox for SMS and MMS, Concatenated SMS for long messages, Integrated text messaging and chat, Number screening for messaging, Text-to-speech message reader, Built-in RCS chat

Browser
Browser: Microsoft Edge
Social apps
Facebook Facebook
LinkedIn LinkedIn
Twitter Twitter
WhatsApp WhatsApp
OneDrive OneDrive


Device security
Device security
General security features: Device lock, PIN code, Device lock passcode, Regular signed firmware updates, Track and Protect via internet, Application certification, Application sandboxing, Backup and restore via Internet, Browser integrated anti-phishing, Remote device lock via Internet, Remote device wipe via Internet, Secure boot, Signed OS, Consumer VPN, Windows Hello beta
Enterprise security features: Mobile VPN, Remote lock and wipe, Hardware accelerated device encryption, Mobile device management, Remote security policy enforcement, Data protection under PIN lock, Secure identities
Supported security standards: TLS v1.0, TLS v1.1, TLS v1.2, SSL v3.0, Suite B ciphers
WLAN Security: EAP-TTLS/MSCHAPv2, WPA, WEP, EAP-AKA, PEAP-MSCHAPv2, WPA2 (AES/TKIP), WPA2-Enterprise, WPA2-Personal, EAP-TLS, WPA-Enterprise, EAP-SIM, WPA-Personal


Environmental features
Environment
Materials: Free of PVC, Contains recycled metals, Free of nickel on the product surface, Free of BFR
Packaging: Made of renewable materials, Minimized package, Packaging is 100 % recyclable, Virgin wood fibres up to 90% certified, Containing up to 20% recycled materials
Energy efficiency: Automatic screen brightness adjustment, Battery saver feature, Energy efficient charger
Product recycling: 100% recoverable as materials and energy
Eco content and services: Available at Store, Maps for route optimization and navigation
User guide: In-device user guide, Small printed guide


Accessibility
Accessibility features
Hearing: Vibrating alerts, BT neckloop compatible, TTY support, Video call
Vision: Vibrating alerts, Voice recognition, Font magnification, Voice Commands, Customizable home screen, High contrast mode, Screen
magnification
Physical skills: Voice Commands, Customizable home screen, Speakerphone, Speed dial, Voice recognition, Voice wake-up


What's in the box
Contents
Microsoft Lumia 950 Dual SIM
Product user guide
Battery
Charger
USB-C cable
Headset

The availability of particular products, services and features may vary by region. Please check with your local Microsoft dealer for further details. Microsoft account, Wi-Fi or data network connection and additional fees or subscriptions are required for some features. Apps are available from Windows Store. The specifications are subject to change without notice.

1Pre-installed system software and apps use a significant amount of storage; less internal storage will be available to users. See here for more details.

2Coverage, service, and 4G/LTE are not available everywhere; actual data speeds may vary. See carrier for coverage details.

3Requires a compatible charging accessory, which may be sold separately.

4Volume thickness.

5The device supports SDXC 3.01 standard compliant cards. 200GB cards currently available.

6Talk, standby and playback times are estimates only. Actual times are affected by, for example, network conditions, device settings, features being used, battery condition, and temperature. Battery has limited recharge cycles and battery capacity reduces over time. Eventually the battery may need to be replaced.

7Voice features only available in supported locales and languages.

8Downloading of maps over-the-air may involve transferring large amounts of data. Your service provider may charge for the data transmission. The availability of products, services and features may vary by region. Please check with your local Microsoft dealer for further details and availability of language options. These specifications are subject to change without notice.

9Some services may be available only via downloading or dependent on the market. Only devices that offer compatible multimedia message or email features can receive and display multimedia messages. Content appearance may vary. Some images and ring tones can not be forwarded.