Product Description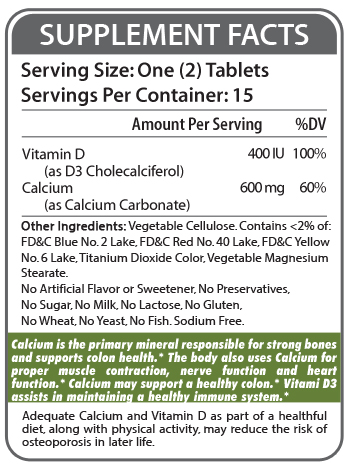 WHY THIS DIETRY SUPPLEMENT IS NECCSSERY?
Your body depends on calcium and Calcium 600 with Vitamin D3 is an easy, convenient, and safe way to help your body get it. This health supplement contains Calcium Carbonate with Vitamin - a combination specifically chosen to support your bones skeleton, muscle contraction, nerve function, colon system. Also may support in maintaining a healthy immune system.
Calcium is the primary mineral responsible for strong bones and supports colon health. The body also uses Calcium for proper muscle contraction, nerve function and heart function.

ROLE OF VITAMIN D3:
Vitamin D3 helps maximize calcium absorption along with bone fortifying minerals for healthy bone formation.
Vitamin D3 also supports immune system. Emerging science suggests Vitamin D3 may support breast health as well.
FOOD AND DRUG ADMINISTRATION:
Calcium is one of the best defence against osteoporosis. The FDA claims that regular exercise and a healthy diet with enough calcium may help teens and young women to reduce their high risk of osteoporosis in life.
BENEFITS:
Calcium also has benefits in other body systems by reducing blood pressure and cholesterol levels.

Calcium and vitamin D supplements have been shown to help prevent tooth loss in older adults.

Vitamin D decreases bone loss and lowers the risk of fracture.

Helps maintain a healthy colon system and supports immune system.
Customer Review

Product Reviews
Product is Coming Soon Or Out of Stock