Product Description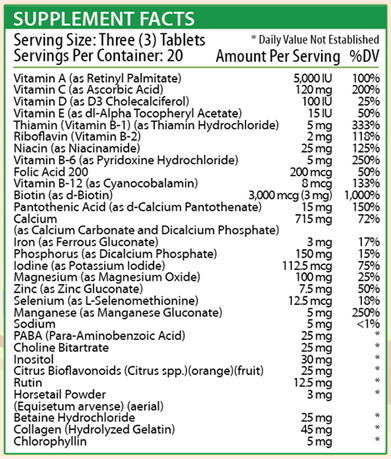 Beautiful & HealthyHair, Skin & Nails
Hair, Skin & Nails Formula is a complete daily multi-vitamin that provides targeted nutrition for healthy, lustrous hair, glowing skin and strong nails. This dietary supplement is a complete daily nutrition to help you feel as good as you look.Adequate intake of essential nutrients such as Biotin, Vitamin C, Vitamin D, Vitamin E, Vitamin B6 & B12, Calcium, and amino acids, along with important antioxidants, helps to support beautiful hair, skin and nails.
Features & Benefits
3 mg of Biotin to Support Healthy Hair, Skin & Nails
Complete Your Daily Intake of Vitamin C, D, E, & B
Natural Ingredients - 100% Safe
Antioxidants to Fight Cell Aging
Supports Beauty From Within
Your Daily Intake of Vitamins & Nutrients
This is Why we Claim this DietarySupplement is a CompleteNutritions' Daily Intake
Skin, hair and nails are related in their anatomy and physiology. The outer layer of skin, the hair and nails are all keratinized structures. Basic requirements for the health of these structures include adequate intakes of nutrients such as protein, essential fatty acids, minerals and vitamins.Blackmores Nails Hair & Skin contains nutrients which have been found to contribute to the health of nails, hair and skin:
Biotin is an essential vitamin for the skin, hair and nails. Biotin may strengthen brittle nails and reduce breaking and splitting. It also may increase nail thickness.
Vitamin C is important in the production of collagen. Other Vital vitamins are included to make a balanced nutritional support.
Zinc helps maintain the structural integrity of the nails, hair and skin.