Product Description
Life is full of surprising, joyful moments—moments worth remembering. The D3300 makes it fun and easy to preserve those moments in the lifelike beauty they deserve: stunning 24.2-megapixel photos and 1080p Full HD videos with tack-sharp details, vibrant colors and softly blurred backgrounds. With its included zoom lens, the new ultra-compact AF-S DX NIKKOR 18-55mm f/3.5-5.6G VR II, the D3300 is a small and light HDSLR and easy to use, too. Like sharing photos? The D3300 photos can appear instantly on your compatible smartphone or tablet for easy sharing with the optional WU-1a Wireless Adapter*! Whether you're creating high-resolution panoramas, adding artistic special effects or recording HD video with sound, the D3300 will bring you endless joy, excitement and memories—just like the special moments of your life.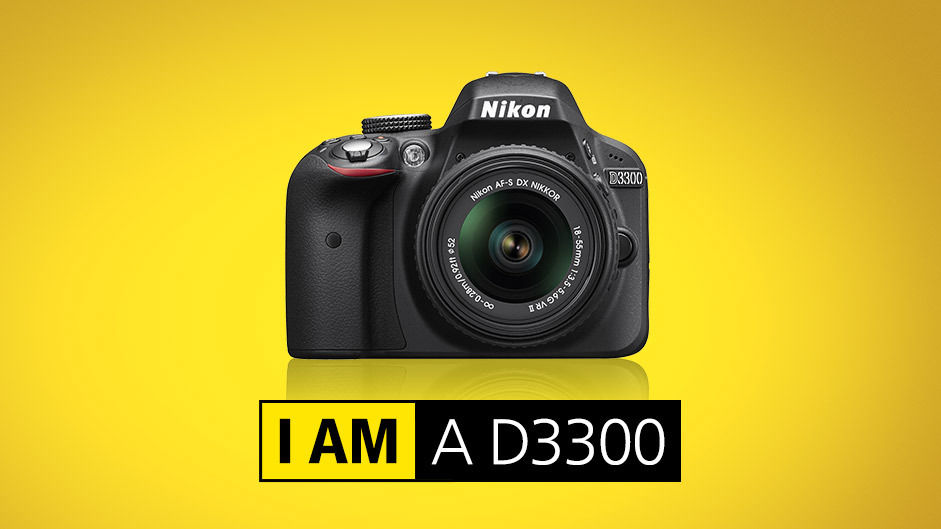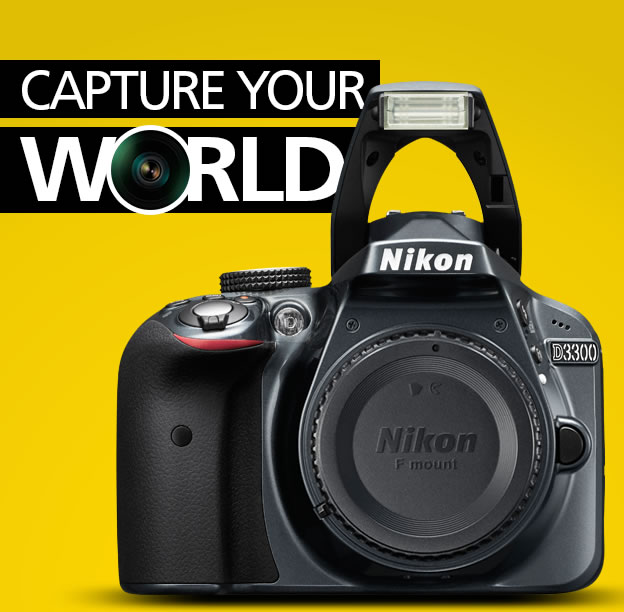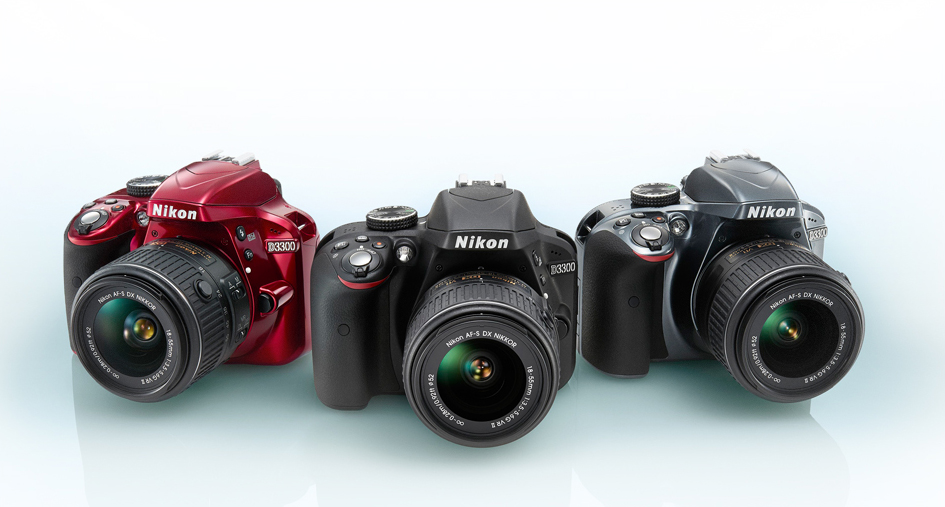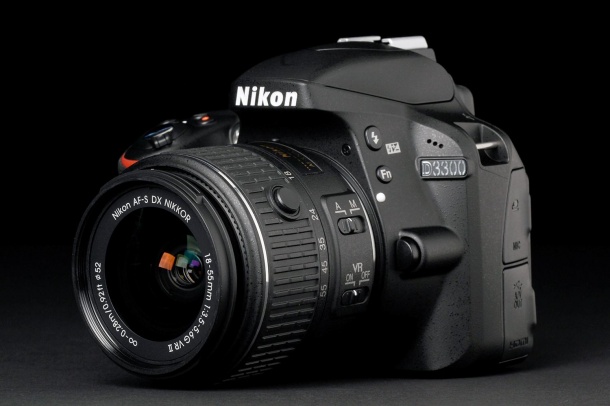 Design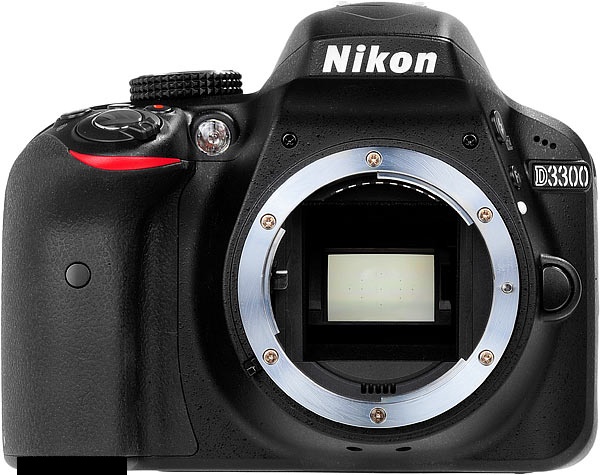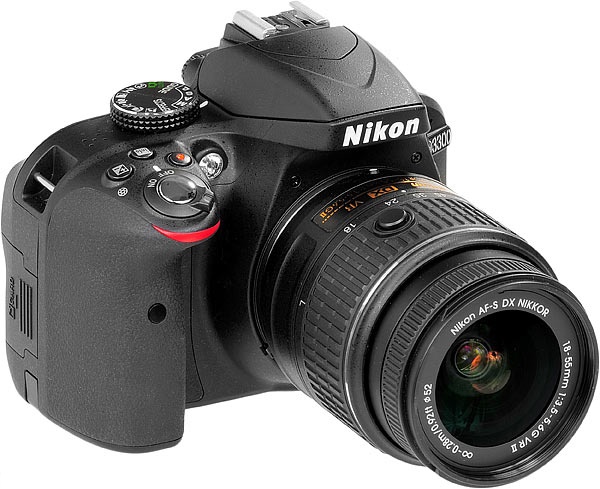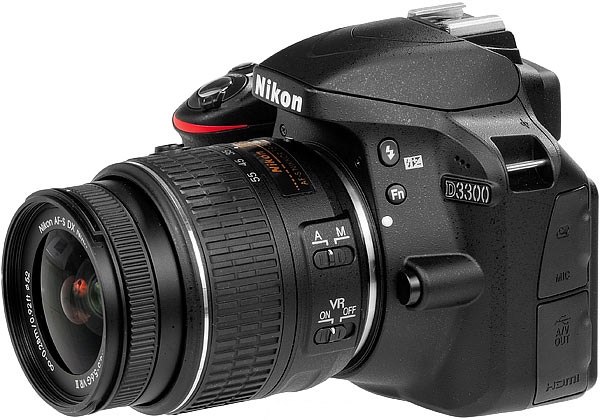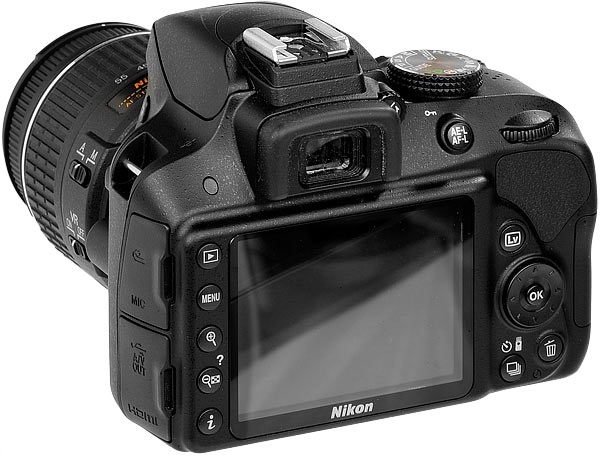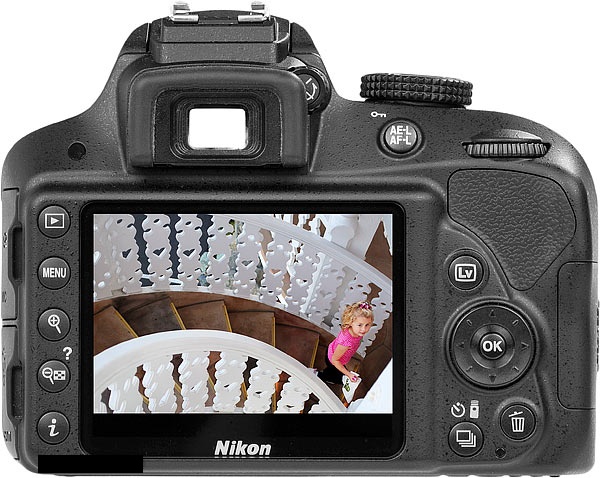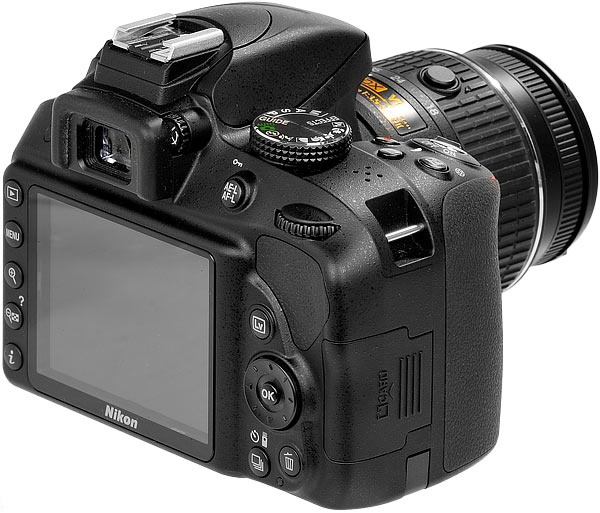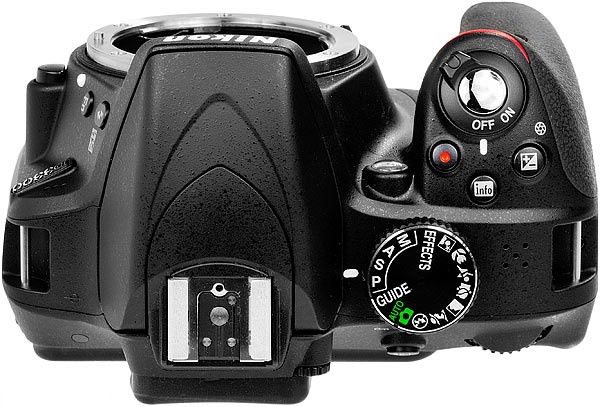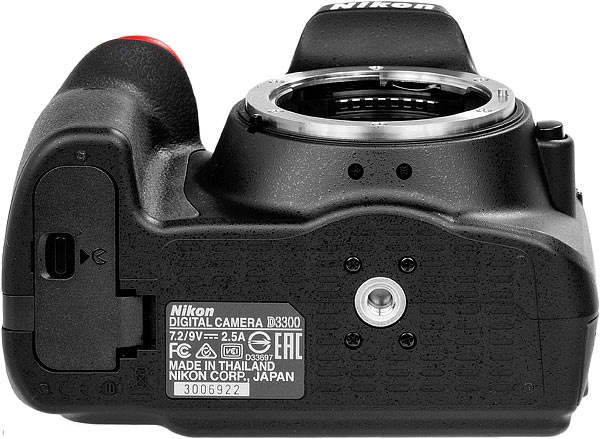 Features
Beautiful memories made easy
Create stunning lifelike photos and HD videos
Taking snapshots with a smartphone is convenient, but are those photos good enough for preserving precious moments? The D3300's new EXPEED 4 lets you shoot at high speeds up to 5 frames per second, shoot in low light with high ISO sensitivity, create high-resolution panoramas and much more. Your 24.2-megapixel photos and 1080p Full HD videos will be so impressive, so rich with detail† and color—so lifelike—they'll bring back the feelings of the moments they capture.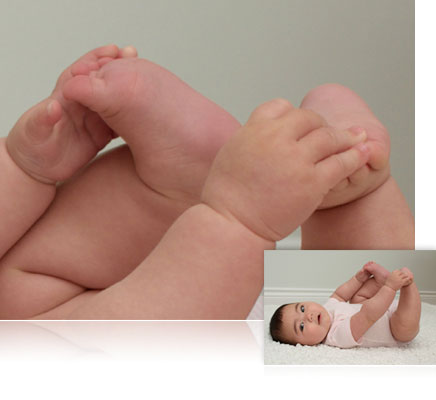 Use your smartphone with it
Share photos instantly with your compatible smartphone or tablet
Attach the optional WU-1a Wireless Adapter and marvel as the photos you take with the D3300 instantly appear on your compatible smartphone or tablet. Share your favorite shots without missing a beat—text them, email them, upload them to your favorite social networking sites—it's your choice! You can even use your compatible smartphone or tablet as a remote monitor for the D3300. See what the camera sees and fire the shutter, perfect for self-portraits and group photos that actually include you.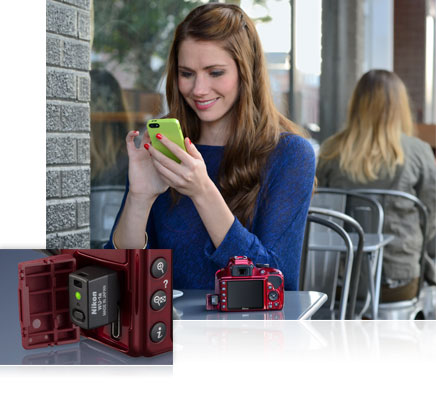 Impress with Every Shot
Using the D3300 is super easy—and a blast. Can't get the whole scene into your frame? Turn on Easy Panorama Mode and pan across the scene—the D3300 will capture the entire view as a high-resolution panoramic image. It's that easy! Guide Mode gives step-by-step help when you need it (it's like having an expert at your side), and you can easily get creative with built-in Image Effects, filters and more. You even get to choose which color you want for your D3300—black, grey or red!

Take it everywhere
Compact, lightweight and reliable
The D3300 is a small and light HDSLR camera even when paired with the included AF-S DX NIKKOR 18-55mm f/3.5-5.6G VR II lens, which has a new ultra-compact design. The combination is designed to fit comfortably in your hands, and all of the D3300's buttons and dials are positioned for convenient, efficient operation. You'll take the D3300 everywhere you go, which means you'll bring home all the beautiful memories of your activities.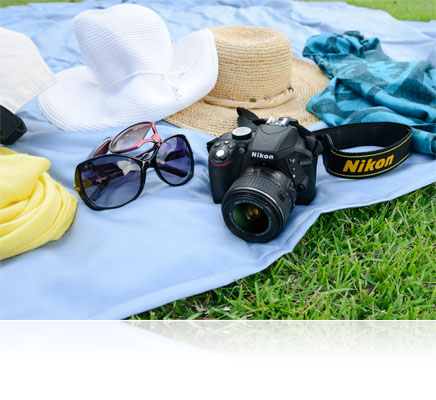 Enjoy the view
Like all DSLR cameras, the D3300 has an optical viewfinder that gives you a true view through the lens of the camera—and what a view it is! If you've been using a point-and-shoot camera, you'll find it easier to frame your shots, follow moving subjects, zoom in on bright sunny days and more.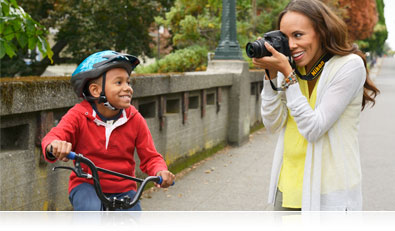 Catch every moment
When the action starts, hold down the shutter button to capture every movement, expression and feeling at 5 frames per second—that's 5 beautiful photos for every second of action! You won't believe some of the moments you'll catch thanks to Nikon's new high-speed EXPEED 4 processing engine.

Focus on the details
The D3300's 11-point Autofocus System locks onto your subjects as soon as they enter the frame and stays with them until you catch the shot you want. Even fast-moving subjects are captured with tack-sharp precision. And when you're recording Full HD video, Full-time Autofocus keeps the focus where you want it.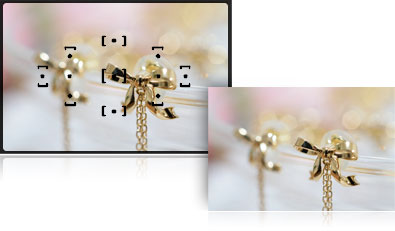 Capture the sights and sounds
The D3300 doesn't only take great photos, it takes dazzling 1080p Full HD video with sound, too! Record smooth, ultra-sharp HD movies you can play back on your HDTV or upload to video sites. You can even apply those fun special effects for more creativity!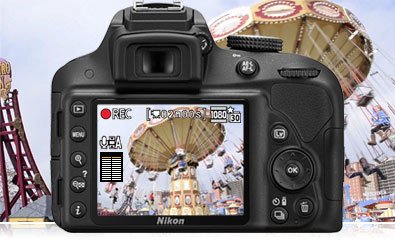 Additional Features
Brighten shadowy areas
The D3300's Active D-Lighting preserves the details and tones in both the bright and dark areas of your photos, so shadows are no problem. A new D-Lighting setting in the Retouch menu provides optimal correction for portraits, highlighting your subject against an evenly lit background.
Succeed in tricky situations
Even if you're new to DSLR photography, getting great results in difficult situations couldn't be easier—just select from 6 common Scene Modes for your situation, or switch to Full Green Auto Mode and let the camera pick for you.
Easily edit your photos
Make your photos even more impressive with the D3300's Retouch Menu. Easily crop in on your subject, alter the coloring, add special effects and more right in the camera—no additional software needed.
Add some style
Easily shoot in Black & White, enhance the intensity of colors, optimize the tones for flattering portraits and more with Picture Controls. Select one of 6 presets or create your own.
Grow your capabilities
The D3300 is compatible with Nikon's complete collection of legendary NIKKOR lenses and optimized for AF-S DX-format NIKKOR lenses. Every lens offers a unique view of the world. Have fun growing your own collection.
Camera Samples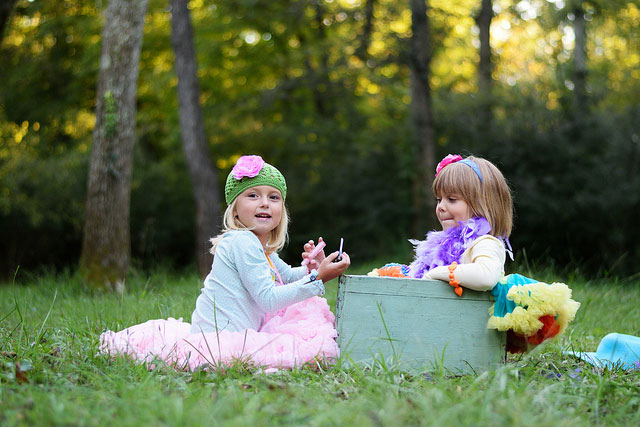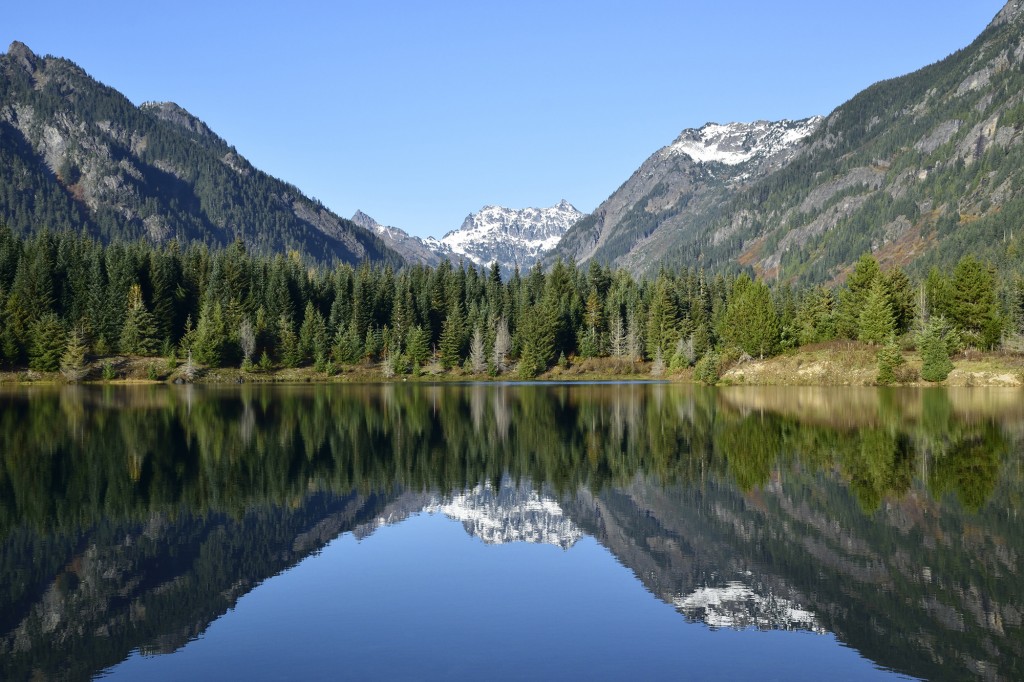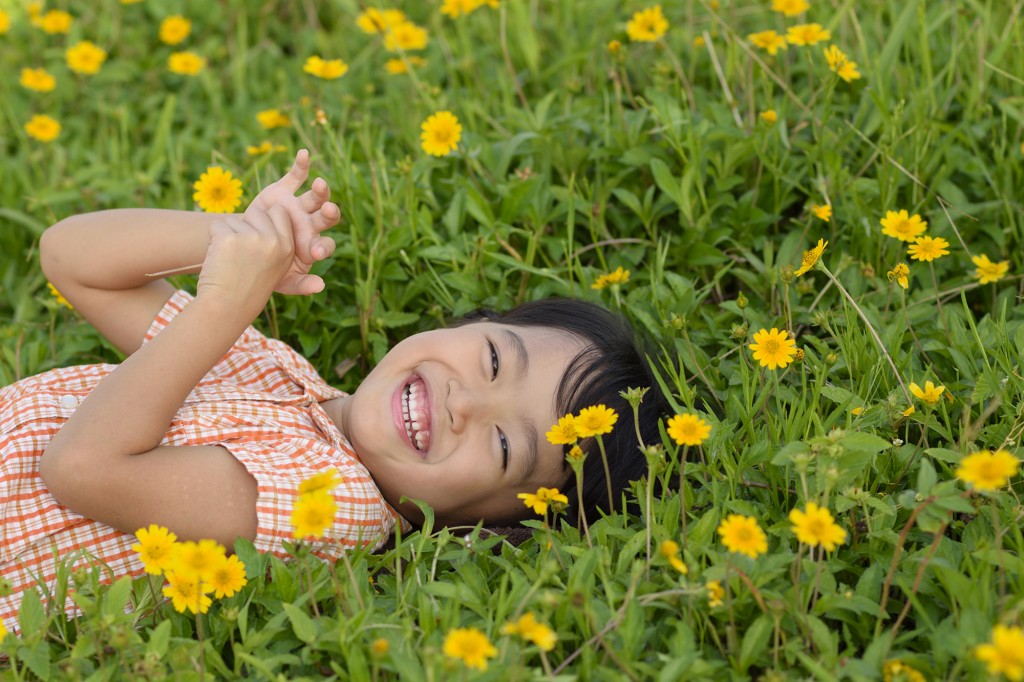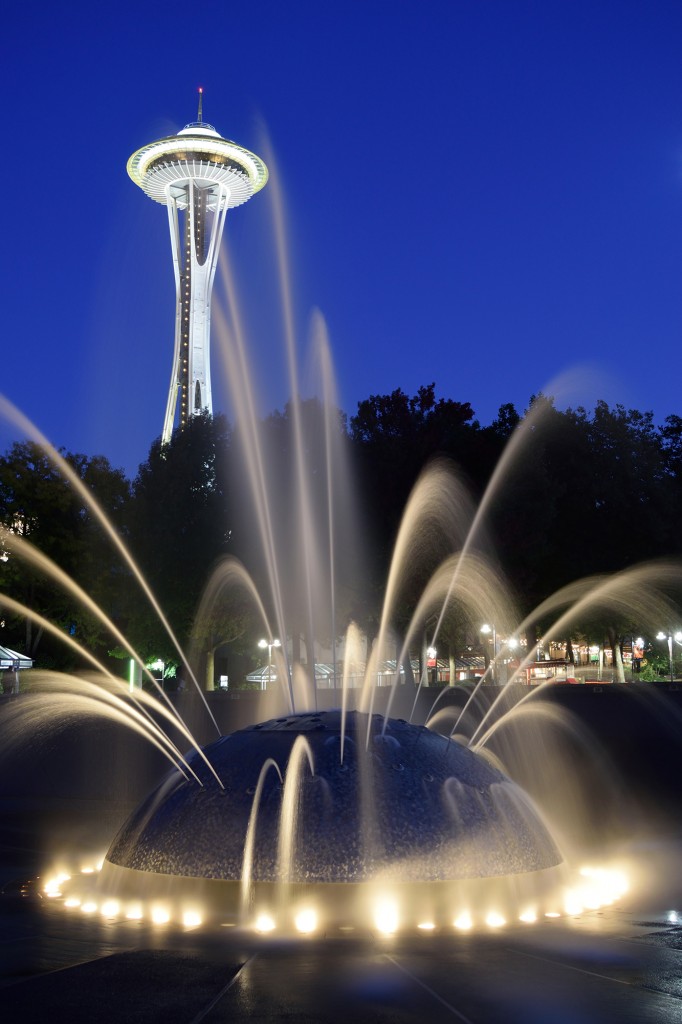 Unboxing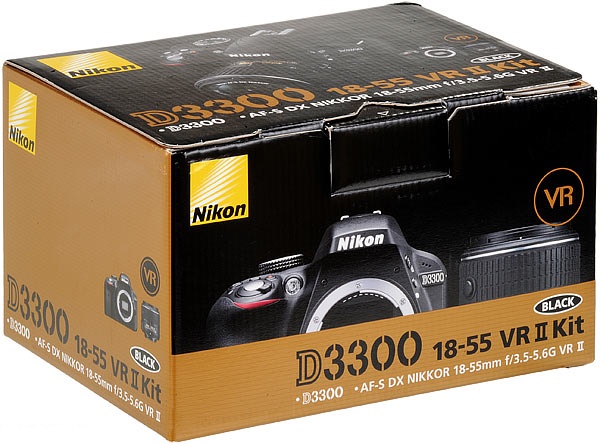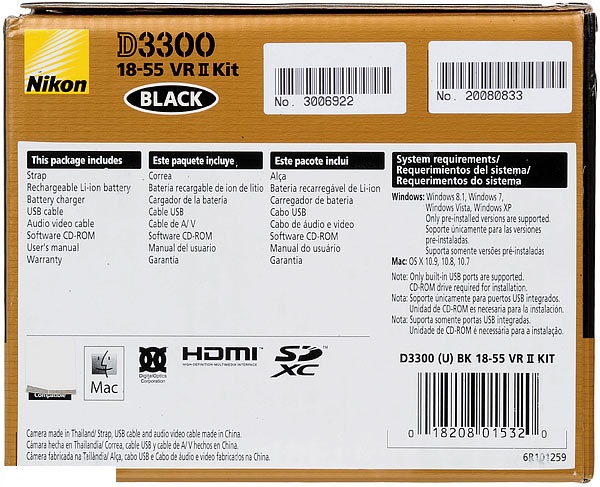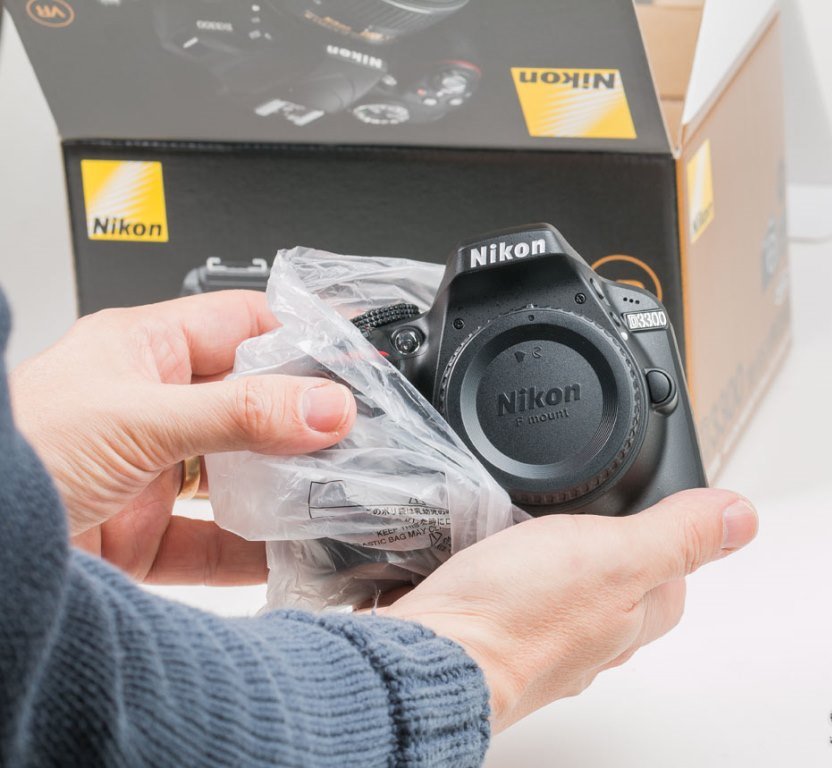 Specifications
Type

Single-lens reflex digital camera

Lens Mount

Nikon F bayonet mount
Image Sensor
Picture Angle

Nikon DX format (Effective picture angle 1.5x [Approx.] conversion factor)

Effective Pixels

24.2

million

Sensor Size

23.5

mm

x

15.6

mm

Image Sensor Format

DX

Image Sensor Type

CMOS

Total Pixels

24.7

million

Dust-reduction system

Image sensor cleaning

Dust-Off Reference Photo

Yes

Image Area (pixels)

DX-format
(L)

6,000 x 4,000


(M)

4,496 x 3,000


(S)

2,992 x 2,000



File System
File Format Still Images

Compressed 12-bit NEF (RAW)




JPEG: JPEG-Baseline Compliant with fine (approx 1:4), Normal (approx 1:8) or Basic (approx 1:16) Compression




NEF (RAW) + JPEG: Single Photograph Recorded in both NEF (RAW) and JPEG Formats

Storage Media

SD




SDHC




SDXC

Card Slot

1 Secure Digital (SD)

File System

Compliant with

DCF (Design Rule for Camera File System) 2.0




DPOF (Digital Print Order Format)




EXIF 2.3 (Exchangeable Image File Format for Digital Still Cameras)
Viewfinder
Viewfinder

Eye-level Pentamirror Single-Lens Reflex viewfinder

Viewfinder Frame Coverage

95% Horizontal

(Approx.)


Viewfinder Magnification

0.85x

(Approx.)

Viewfinder Eyepoint

18mm (-1.0m¯¹)

Viewfinder Diopter Adjustment

-1.7 to +0.5m¯¹

Focusing Screen

Type B BriteView Clear Matte Mark VII screen

Reflex Mirror

Quick-return type

Mirror Lock Up

Yes (for image sensor cleaning)
Lens
Lens Aperture

Instant-return type

Lens Compatibility at a Glance***

AF-S Lens Required for Autofocus

Compatible Lenses

AF NIKKOR for F3AF not Supported.




AF-S, AF-I: All Functions Supported.




AI-P NIKKOR: All Functions Supported Except Autofocus and 3D Color Matrix Metering II.




Electronic rangefinder can be used if Maximum Aperture is f/5.6 or Faster.




IX NIKKOR Lenses Cannot be Used.




Non-CPU: Autofocus not supported. Can be used in mode M, but exposure meter does not function.




Other AF NIKKOR: All Functions Supported Except autofocus and 3D Color Matrix Metering II.




Type G or D AF NIKKOR: All Functions Supported Except Autofocus.




Type D PC NIKKOR: All Functions Supported Except Autofocus and some Shooting Modes.
Shutter
Shutter Type

Electronically controlled vertical-travel focal-plane

Shutter Speed

1/4000 to 30 sec.

Fastest Shutter Speed

1/4000

sec.

Slowest Shutter Speed

30

sec.

Flash Sync Speed

Up to

1/200 sec.

Shutter Release Modes

Continuous




Delayed remote




Quick Response Remote Mode




Quiet shutter-release




Self-timer Mode




Single-frame [S] mode

Frame Advance Rate

Up to 5 fps (manual focus, mode M or S, shutter speed 1/250 sec or faster, and other settings at default values)

Top Continuous Shooting Speed at full resolution

5

frames per second


Self-timer

2, 5, 10, 20 sec.; 1 to 9 exposures




Timer duration electronically controlled
Exposure
Exposure Metering System

TTL exposure metering using 420-pixel RGB sensor

Metering Method

Center-weighted: Weight of 75% given to 8 mm circle in center of frame




Matrix: 3D color matrix metering II (type G and D lenses); color matrix metering II (other CPU lenses)




Spot: Meters 3.5 mm circle (about 2.5% of frame) centered on selected focus point

Metering Range

0 to 20 EV (Matrix or center-weighted metering at ISO 100 equivalent, f/1.4 lens, at 20°C/68°F)




2 to 20 EV (Spot metering at ISO 100 equivalent, f/1.4 lens at 20°C/68°F)

Exposure Meter Coupling

CPU

Exposure Modes

Aperture-Priority (A)




Auto




Auto (flash off)




Manual (M)




Programmed Auto with flexible Program (P)




Shutter-Priority Auto (S)

Scene Modes

Auto




Auto [Flash Off]




Child




Close-up




Landscape




Night Portrait




Portrait




Sports

Exposure Compensation

±5 EV in increments of 1/3EV

Exposure Lock

Luminosity locked at detected value with AE-L/AF-L button

Picture Control

Landscape




Monochrome




Neutral




Portrait




Selected Picture Control can be Modified




Standard




Vivid
Sensitivity
ISO Sensitivity

ISO

100

-

12,800




Hi-1 (ISO 25,600)




Lowest Standard ISO Sensitivity

100

Highest Standard ISO Sensitivity

12,800

Highest Expanded ISO Sensitivity

1 EV above ISO 12800 (ISO 25600 equivalent)

Expanded ISO Sensitivity Options

1 EV above ISO 12800 (ISO 25600 equivalent)




Auto ISO sensitivity control available

High ISO Noise Reduction

Low




Normal




High




Off

Active D-Lighting

On




Off
Focus/Autofocus
Single-point AF Mode

Yes

Dynamic AF Mode

Number of AF points: 11 (3D-tracking)

Auto-area AF Mode

Yes

Autofocus System

Nikon Multi-CAM 1000 autofocus sensor module with TTL phase detection

Detection Range

-1 to 19 EV (ISO 100, 68°F/20°C)

Lens Servo

Autofocus (AF): Single-servo AF (AF-S); Continuous-servo AF (AF-C); auto AF-S/AF-C selection (AF-A); predictive focus tracking activated automatically according to subject status




Manual focus (MF): Electronic rangefinder can be used

Focus Lock

Focus can be locked by pressing AE-L/AF-L button




Focus can be locked by pressing shutter-release button halfway (single-servo AF)

Focus Modes

Auto AF-S/AF-C selection (AF-A)




Continuous-servo (AF-C)




Face-Priority AF available in Live View only and D-Movie only




Full-time Servo (AF-A) available in Live View only and D-Movie only




Manual (M) with electronic rangefinder




Normal area available in Live View and D-Movie only




Predictive focus tracking activated automatically according to subject status




Single-servo AF (AF-S)




Wide area available in Live View and D-Movie only

Maximum Autofocus Areas/Points

11

Autofocus Sensitivity

-1 to +19 EV (ISO 100, 20°C/68°F)
Flash
Built-in Flash

Yes

X-Sync Speed

1/200

Flash Control

TTL: i-TTL flash control using 420-pixel RGB sensor is available with built-in flash and SB-910, SB-900, SB-800, SB-700, SB-600, SB-400 or SB-300; i-TTL balanced fill-flash for digital SLR is used with matrix and center-weighted metering, standard i-TTL flash for digital SLR with spot metering

Flash Sync Modes

Auto




Auto with red-eye reduction




Auto slow sync




Auto slow sync with red-eye reduction




Fill-flash




Rear-curtain sync




Rear-curtain with slow sync




Red-Eye reduction




Red-Eye reduction with slow sync




Slow sync




Off

Flash Compensation

-3 to +1 EV in increments of 1/3 EV

Flash-ready Indicator

Lights when built-in flash or optional flash unit such as SB-910, SB-900, SB-400, SB-300, SB-80DX, SB-28DX or SB-50DX is fully charged

Accessory Shoe

Yes

Nikon Creative Lighting System (CLS)

CLS Supported

Flash Sync Terminal

Sync Terminal Adapter AS-15 (available separately)
White Balance
White Balance

Auto




Cloudy




Direct Sunlight




Flash




Fluorescent (7 types)




Incandescent




Preset Manual




Shade
Live View
Live View Shooting

Yes

Live View Lens servo

Autofocus (AF): Single-servo AF (AF-S); full-time-servo AF (AF-F)




Manual focus (MF)

Live View AF-area mode

Face-priority AF




Wide-area AF




Normal-area AF




Subject-tracking AF

Live View Autofocus

Contrast-detect AF anywhere in frame (camera selects focus point automatically when face-priority AF or subject-tracking AF is selected)

Live View Scene Auto Selector

Auto mode




Auto (flash off) mode
Movie
Movie Metering

TTL exposure metering using main image sensor

Movie Maximum recording time

20 min.

Movie File Format

MOV

Movie Video Compression

H.264/MPEG-4 Advanced Video Coding

Movie Audio recording format

Linear PCM

Movie

Full HD 1,920x1,080 / 60 fps




Full HD 1,920x1,080 / 50 fps




Full HD 1,920x1,080 / 30 fps




Full HD 1,920x1,080 / 25 fps




Full HD 1,920x1,080 / 24 fps




HD 1,280x720 / 60 fps




HD 1,280x720 / 50 fps




VGA 640x424 / 30 fps




VGA 640x424 / 25 fps

Movie Audio

Built-in microphone, monaural




Optional external stereo mini-pin jack (3.5mm diameter)




Microphone sensitivity can be adjusted
Monitor
Monitor Size

3.0

in. diagonal

Monitor Resolution

921,000

Dots

Monitor Type

Wide Viewing Angle TFT-LCD

Monitor Angle of View

160

-degree wide-viewing angle
Playback
Playback Functions

Auto Image Rotation




Full-Frame and Thumbnail (4, 9, or 72 images or calendar)




Highlights




Histogram Display




Image Comment




Movie Playback




Playback with Zoom




Slideshow

In-Camera Image Editing

Color Balance




Color Outline




Color Sketch




D-Lighting




Distortion Control




Filter Effects




Fisheye




Image Overlay




Miniature Effect




Monochrome




NEF (RAW) Processing




Perspective Control




Photo Illustration




Quick Retouch




Red-Eye Correction




Resize




Selective Color




Straighten




Trim
Interface
Interface

Accessory Terminal: Remote Cord: MC-DC2 (available separately); GPS unit: GP-1A (available separately)




Audio input: Stereo mini-pin jack (3.5-mm diameter)




HDMI output: Type C mini-pin HDMI connector




Hi-speed USB




Video Output: NTSC, PAL

Wi-Fi Functionality

Eye-Fi Compatible

GPS

GP-1A GPS unit
Menus
Recent Settings

Yes

Supported Languages

Arabic




Bengali




Brazilian Portuguese




Chinese (Simplified and Traditional)




Czech




Danish




Dutch




English




Finnish




French




German




Greek




Hindi




Hungarian




Indonesian




Italian




Japanese




Korean




Marathi




Norwegian




Persian




Polish




Portuguese




Romanian




Russian




Spanish




Swedish




Tamil




Telugu




Thai




Turkish




Ukrainian




Vietnamese

Date, Time and Daylight Savings Time Settings

Yes

World Time Setting

Yes
Power
Battery / Batteries

EN-EL14a Rechargeable Li-ion Battery

Battery Life (shots per charge)

700

shots (CIPA)

AC Adapter

EH-5b AC Adapter; requires EP-5A Power Connector (available separately)

Battery Charger

MH-24 Quick Charger
Miscellaneous
Tripod Socket

1/4 in.

Approx. Dimensions (Width x Height x Depth)

4.9

in.

(

124

mm

)

x

3.9

in.

(

98

mm

)

x

3.0

in.

(

75.5

mm

)

Approx. Weight

14.5

oz.

(

410

g

)

camera body only

Operating Environment

0–40 °C (+32–104 °F)




Less than 85% (no condensation)