Product Description
24.2-megapixel DX-format CMOS image sensor

Built-in Wi-Fi and GPS

3.2-inch swiveling vari-angle LCD

39-point high-density autofocus system

Expeed 4 processor
Dazzling image quality meets modern connectivity with built-in Wi-Fi® for instant photo sharing and remote camera control and built-in GPS with mapping for geotagging and tracking your adventures. An innovative new 24.2-megapixel image sensor captures the purest, most lifelike photos and 1080p Full HD videos imaginable, and a brilliant 3.2-inch swiveling Vari-angle display delivers beautiful views from any angle—all in a compact, sleek design.
Capture and instantly share the most vibrant, lifelike images of your life.
Meet the first in an exciting new generation of Wi-Fi® enabled, ultra-high-resolution Nikon HD-SLRs: the D5300. With built-in Wi-Fi for instant photo sharing to your smartphone or tablet, GPS and mapping, a cutting edge 24.2-megapixel image sensor, an extra-large swiveling Vari-angle LCD and more, D5300 brings an outstanding new level of image quality and capabilities in a compact, ergonomic design. Pair it with any NIKKOR lens—like the outstanding AF-S DX NIKKOR 18-140mm f/3.5-5.6G ED VR kit lens—and unleash the full potential of its innovative image sensor. Every photo will be richer, truer to life than most photos you've seen. Every HD video will have a stunning cinematic look, a level of sharpness and clarity that ignites on ultra-high-resolution tablets, laptops and TVs. And the first time you use your smartphone or tablet to instantly share photos from the D5300, you'll realize the game has truly changed.
Your life in breathtaking clarity
A new level of image quality
The sharpness, clarity and richness of colors in the D5300's photos and Full HD videos is nothing short of astounding. A recent design innovation allows the D5300's 24.2-megapixel DX format CMOS image sensor* to capture the purest, most lifelike images possible. Enlarge or crop your photos without losing any sharpness or detail—a feat not possible with most smartphones and lesser cameras. Pair that capability with any exceptional NIKKOR lens, marvels of clarity and sharpness in their own right, and you'll experience the image quality your memories deserve.
*Exquisite detail reproduction realized by an image sensor unit designed without an optical low-pass filter.
Share every stunning image, instantly
A new level of connectivity
With built-in Wi-Fi and GPS, the D5300 is the first in an exciting new generation of connected Nikon D-SLRs. Wirelessly connect to D5300 with your smartphone or tablet,* then browse the photos on D5300's memory card, import your favorites and instantly email them, text them or post them online. While connected, your smart device can also act as a remote monitor for the D5300. See what the camera sees and even fire the shutter—perfect for group shots and self portraits! When travelling, built-in GPS geotags all of your shots. Create exciting travel journals, find nearby Points of Interest and easily share your location data when posting photos on Facebook or Flickr.
Take it on every outing
Compact, lightweight, rugged and comfortable
Don't let the small size of the D5300 fool you—it delivers big-camera quality and capabilities. Like all Nikon D-SLRs, the D5300 was designed for ergonomics—every button and dial was carefully placed for comfortable, efficient operation. Yet it's big in all the right places, like its 3.2-inch swiveling Vari-angle LCD and its 24.2-megapixel DX-format CMOS image sensor. You'll take the D5300 on every adventure, which means you'll bring home more stunning views of your travels.
Shoot from any angle
Extra-large swiveling Vari-angle display
The D5300's extra-large ultra-high resolution Vari-angle LCD swivels 180° so you can shoot from exciting new angles. Hold the camera overhead for great shots over a crowd. Hold the camera down low for a fun face-to-face perspective of your pet. And create some of your best selfies yet—frame a stunning new profile pic, then upload it right to web, thanks to Wi-Fi connectivity!*
Focus exactly where you want it
Whether shooting stationary subjects, candid photos, high-speed action or Full HD video, the D5300 keeps everything in focus. Its 39-point high-density autofocus system with 9 cross-type sensors quickly locks onto your subject, and Nikon's unique 3D-tracking uses the 2,016-pixel RGB sensor to recognize and follow it across the frame.
Catch exactly the right moment
When photo-worthy action starts, hold down the shutter button and capture every movement, expression and feeling at 5 frames per second, even when using the Vari-angle LCD. Stop reaching for your smartphone when an important moment happens—except to share the great shot you just caught with the D5300.
Storytelling at your fingertips
Bring all the image quality the D5300 produces—softly blurred backgrounds, tack-sharp details, vibrant colors—to dazzling 1080p Full HD videos. In Live View, Nikon's full-time autofocus follows your subject and keeps it sharp. A built-in stereo microphone adds high-fidelity sound to your videos, or you can add Nikon's optional accessory ME-1 stereo microphone for the highest quality sound possible.
Supplied Accessories
EN-EL14a Rechargeable Li-ion Battery
MH-24 Quick Charger
DK-25 Rubber Eyecup
EG-CP16 Audio Video Cable
AN-DC3 Strap (Black)
DK-5 Eyepiece Cap
BF-1B Body Cap
BS-1 Accessory Shoe Cap
ViewNX 2
Earlier in the year, we got our hands on the Nikon D5300 and noted that the camera seemed to be a doppelgänger to the older D5200 in all ways but the AA filter-less sensor. After giving it a spin in the labs, we can tell you that our original assessment was jumping the gun a bit: It may look like the same camera, but its performance is a cut above.
It's not hard to imagine that Nikon might rest on brand recognition for consumer cameras, but that didn't happen with the D5300. Under the hood, this camera has a few key changes make all the difference. With some very substantial kit options, it offers a bit more bang for the buck with on-board GPS, WiFi, and expanded in-camera editing.
Don't get us wrong: The D5300 is in no way a revolutionary camera, but it's a great body to learn on if you plan to buy into the Nikon lens system. If this sounds attractive to you, definitely check the D5300 out.
Design & Handling
Meet the new SLR, same as the old SLR
With nary a year passing since the arrival of the D5200, Nikon brings us the D5300. It's a camera that shares most of the exact same characteristics, but with a few key differences under the hood. The new model sports the same familiar design cues, light chassis, and a slightly re-designed grip. The combination is a winning formula that will be welcoming to newcomers and comfortable to any existing Nikon users.
Handling the D5300 is a treat if you're used to older and heavier SLRs because of that light weight. The redesigned grip provides more surface area to latch onto, giving you excellent control over the camera when framing. When shooting at odd angles, you can also make use of the articulating 1.037m-dot LCD on the back, which flips out from the body to provide a live view of your shot.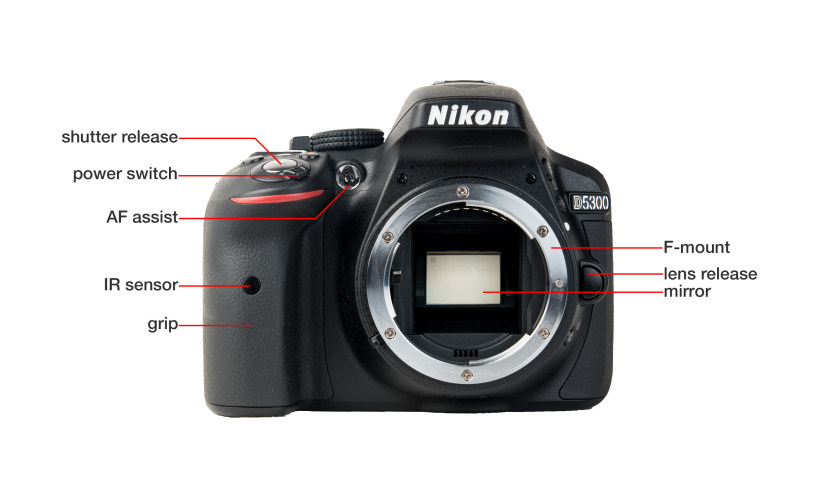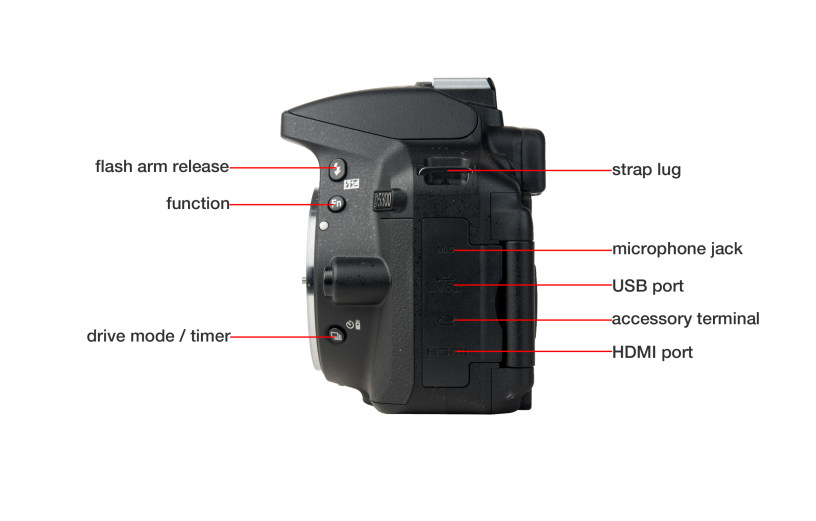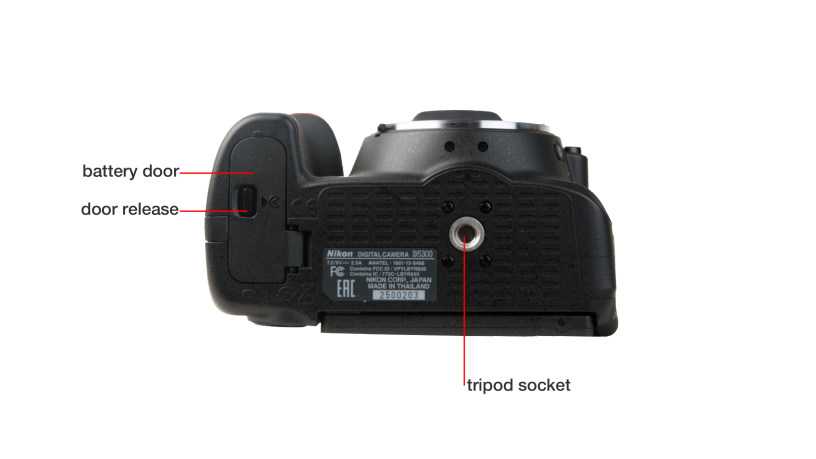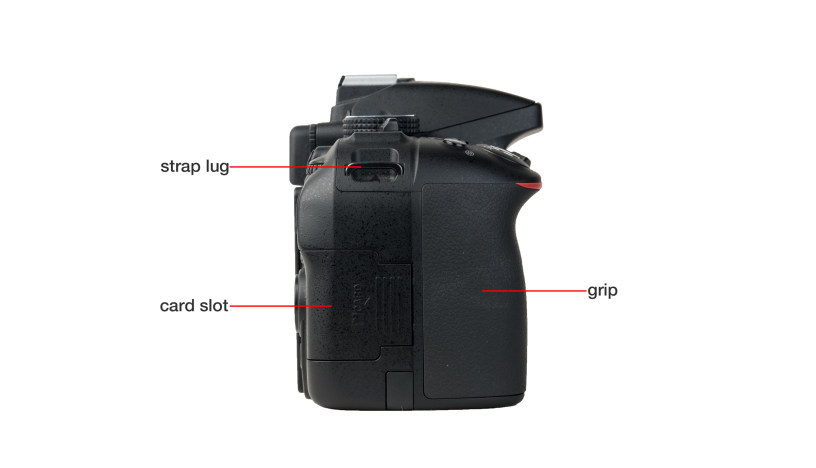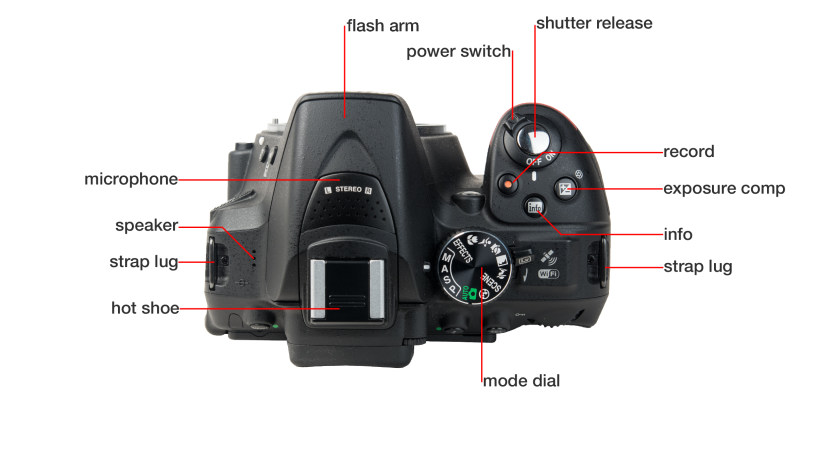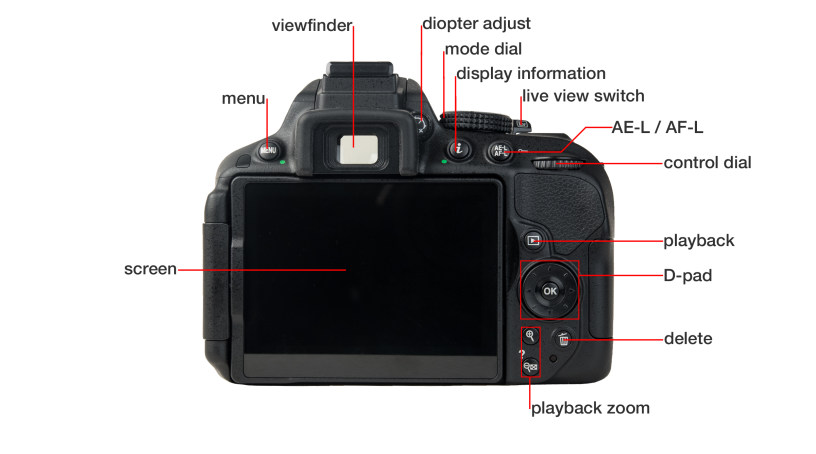 Controls on the D5300 are logically placed and labelled, but advanced shooters might be dismayed to find just a single control dial. Once in your hand, your index finger will naturally find itself resting on the shutter release, while your thumb rests right on the rear control dial—exactly where these two digits should be. Even full manual shooters can use the dial, or the dial along with a second button, to control aperture and shutter speed.
Nikon is offering the D5300 with an 18-140mm f/3.5-5.6 lens as a kit option.
Shooting with the D5300 is a pleasure, though. As with other traditional DSLRs (opposed to newer mirrorless interchangeable lens cameras) the Nikon D5300 has an optical viewfinder alongside informational overlays for focus and exposure. As good as electronic viewfinders have gotten, a traditional optical finder is still the best for judging focus. The 0.82x magnification finder here covers 95% of the frame in either direction, which is more than sufficient for a camera of this level.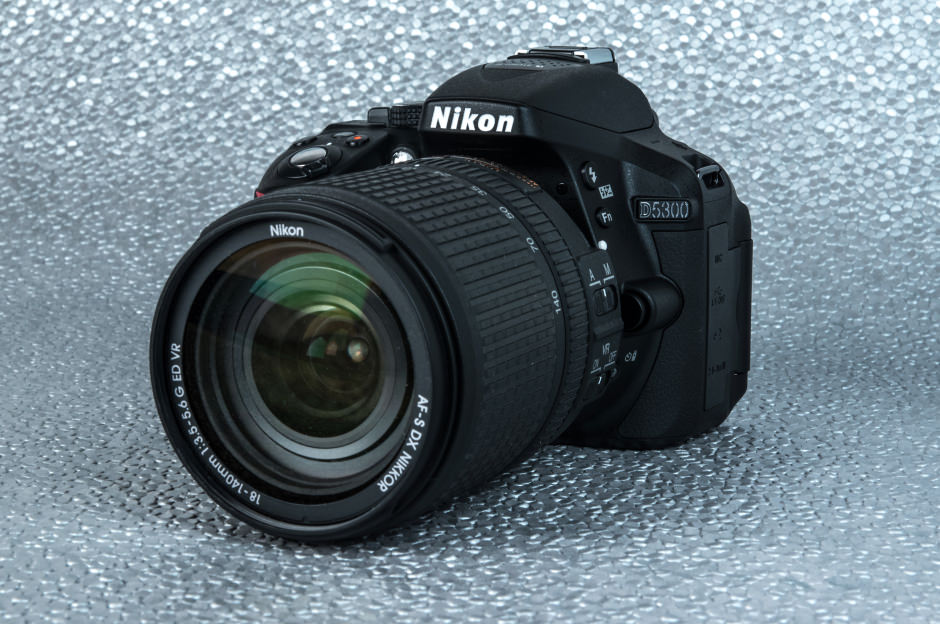 An 18-140mm f/3.5-5.6 kit lens offers an enormous zoom.
Nikon is offering the D5300 body-only for $799.95, with the new 18-55mm f/3.5-5.6 kit lens for $899.95, or with an 18-140mm f/3.5-5.6 lens for $1099.95. We tested the 18-140mm lens with the D5300 for the purposes of this review and while it gives you a little extra reach, the kit is a little pricier than average. Plenty of retailers are selling bundles with the 18-55mm and a second telephoto lens for similar prices, which usually nets you a 75-300mm or 55-200mm lens instead. The 18-140mm lens is also quite a bit heavier than the usual plastic 18-55mm lenses. Ultimately our standard opinion on kit lenses is they're good starting points, but a simple 50mm f/1.8 lens will net you far superior performance for just a few hundred dollars.
Features
Moving the goalposts
It used to be that the "entry-level" cameras were significantly flawed devices that got you in the door with cheap prices and at-least-it's-not-another-point-and-shoot performance. That's changed in the last few years, with sub-$1,000 cameras routinely matching what even professional cameras were capable of just 5-6 years ago. With excellent cameras starting at just $600, it's a tough sell to get people to move up the price ladder. To that end, Nikon is including on-board GPS and WiFi standard, with no extra adapters required.
The swiveling display is different only in that it has more pixels.
With the exception of the GPS antenna (and geotagging), there really isn't much new with the D5300's body when compared with its predecessor. Most of the camera's features are the exact same, the swiveling display is different only in that it has more pixels, and the menu system is virtually identical. It may be a bit boring, but it's tough to stray into uncharted territory.
I will say that the mirror assembly makes shooting with the live-view on an incredible hassle. It takes a lot of time for that clunky thing to move, and you can wait up to two full seconds to get your camera back and shooting. For that reason alone, we recommend using the viewfinder out in the field except when framing at tough angles. It's the fastest, most accurate way to shoot with a traditional DSLR, and the D5300 is no exception.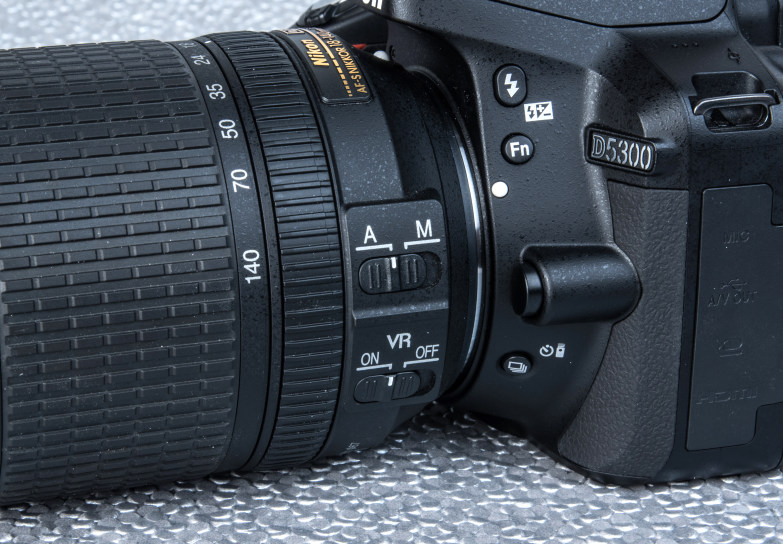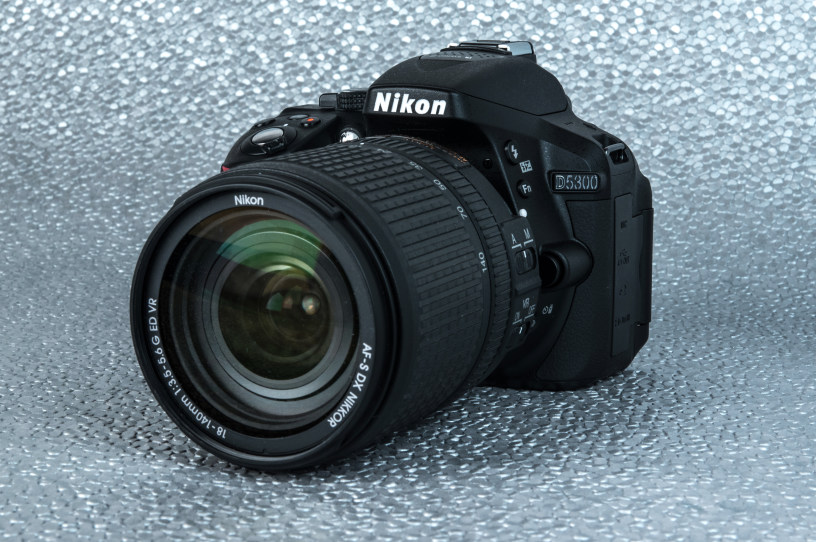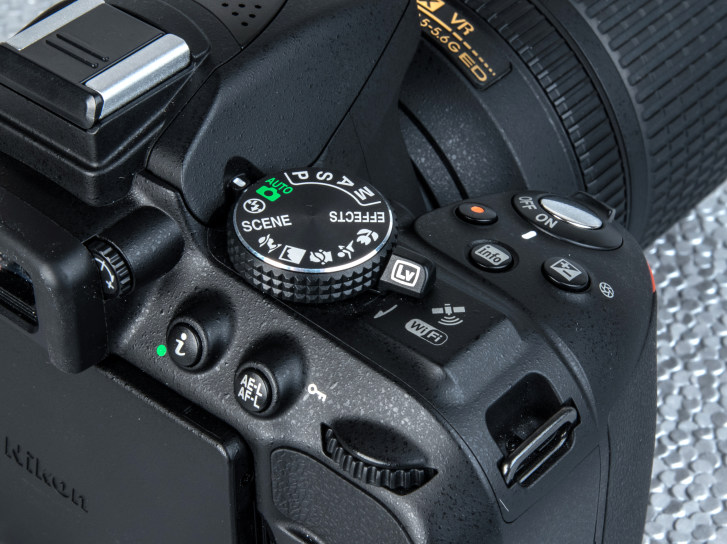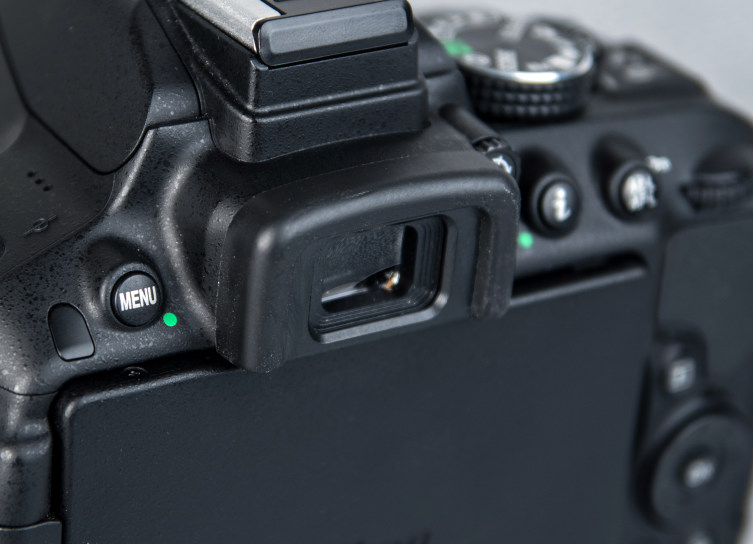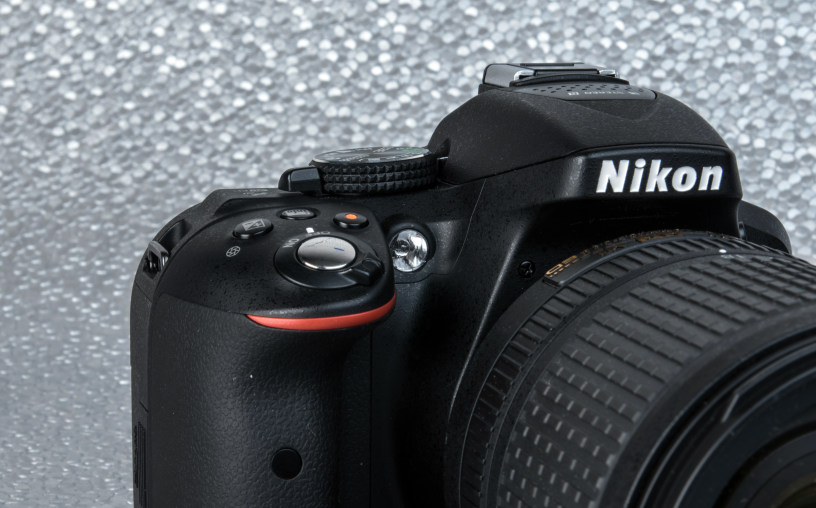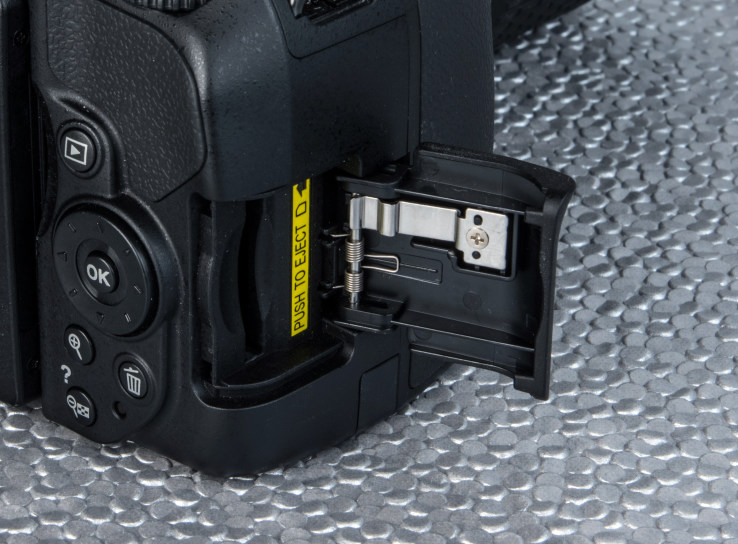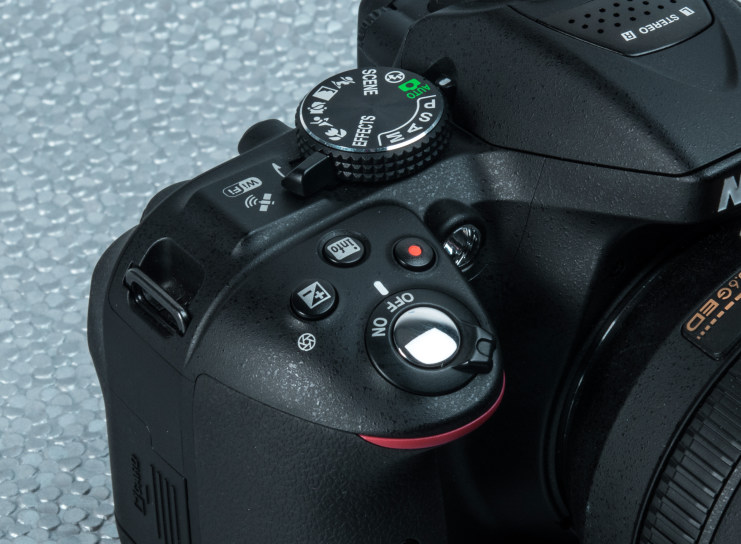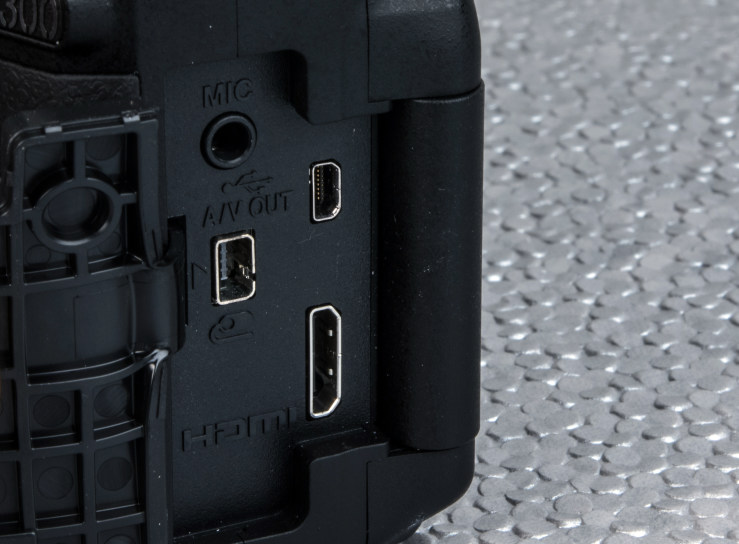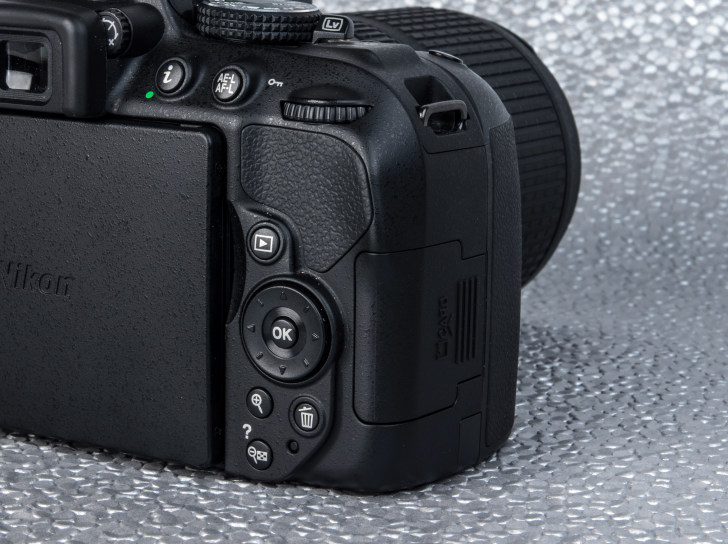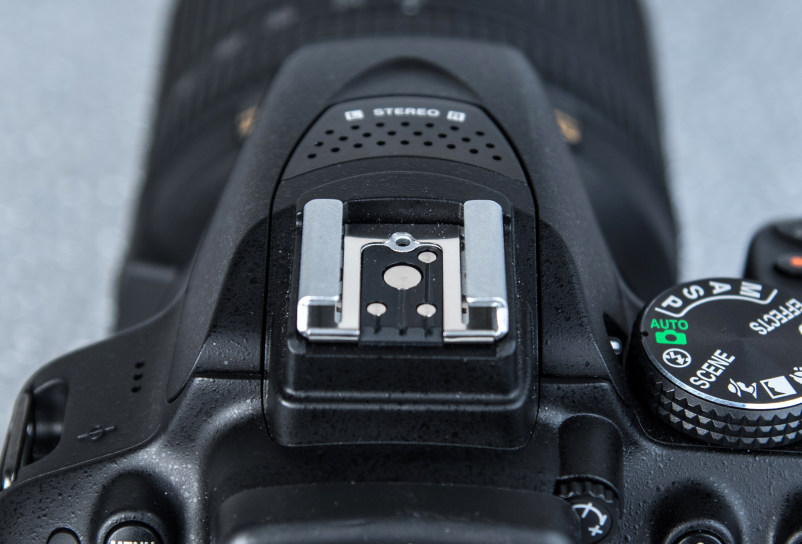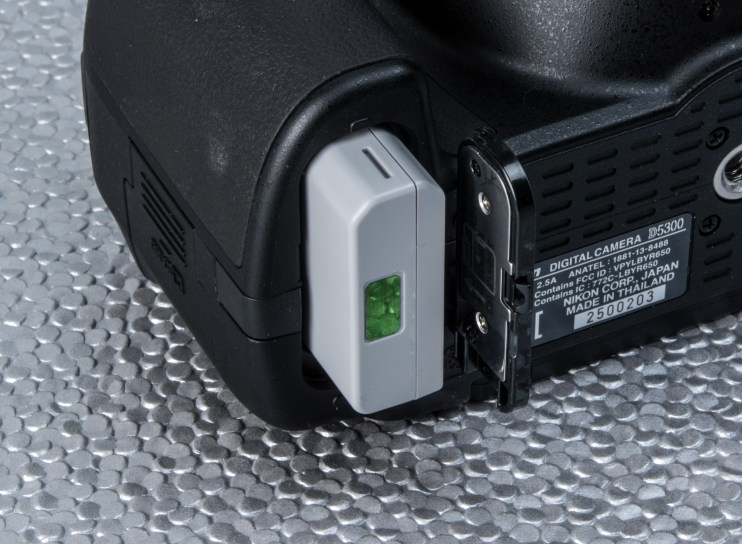 Though not nearly as fast as Nikon's next model up, the D7100, the D5300 is not half-bad at capturing action. Able to take photos in RAW + JPEG at about five frames per second, the Nikon DSLR won't miss much. However, if you want to take a long string of consecutive shots, we recommend shooting in RAWor JPEG and not both. The buffer fills quickly with this camera, so overloading the processor will lead to a limited number of stills captured in each burst.
Able to take photos in RAW + JPEG at about five frames per second, the Nikon DSLR won't miss much.
Additionally, the same Expeed 4 processor that enables fast processing of burst shots grants the D5300 the ability to record full 1080p/60p video, along with lower resolution cinematics. Though it doesn't have the option for a higher framerate like Nikon's 1-series cameras, the HD video we shot with the D5300 had very few artifacting, trailing, or compression errors. The Nikon D5200 earned itself a healthy reputation as one of the best DSLRs for video on the market and the D5300 fulfills that legacy admirably. The camera also has a 3.5mm microphone jack, but serious videographers may want to upgrade to the D7100, which has both headphone and mic jacks.
Performance
Eat dust, older cameras
Though it's tempting to expect a lot out of a new release, there's not much more you could ask for when it comes to performance. It's better than the D5200 by a nose in virtually every category we measure, while falling behind only Samsung's NX300 when it comes to out and out performance.
The D5300 produces a far sharper image than its predecessor
By giving the AA filter on the sensor the boot in favor of capturing fine detail, the D5300 enjoys much better sharpness results than its predecessor. However, the sensor can only do so much: The kit lens makes the image get a bit soft at full zoom, and the corners go sooner than that. It's a common issue with kit lenses—and to be honest, not at all surprising—but it is something to be aware of. If you're going to be shooting something, follow the salty photographer's mantra: Don't be afraid to get in close! Otherwise, snag a better lens. For the price of the D5300 and 18-140mm you could always buy the body alone ($799.95) and grab a used 50mm f/1.8 AF-S Nikon lens that will work great.
Another issue you'll want to keep an eye on is noisy images. The D5300 does keep a lid on it fairly well, but ISO 1600 and above will bring over 2.5% noise to your shots. This level of variation is visible only at large prints, however, and annoying 8x10 or under will still look fine. Still, there's a larger dip in performance than we were expecting from ISO 800 to ISO 1600, and it's troubling when most of the competition can hit ISO 1600 without much of an issue. In all but extreme low light situations, though, the D5300 holds its own.
Once again, we do have to add a big caveat: Nikon's iffy automatic white balance performance. When you move from room to room or from indoors to outdoors, often the color of the ambient light changes. Most cameras account for this and adjust as well as possible, giving you an image that looks close to what you actually saw. The D5300 is relatively poor at this, especially indoors with incandescent, fluorescent, or mixed lighting. If you need a clinically accurate photo or notice a sudden, odd green cast to your shots, take the same photo again in RAW, which will let you fix the white balance after the fact.

Automatic white balance shown on the top, manual reading on the bottom.
As far as video is concerned, it's hard to ask for more at this price bracket. The Nikon D5300 produces sharp, fluid cinematics in bright and low light alike. Videographers will enjoy a high level of control as well, with full exposure control as well as the aforementioned 3.5mm mic jack and audio levels. If video is important to you and you're on a budget, the D5300 is a stellar choice, as artifacting and other issues are kept to a relative minimum.
Conclusion
Solid sequel to the D5200, with fit and finish to match
Despite its extreme similarity to last year's D5200, Nikon's D5300 is a solid step forward that combines excellent performance and a surprisingly robust feature set. Mirrorless cameras are more improving at a rapid pace these days, and it's clear Nikon is feeling the heat. The D5300 may look like the same old boring Nikon DSLR, but with WiFi, GPS, an AA-less 24-megapixel APS-C sensor, stellar video quality and control, and the traditional comfort of an optical viewfinder, the D5300 is a formidable market presence that puts all of Canon's sub-$1,000 offerings to shame.
The Nikon D5300 is a camera that users can grow with.
There are some drawbacks to the traditional design, however. The mirror box necessary to accommodate the optical finder is a bit of a hindrance of you prefer to shoot in live view, as it slows down the operation. It also adds considerable size to the camera, and though it's still quite portable, the D5300 is far bigger than its mirrorless competition. That aside, the performance offered by the D5300 is certainly good for the money.
This is a camera that users can grow with. The guts of the device are great, and Nikon's lens system is as diverse as it is storied, with options not only for professionals but for those with limited means to dedicate to photography. Though a DSLR doesn't always mean a more "serious" camera, the D5300 fits the bill in its price bracket for those looking to sink their teeth into a substantial shooter—**especially** if you're looking to shoot video.
Having only one control dial can slow things down.