Product Description
Enjoy it all - from DVD

Does size matter? Ever heard of less is more? Introducing the best value DVD player. No complications! Just a simple set that plays practically any disc format, including your digital photos with absolutely no compromise to picture quality.
ProReader Drive for smooth playback on virtually any disc
ProReader Drive lets you enjoy your movies and videos worry-free. Even when old discs get smudgy or scratched, you can rest assured that they will play right through from start to end - without any sign that they have been damaged. Using state-of-the-art technology, ProReader Drive converts weak analog signals into robust digital ones, extracting information that allows less-than-perfect discs to play smoothly through. Together with its ability to read virtually any video format, ProReader Drive gives you the unbeatable assurance that whatever you pop in will most definitely play.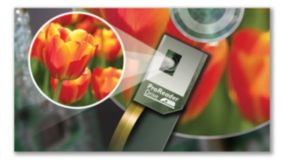 12-bit/108MHz video processing for sharp and natural images
12-bit Video DAC is a superior Digital-to-Analogue-Converter that preserves every detail of the authentic picture quality. It shows subtle shades and smoother graduation of colors, resulting in a more vibrant and natural picture. The limitation of the usual 10bit DAC become in particular apparent while using large screens and projectors.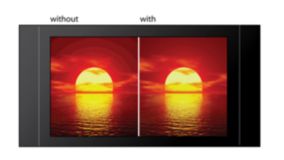 192kHz/24 bit audio DAC enhances analogue sound input
192KHz sampling enables you to have an accurate representation of the original sound curves. Together with a 24-bit resolution, more information is captured from the original analogue sound wave form, giving a much richer audio reproduction.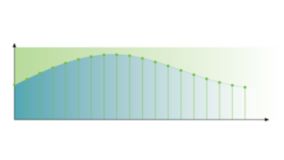 Plays CD, (S)VCD, DVD, DVD+R/RW, DVD-R/RW
Play virtually any disc you want - whether they be CDs, (S)VCDs, DVDs, DVD+R, DVD-R, DVD+RW or DVD-RW. Experience unbeatable flexibility and the convenience of playing all your discs on one device.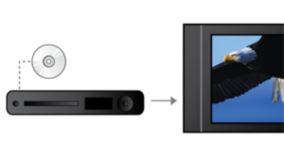 USB Media Link for media playback from USB flash drives
The Universal Serial Bus or USB is a protocol standard that is conveniently used to link PCs, peripherals and consumer electronic equipment. With USB Media Link, all you have to do is plug in your USB device, select the movie, music or photo and play away.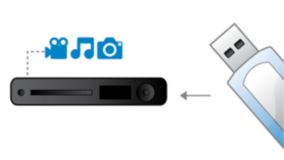 Plays MP3, WMA and JPEG digital camera photos
Play MP3s, WMA and JPEGs, and experience the convenience of sharing media files on your TV or home theater system - in the comfort of your living room.
Technical specification:
Picture/Display

D/A converter:

12 bit, 108 MHz

Picture enhancement:

Progressive scan, Video upsampling





Sound

D/A converter:

24 bit, 192 kHz

Frequency response:

30-20000 Hz

Signal to noise ratio:

100

Distortion and Noise (1kHz):

85 dB

Crosstalk (1kHz):

100 dB

Dynamic Range (1kHz):

90 dB

Sound Enhancement:

Night Mode

Sound System:

Dolby Digital





Video Playback

Compression formats:

DivX Ultra, MPEG1, MPEG2
Video disc playback system:

NTSC, PAL





Audio Playback

MP3 bit rates:

32 - 320 kbps

Compression format:

MP3, PCM, WMA





Still Picture Playback

Picture Enhancement:

Flip photos, Rotate, Slideshow with MP3 playback, Zoom

Compression format:

JPEG





Optical Playback Media

Playable Discs:

CD, CDDA, CD-R/CD-RW, DVD, DVD +R/+RW, DVD -R/-RW, Kodak Picture Disc, SVCD, VCD





File Format

Audio:

mp3, wma

Picture:

JPEG

Video:

avi, divx, mpeg, mpg





Connectivity

Front Connections:

USB 2.0

Rear Connections:

Analog audio Left/Right out, Composite video (CVBS) output, Digital coaxial out, ComponentVideo out Progressive




Multimedia Applications

Multimedia connections:

USB memory class device





Convenience

Child Protection:

Parental Control, Child Lock

On-Screen Display languages:

English





Power

Power consumption:

< 10 W

Standby power consumption:

< 0.5 W

Power supply:

110-240V, 50/60 Hz





Accessories

Included accessories:

1 x AAA Battery, Audio/Video cable, Power cord, Remote Control, Quick start guide, User Manual, World Wide Warranty leaflet, Warranty Leaflet





Dimensions

Product (W x H x D):

310 x 39 x 209 mm

Product weight:

1.3 kg

Packaging (W x H x D):

360 x 80 x 282 mm

Weight incl. Packaging:

1.8 kg
Customer Review

Product Reviews
Product is Coming Soon Or Out of Stock