Breif Description:
Processor 1GHz Dual-Core

5 Mega Pixel Camera

WLAN Wi-Fi 802.11

3.5mm Ear Jack Present

Internal/External MemorySupport micro SD

Android 4.1 Jelly Bean

Dual SIM

RAM 512MB

4" WVGA LCD Display

VGA Front Camera

Network GSM 900/1800/1900

Bluetooth

Battery 2500mAh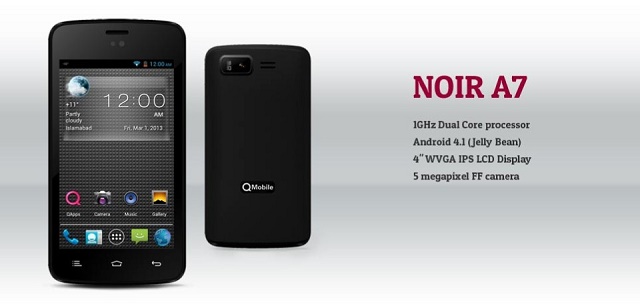 Overview:
Qmobile Noir A7 is highly customised phone by QMobile developer. Qmobile Noir A7 runs under the latest Android 4.1 Jelly Bean Operating System which is very handy when you talk about smartphones. It's design is unique highly polished. It has QApps specially made by QMobile to make your Noir your own. The 1GHz Dual-Core processor gives you opportunity to make things done quickly and robustly. The Dual-Core gives you efficiency and extract the power of Android 4.1. The 4 inch IPS LCD Display is so sharp that you can see your images and videos clearly even in sunlight or outdoor conditions. The sensor makes your life easy to use, when you are in low light or in you bedroom with lights off you don't need to lower your birghtness level sensor will make that done for you which keeps your phone long last. The 5 mega pixel camera is great when you are capturing photos of your love ones and shooting videos. QMobile provide you widgets as you can see in picture for weather conditions. There is lock button on the right side and volume rocker keys on the left. There is clean sleek designed logo on the back of the phone. The body is so polished it's feels good in your palm when you are holding it.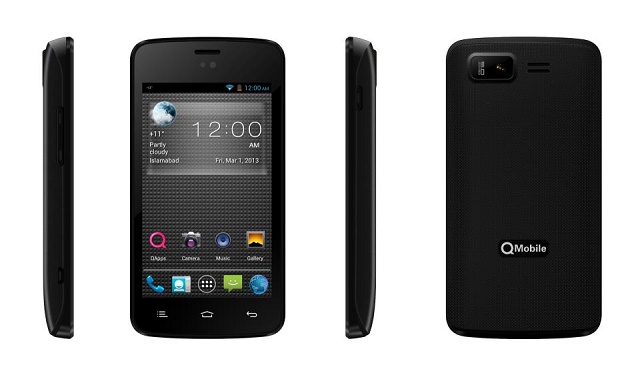 Hardware:
Qmobile Noir A7 design is very elegent. It has little bit curve on the back side on top and on bottom whick looks very nice in the hand. The Dual-Core processor make that phone more powerful when you are multitasking apps with 512 MB of RAM gives you the facility to open as many apps you want to open. The buttons on front screen to browse to home back and settings/more are touch capacitive so it's looks nice to be no hard buttons to be touched. The 4 inch IPS LDC Display is sharp, you can read smallest text even clearly on the browsers or in the apps like Twitter, Facebook, WhatsApp etc. The camera with 5 mega pixel gives you opportunity to capture picture and with microSD slot which supports upto 32GB of MMC to store pictures, videos and songs so you don't need to worry about the storage or you are going out of space while you are at your friend's party shooting HD videos and capturing pictures. The Wifi gives you facility to connect to any network which are know to you to connect with you social friends and family. Bluetooth gives you freehand to connect with you media devices if you have one to go free you hands and free of wires and all other stuff. Providing the USB 2.0 port to transfer you memories to your other devices so if you are even going 32GB memory out of space and also for the charging port as well. The 2500mAh battery gives you freedom to use your phone all day long so you don't run out the battery if you are at some place.
Software:
Qmobile Noir A7 is powered with the latest Android 4.1 Jelly Bean operating system which is bug free and fast. Android 4.1 give you the facility to explore the world by giving you access to the Play Store to download millions of millions of apps to play with. Android is specially designed operating system for smartphone which can demoed at that level which QMobile is producing. The widgets comed with the QMobile out of the box are awesome and on the other hand the QApps which specially designed for QMobile Noir Phones are with Qmobile Noir A7.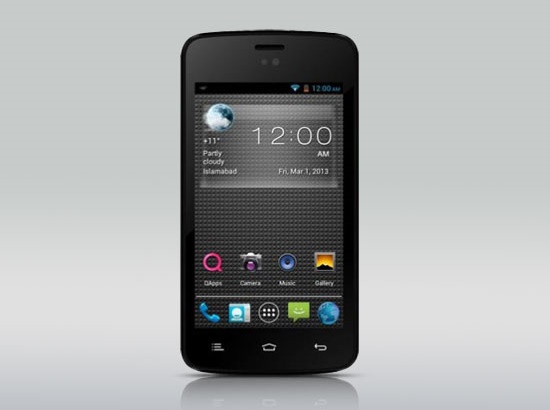 Conclusion:
QMobile Noir A7 is the best features phone with mid-range prices in all Noir series which has great amount of processing power as well as the best operating system in the world right now which give you power to make full use of your Noir A7 phone and work smartly and proudly.