Product Description
Your Podcast Production Studio
The world's first fully integrated podcast production studio, RODE's RODECaster Pro delivers superb audio quality while greatly simplifying the process of podcast production. With its four Class A mic preamps, RODECaster Pro supports up to four presenters and offers easy connection to phone, USB, and Bluetooth sources. And for instant playback of sound effects and jingles, it features eight programmable pads. You can record your podcasts directly to microSD card or to a computer via USB. With its large full-color touchscreen and intuitive control set, RODECaster Pro is incredibly fast and easy to use. whether you're a seasoned broadcast pro or just starting out, the RODECaster Pro is the only podcast production studio you need.
Connect and be recording in minutes
The RODECaster's four high-quality Class A mic preamps handle studio condenser microphones as well as dynamic mics. Quickly connect microphones for you and your guests with automatic level setting and one-touch recording to a microSD card. Operation is so simple, you can be recording your first podcast within minutes of taking the RODECaster Pro out of the box.
Pads for sound effects, music, and more
The RODECaster Pro features eight programmable pads for instantly triggering sound effects, jingles, applause, and commercials — perfect for giving your podcast professional sheen. Record audio directly to the programmable pads from any input, or simply drag and drop files from your computer via the included software. You can even select your favorite colors for pad illumination.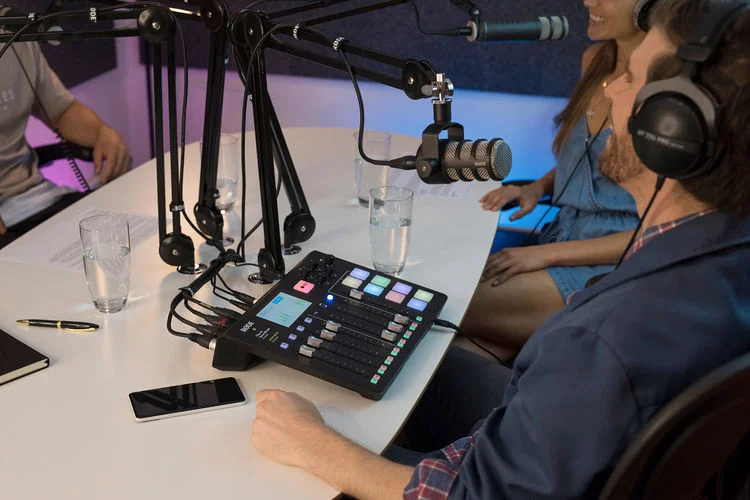 Class A servo-biased preamps
The RODECaster Pro's pristine preamps and outputs feature Class A circuitry, as found in expensive broadcast consoles. The Class A, servo-biased preamps provide a clean gain structure with very low distortion for a broadcast-grade signal. For the rich, warm sound found in professional studios, your signal can also be enhanced with the legendary Aphex Aural Exciter and Big Bottom audio processors, both incorporated in the audio processing section of the RODECaster Pro. The RODECaster Pro also features multi-stage compression, limiting, de-essing, and gating.
Phone interviews
Want to phone interview a remote guest? Easy — just connect your phone to the RODECaster Pro via Bluetooth or with a TRRS cable. The RODECaster Pro automatically supplies mix-minus audio to prevent echo being heard by the caller, without the need for dedicated hardware. Telephone interviews never sounded so great!

Standalone or tethered
Right out of the box, the RODECaster Pro functions as a standalone unit that records directly to microSD cards, so you can be up and running in mere minutes. The RODECaster Pro is also a USB audio interface, so it can connect to your computer via USB. This means you can record your podcast to the recording software of your choice and seamlessly stream live shows.

RODE RODECaster Pro Podcast Production Studio Features:
Easy-to-use integrated podcast production console

Records 24-bit/48kHz audio directly to microSD card or computer via USB

Seamlessly streams live shows

4 Class A mic preamps

48V phantom power

8 faders to control audio levels

Instant FX or music playback via 8 programmable pads (with companion app)

Echo-free phone connectivity via either TRRS or Bluetooth with automatic mix-minus

Aphex Big Bottom and Aural Exciter processing onboard

Dimensions: 13.78" W x 10.83" D x 3.23" H

Weight: 4.37 lbs.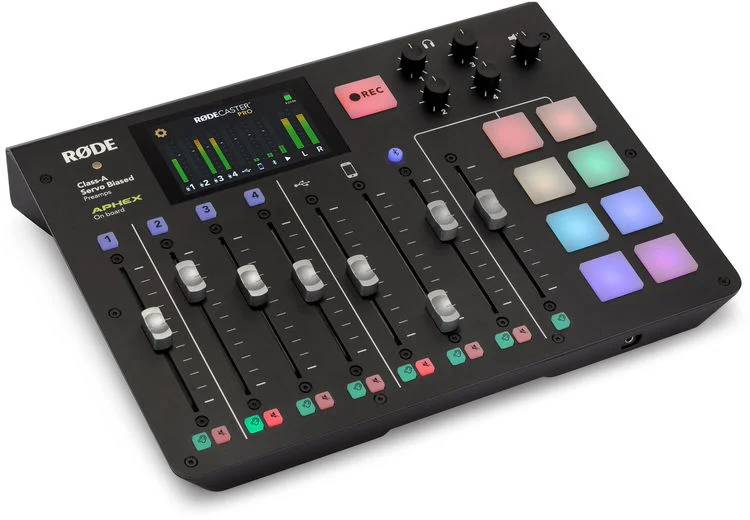 RØDECaster Pro Specifications
ACOUSTIC & ELECTRICAL SPECIFICATION
Frequency Range

Mic Inputs:20 Hz – 20 kHz, -3dB at 20 Hz (high-pass filter)

Monitor Outputs:20 Hz – 20 kHz better than ±0.5dB

Input Impedance

600Ω (Mic Preamplifiers)

Equivalent Noise

–125dBA (A-Weighted, measured as per IEC651)

Maximum Output Level

+3dBu (Monitor Outputs)

Headphone Output Power

Max output power at 1% THD: 32Ω –> 220mW | 300Ω –> 31mW

Dynamic Range

100 dBA (Mic Preamplifiers)

Gain Range

0dB – 55dB (Mic Preamplifiers)

Power Requirements

External DC power supply 12 - 15v DC, 1A

Output Connection

USB-C, 1/4" Balanced TRS STEREO (Monitor Outputs)

Computer Connectivity

USB

Bit Depth

24-Bit

Sample Rates

48 kHz

Storage

microSD™ card slot, 512MB internal memory for storing sounds for programmable pads

OS Requirements

macOS 10.11

Windows 10
MECHANICAL SPECIFICATION
| | |
| --- | --- |
| Colour | Black |
| Weight (g) | 1980 |
| Dimensions (L x W x H, mm) | 350 x 275 x 82 |
| Packed Weight (g) | 2850 |
| Package Dimensions (L x W x H, mm) | 412 x 338 x 127 |