Features
:
MHC-V6D
If you like it loud you'll love the MHC-V6D's 1,440 Watts RMS (15,840 Watts PMPO) of party power. Equipped with Sound Pressure Horn technology, the MHC-V6D is Sony's all-in-one sound system, so it's sure to rock your next house party.
MHC-V5 and MHC-V6D are similar models. MHC-V5 is as per US voltage whereas MHC-V6D is as per Indian voltage. The video below shows MHC-V5 and is for representation purpose only.
1,440Watts RMS (15,840Watts PMPO) with Sound Pressure Horn for greater pressure
Song Pal App for Intuitive control
Karaoke Function and Football Mode
Party Chain Mode
NFC One Touch Listening
DJ Control/ Effects and 50 LED Patterns
Unique, powerful floor standing design
Bring the noise with this space-saving, full function floor-standing stereo system. With 1440 watts1 of incredibly powerful sound, it's the ideal addition to any home entertainment experience.
3-way sound
Packing a 10" mica reinforced cellular (MRC) woofer, two uniquely angled 4" mid-range speakers, and two 1.5" tweeters, the MHC-V6D delivers an amazingly wide sound stage, that will fill any space no matter where you're sitting.
Sound Pressure Horn Technology
Unique 'Sound Pressure Horn' technology takes music into a new realm. Using a modern-day horn loaded speaker structure, the Sound Pressure Horn delivers improved directional characteristics and lengthened bass waves, all which doubles bass sound pressure levels, with much less distortion when compared to traditional speaker cabinet designs.
Party Chain
Party chain, allows you to connect (daisy-chain) multiple stereos together and not only play the same song at once, but at twice the volume (cables sold separately). Better yet, you can connect up to 12-stereos together for either an immersive home theater experience or an unbelievable music experience. * Note Party Chain works with any compatible existing stereo system (not just Sony)
Stream your music wirelessly
Wirelessly stream music from any Bluetooth device2. With NFC (Near Field Communication) technology, connecting your smartphone, iPad, computer, or other Bluetooth device to the V6D is a snap. Just tap your compatible phone to your V6D and you're ready to start streaming. It even remembers the most recent devices, so reconnecting is even simpler.
Dual USB inputs
3
Two, conveniently placed front USB inputs make it not only easy to playback music stored on a smartphone, thumbdrive, or compatible USB device, but also gives you the ability to record music from a CD, radio, or a wide range of other audio devices, onto a flashdrive3.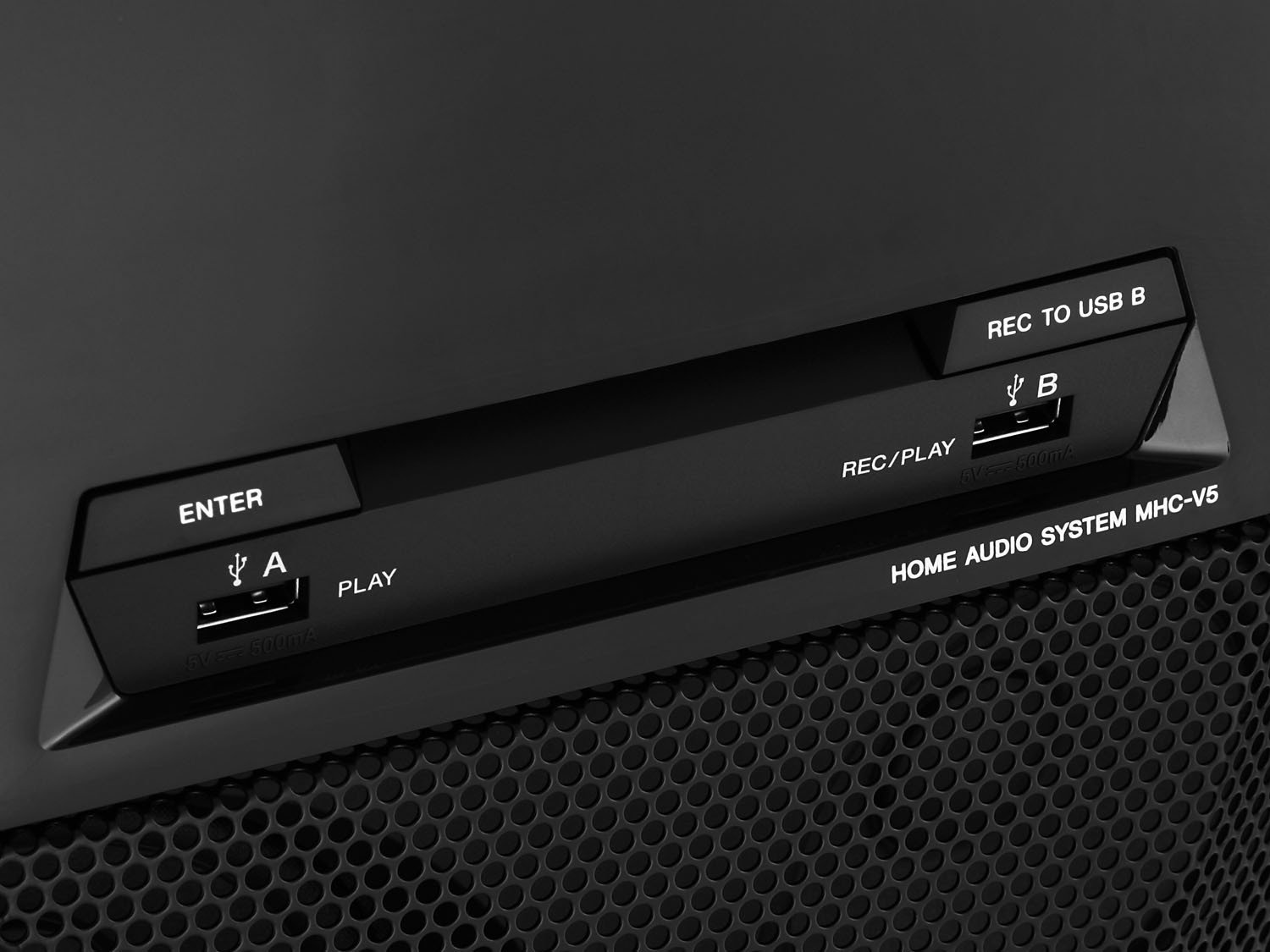 EQ and DJ special effects
Personalize your music with the Bass Bazuca, Music, Movie/Game, Football or Custom EQ setting. For when the DJ in you is begging to come out and play, four pre-programmed DJ Effect modes including: Flanger, Isolator, Pan, and Wah are all ready to roll with the punch of a button and a turn of the centrally-mounted Control Dial.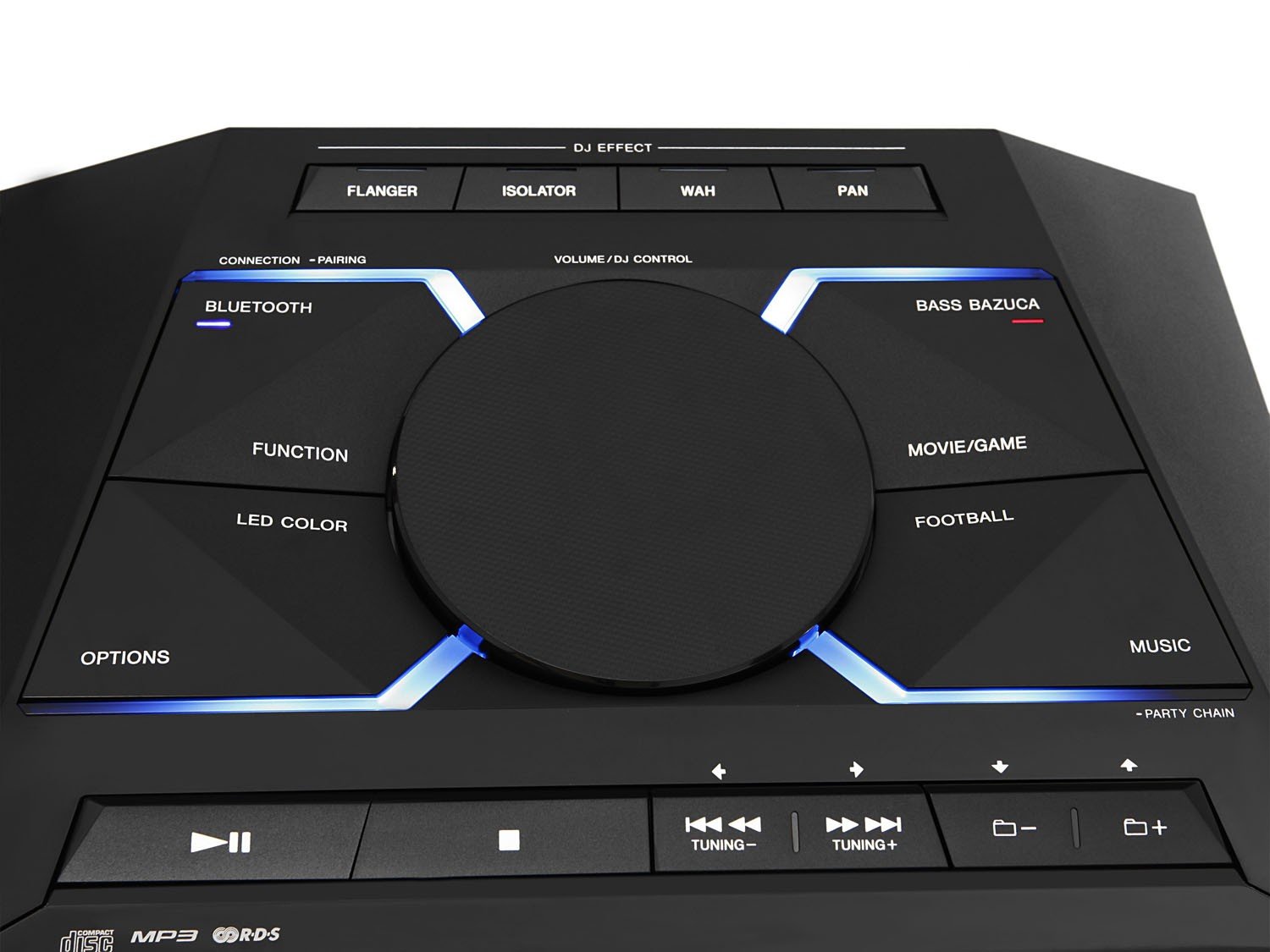 Pulsing LED lighting to suit any occasion
For added impact at any friendly get together, the MHC-V6D also features LED illumination to spice-up the party. For convenience, both LED patterns and colors (50-different lighting effects) can easily be adjusted by depressing the LED color button.
FM/AM radio
Use the integrated FM/AM tuner to enjoy your local radio station broadcast signals. Users can also program and select up to 20 FM and 10 AM stations.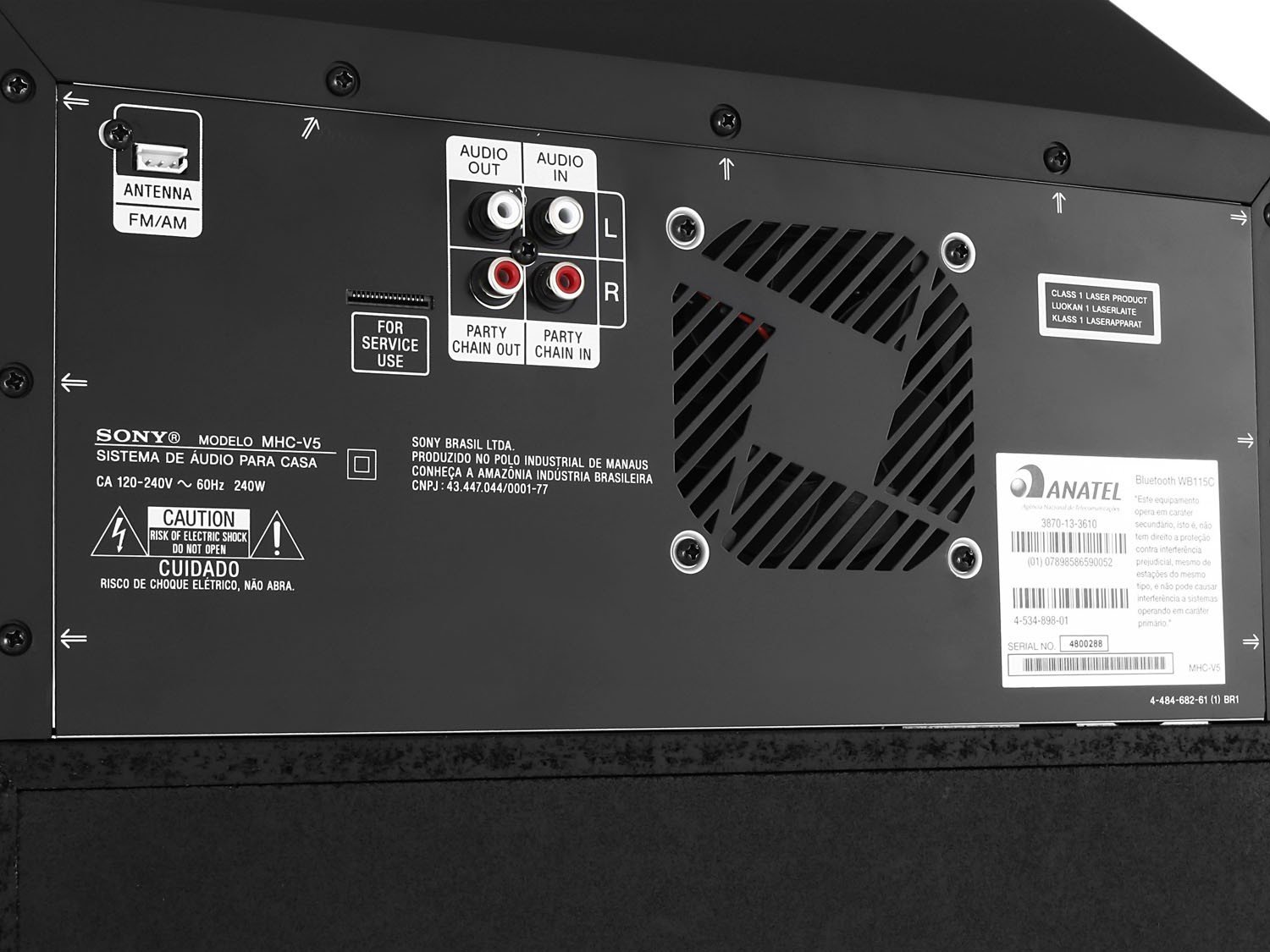 Enjoy convenient CD playback
5
Enjoy your favorite CDs or personally recorded CD-R and CD-RW discs5. Users can even plays MP3 files that have been recorded to CD-R/RW discs. The fully-enclosed CD drive also keeps dust particles away for optimum audio playback and long-term performance.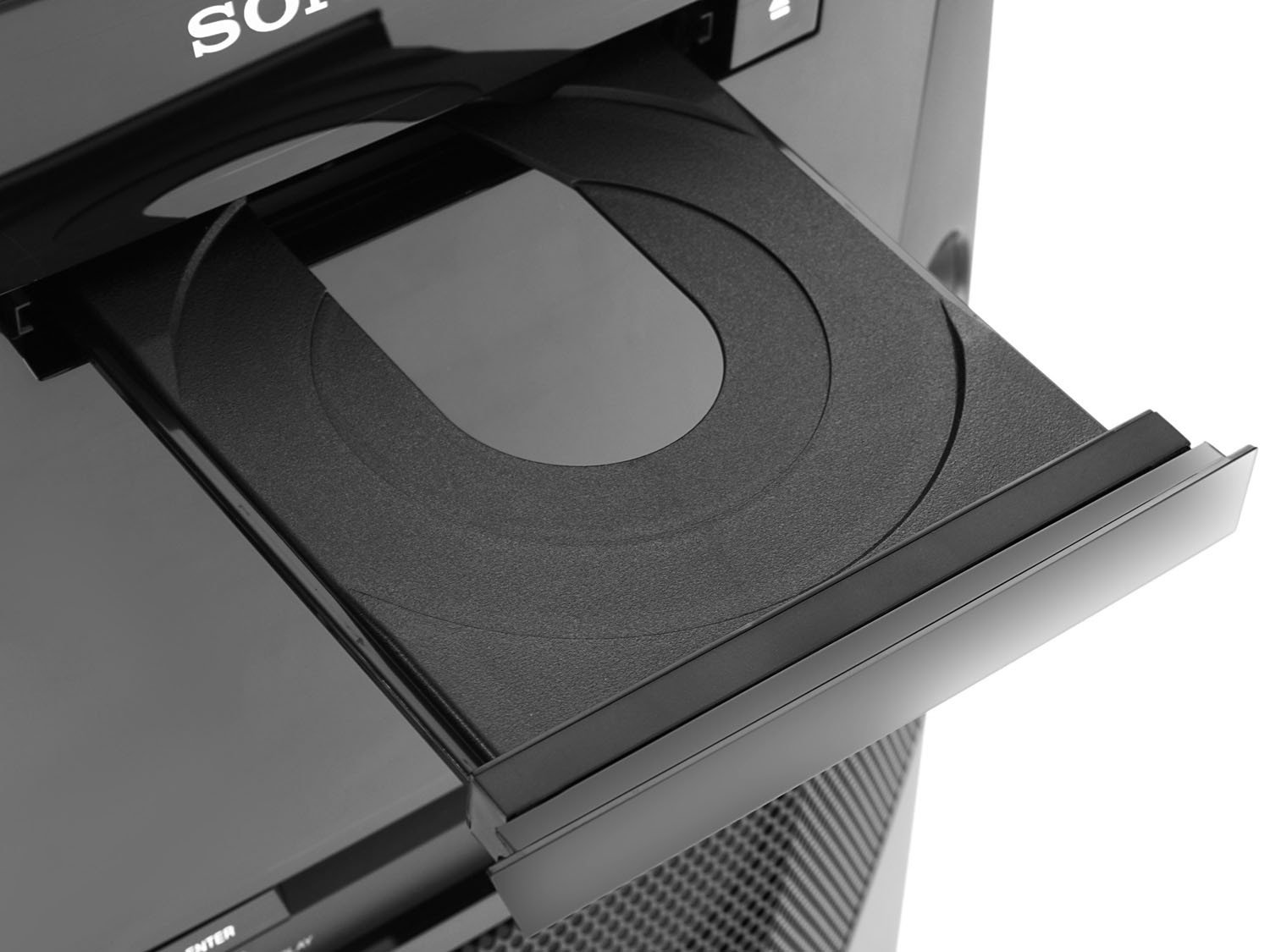 Power is nothing without control
The free SongPal App4 (available at the GooglePlay Store and the App StoreSM) provides a convenient and easy to use interface to discover and connect to various online music services while also controlling the speaker from across the room.
Recreate the Stadium Thrill
Experience a true-to-life stadium sound experience with Football mode and feel as though you were in a stadium and watching the game. This unique atmosphere is reproduced using acoustic data gathered from real stadium venues. It also has a narration off mode that allows you to silence that annoying commentary from the announcer.
DSEE and ClearAudio+ for superb sound
Choose from two Sony-unique technologies for improved audio. DSEE revitalizes and extends audio frequency response for enhanced sound quality. ClearAudio+ renders incredibly vibrant sound with more powerful bass and crisp highs.
Rear aux input
A rear auxiliary audio input/output allows for an easy way to connect and enjoy your music from various other audio sources including MP3 players, tablets, PCs and more,
Child lock
The Child Lock prevents children from operating the stereo unintentionally. When the child lock is on, you can only control the stereo with the remote control preventing children from playing with, or even breaking it.
1

Measurements: 5 Ohm Channel load at 1 kHz with a THD of 1%
2

Interoperability and compatibility among Bluetooth devices vary
3

Not all USB devices are compatible. Consult www.esupport.sony.com for complete details.
4

Subject to app terms and conditions
5

Playback may not be compatible with all files, depending on recording conditions
Specifications of Sony MHC-V6D Bluetooth Wireless Stereo Music System:
Amplifier Audio Power Output

PMPO Total : 15840 Watts
RMS Total : 1440 Watts

Amplifier Convenience Features

Clock Display : Yes (12-hour)
Timer REC (source) : Radio to USB
Timer Sleep (Source) : CD / USB / Tuner
Timer Play : CD / USB / Tuner
Demo Mode : Yes

Amplifier Display

Display Color : Black & White
GUI Language (Main display) : English, Chinese 1, Chinese 2, Thai.
Display Type (Main display) : 1 Line LCD

Amplifier Function

Bluetooth : Yes
Audio In : Yes
iPod & iPhone : Yes
AM : Yes
USB : Yes (2 inputs)

Amplifier Inputs and Outputs

Analog Audio Input(s) : 2 (Audio In/Party Chain In L/R)
Analog Audio Output(s) : 2 (Audio Out/Party Chain Out L/R)
USB Conection : Type A (2)

Amplifier Lighting Effect

Illuminated keys : Bluetooth / Isolator / Flanger / Vertical Sound

Amplifier Power

Power Requirements : AC 120-240V, 50/60 Hz

Amplifier Power Consumption

Power Consumption (in Operation) : 240 Watts
Power Consumption (in Standby) : 0.5 Watts

Amplifier Sound Entertainment

Isolator : Yes
Flanger : Yes

Amplifier Sound Features

Sound Enhancement : DSEE / Vertical Sound
Bass Boost function : Bass Bazuca
Equalizer : Music / Movie / Game / Football / Custom

Amplifier Surround

DVD/SA-CD/VCDCD Player D/A Converter

DVD/SA-CD/VCDCD Player Decoding Format(s) for Sound

DVD/SA-CD/VCDCD Player General

Tray Type : 1 Disc Tray
Tray Lock : Yes

DVD/SA-CD/VCDCD Player Playable Discs for Audio

CD : Yes
CD-R : Yes
8cm Disc (CD) : Yes
CD-RW : Yes

Front Speaker

Front Speaker General Features

System : 3 Way
Detachable Grille : No

Front Speaker Speaker Spec

Mid Unit Size : 3 7/8 in. (100 mm)
Tweeter Unit Size : 1 5/8 in. (40 mm)
Woofer Unit Size : 9 7/8 in. (250 mm)(Mica-reinforced)

General

General Color

Speaker Cabinet : Black
Remote Commander : Black
Main Unit : Black
Speaker Front Panel : Black
Speaker Grille : Black

General Supplied Accessories

Remote Control : Yes
Operating Instructions : Yes
Battery (Size/Type) : Yes (R6-AA)(2)
Antenna(s) : FM Lead Antenna; AM Loop Antenna
AC Power Adaptor : Yes
Warranty Card : Yes

Inputs and Outputs

USB Port(s) : 2 Type A (max current 500 mA)

Other Information General

Matrix Layout System : Party-Chain Input/Ouput L/R
LED Speaker : Yes (Multi-Color LED for 25 cm unit)
Carrying Handle : Yes

Power

Power Consumption (in Operation) : AC 120-240V, 50/60 Hz 240 W (0.5 W in Power Saving Mode)

Remote Commander General

Remote Commander Power

Tuner

Tuner Audio Features

External Antenna : Yes (75 Ohm)

Tuner Tuner

Tuning Range (FM) : 87.5 - 108 mHz / 100 kHz step
Preset Channel : 20 FM / 10 AM
Tuning Range (AM) : 530 - 1710 kHz / 10 kHz step (initial setting); 531 kHz - 1710 kHz / 9 kHz step
External Antenna : FM / AM
RDS : Yes
Band : FM / AM

USB Port(s) Decoding Format(s) for Sound

AAC : Yes
MP3 : Yes
WMA : Yes
WAV : Yes

USB Port(s) Decoding Media for Sound

iPod & iPhone (over USB) : Yes
Walkman : Yes

USB Port(s) Editing Features

USB Port(s) Encoding Format(s) for Sound

MP3 : Yes (at 128 or 256 kbps)

USB Port(s) General

Maximum Tracks : 3000
Indicator Type : Yes
Maximum Folders : 1000 (250 files/folder)

USB Port(s) Playback Features

Resume : Yes
Play Mode(s) : Normal (All USB / 1 USB / 1 Folder); Shuffle (All USB / 1 USB / 1 Folder); Program; Repeat

USB Port(s) Power

USB Port(s) Recording Features

Recording Mode(s) : Synchronized transfer; Record 1 transfer; Analog transfer

USB Port(s) Recording Source

Audio Line IN (Analog) : Yes (1)

USB Port(s) Recording Speed

USB : x20
TUNER : x1
Audio Line IN (Analog) : x1
MP3CD : x20 (Max)
CD : x3

USB Port(s) Text Information

ID3Tag Ver. 2.0 : Yes
MP3 File name : Yes
ID3Tag Ver. 1.1 : Yes

Weight and Measurements Main Unit

Dimensions (WxHxDcm)(Approx.) : 13 3/8 x 35 3/4 x 12 3/4 in. (339 x 908 x 325 mm)
Weight (kg)(Approx.) : 39.8 lbs. (18 kg)

Carton

| | |
| --- | --- |
| Dimensions (WxHxDcm)(Approx.) | 97.2×38.1×41.7 |

Wireless Connection Bluetooth

A2DP(SINK) : Yes
AVRCP : Yes

Wireless Connection NFC

Bluetooth connection : Standard, version 3.0 Power Class 2