Product Description
SONY PSP E1004 SLIM & LITE PSP® (PlayStation®Portable) (latest model)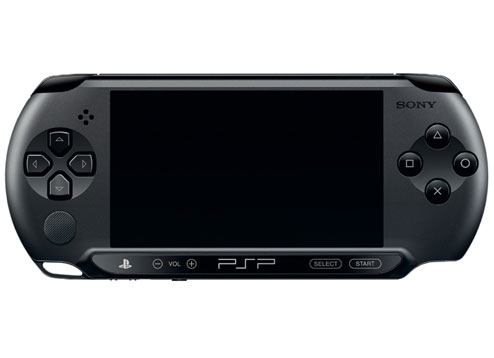 You can rule the road with Burnout: Legends, peek into your past life with Assassin's Creed: Bloodlines or use your power for the good with Spiderman: Web of Shadows as you wait for the local bus or train all thanks to your Sony PSP E1004.Affordable and technologically advanced, this Sony PSP packs in several surprises in its small body. This handheld console has been especially designed for passionate gamers of all ages who love to keep their favorite games at close reach.

Carry a complete entertainment solution with you as the Sony PSP handheld console is capable of storing more than games. You can store everything from movies, songs, TV shows, videos and images on the PSP E1004 console. The color reproduction, fast screen refresh rate and an enhanced multimedia features make for a brilliant visual experience.

Design & Power

With dimensions of 172.4 x 21.6 x 73.4 mm, this portable PlayStation console fits comfortably in the palm of your hands. Weighing a mere 223 g (including battery), the ergonomically designed gaming gadget is light-weight and can be carried in your pocket or backpack.

You can enjoy an amazing gaming experience on the 4.3 inch TFT LCD screen. The vibrant color resolution of 16,770,000 dots lets you view spectacular in-game graphics. The screen is a full-transparent type display that has an aspect ratio of 16:9. Sleek and sophisticated, this gamer's weapon of choice is sure to attract attention. The right side of the PSP holds the all-important action buttons with which you can shoot, accelerate and attack.

The left side of the Sony PSP E1004 gaming console makes room for the D-pad. With the D-pad, you can control the movement of your character in the game. The intuitive interface of the Sony PlayStation Portable E1004 develops your skills as a gamer without straining your fingers. The top edges of this PSP have shoulder buttons for that added advantage. For precision and accuracy, this console also has an analog thumbstick on the left of the body.

Availability of ports on any gadget is essential as this feature elevates the overall functionality and usability of the device. This video gaming console from Sony is home to a USB 2.0 port which helps you connect the device to a PC or computer. To enjoy your music privately, simply plug your earphones into the headphone jack. The Sony E1004 console also has an IR port.

The Sony PSP E1004 functions on a 1200 mAh rechargeable lithium-ion battery, giving you several hours of multimedia fun. The voltage of the battery pack is 5.0 V. The AC adapter of the Sony PlayStation Portable requires a power input of 100 - 240 V and 50/60 Hz. This adapter delivers an output of 2000 mA and 5 V. This Sony gaming console consumes a maximum of 6 W Power while charging.

Performance and Connectivity

The Sony PSP E1004 handheld console connects to the Internet wirelessly (IEEE 802.11b), a feature that doubles the functionality of this gadget. Most gamers prefer multiplayer games over single player ones as it increases interactivity, lets you compete as well as gives you the opportunity to hone your gaming skills. The Sony PSP E1004 portable console lets you play multiplayer games with friends and even strangers from all over the globe.

To enjoy music or audio out loud with family and friends, the Sony PSP is built with a quality monaural speaker. This handheld console from Sony aims to entertain you with more than quality games. The PSP E1004 handheld gaming gadget is capable of storing and playing several media formats with the help of the inbuilt UMD drive.

For optimal storage and retrieval of additional data, you can use a Memory Stick PRO Duo on which you can save TV shows, movies, music and images. On connecting the Memory Stick PRO Duo to the PSP E1004 console, you can access all the saved information. A gaming device that integrates your every entertainment need, the Sony PSP E1004 handheld gaming console is a perfect buy for gamers who want more out of their gaming companion.
General
Power requirements AC adaptor: DC 5.0V / Rechargeable battery pack: Lithium-ION rechargeable battery pack
Maximum power consumption Approx. 6W (when charging)
Console dimensions (W x H x D) Approx. 170 x 23 x 74mm / 6 3/4 x 2.9 x 0.9in (excluding largest projection)
Console mass Approx. 280g (including battery)
Operating temperature 5? C to 35? C / 41? F to 95? F
Sound Stereo speakers
Internal disc drive Read-only UMD? drive
LCD screen 4.3 (10.92 cms) (16:9) full-transparent type, TFT drive / approx. 16,770,000 colors displayed
Compatible codecs UMD (Video: H.264 / MPEG-4 AVC Main Profile Level 3 / Music: H.264 / MPEG-4 AVC Main Profile Level 3, Linear PCM, ATRAC3plus?) / Memory Stick
Inputs / Outputs
USB 2.0 YES
Memory Stick / SD / Compact Flash YES / - / -
DC IN 5V connector YES
Charging terminals YES
Headset connector YES
IR port YES
DC OUT connector YES
UMD? laser
Wave length 655 - 665nm
Power Max. 0.28mW
Type Semiconductor, continuous
AC adaptor
Input AC 100 - 240V, 50/60Hz
Output DC 5V, 2000mA
External dimensions (W x H x D) Approx. 46 x 22 x 76mm / (excluding largest projection)
Weight Approx. 100g
Battery pack
Battery type Lithium-ION rechargeable battery
Voltage DC 3.6V
Capacity 1200mAh
Accessories
Supplied Accessories AC Power Cord / AC Adaptor / Battery / Guide Book
Warranty - 1 Year.
Sony PSP E1004 Gaming Console Latest Model